Golden chicken pieces marinaded in lager and baked to a perfect crispy skin, so juicy and tender biting into them with an incredible garlicky flavour. This Crispy Beer Chicken with a Creamy Beer Mushroom Gravy IS SO GOOD!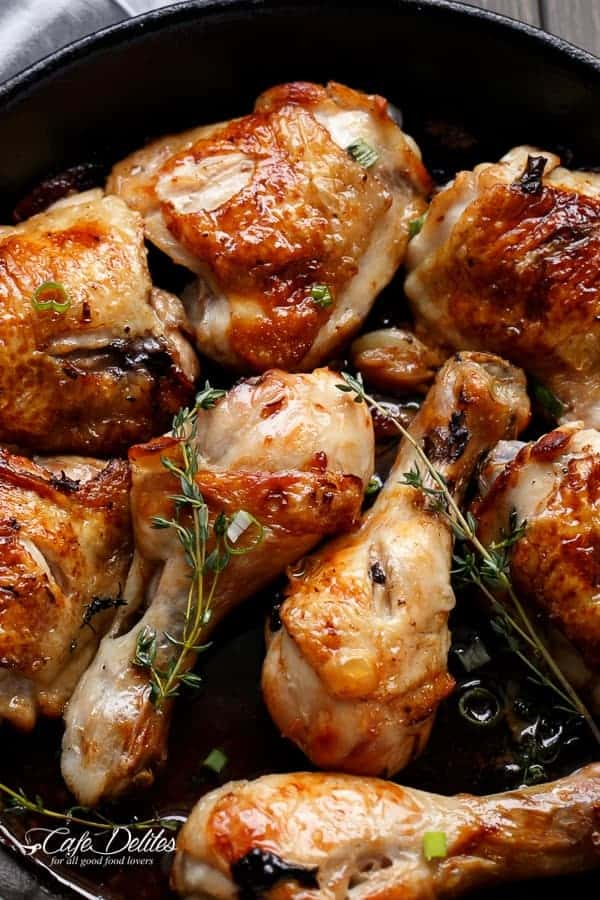 The added garlic in the lager creates the perfect marinade and flavour combination with the beer. And for extra decadence — a creamy, mushroom beer gravy to top them off. Not necessary. But so good. Even if you're not a beer fan…it makes an incredible creamy flavour to enjoy with your juicy chicken.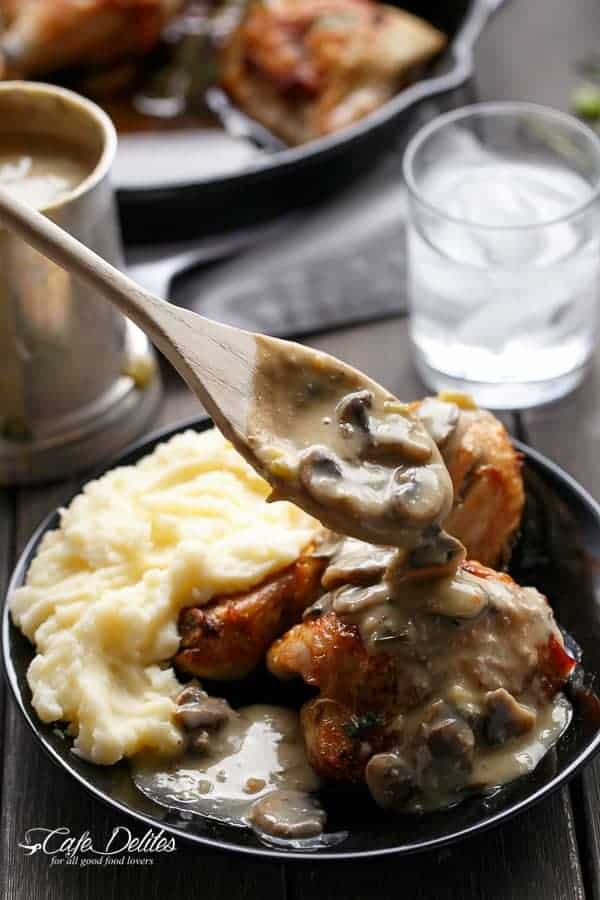 These are our typical Sunday roasts. And yes, this is another recipe that has been sitting in my to-post folder for so long, it was time for it to come me out and play. In time for your Sunday roasting plans, maybe? If that's the case, then you're welcome. The easiest marinade ever — if I should call it that.
HOW TO MAKE CRISPY BEER CHICKEN:
Pour beer into a dish with chicken. (You can use any cut. We love drumsticks and thighs — but breasts and wings are equally as good).
Add the crushed whole garlic cloves, stock powder and salt.
Place in your refrigerator to marinade for as long as you can. (Having said that, I've made these last minute and marinaded them for 30 minutes many times over. Totally works, but a deeper flavour is created when you go for the 4-6 hours or overnight option. Just saying.) Drain them; fry them with their garlic clove best friends, while occasionally spooning the liquid they release over them.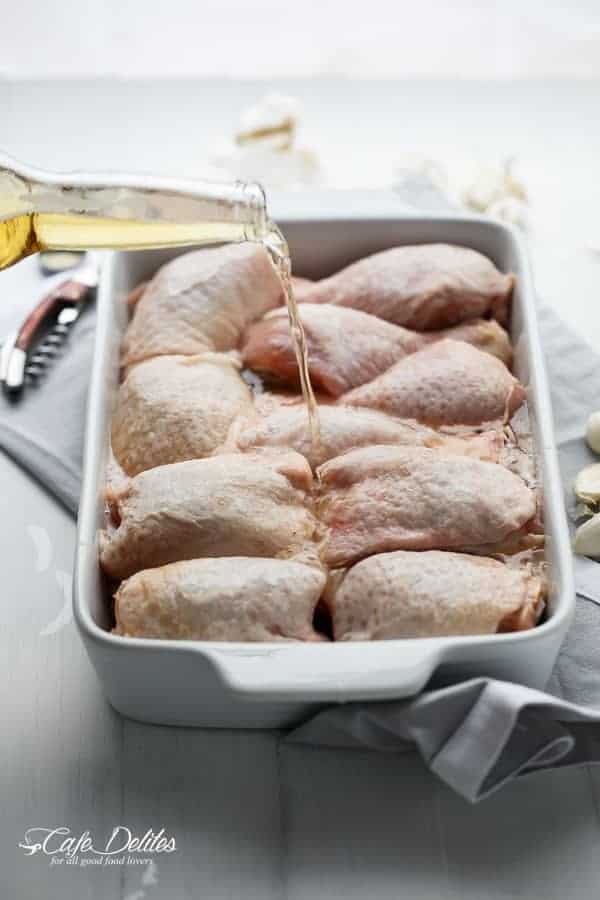 Place them in the oven and roast until they look like this↓. Brush them over with the juices in the pan.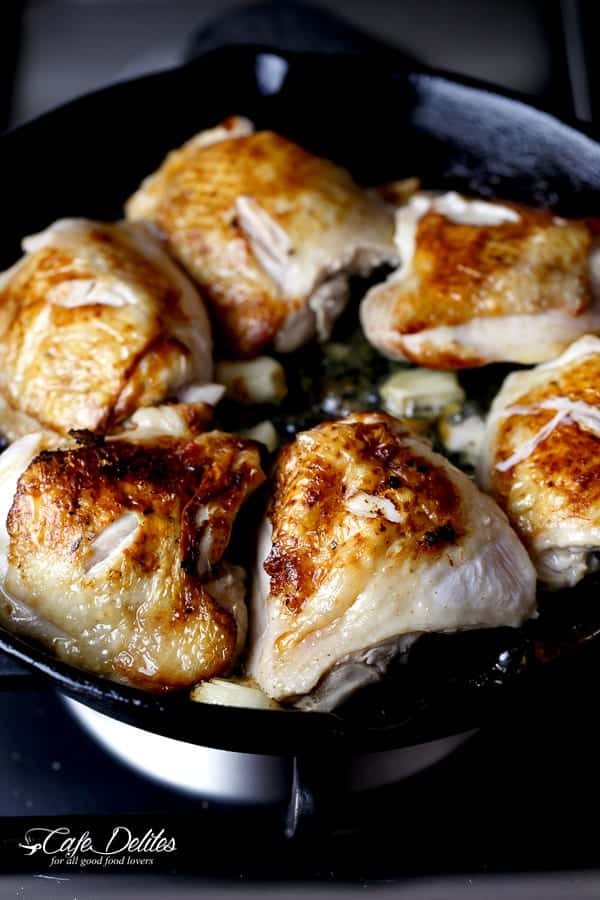 Make your creamy boozed-up gravy.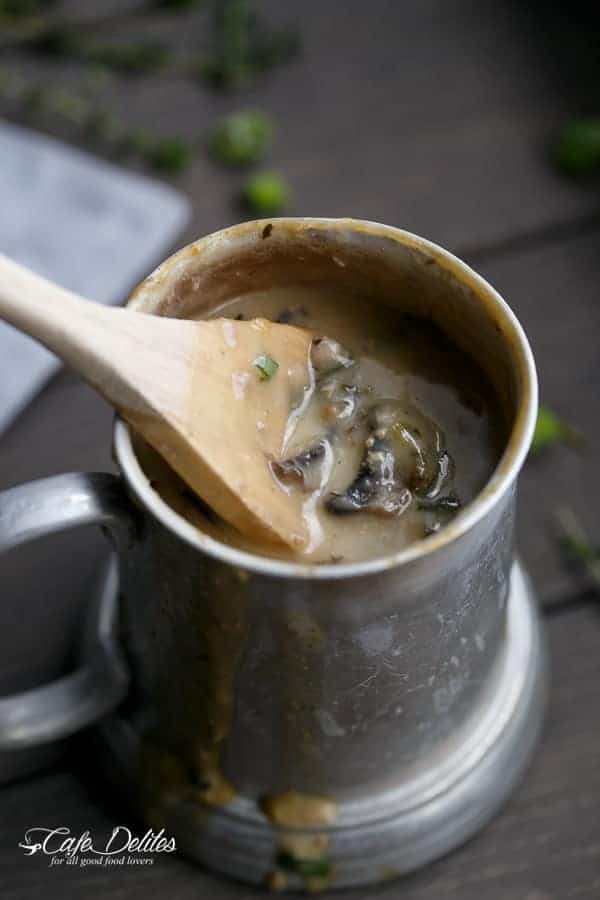 And serve.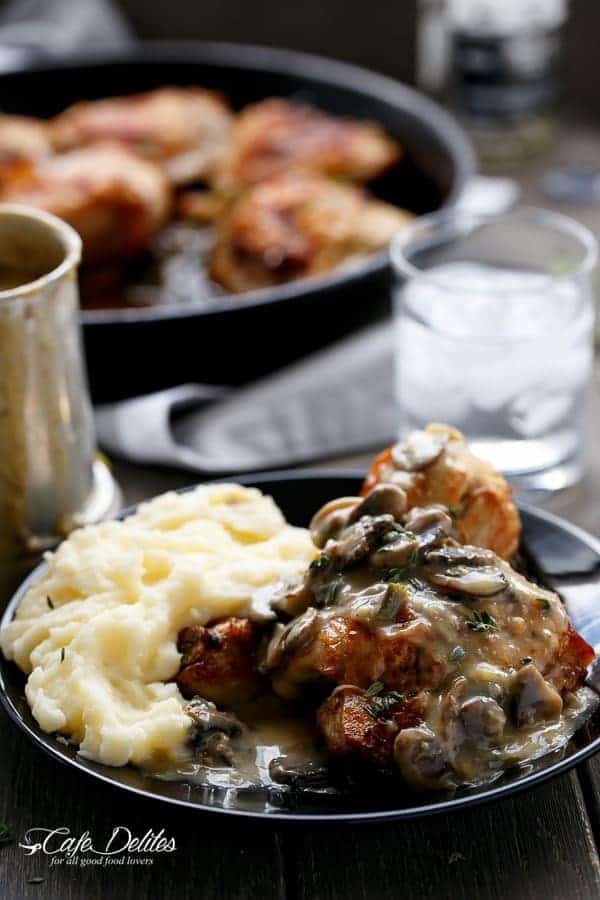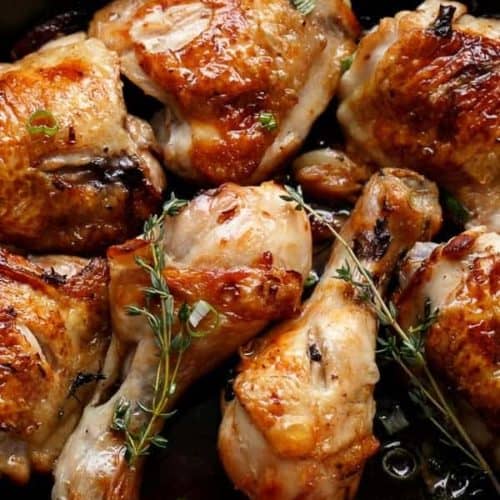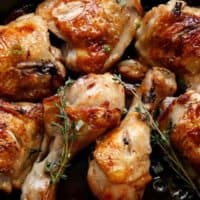 Crispy Beer Chicken with a Creamy Beer Mushroom Gravy
Crispy beer chicken marinaded in lager and baked to a perfect crispy skin, so juicy and tender biting into them with an incredible garlicky flavour.
PRINT
SAVE
go to your favorites
Ingredients
Chicken in Beer:
4

chicken thigh cutlets

, washed and patted dry

4

chicken drumsticks

, washed and patted dry

1

x 330ml bottle lager

(I used Corona)

4

whole garlic cloves

, crushed (crush them lightly with the flat side of a knife and the heel of your hand) DO NOT mince them. (See images above).

1

tablespoon

vegetable stock powder

Salt to taste

(about 1 tablespoon)
Drunken Creamy Mushroom Gravy:
2

shallot stems

(or green onions), sliced thinly

1

cup

sliced mushrooms

Reserved beer marinade

3

tablespoons

light/reduced fat butter

(or spread of choice)

2

tablespoons

flour

1/2

cup

(125ml) extra lager *(See Notes)

4

tablespoons

reduced fat cooking cream

1

teaspoon

sugar

Salt to season
Instructions
Chicken:
Place the chicken into a large dish. Pierce 1-inch slits through the chicken skin into the meat (about 1/2-inch deep. Pour in the beer; add the crushed garlic, stock powder and salt; turn the chicken skin side down; cover with foil and refrigerate for 4-6 hours or overnight for a deeper flavour. (Rotate the chicken once while marinading to ensure an even flavour when baking).

When ready to cook; preheat your oven to 210°C | 410°F. Drain the beer marinade (reserving the liquid), and heat a cast iron skillet or oven proof pan *(See Notes) on medium-high heat. Add 1 tablespoon of oil to the pan; and when it starts to smoke sear chicken, skin side down for about 4 minutes until the skin is golden and crisp, then flip and sear until golden.


Transfer pan to the oven and continue to cook for a further 30 minutes, broiling for the last 5 minutes, until the chicken is completely cooked through.
Gravy:
While the chicken is in the oven, fry the shallots and mushrooms in a separate hot pan with a drizzle of oil. When fragrant; add the reserved marinade and simmer on medium-high heat for 5 minutes. Set aside.


In a smaller saucepan, melt the butter. Lower heat and whisk the flour through until lump free. Add the shallot and mushroom mixture along with the liquid, and stir until combined. Add the (extra) 1/2 cup of lager and cook until thickened, stirring occasionally.

When gravy is thick, stir the cooking cream through along with the sugar. Season with salt to suit your tastes.
To Serve:
Serve with creamy mashed potatoes, rice or steamed vegetables. Pour gravy over the chicken; or to retain crispiness, serve gravy onto the side of your serving plates. Sprinkle with finely chopped thyme or parsley.
Notes
*Use a mild lager for the gravy, otherwise the flavour may be too strong. We like Corona, but you can choose a milder lager.
**If you don't have an oven proof pan, simply transfer the chicken pieces from the frying pan you're using into an oven proof baking dish, and pour any left over juices from the pan onto the chicken.
LOVE BEER? TRY THESE RECIPES!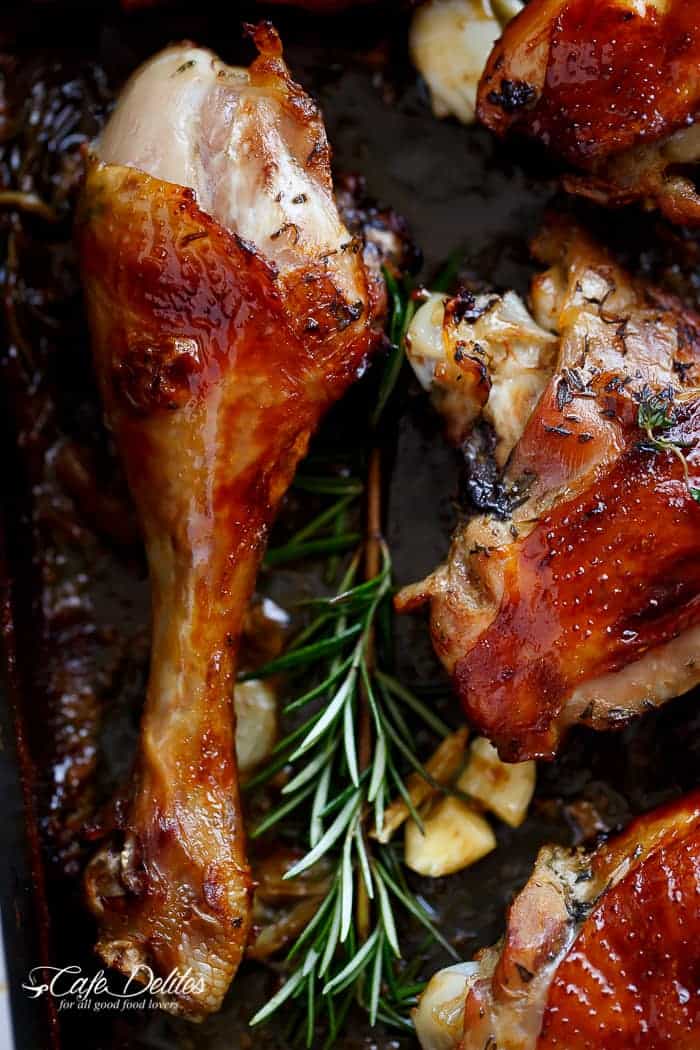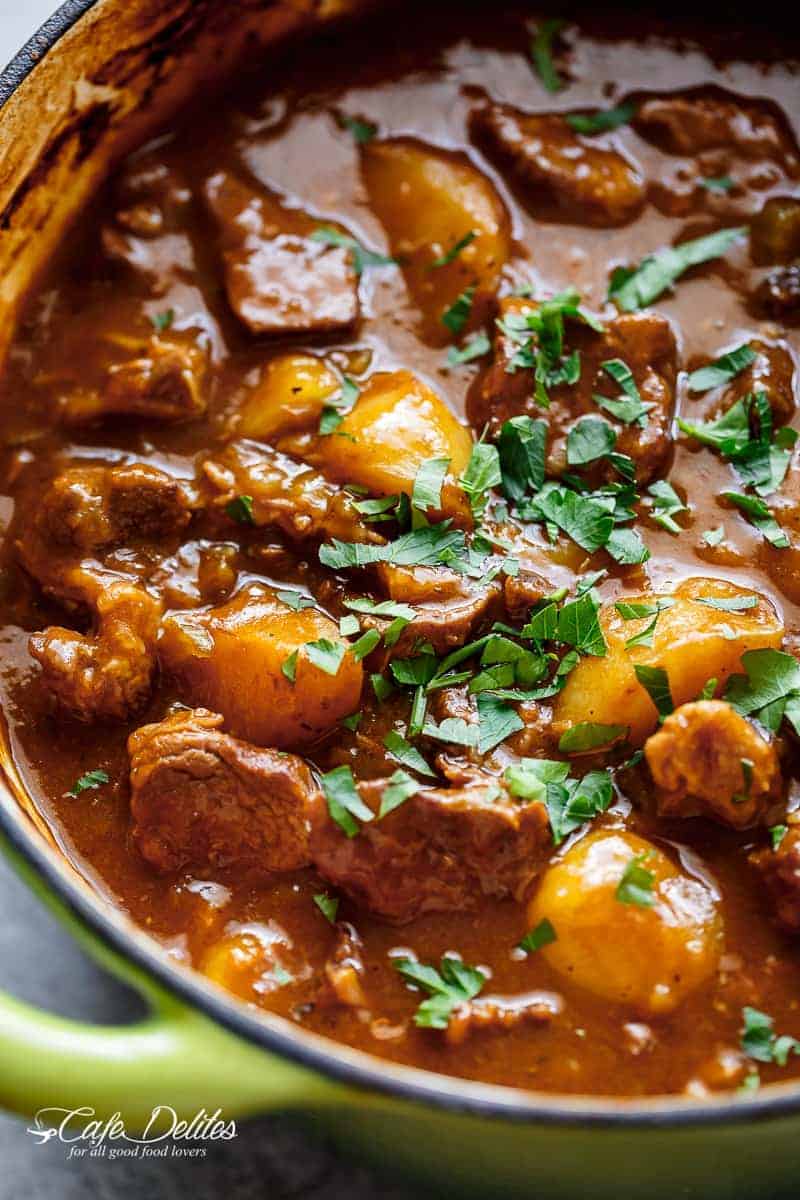 Creamy Beer Cheese Chicken With Crispy Bacon