Buttery Cornbread Dressing LOADED with flavour! Deliciously moist, light and fluffy with a perfect crispy, golden crust.
Every Thanksgiving table has a plate of stuffing or cornbread dressing with Roast Turkey, Gravy and ALL the food! Made with optional sage sausages, onions, celery, homemade cornbread and delicious fresh herbs.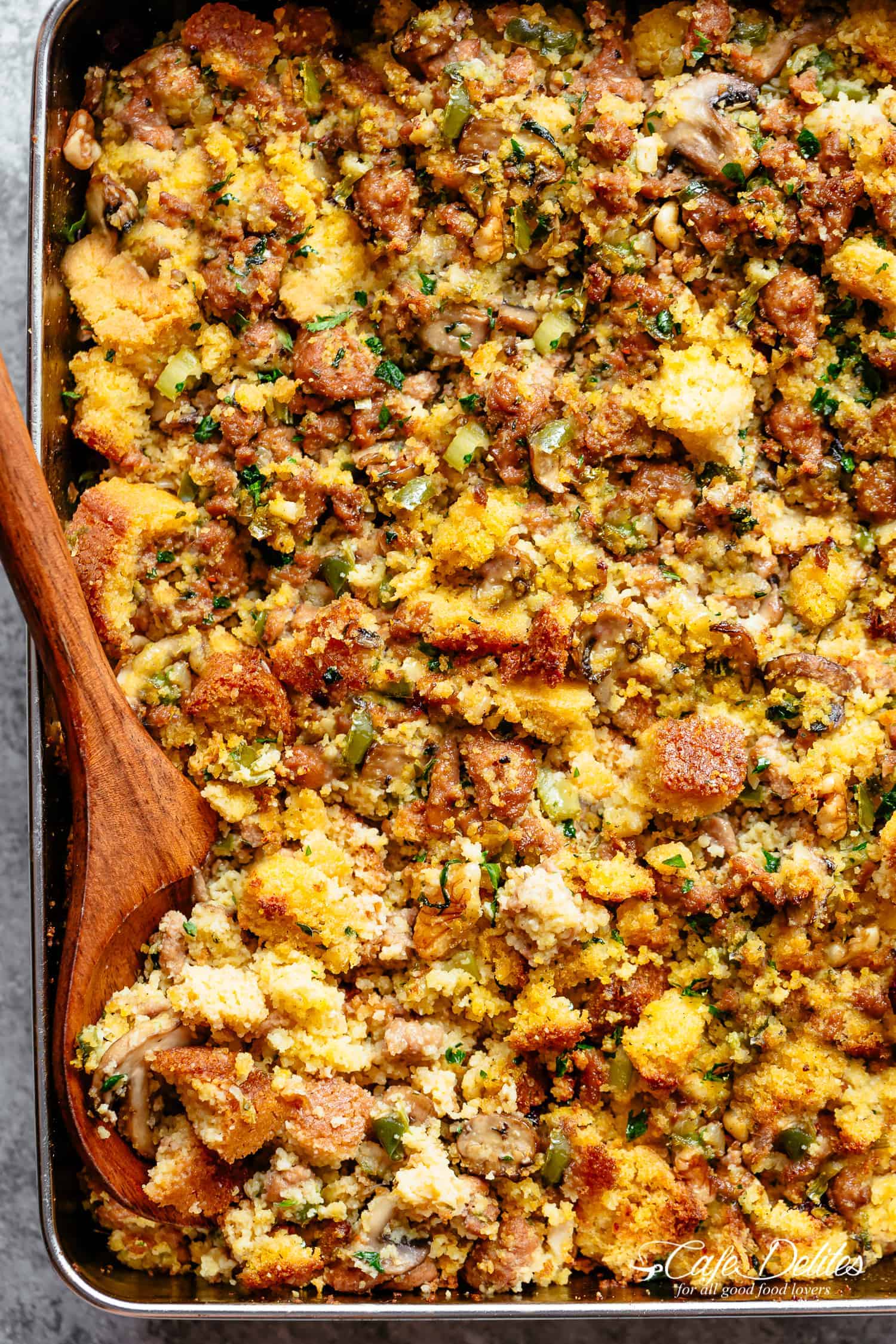 With Thanksgiving is just around the corner, the emails coming in asking for sides and recipes are very real right now! Our dressing is so incredible, we usually stand at the oven eating it straight out of the pan before it hits the table.
Even though there are many different ways to make cornbread dressing, this recipe is our family favourite.
What makes this recipe stand out? The addition of sage sausages, mushrooms and green bell peppers add even more texture and flavour to our dressing!
HOW DO YOU MAKE CORNBREAD DRESSING?
First, you need to use a good cornbread recipe. We have two on our site that we love to use:
Buttermilk cornbread: a slightly sweetened cornbread with honey and sugar perfect for those who love a delicious balance of sweet and savoury.
Classic cornbread: for our readers who prefer savoury.
Out of time or need to simplify your holidays? Make the cornbread ahead of time or use store bought cornbread. We prepare and bake our cornbread the day before cooking. Day old (or even two-day old) provides the BEST texture and flavour!
Another option is to bake it earlier, (up to a month in advance) and freeze it until you're ready to cook! Just remember to thaw it out completely before cooking.

Regular white bread (or dinner rolls) are mixed through with the cornbread to help create the best base for this dressing. Both breads soak in the incredible flavours released from the herbs, butter and aromatics. It all comes together in the oven, baked until a golden crust forms over the top while staying deliciously moist on the inside!

WHAT IS THE DIFFERENCE BETWEEN STUFFING AND DRESSING?
Up until recent years, stuffing has been cooked inside a roast turkey in many households, while dressing is normally cooked separately outside of the bird. But in the South, cooks call it dressing no matter how it's prepared or what the ingredients.
According to the United States Department of Agriculture, you can safely cook stuffing inside of your turkey. However, stuffing generally adds more cooking time to your turkey which will dry out the meat. Both are now generally cooked separately in baking dishes.
We love to serve both to provide a variety at the table and keep everyone happy!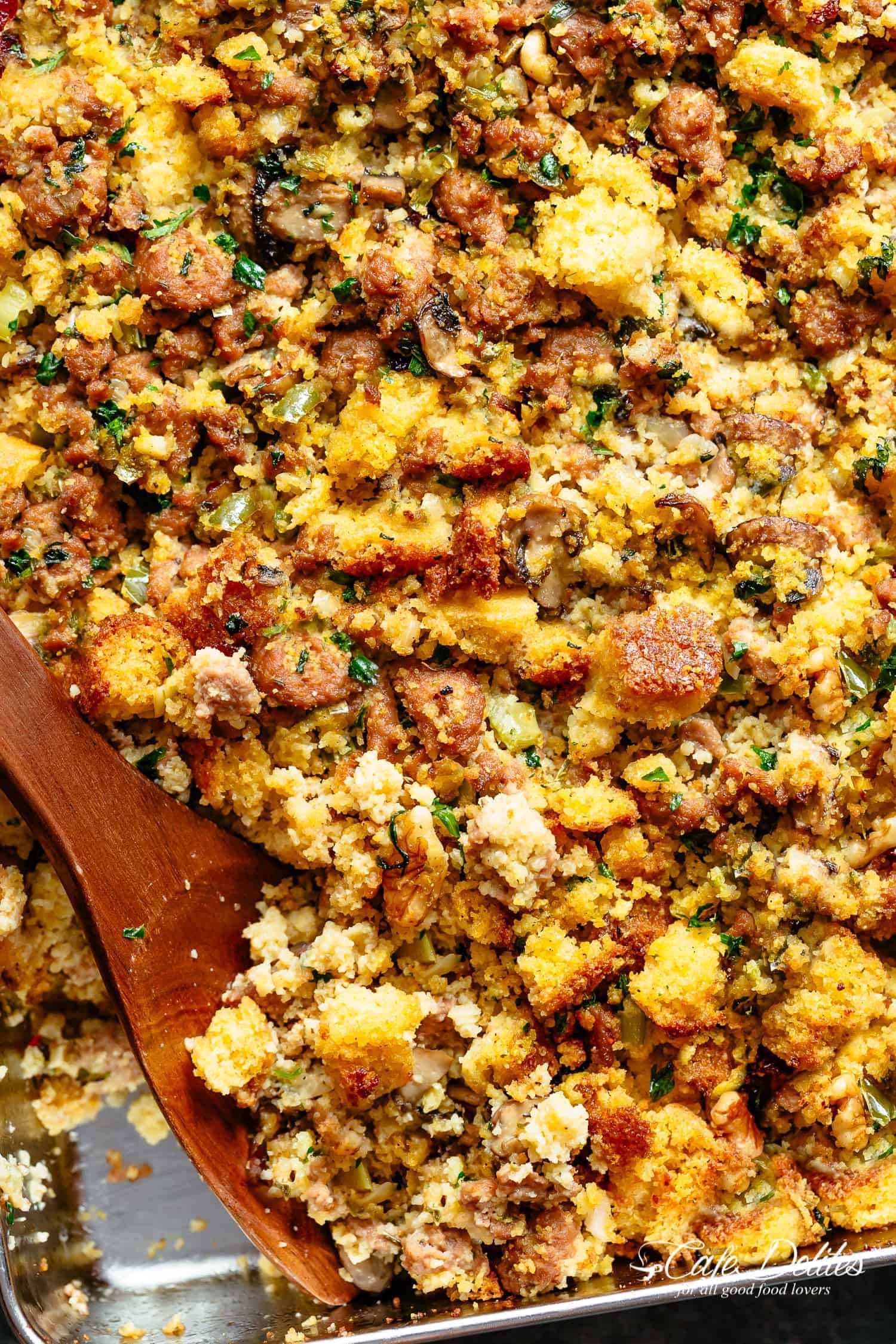 CAN DRESSING BE PREPARED AHEAD OF TIME?
Absolutely! All of the ingredients can be mixed together — poured into your baking dish and covered with foil. Refrigerate until you are ready to bake. We prepare ours the day before cooking — sometimes the morning of — depending on where we are celebrating and how much we cooking we have to do on the day.
Take it out of the refrigerator at least 30 minutes before cooking to take the chill out. Then continue on with the recipe.
EASY ADD INS FOR CORNBREAD DRESSING
Dried fruit: cranberries, apricots, dates, raisins, cherries (about 1 cup).
Toasted nuts: almonds, walnuts, pecans (about 1/2 cup).
Fresh fruit: chopped apples, pears (1 fruit, seeded and chopped).
Other herb options: rosemary, chives, mint, cilantro.
Looking for more Thanksgiving sides? Try these!
Honey Garlic Roasted Carrots
Roast potatoes
Creamy Mashed Potatoes
Sweet potato Casserole
Roasted Sweet Potatoes
Cranberry Sauce
Brussels Sprouts
Gravy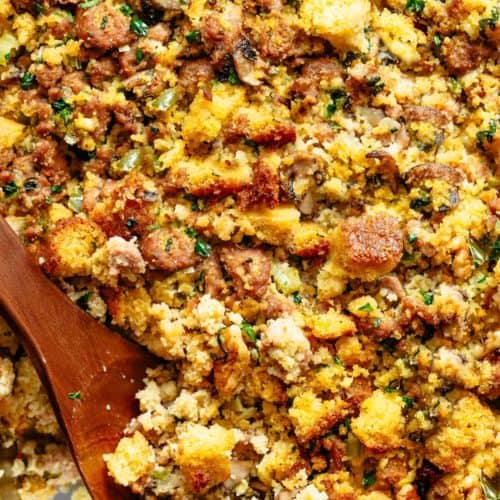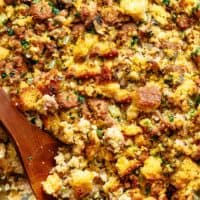 Cornbread Dressing
Easy to make buttery Cornbread Dressing is LOADED with flavour! Deliciously moist, light and fluffy with a perfect crispy, golden crust.
PRINT
SAVE
go to your favorites
Ingredients
1

batch

cornbread

4

slices

day old bread

cut into 1-inch cubes

2

tablespoons

oil

1/2

pound

(250 g) sage pork sausages

casings removed and crumbled (optional -- substitute with chicken)

7

ounces

(200 g) brown mushrooms

sliced

1

large

onion

chopped

4

stalks

celery

chopped

1

green bell pepper (capsicum)

seeded and chopped

1/2

cup

chopped flat-leaf parsley

1 1/2

tablespoons

fresh sage

chopped

1

tablespoon

fresh thyme

chopped

3/4

teaspoon

salt

or more to taste

1/2

teaspoon

fresh cracked black pepper

5

large cloves garlic,

minced (or 1 1/2 tablespoons minced garlic)

3 1/2

cups

chicken stock

1/2

cup

butter

melted
Instructions
Preheat the oven to 350°F (175°C).

Chop pre-baked cornbread into 1-inch pieces. Place into a large mixing bowl; set aside.

Heat half of the oil in a large pan over medium heat. Cook the sausages over for about 10 minutes, until browned and cooked through, breaking up the sausage with a fork while cooking. Add to the cornbread.

In the same pan, add the remaining oil and add the mushrooms, onions, celery, parsley, sage, thyme, salt and pepper. Sauté over medium heat for 10 minutes, until the vegetables are softened. Add the garlic and cook until fragrant (30 seconds).

Transfer mixture to the bowl with the cornbread. Add the stock and melted butter, mixing really well with a wooden spoon until all the liquid has been absorbed.

Pour the dressing into a 9x12-inch baking dish.

Cover with foil. Bake for 20-25 minutes until browned on top and hot in the middle. Serve warm.

Nutrition
Calories:
374
kcal
|
Carbohydrates:
28
g
|
Protein:
14
g
|
Fat:
22
g
|
Saturated Fat:
8
g
|
Cholesterol:
65
mg
|
Sodium:
438
mg
|
Potassium:
360
mg
|
Fiber:
3
g
|
Sugar:
4
g
|
Vitamin A:
570
IU
|
Vitamin C:
8.2
mg
|
Calcium:
99
mg
|
Iron:
2.8
mg