Browned Butter Shrimp Scampi with Parmesan Pasta! I'm doing everything backwards, as usual, posting a Valentine's Day dessert first, followed by this incredible pasta. Well, if I had it my way, I'd probably have dessert before anything, but that's a whole other blog post.
This is what happens when I think about roses, romance, and….food. Because food is always involved. I took the humble Shrimp Scampi with garlic, lemon and wine; browned it's butter….and made it into another video.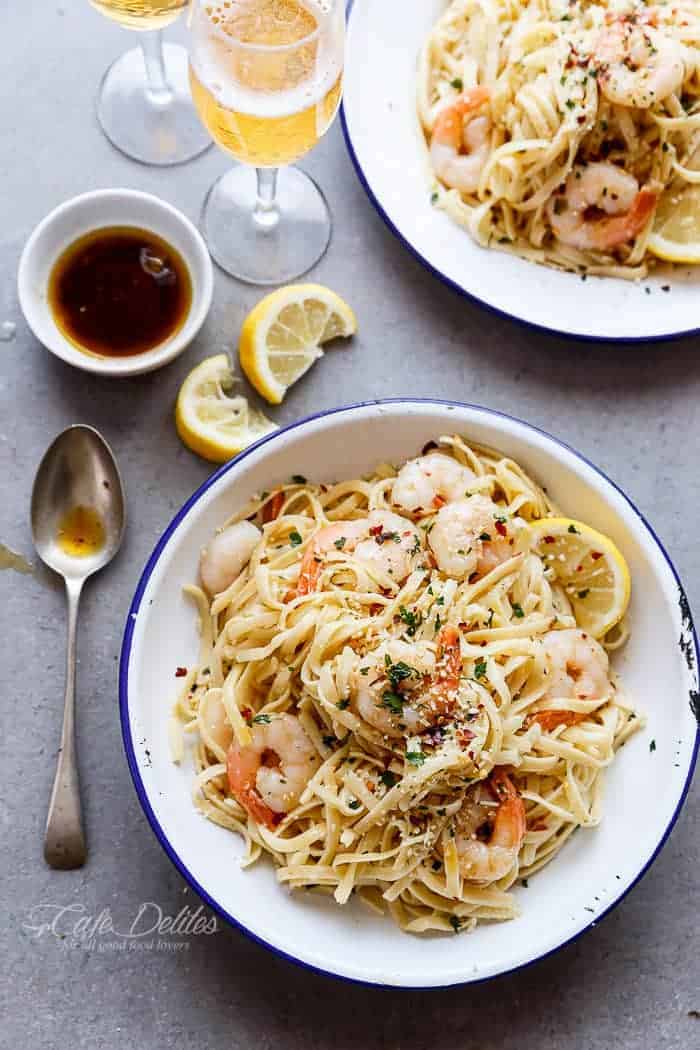 After the success of the Browned Butter Honey Garlic Salmon I posted mid-late last year, it occurred to me that people really do love browned butter. Who knew? The nutty, crispy, fried smell and taste of browned butter on salmon was freaking amazing, I thought I'd try it out on Shrimp (what we Aussies call Prawns).
Well. My mind was blown. Probably bad that I was up editing this post at midnight, eating this carb-loaded-butter-pasta, and enjoying the hell out of it. If I have to be honest, I DID think about throwing another Zoodle recipe at you — and you can turn this lower carb by adding steamed Zoodles — but sometimes Zoodles just don't cut it. Not in this. You could. But I didn't.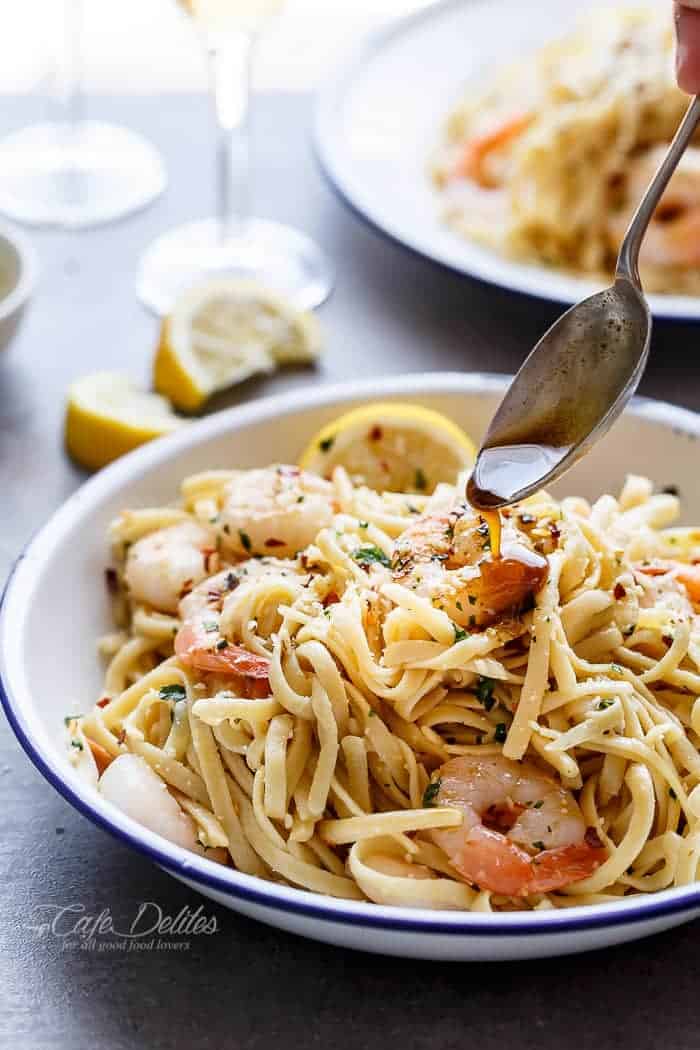 A couple things I've learned while browning butter:
1/ Use a light coloured pan so you can see what stage your up to and what's happening in the pan. Stir it while it bubbles up. Stir like your life depends on it, because it splatters like crazy. You can use a screen over the top of your pan to prevent mess. I place tea towels around my benches to save myself from cleaning, but the mess is absolutely worth it.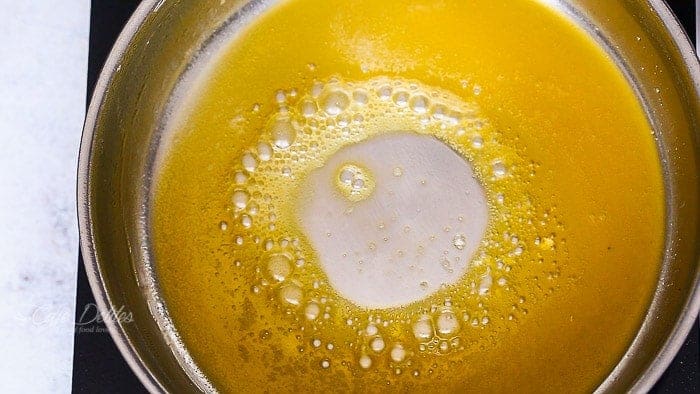 2/ Keep your butter on low heat. It doesn't matter how confident or in a rush you are. Keep it on low heat. Any higher and you'll find yourself in an uncontrollable mess. Don't leave it alone for more than 10 seconds while it's beginning to bubble up, because it's hard to 'calm it down' once it's dancing around in your pan.
3/ After about 5 minutes, you'll start to see foam rising. Don't panic. Nothing happened to it. It's not going bad. It's actually going amazing. Go you! Just breathe through the process, keep stirring, and enjoy the nutty aroma that will begin to fill your kitchen.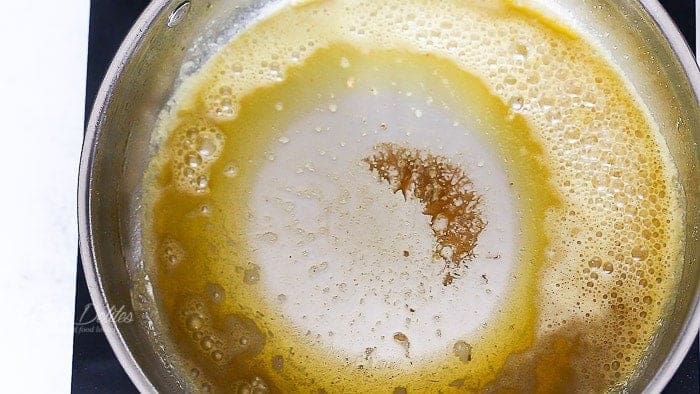 4/ When the foam subsides, you'll see your butter has transformed from a golden yellow to a rich, brown colour with bits on the bottom of the pan. Stir those bits around and scrape them off the bottom or sides. Don't discard them. They add the flavour.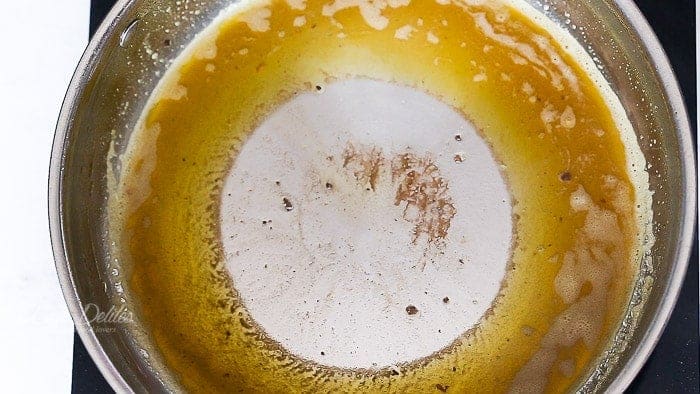 5/ As soon as you see your butter nice and brown, take it off the heat or begin to add other ingredients to help cool it down and stop the browning process (depending on whats cooking). This is important, as you can go from browned butter goddess to burnt butter sadness very quickly. In this recipe, I add the shrimp to the browned butter to get ALL of those browned butter flavours into the entire dish. It works.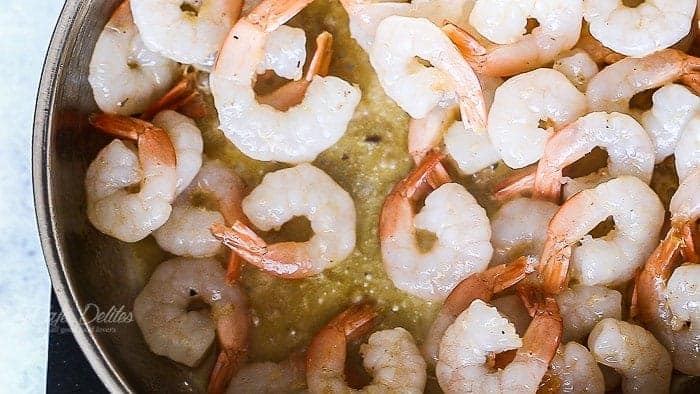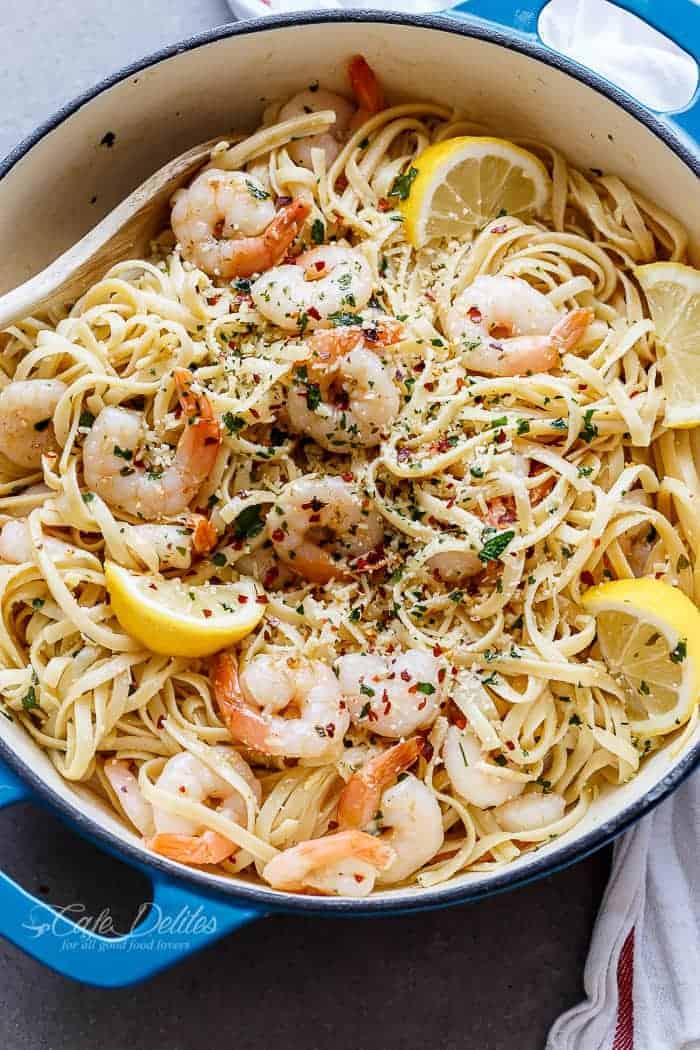 Or, if you'd prefer to watch this whole recipe being made, this video on my YouTube Channel also shows the different stages of browning butter: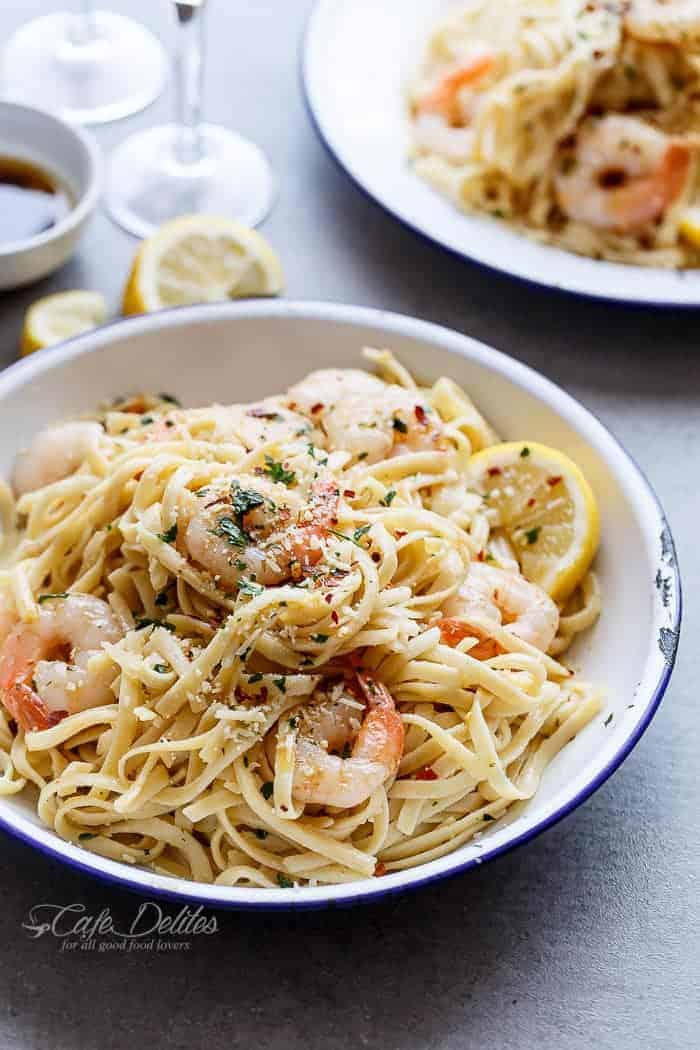 When you've browned butter once, you'll keep going back for seconds and thirds. You'll suddenly turn every recipe into a browned butter recipe. And in this recipe, it's incredible. The nutty, fried flavours mixed in with shrimp and parmesan pasta. It feels like fine dining in your own home.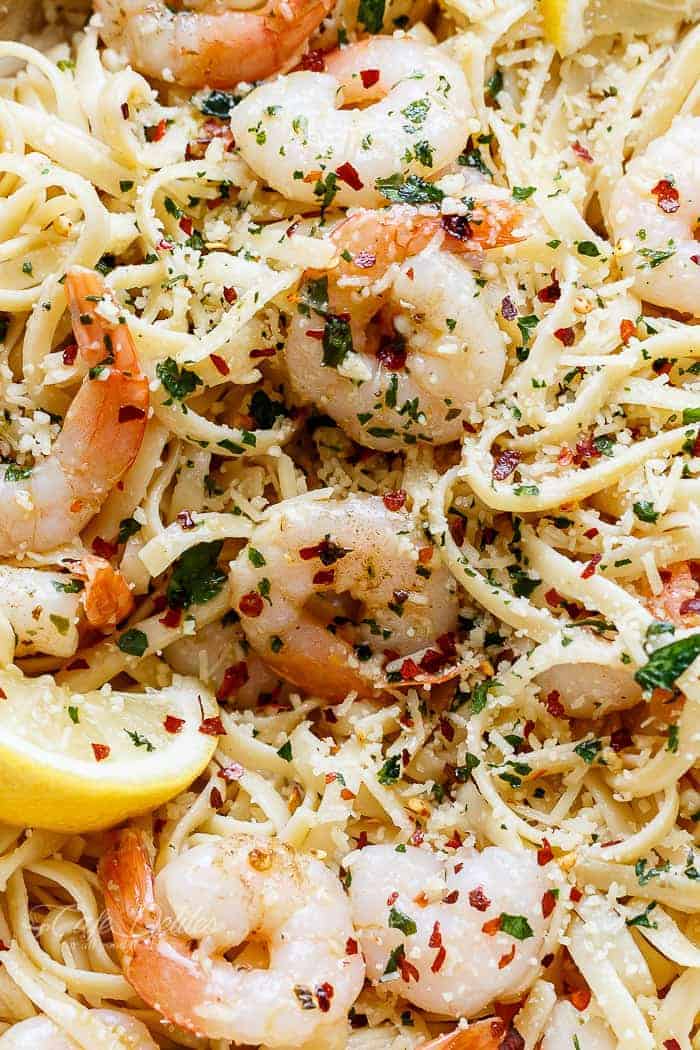 How does this sound for a Valentine's Day dinner: Browned Butter Shrimp Scampi. Whisper it. A normal pasta dish becomes a romantic getaway. Follow this up with the 3-ingredient Chocolate Mousse, OR the Red Velvet Churros, and have a Happy Valentine's Day.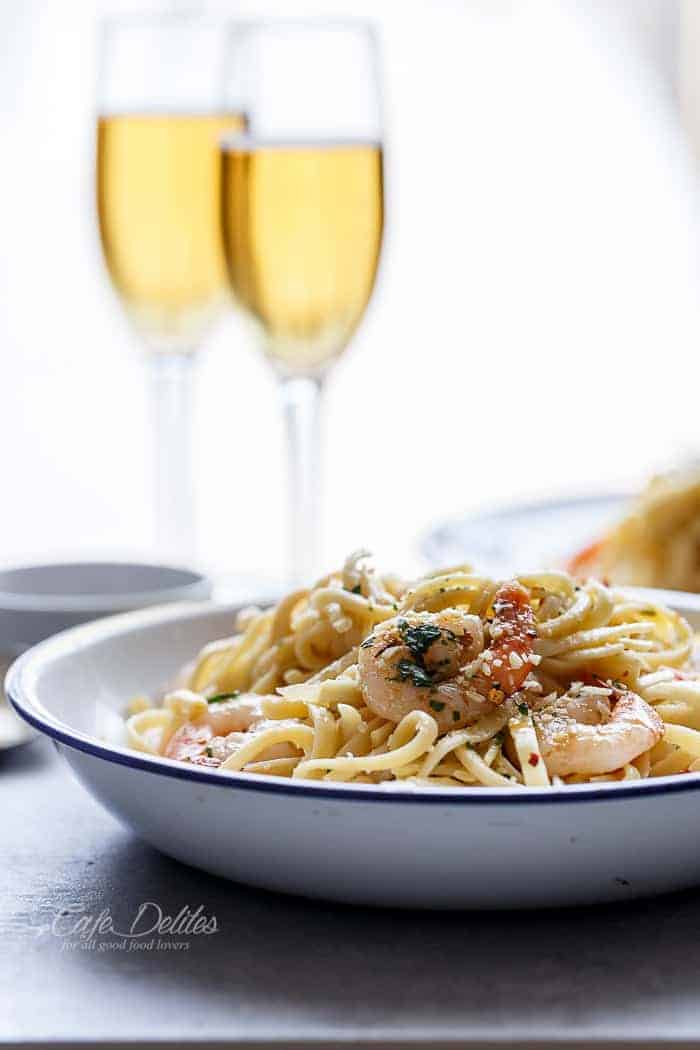 REMEMBER TO SUBSCRIBE TO CAFE DELITES NEWSLETTER FOR FREE AND RECEIVE NEW RECIPE NOTIFICATIONS DELIVERED INTO YOUR INBOX!
FOLLOW CAFE DELITES ON FACEBOOK, INSTAGRAM, PINTEREST AND TWITTER FOR ALL OF THE LATEST CONTENT, RECIPES AND UPDATES.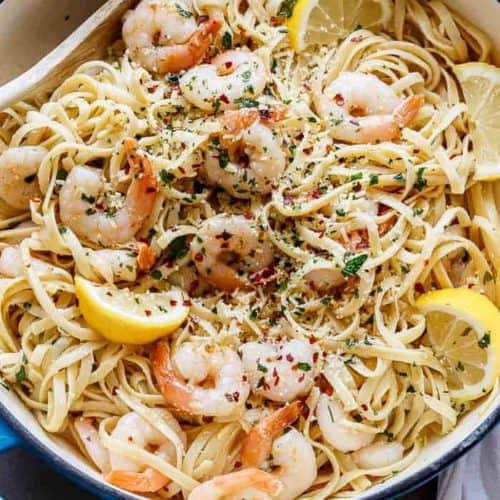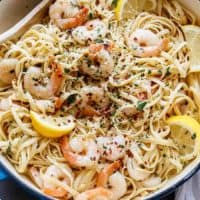 Browned Butter Shrimp Scampi
Browned Butter Shrimp Scampi with Parmesan Pasta! Authentic Shrimp Scampi flavours with a browned butter twist! Recipe includes a
VIDEO
!
PRINT
SAVE
go to your favorites
Ingredients
500

g

| 1 lbs dry weight pasta

(I used Linguine)

1/3

cup

butter

500

g

| 1 lbs fresh shrimp

(prawns)

4

cloves

garlic

, minced (or 1 tablespoon)

1/4

cup

dry white wine

(or you can use vermouth or chicken broth)

Juice of half a lemon

(or 2 tablespoons)

pinch of salt

cracked pepper

1/4

teaspoon

red pepper/chilli flakes

, plus extra to garnish

1

tablespoon

freshly chopped parsley

, plus extra to garnish

1

tablespoon

freshly chopped basil

, plus extra to garnish

1/2

cup

grated parmesan cheese
Instructions
In a large pot of boiling salted water, cook pasta according to package instructions. Drain, reserving 1/4 cup of the pasta water. While pasta is boiling, make your browned butter.

Melt butter over low heat in a medium-sized light coloured frying pan/skillet, keeping a close eye on it as it begins to bubble and foam. Swirl it gently while occasionally stirring. Once the foam subsides, pay attention to the colour. When it turns golden brown and develops a fried, nutty aroma, stir the shrimp through and add the garlic (the shrimp will stop the browning process). After about two minutes, add the wine and lemon juice; sauté for another minute or so. Season with salt and pepper to your tastes and the red pepper/chilli flakes. Continue cooking the shrimp (prawns) for a further 2 minutes, or until done. (Be careful not to over cook them, or they will turn rubbery)!

Stir the parmesan cheese into the pasta with the reserved water; stir the red chill flakes and herbs through the shrimp; combine the shrimp mixture in with the pasta.

Garnish with extra chopped parsley and basil, and optional red pepper/chilli flakes.