Blueberry Lemon Cheesecake Cake with a Lemon Cream Cheese Glaze to kick start your season! The perfect Spring-time dessert.
Blueberry Lemon Cheesecake Cake is a blueberry cake scented with a zesty lemon aroma underneath a creamy and fluffy cheesecake, baked in the one pan! The first of it's kind!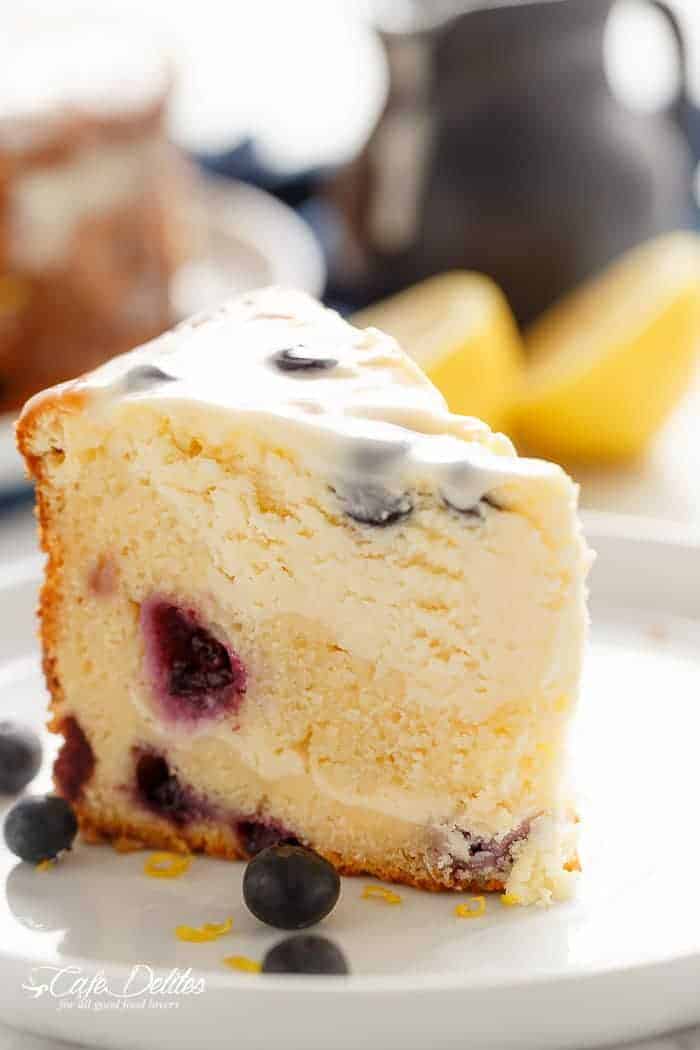 After making, devouring, and crying over the last slice of Carrot Cake Cheesecake, it was time to take that recipe and turn it into a completely new and different cake. I wanted blueberry and lemon together, and searched through every internet page and recipe book I could find.
THIS CAKE is not in any book, not on any blog or website or in any restaurant, cafe or diner. I'm proud to say it's the first Blueberry Lemon Cheesecake Cake invented!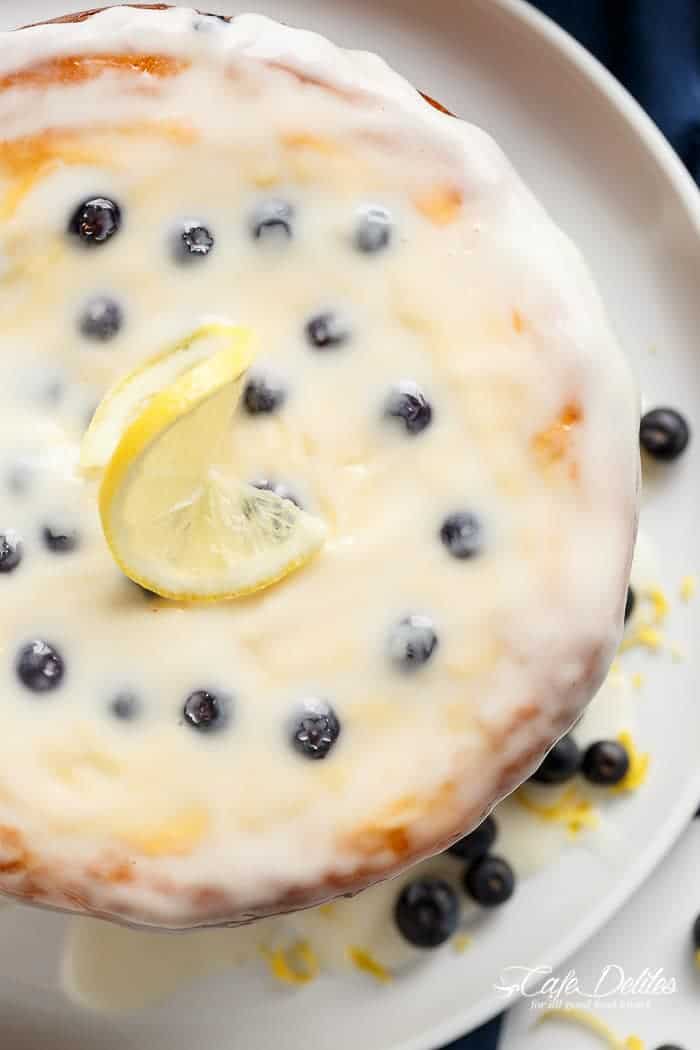 This cake is deserving of a freaking drumroll. I baked it FOUR TIMES before nailing the recipe! Keep in mind, blueberries were priced at over $5 per punnet when I decided to experiment — and fail time and time again — before getting it right. Great thinking on my part.
What I thought would be an easy transformation from carrot cake to blueberry cake turned out to be anything BUT easy. Gah this cake! The first time I baked it, and photographed it, it wasn't right. The cheesecake was crumbly. The cake itself was dry. What the hell is going on?
Taking my time and pouring love into the second attempt, I thought excitedly this was it. Nailed it. Only to smell something burning in my kitchen 20 minutes later. What had I done? I'd turned the broiler (grill) on instead of the oven. So I had a charred, black top, furiously smoking and about to catch on fire while the underneath was raw batter. My kitchen is now the proud owner of a fire extinguisher.
Back I went in the THIRD TIME; accidentally confusing baking soda with baking powder. When removing it from the oven, all I saw was the wrongness of the texture and realised I'd also forgotten to add in the milk which was still sitting on my counter — with a straw magically appeared in it — and my son attached to the other end of it.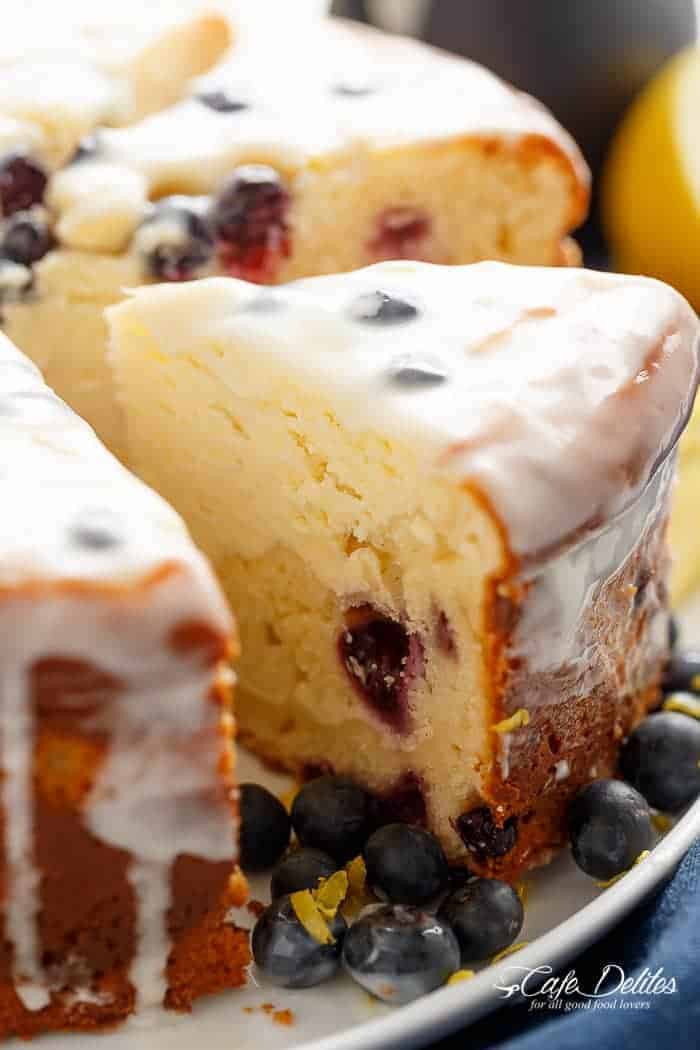 Needles to say, I was ready to throw it all in after the sixth trip to the supermarket (forgetting the cream cheese in both extra trips), but my extreme stubbornness got the better of me and I tried ONE MORE TIME AT MIDNIGHT. Yes, at midnight. If that's not stubborn dedication, then what is.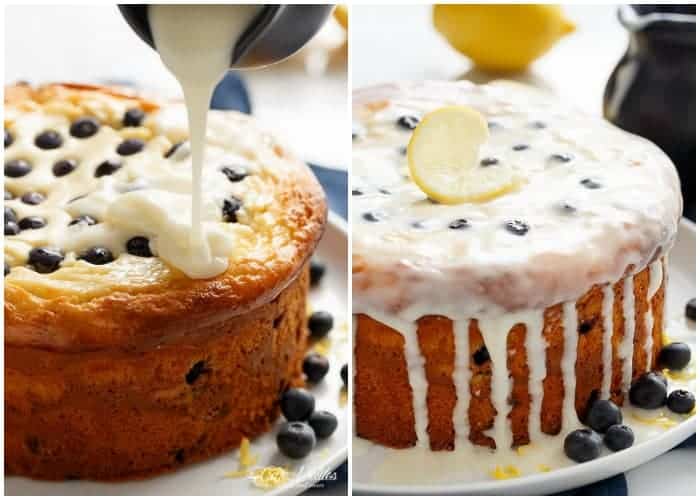 And I'm so glad I finally did it, because this cake is absolutely prefect. Moist, fluffy, full of juicy blueberries, with the creamiest cheesecake sitting on top. Drizzled in a cream cheese glaze, it does NOT get any better than this cake! A round of applause, a bottle of wine later along with blood, sweat and tears, it's finally here for you to enjoy.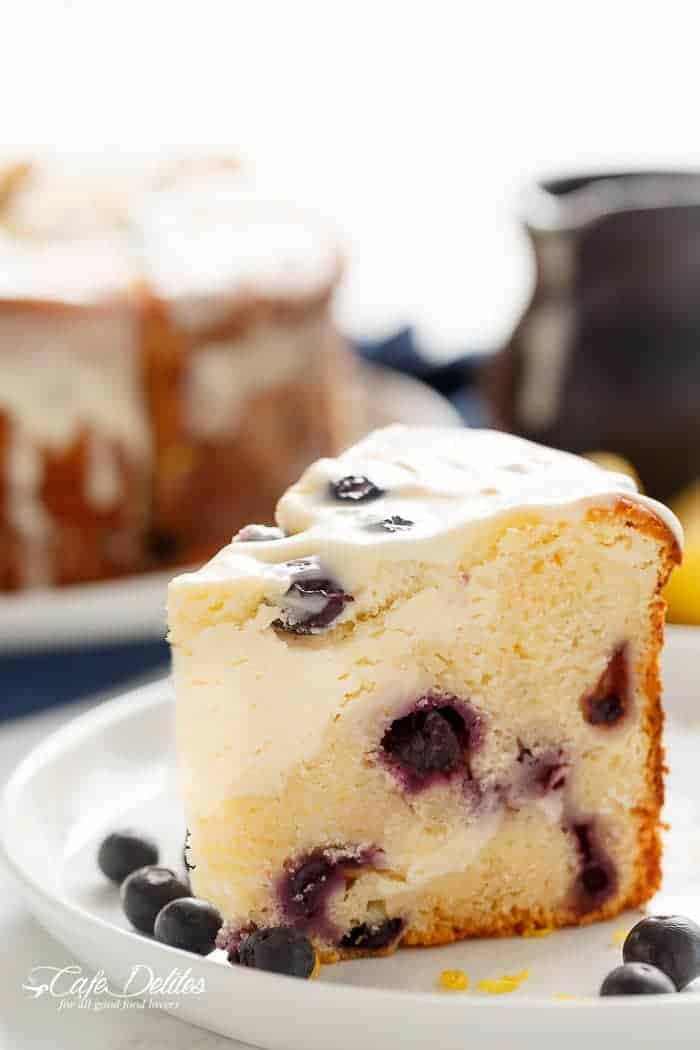 The moral of this story? I now have 3 blueberry lemon cheesecake cakes sitting in my refrigerator. Anyone want cake?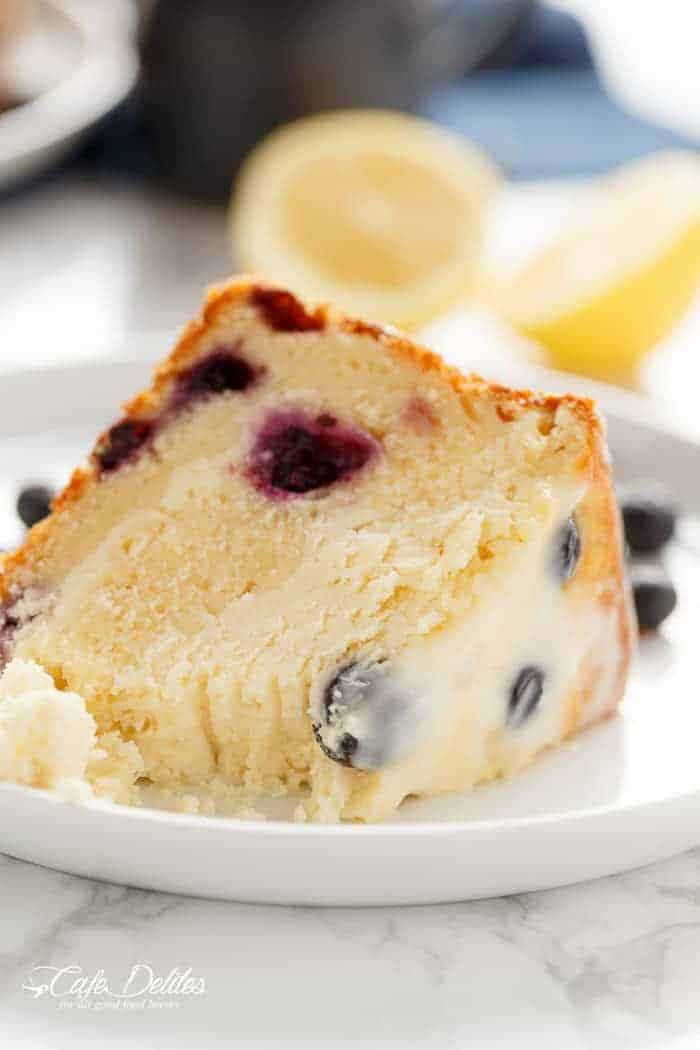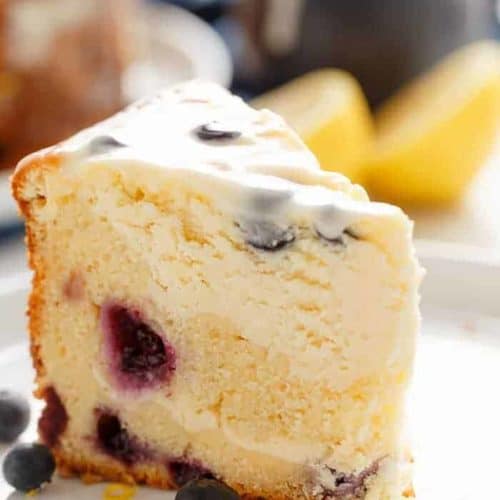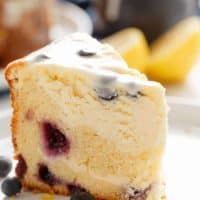 Blueberry Lemon Cheesecake Cake
Blueberry Lemon Cheesecake Cake with a Lemon Cream Cheese Glaze to kick start your season! This cake makes for the perfect Spring-time dessert. A blueberry cake scented with lemon underneath a creamy and fluffy cheesecake, baked in the one pan!
PRINT
SAVE
go to your favorites
Ingredients
Blueberry Cake:
1/4

cup

fresh squeezed lemon juice

(juice from 1 lemon)

1/2

cup

milk

(skim, reduced fat, full fat or almond milk)

1/2

cup

butter

, room temperature (or spread of choice)

3/4

cup

sugar

(or a natural granulated sweetener)

2

large eggs

1

tablespoon

lemon zest

1 1/2

cup

all purpose flour

(or plain flour)

2

teaspoons

baking powder

1/4

teaspoon

salt

125

g

(4 1/2 oz) fresh blueberries
Cheesecake:
1

cup

(8 oz | 250 g) light cream cheese, at room temperature

1/3

cup

plain 2% Greek yogurt

1/3

cup

natural powdered sweetener

(or powdered sugar)

1

heaping tablespoon all-purpose flour

(plain flour)

1

large egg

2

tablespoons

fresh squeezed lemon juice
Cream Cheese Glaze (optional)
1/2

cup

cream cheese

, at room temperature

1

cup

natural powdered sweetener

(or sugar)

3-4

tablespoons

fresh squeezed lemon juice

2

tablespoons

water (only if needed for a thinner consistency

* Extra blueberries to garnish
Instructions
Preheat oven to 175°C | 350°F. Lightly grease an 8-inch round springform pan with cooking oil spray and set aside.
For The Cake:
In a jug, whisk the lemon juice together with the milk; set aside and allow to sour (making your very own buttermilk).

In a large bowl, beat together the butter and sugar until light and creamy. Beat in the eggs and zest until light and creamy. Beat in the 'buttermilk' (lemon juice/milk mixture).

Add the flour, baking powder and salt, mixing them first on top of the wet ingredients, before folding them in to combine the batter. Gently mix 3/4 of the blueberries through.
For The Cheesecake Mixture:
Beat the cheesecake ingredients together until smooth and lump free (about one minute on low speed).
Assemble Cake:
Evenly pour half of the cake batter into the prepared pan. Pour 1/3 of the cream cheese mixture over blueberry cake layer (don't swirl it through). Pour the remaining cake batter over the cream cheese; then pour the remaining cream cheese mixture over the top to evenly cover the cake. Sprinkle remaining blueberries over the top.

Bake in preheated oven 65 - 70 minutes, until the centre is just set (it will have a very slight wobble to it). If you find it is browning after 30 minutes, tent with foil being careful the foil does not stick to the cheesecake). Remove from the oven and allow to cool for an hour or so. Cover with foil and refrigerate for 6 hours or over night.
For The Glaze:
Beat all glaze ingredients together until smooth.

Once cake has chilled, remove from pan onto a serving dish. Pour the glaze evenly over the top and allow to drizzle down the sides of the cake. Serve with extra blueberries.