Bruschetta Chicken Pasta Salad is a must make for any occasion! With Italian seasoned grilled chicken and a good kick of garlic and parmesan cheese, this is one pasta salad that will impress!
Bruschetta Chicken Pasta Salad… It was time to make a kick-ass carb recipe that you won't regret!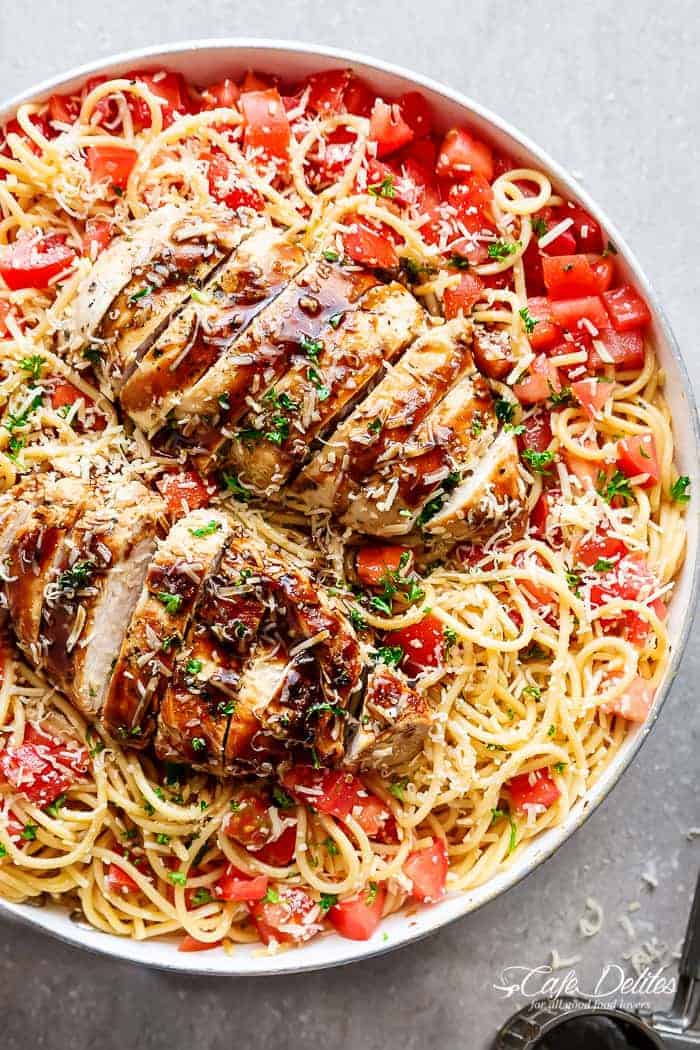 With nearly ALL of the salads on this site full of lettuce and good-for-you-vegetables, it was time to bust out some carbs and give you something different. This is one recipe that I had to go digging into the archives for! Two years ago, I made and posted this Chicken Bruschetta Pasta Salad, which had been an emergency lunch for a few weeks (back then), and shared it before I knew how to focus a camera lens even. Anyway, the point is, that salad went crazy loco world wide with the embarrassing photo attached to it. The only problem, is, that recipe is a single serve recipe — a lazy girls recipe — and I've been busting to remake it ever since. Fast forward two years to a better lens and a bit more patience, and here we are. Again.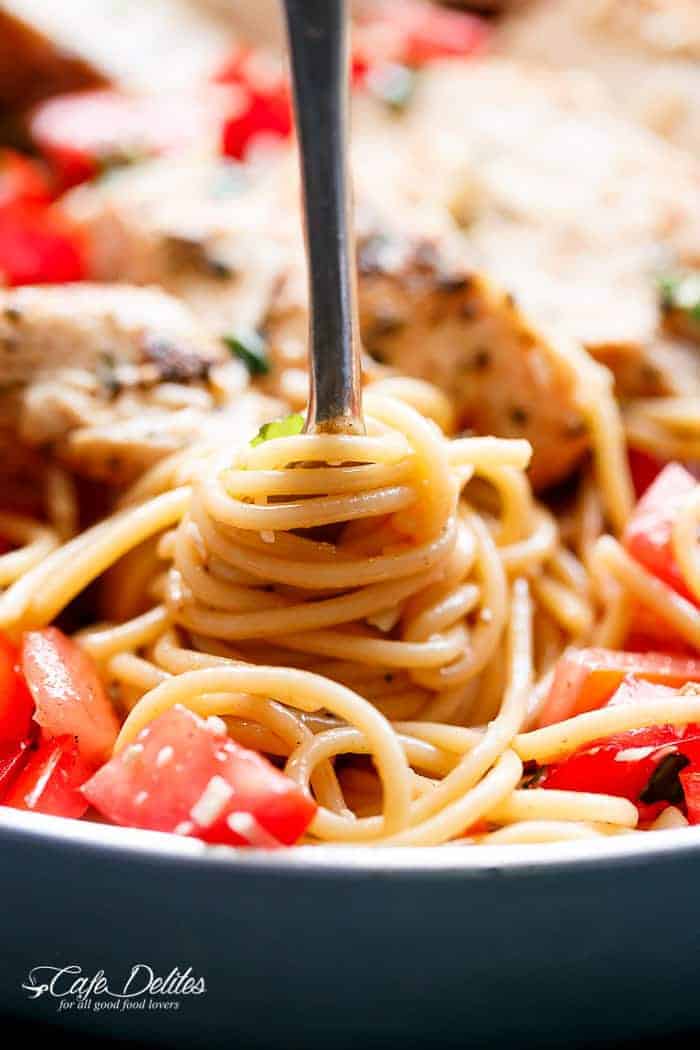 For this version, you can feed a crowd and be the most popular person at your next gathering / function / partayyy / or dining room. Still a semi-lazy girls version, this pasta salad is even better than the last one, and can be served warm OR cold! 
I'm'a break this down: Chicken grilled or seared in Italian seasonings. Ripe roma tomatoes tossed with a garlic and onion infused olive oil → pan fried first to release all of their incredible flavours. Balsamic vinegar, some parmesan cheese, salt and pepper, basil or parsley. Gah! Mamamia whattasalad.
Mix it all together…….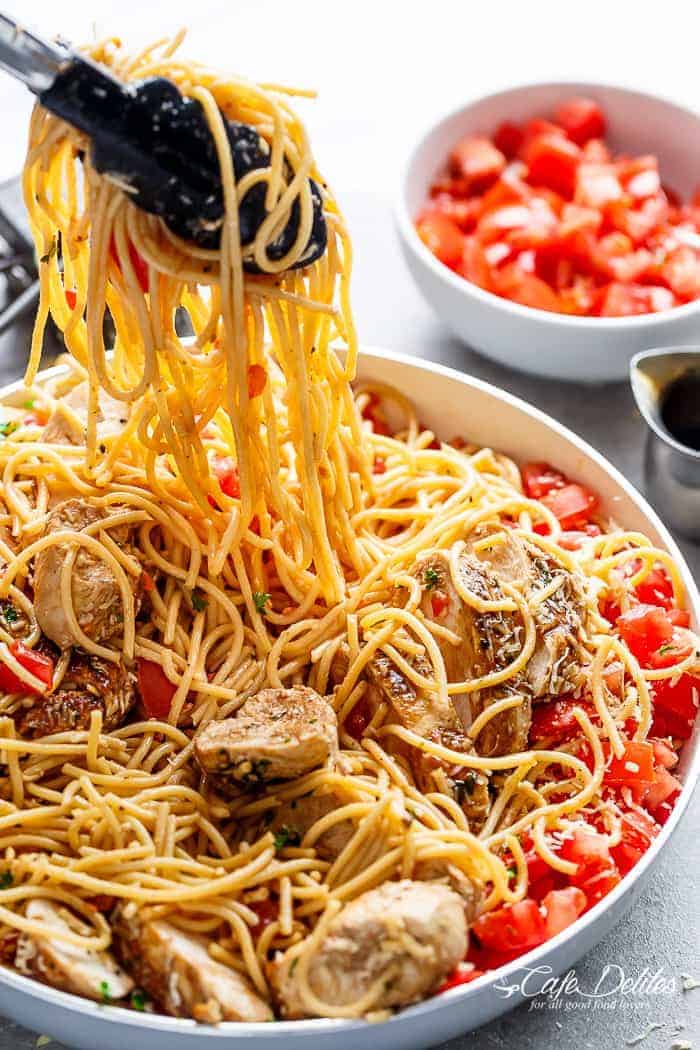 ……..add extra parmesan cheese. And look at that!! The most beautiful pasta salad with a bucket load of parmesan cheese!
If you're looking for a low carb version and something similar, check out this Grilled Balsamic Chicken and Avocado Bruschetta Salad!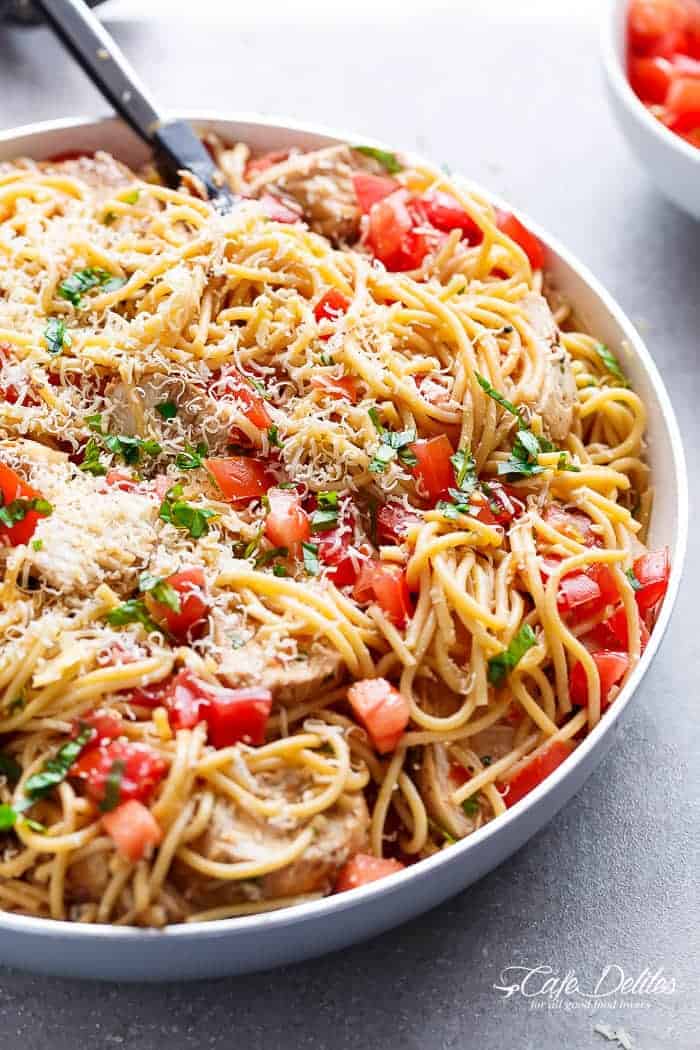 REMEMBER TO SUBSCRIBE TO CAFE DELITES NEWSLETTER FOR FREE AND RECEIVE FRESH RECIPE NOTIFICATIONS DELIVERED INTO YOUR INBOX!
If you try a recipe, please use the hashtag #cafedelites on INSTAGRAM for a chance to be featured!
FOLLOW CAFE DELITES ON FACEBOOK | INSTAGRAM | PINTEREST | TWITTER FOR ALL OF THE LATEST CONTENT, RECIPES AND UPDATES.