A Mongolian Beef And Broccoli better than take-out? YES! It IS possible. With an added ingredient to make this thick and glossy sauce taste even BETTER than take-out, PLUS extra sauce in the recipe, the beef is tender/soft using less than half the oil than other recipes.
Mongolian Beef And Broccoli (EXTRA SAUCE). Most Mongolian Beef recipes do not have the addition of vegetables and call for deep frying the beef in 1 cup or more of oil. But not this one. I tried many ways to reduce the calorie content in this recipe. Plus, the addition of broccoli turns Mongolian Beef into an incredible family loved stir-fry!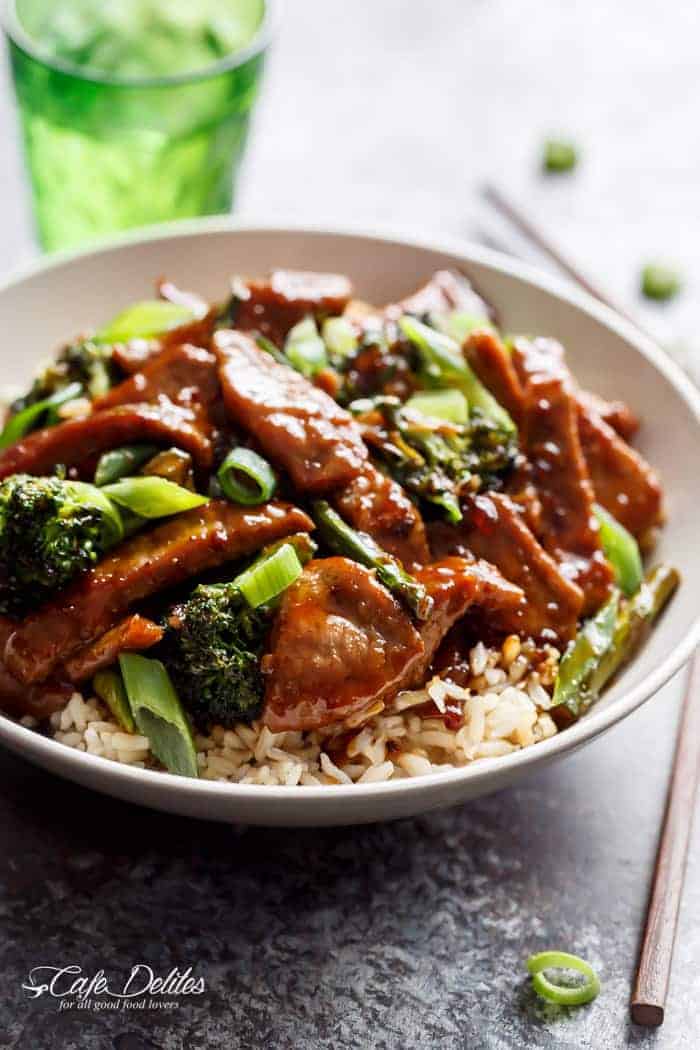 I'm hoping you can see how soft, silky and smooth that beef ↓ really is.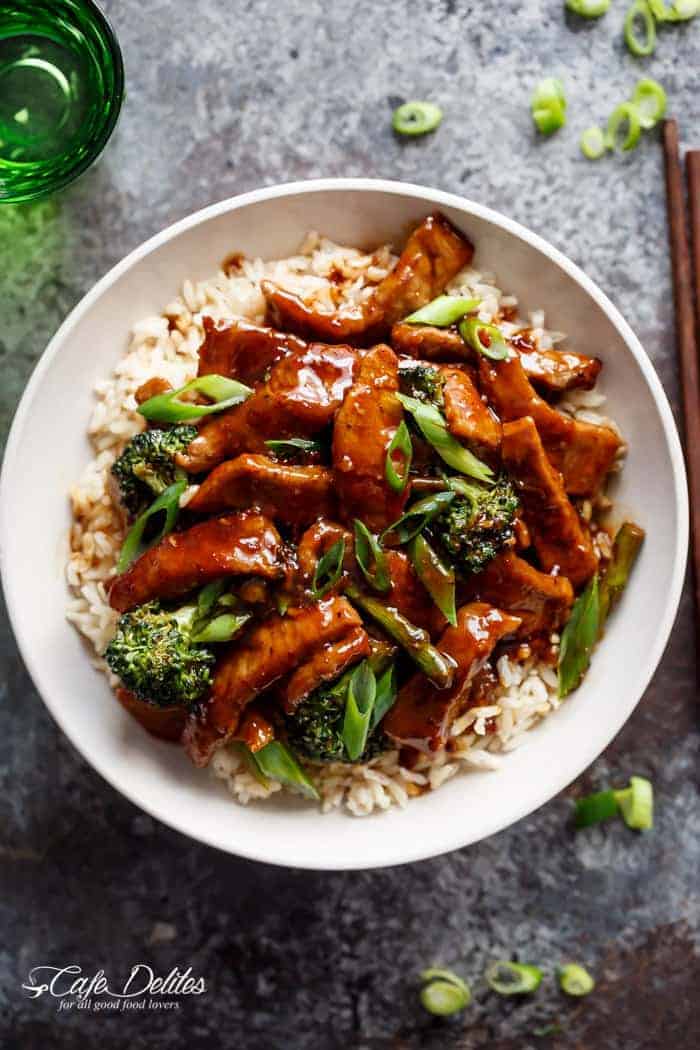 The most important step in this recipe is to marinade the beef in a mixture of cornstarch and vinegar. The technique that most Chinese restaurants use to create that tenderised texture we love so much is called velveting. It feels like a secret to Chinese cooking. Well, not anymore. Velveting can be made up of a mixture of egg whites, baking soda and wine, but in this case, we're using cornstarch, rice wine vinegar and soy sauce.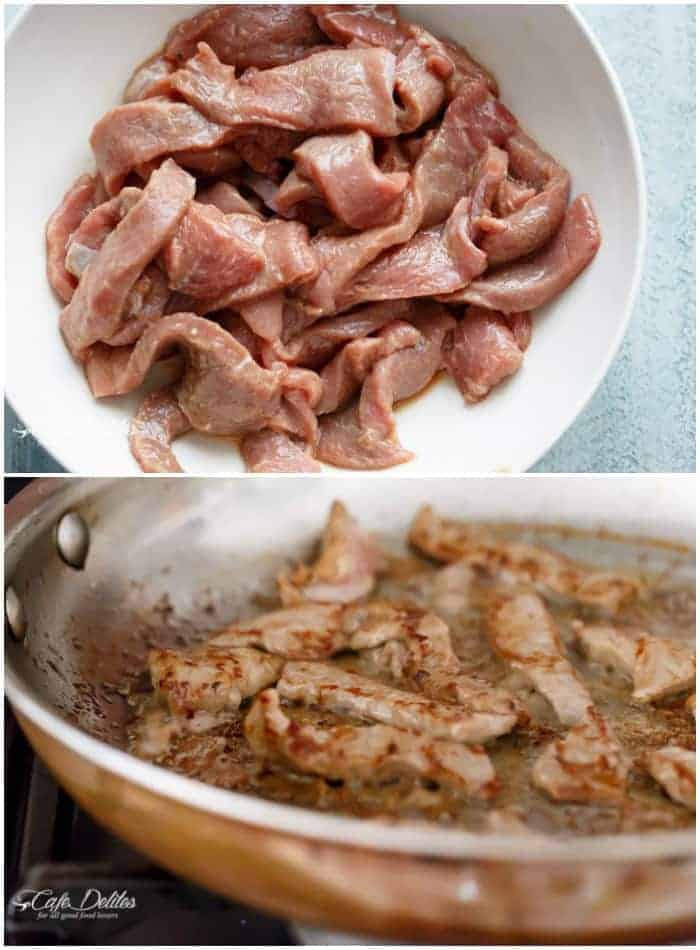 After the meat is marinated, it is then — most traditionally — blanched in deep fried oil, then drained and ready to be stir fried. Well, as usual, I broke tradition to make this recipe easier for those of us home-cooks that aren't comfortable with deep frying → not wanting to start any fires → not wanting to think of the fat pants needed afterwards.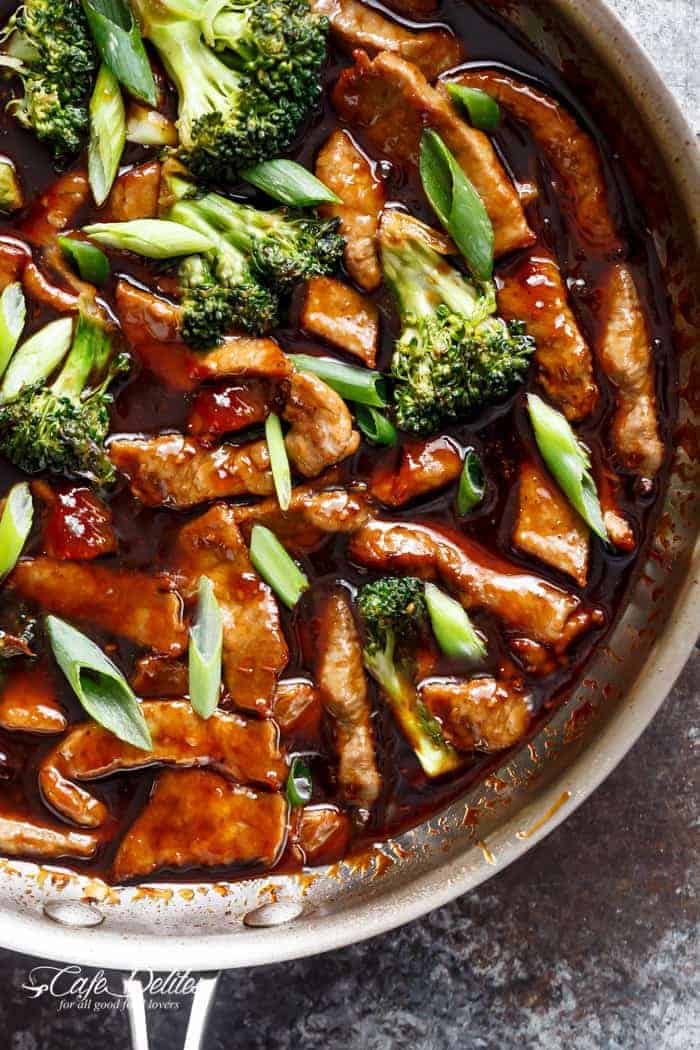 First, I tried using no oil at all, using cooking oil spray instead. Well, remember that fire extinguisher I have now when testing the Blueberry Lemon Cheesecake Cake? I had it in hand waiting for the wok to burst into flames, since I had expertly burnt the beef and had chunks of meat stuck to the wok — smoking and blackened like little champions. Don't even try to attempt that, or you'll be throwing out your beloved woks.
Second time around, I tried using very little oil. Like, 1 tablespoon. Don't go there either, because you will still end up with dry/tough meat. Frying the beef in oil is what tenderises it and makes it so incredibly soft when biting into it. But, not 1 cup! Not even 1/2 cup.
Third times a charm, right? I used only 1/4 cup of oil for 2 pounds (1 kilo) of beef strips, and found that was plenty, without needing to drain any oil afterwards or worry about where I was going to put any leftovers. The method works, don't let it scare you. And only half the fat pants needed.
My biggest piece of advice is to have your oil hot before adding the meat. DO NOT have your oil on high heat, or it will spit and spatter all over you and your stove top. Just…..trust me. Medium heat is enough. If your oil is preheated and hot, your meat will cook FAST. Stir frying it for about 2 minutes is enough time, until you see crispy, golden edges.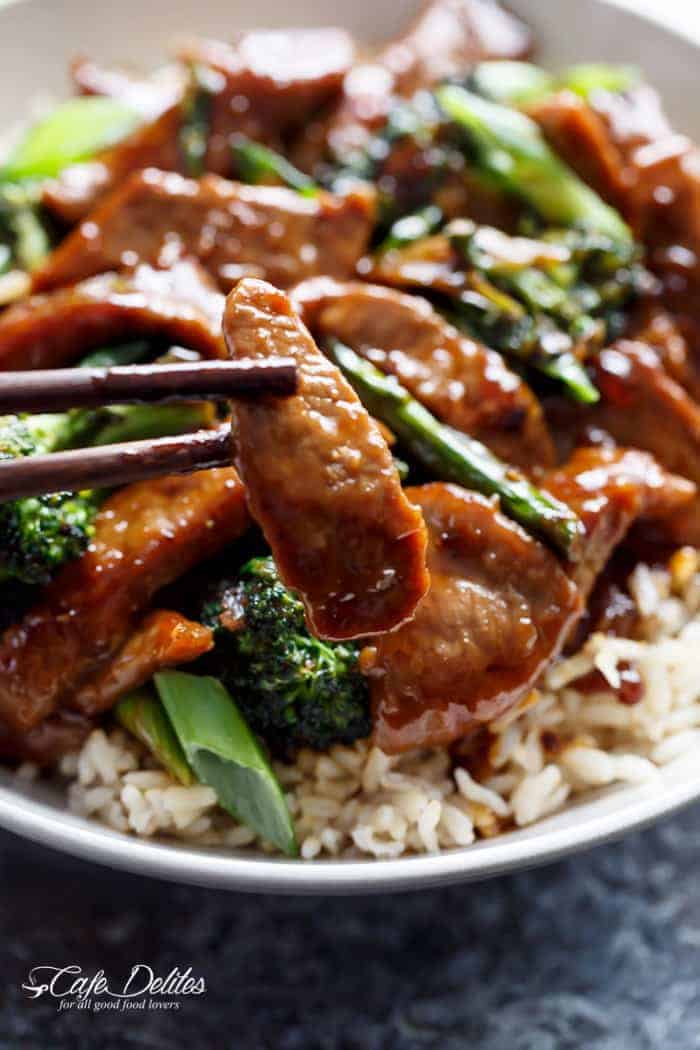 Adding Hoisin sauce into tho sauce? Priceless. A delicious addition and adds an incredible flavour.
The result? Beautiful, soft Mongolian Beef. At first glance, who can be bothered with that extra step, right? But believe me, if you want Chinese restaurant quality beef, go the extra step and do it.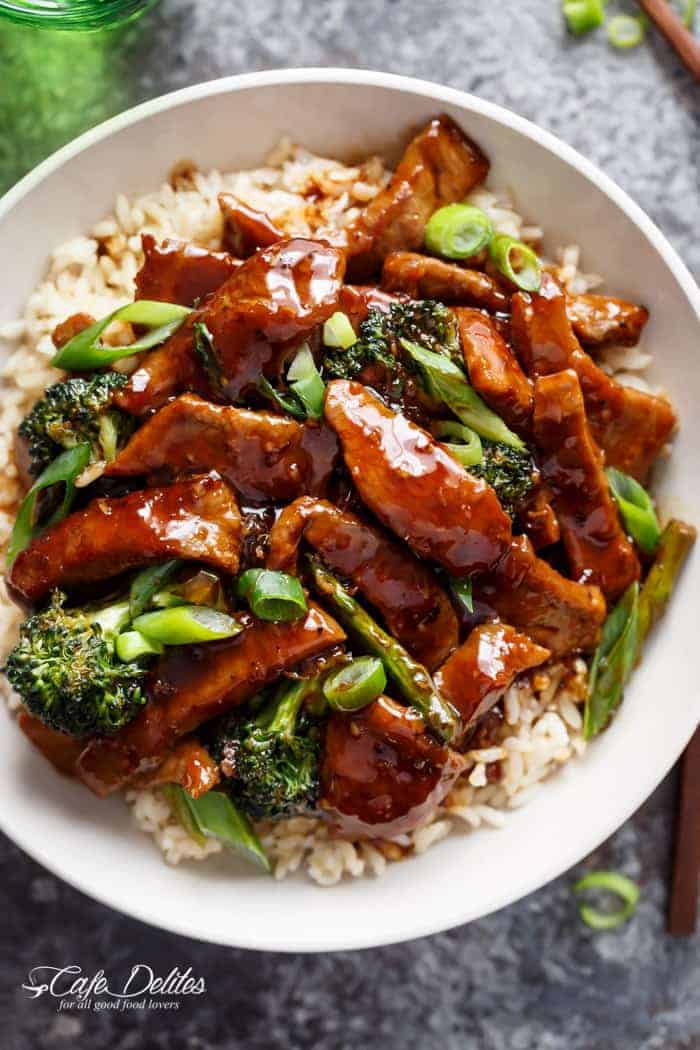 REMEMBER TO SUBSCRIBE TO CAFE DELITES NEWSLETTER FOR FREE AND RECEIVE FRESH RECIPE NOTIFICATIONS DELIVERED INTO YOUR INBOX!
If you try a recipe, please use the hashtag #cafedelites on INSTAGRAM for a chance to be featured!
FOLLOW CAFE DELITES ON FACEBOOK, INSTAGRAM, PINTEREST AND TWITTER FOR ALL OF THE LATEST CONTENT, RECIPES AND UPDATES.
0