An easy and healthy LOADED Sweet Potato Hash Brown Breakfast Casserole, complete with as many vegetables as YOU want, crumbled sausages, eggs and crisp-tender sweet potato hash browns!
Sweet Potato Hash Brown Breakfast Casserole, what a click!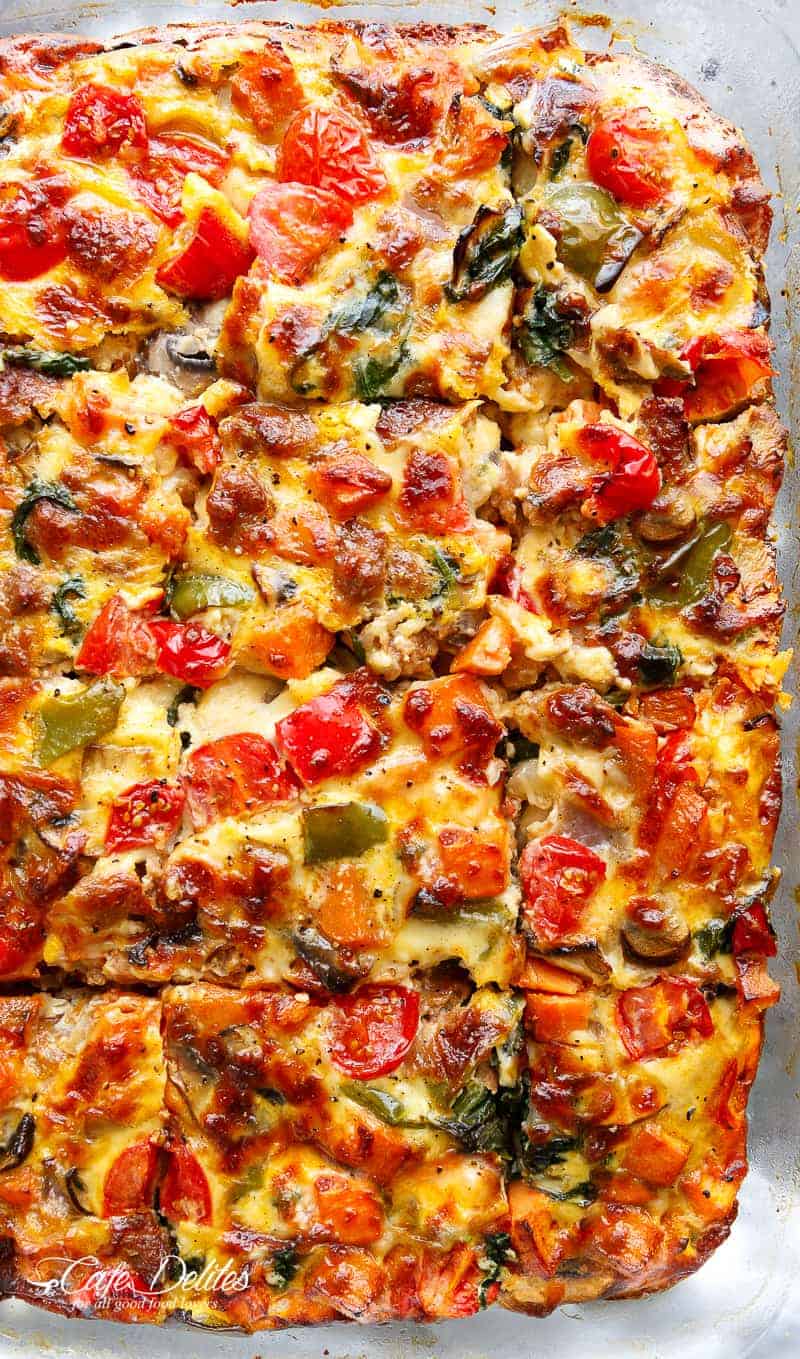 Has breakfast ever looked so good? Or brunch, even?
With Thanksgiving around the corner, a lot of you guys have been requesting easy, make-ahead breakfasts on the healthy side. Well, this would be it. The first thing that came to my mind was a giant frittata type of thing, big enough to feed a crowd, while also being completely customisable to your tastes. This pan is loaded. No. L.O.A.D.E.D with good for you stuff. Actually, this is a casserole I made regularly a couple years ago as meal prep. Bake it, portion it out and freeze each portion for later. So…confessing how excited I am to be sharing this with you all is a severe understatement.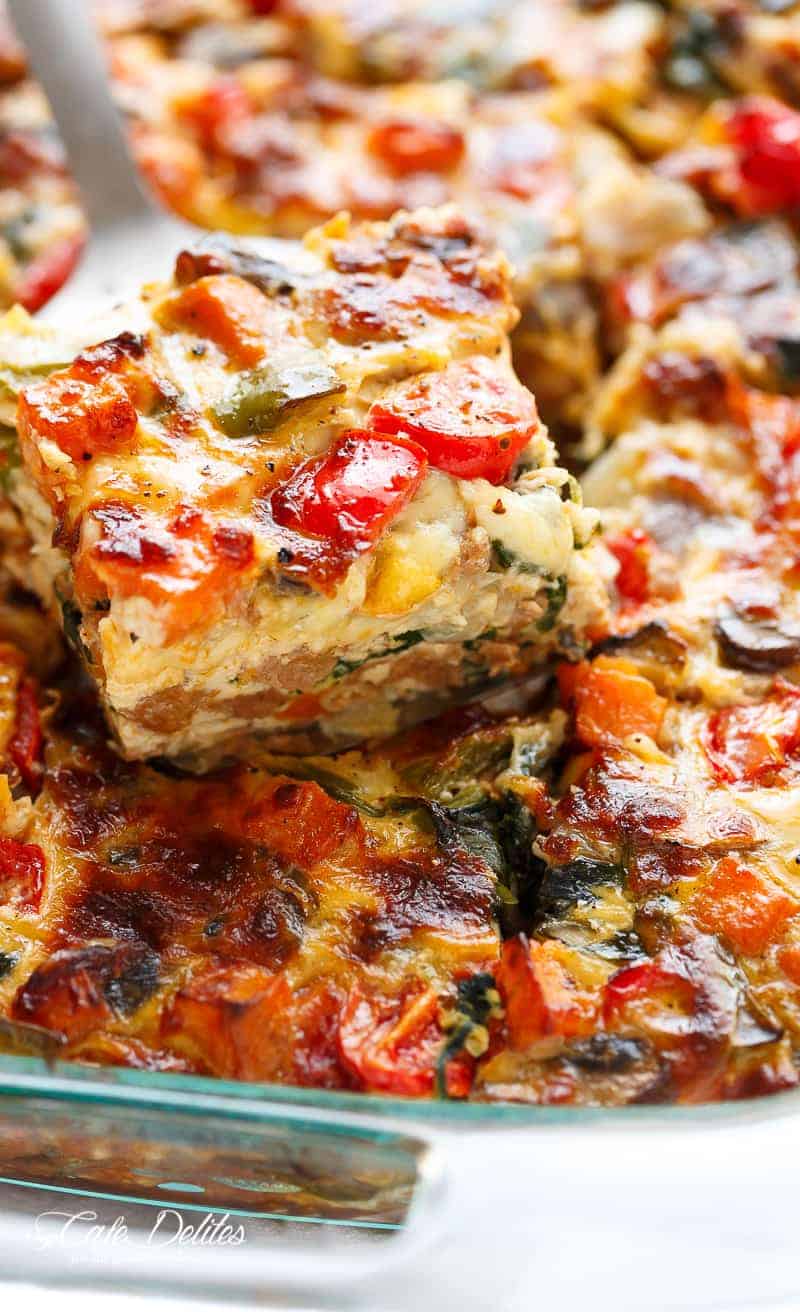 Fully loaded with diced up, crisp-tender-sweet sweet potato hash browns for ever-lasting hunger control, bell peppers (or capsicums), sliced mushrooms, sautéed spinach, and cherry or grape tomatoes to top it all off, with a light dusting of shredded mozzarella cheese. PLUS crumbled sausage to add even more protein! BUUHT having said ALL THAT just now, I also have to add that this recipe is totally customisable. Don't like bell peppers? Leave 'em out. Not a fan of sausages? Replace with bacon. OR leave out meat altogether and make it vegetarian! See where I'm going?
First, you need to lightly grease a 9×13-inch casserole dish with cooking oil spray OR a light coating of olive oil. This is crucial for a guaranteed no sticking to the pan type situation and serving nice slices instead of a mountain of egg mess.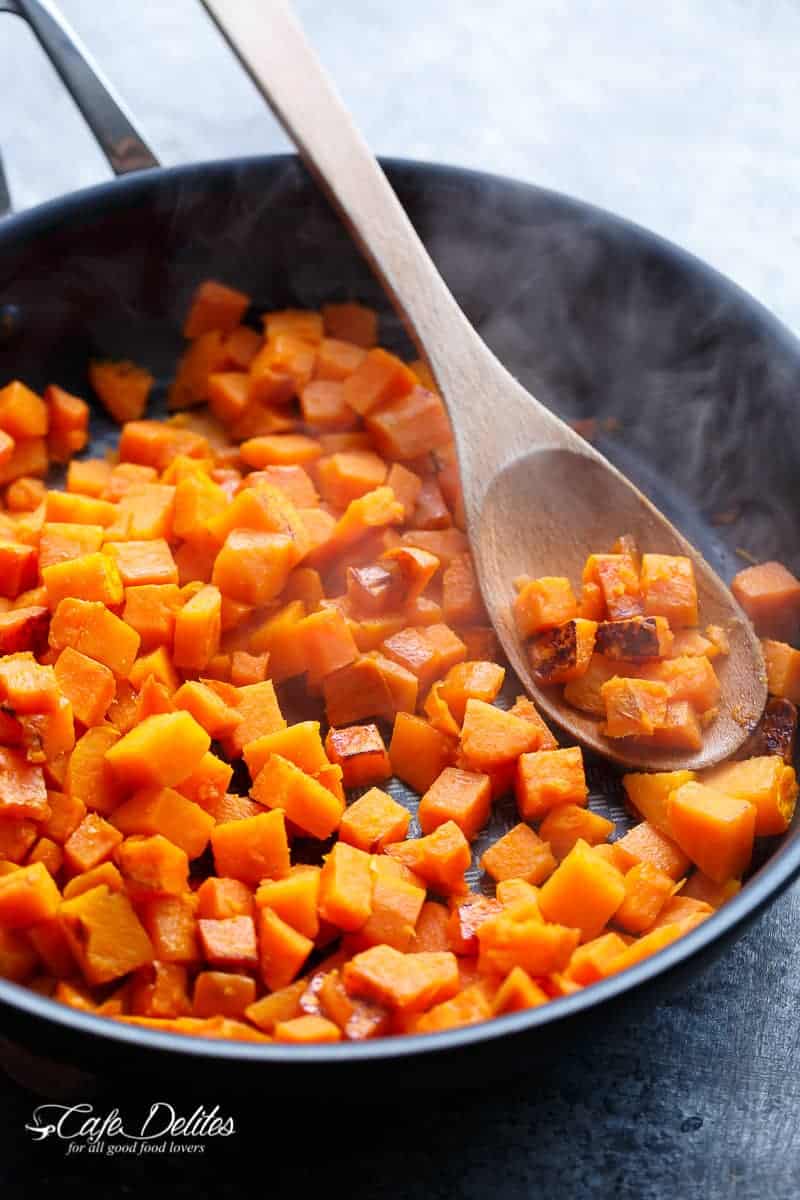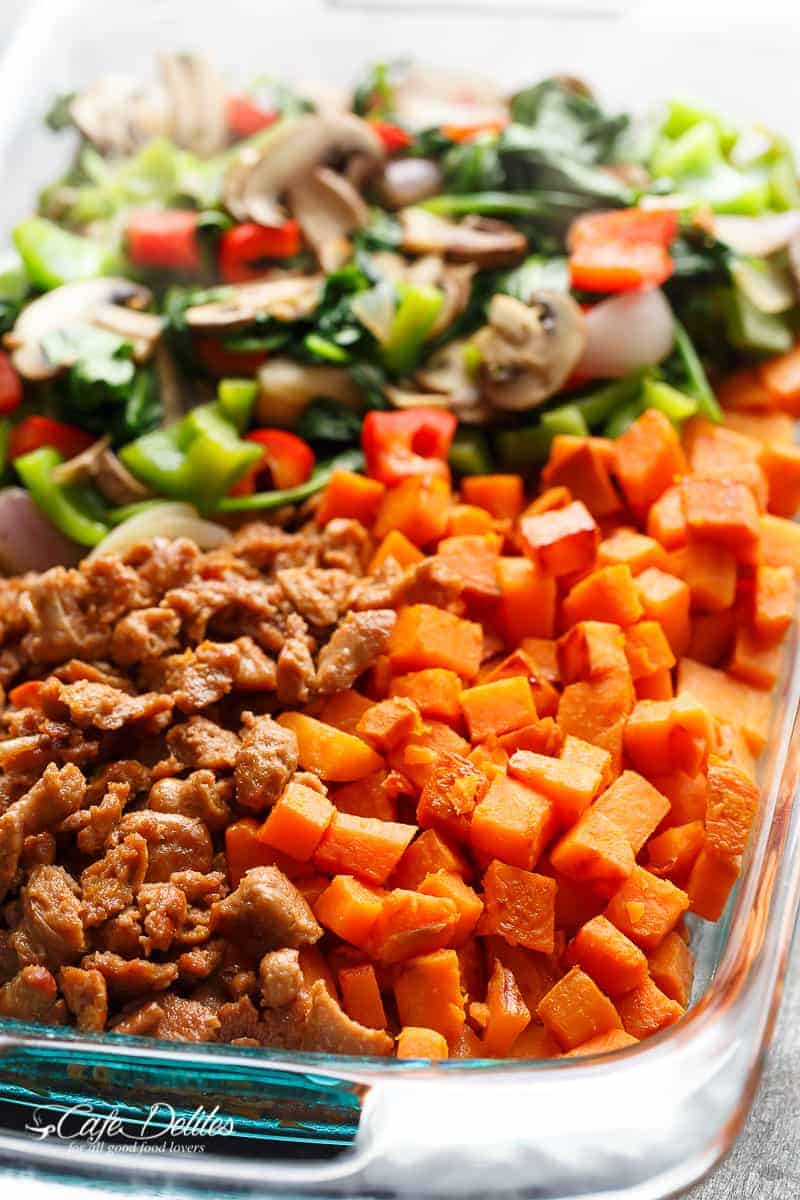 Second, fry your sweet potato hash first, THEN sausage meat, THEN vegetables. Dump all of the ingredients into your dish, like so ↑, whisk the eggs with milk, half the cheese, salt and pepper.
Pour the egg mixture ALL over the rest of the ingredients… ↓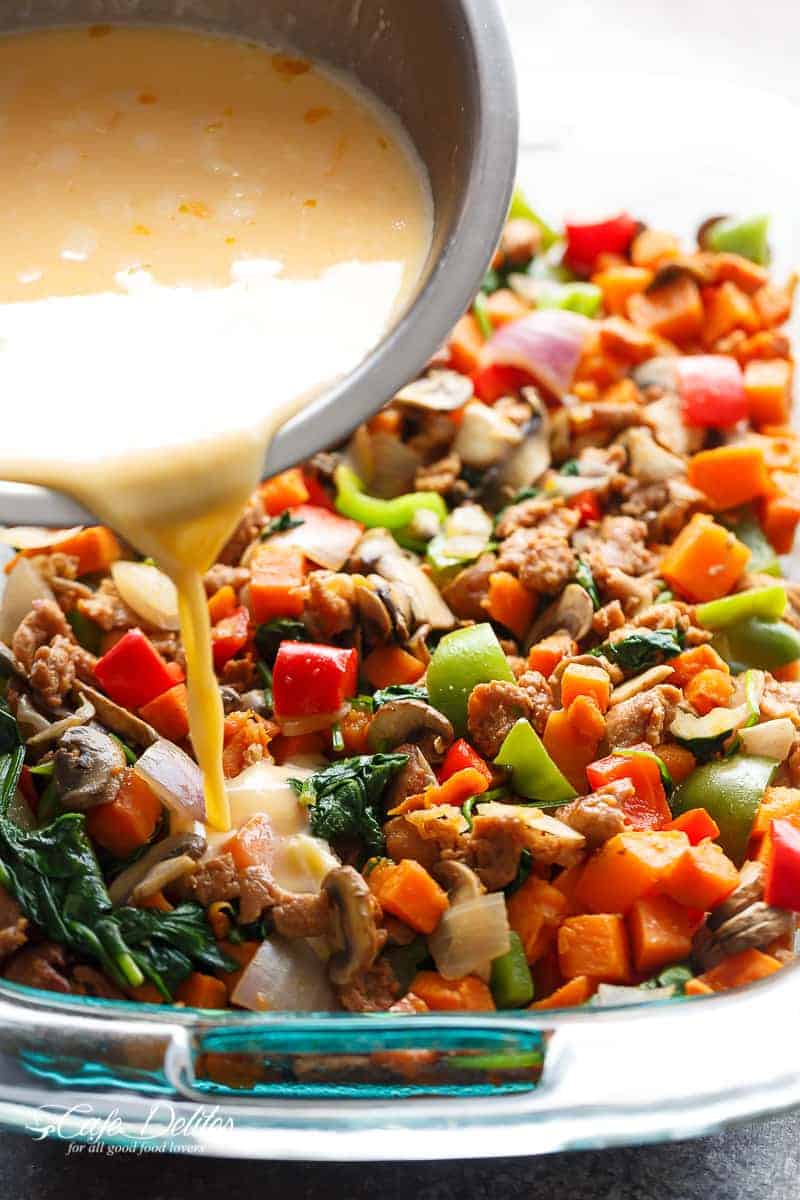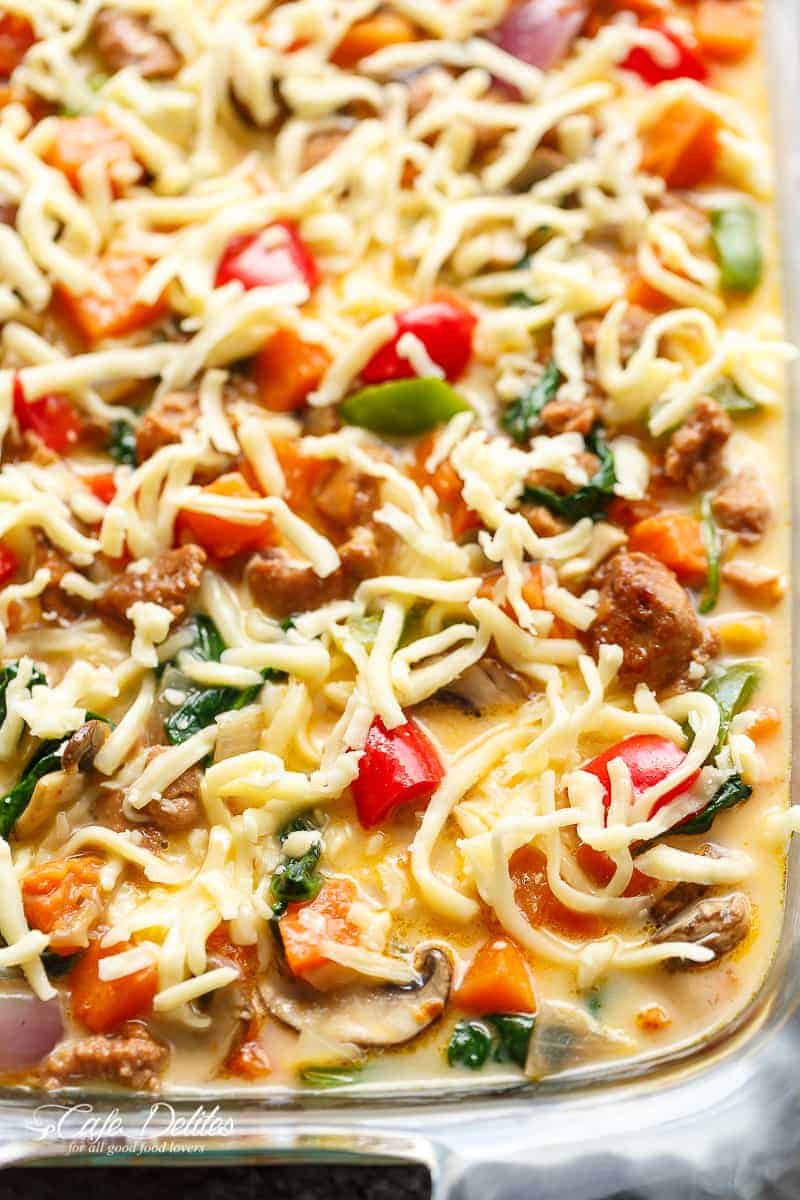 Sprinkle over remaining cheese and that's it! Bake for around 45 minutes and you've got a perfect, cheesy breakfast casserole that everyone will LOVE! Perfect for breakfast or brunch or lazy, stay-in-your-pyjamas weekend mornings.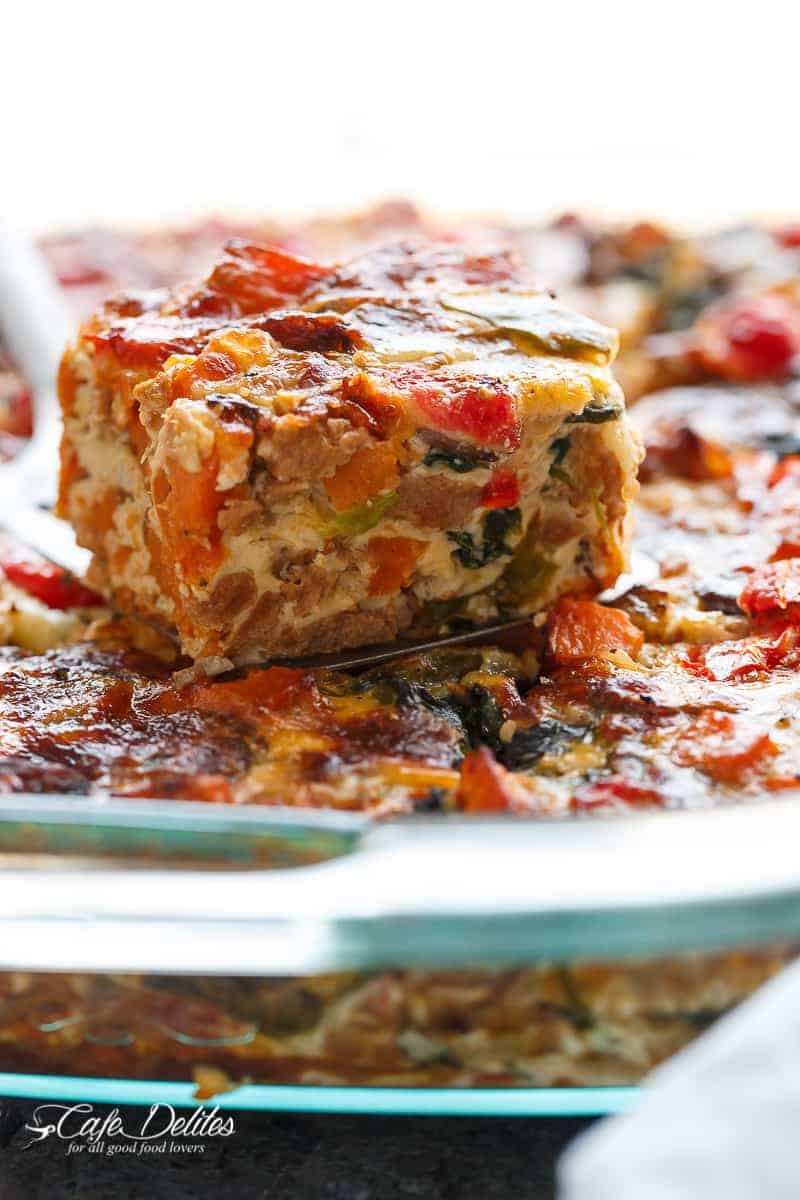 You can also make the casserole the night before and allow it to come to room temperature for about 30 minutes before baking!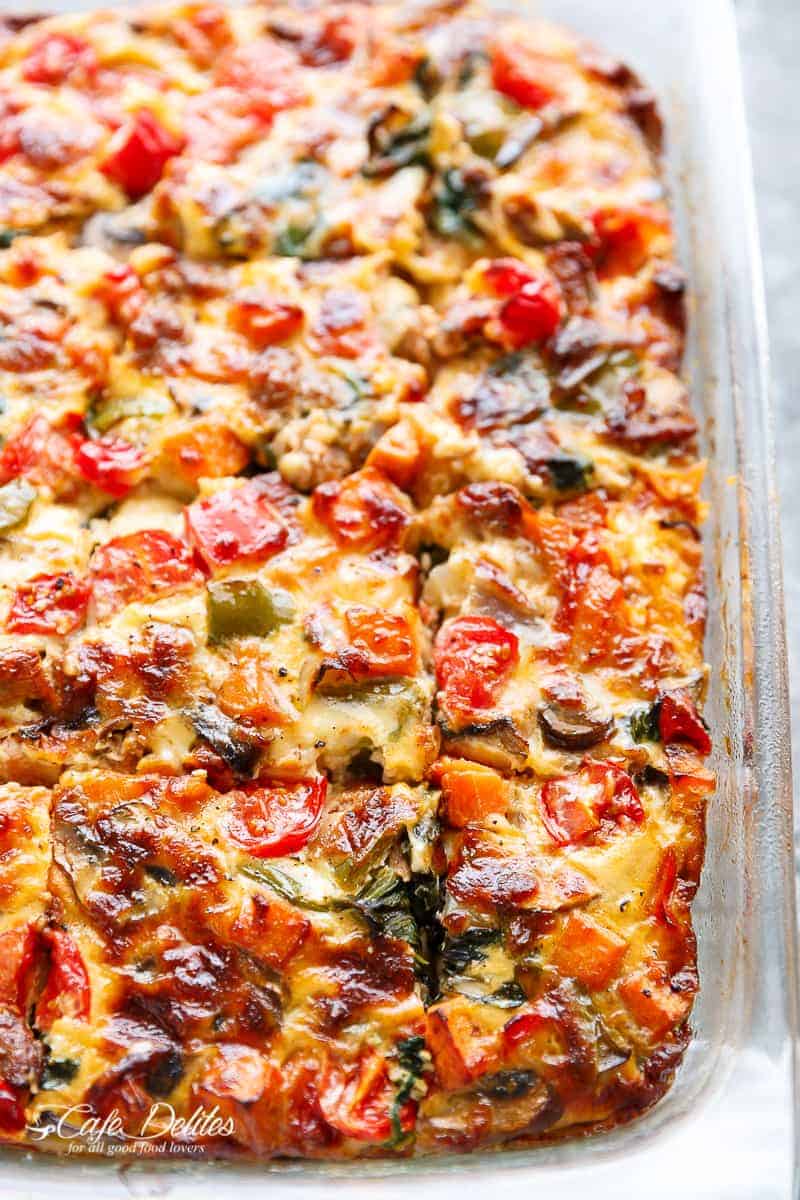 REMEMBER TO SUBSCRIBE TO CAFE DELITES NEWSLETTER FOR FREE AND RECEIVE FRESH RECIPE NOTIFICATIONS DELIVERED INTO YOUR INBOX!
If you try a recipe, please use the hashtag #cafedelites on INSTAGRAM for a chance to be featured!
FOLLOW CAFE DELITES ON FACEBOOK | INSTAGRAM | PINTEREST | TWITTER FOR ALL OF THE LATEST CONTENT, RECIPES AND UPDATES.
EQUIPMENT USED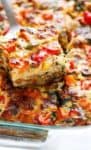 Sweet Potato Hasbrown Breakfast Casserole
Ingredients
1

large sweet potato

, or 2 medium (about 24 ounces | 700 grams), peeled and diced into 1/2-inch cubes

1

pound

| 500 grams sausages of choice

(beef, chicken or turkey), casings removed*

1

red onion

, roughly chopped

1

teaspoon

minced garlic

1

red bell pepper

(capsicum), deseeded and diced

1

green bell pepper

(capsicum), deseeded and diced

1

cup

sliced mushrooms

2

cups

baby spinach leaves

, washed

1

cup

grape or cherry tomatoes

, halved

salt and fresh ground black pepper

10

large eggs

1/3

cup

milk

2/3

cup

shredded mozzarella cheese

(or cheddar)**
Instructions
Preheat the oven to 200°C | 375°F. Spray a 9x13-inch baking/casserole dish with cooking oil spray; set aside.

Heat 1 tablespoon olive oil a large pan or skillet over medium heat. Add sweet potatoes to the pan or skillet. Fry for 2 minutes first, stirring occasionally to crisp the edges. The cover with a lid and allow them cook for around 10 minutes, stirring occasionally, until fork tender. Transfer to the prepared baking pan.

In the same skillet, fry the sausage meat, breaking it up with the tip of your wooden spoon. Fry until cooked through and crisp. Add the onion and garlic. Fry until onion is transparent. Add the peppers and mushrooms and cook for a further 3 minutes, while occasionally stirring (the mushrooms will begin to soften); add the spinach and continue cooking until the spinach begins to wilt. Season with salt and pepper. Transfer sausages and veggies to the baking pan, add in the sliced tomatoes and mix all of the ingredients together.

While veggies are cooking, whisk the eggs in a large bowl with the milk and 1/3 cup shredded cheese. Pour the eggs over the all of the ingredients in the baking dish. Top with the remaining 1/3 cup cheese. Season with extra salt and pepper over the top.

Bake the casserole in preheated oven, uncovered, for about 45 minutes, or until cooked through, golden and crisp around the edges.

Allow to cool slightly; slice into 12 portions and serve warm.
Recipe Notes
*Ground sausage mince can be used instead. Or ground beef, chicken or turkey. I used grass-fed beef sausages. Replace sausages with bacon if desired.
*For a vegetarian option, omit the sausage.
**Replace mozzarella cheese with cheddar, swiss, parmesan, or your favourite shredded cheese.
TO MAKE AHEAD
: Assemble the casserole as directed, cover with plastic wrap and refrigerate overnight, allow it to come to room temperature for 30 minutes before baking.
HOW TO CUSTOMISE
: Replace any of the vegetables with your own choices if you wish. Corn, sliced zucchini, diced eggplant, diced potatoes, broccoli or cauliflower florets, etc.