Peanut Butter Stuffed Chocolate Covered Berries
Juicy strawberries and blueberries covered in a chocolate hardshell, and stuffed with creamy peanut butter. Easy to prepare, your chocolate cravings will be kicked to the to curb in no time.
And it's no secret around here how much I dig peanut butter and chocolate anything.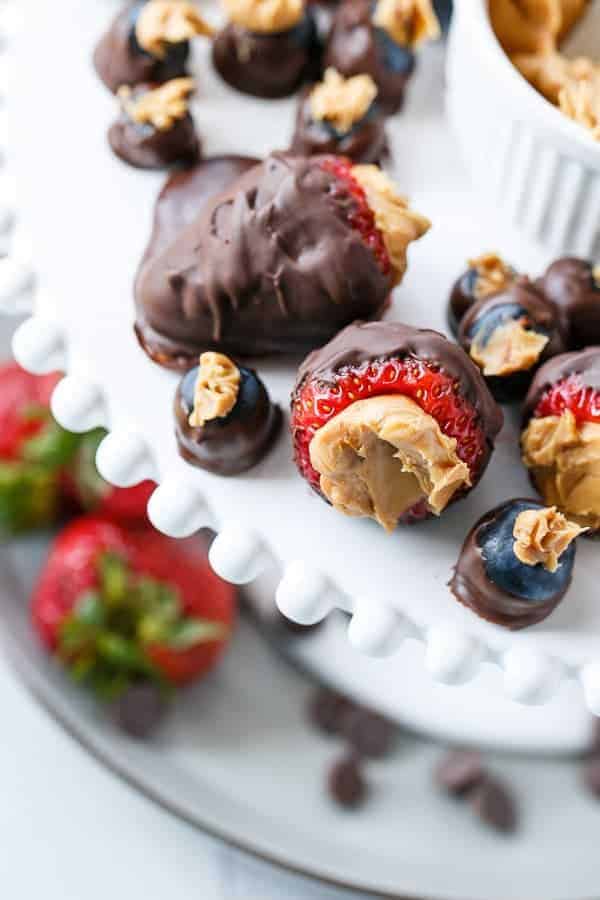 Oh how I love chocolate. I haven't shared anything chocolate lately, and I've been craving it like nutso. Like a fire breathing, smoke puffing outta my nostrils, chocolate fanatical dragon. But. Since New Years, and the typical resolutions of, 'I wanna lose 50 kg in a week' (totally not possible, but that's how we usually do it), I wanted to fill up my chocolate with something healthier than just eating from the block, because when I do that, the whole block is gone in 2.2 seconds.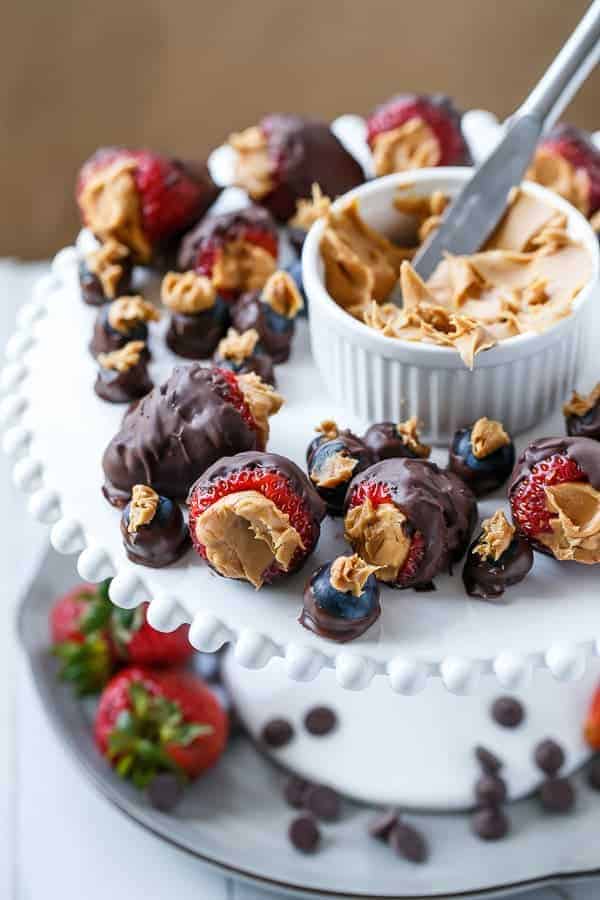 So this was a way to fill up on chocolate AND throw peanut butter into the mix (totes genius), while kicking the chocolate craving to the curb. 2 (ok, maybe 4) of these, and I was set and ready to take on the day.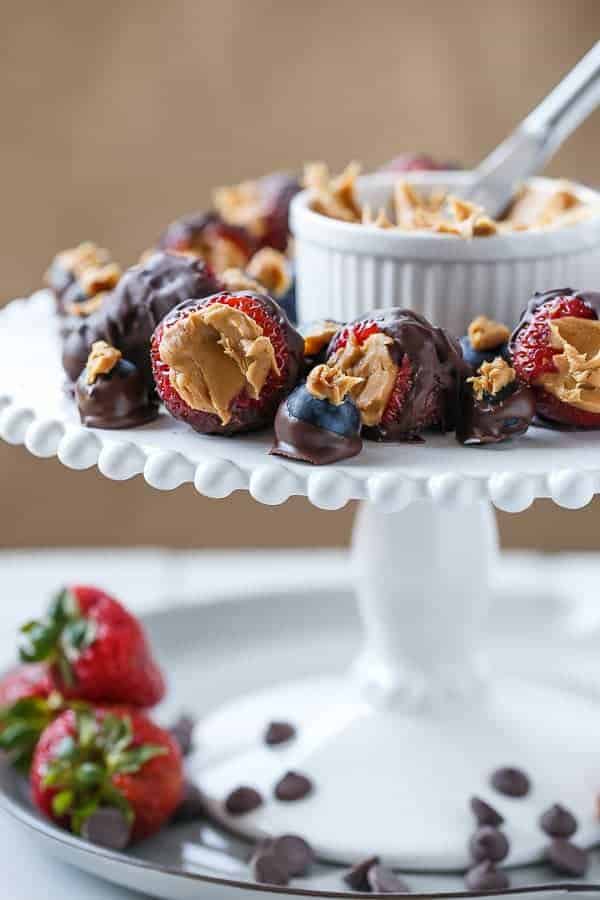 And who was waiting for me to finish shooting so he could have some? My son. Everybody, meet Jaivan. My pride and joy, and yes, a total mamas boy. Especially when I have chocolate.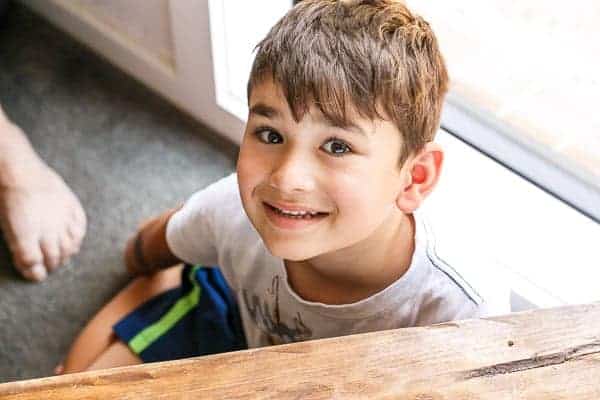 If you've never tried stuffing your berries with peanut butter…then please do yourselves a biiiiiig favour and try these. Please. Do it.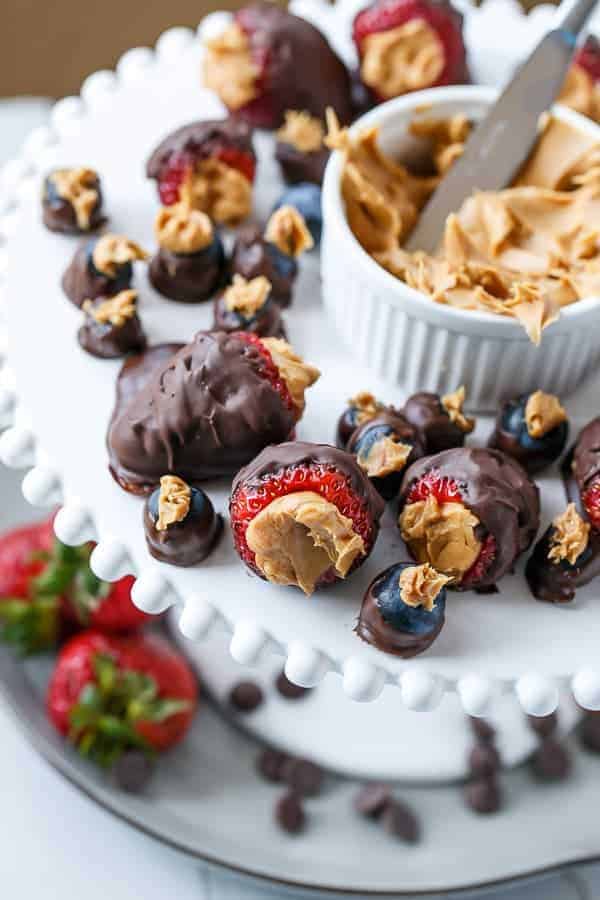 The peanut butter can be replaced with any nut OR cookie butter! Yes. I've done cookie butter stuffed berries, and they're just as good!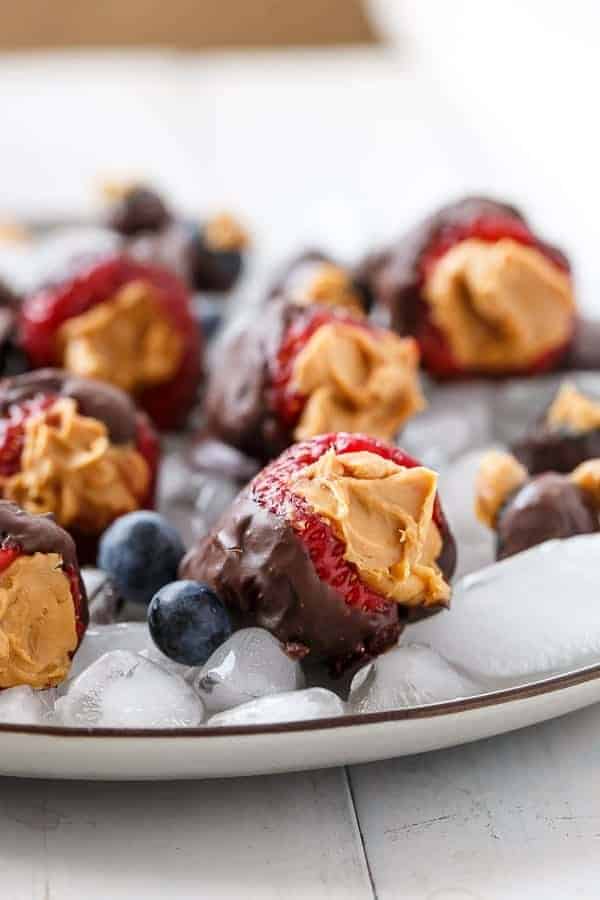 The only thing I recommend, is having all of your berries washed and thoroughly dried before dipping in the chocolate, otherwise the chocolate will seize and become crumbly.
And you definitely want a smooth hardshell covering these. Because biting into a hard chocolate shell, only to sink your teeth into the juicy berries underneath, and then reaching the slightly salty peanut butter, well, oh.em.gee.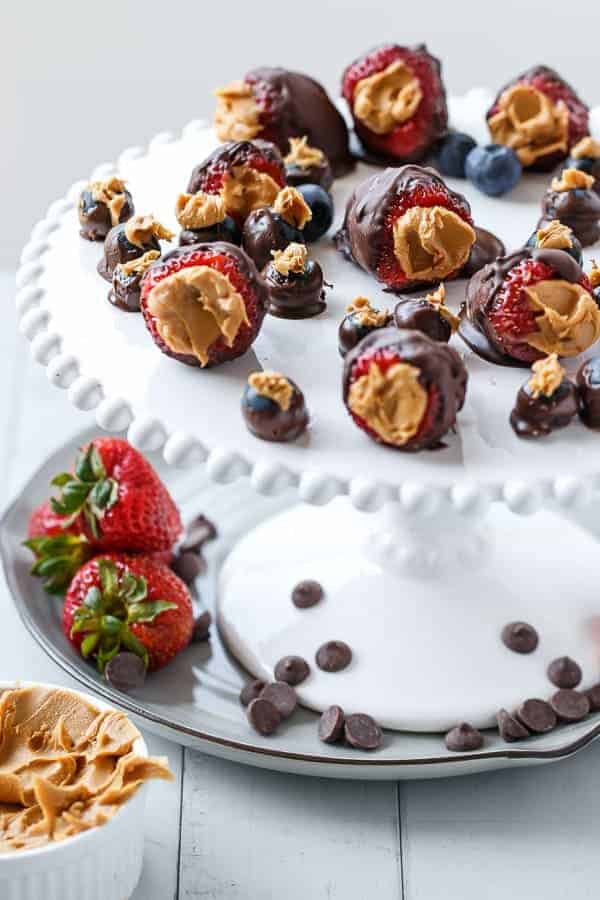 Biting into these, you will see a glimpse of heaven on Earth. That.is.a.guarantee.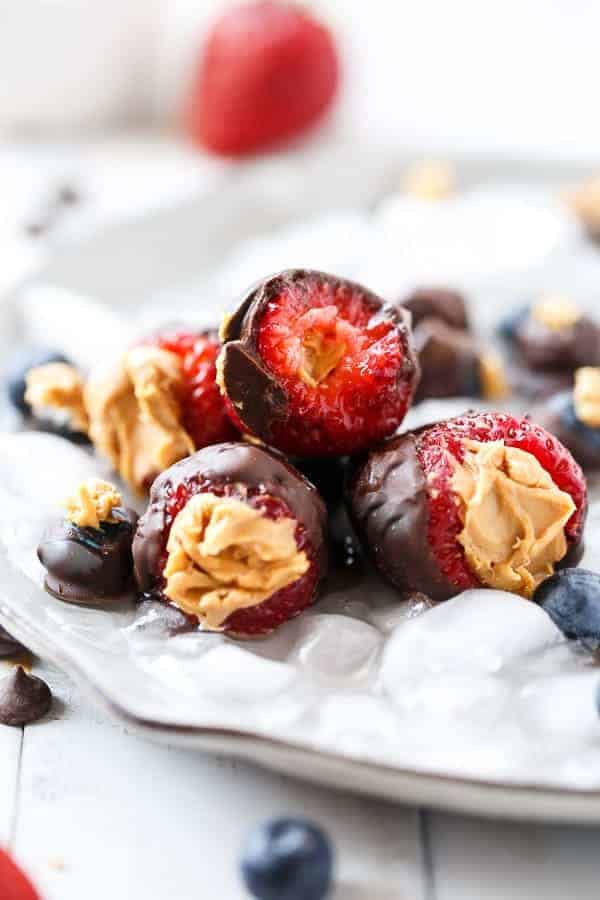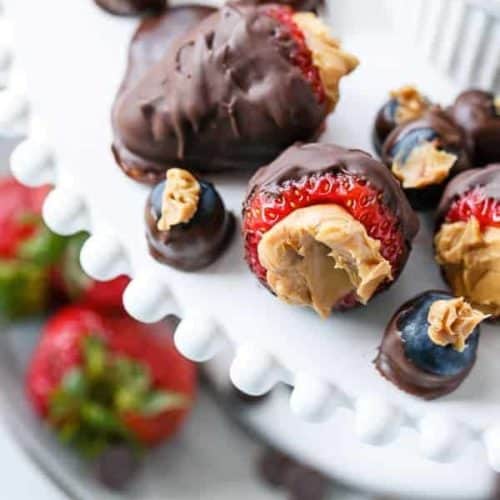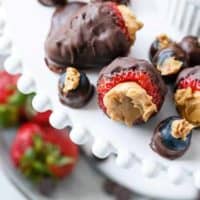 Ingredients
1

punnet strawerries

, washed and hulled, and dried thoroughly with a paper towel

1

cup

blueberries

, washed and dried thoroughly with a paper towel

4

tablespoons

creamy or crunchy peanut butter

(or any nut butter of choice) -- more if needed

¾

cup

70% dark chocolate

(or chocolate of choice)
Instructions
Prepare berries by washing and drying them thoroughly with a paper towel. Hull the strawberries and fill with ¼-1/2 teaspoon peanut butter for each strawberry - depending how large they are. (I used a knife to spread the peanut butter over the top and push it into the strawberries). Blueberries are prepared after coating with chocolate and refrigerating. Place berries on a tray lined with parchment/baking paper. Set aside. Melt chocolate:

Microwave method:
Place chocolate in a microwave safe bowl, and melt for 30 seconds. Stir and microwave again in 10 second intervals (removing from microwave to site chocolate with a metal fork between each interval) until melted and smooth.

Stove Top Method:
Place chocolate in a small metal bowl over a pot of simmering water, Stirring occasionally until all the chocolate is smooth and melted. (Do not let the chocolate come into contact with the water, or it will seize).

Once chocolate has melted, dip strawberries and blueberries half way into the chocolate, turning them to coat evenly. Bring them out, shake off any excess chocolate and place onto paper lined tray.

Place into refrigerator for only 15-20 minutes (if refrigerated longer, chocolate may turn cloudy and white). Once chocolate has hardened, remove berries and spread ¼ teaspoon peanut butter over the blueberries. Serve and enjoy!