Peanut Butter Cheesecake Stuffed Chocolate Brownie French Toasts
Say whaaaaatttt?!?!?! Yes! Rich and decadent Chocolate Brownie inspired French Toasts stuffed with a sweet and salty creamy Peanut Butter Cheesecake filling, drizzled with extra chocolate and sprinkled with crushed peanuts.
Because life is too short and I love Chocolate. And Peanut Butter. And Cheesecake.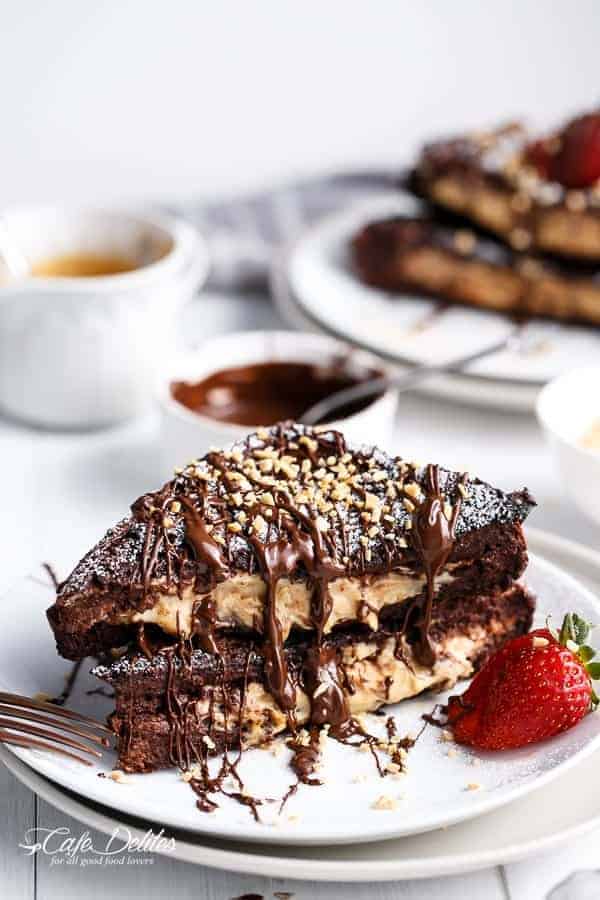 Now…I'm not saying you have to make these for breakfast. That's totally and completely up to you. But…I will say everyone will totally fall head over heels in love with you if you bring this on for Easter Sunday Brunch. Or dessert. Or whatever. Like…you'll be signing autographs and fleeing paparazzi in giant black four-wheel dri-…. Never mind.
I think I may have passed put a little while trying this. And no, I don't eat like this everyday. They may look sinful…but looks can be deceiving. And they curb those annoying Reese's Peanut Butter Cup Cravings in so many ways with every.single.sinful.mouthful.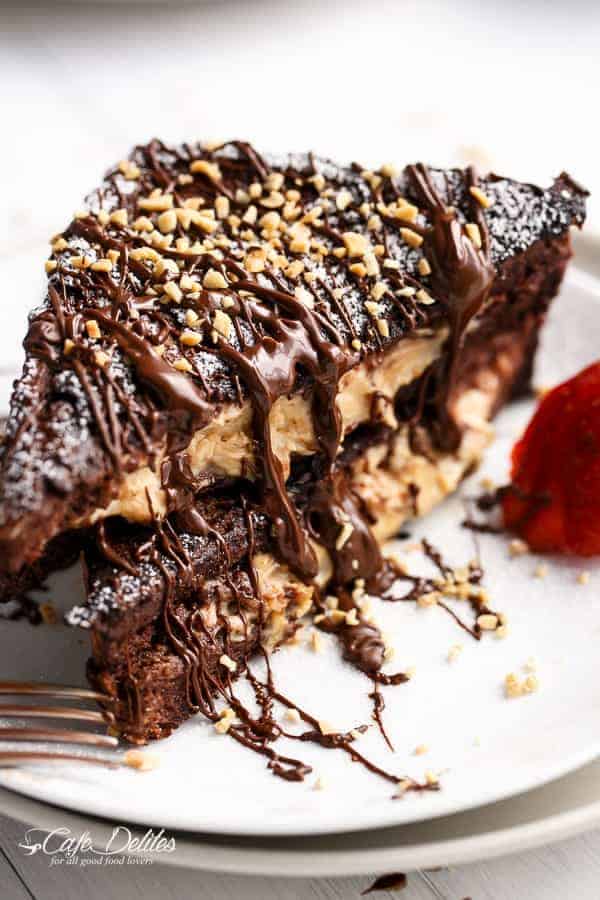 So where did the inspiration come for this thing of beauty right before your eyes? From the Chocolate Peanut Butter Cheesecake Brownies I gave you guys last year…that's where. Plus, it was time I performed a re-shoot of those Peanut Butter Cup french Toasts from Instagram way back when I was a whole year younger. Ohhhh the shame…(if you go over to that post..please note I was just a blogging 'baby').
BUT…these are pimped. With that cheesecake filling.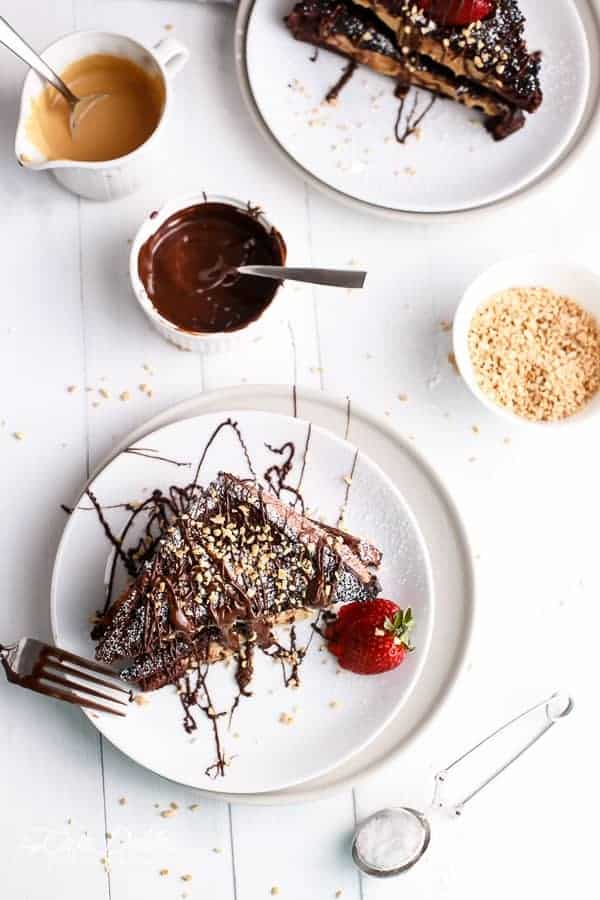 I'm kinda sorry for giving you two french toasts in one hit (well, almost), with those Lemon Blueberry French Toasts couple days ago…but these brownie like things? Totally worth it for your Easter menu planning..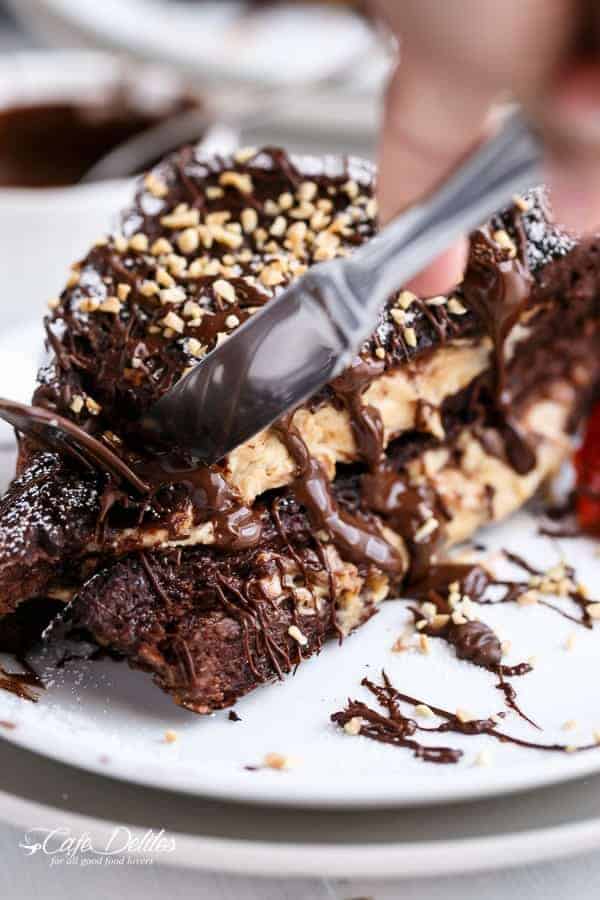 Because these are wayyyyyy easier than brownies, packed full with allllll your favourite flavours.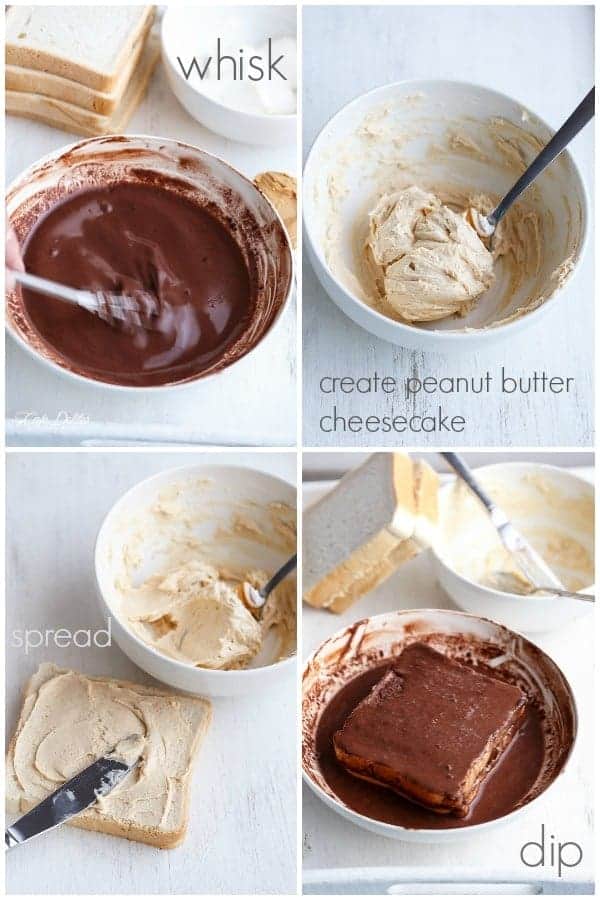 And icing sugar dusting needs a video…right? (Just agree).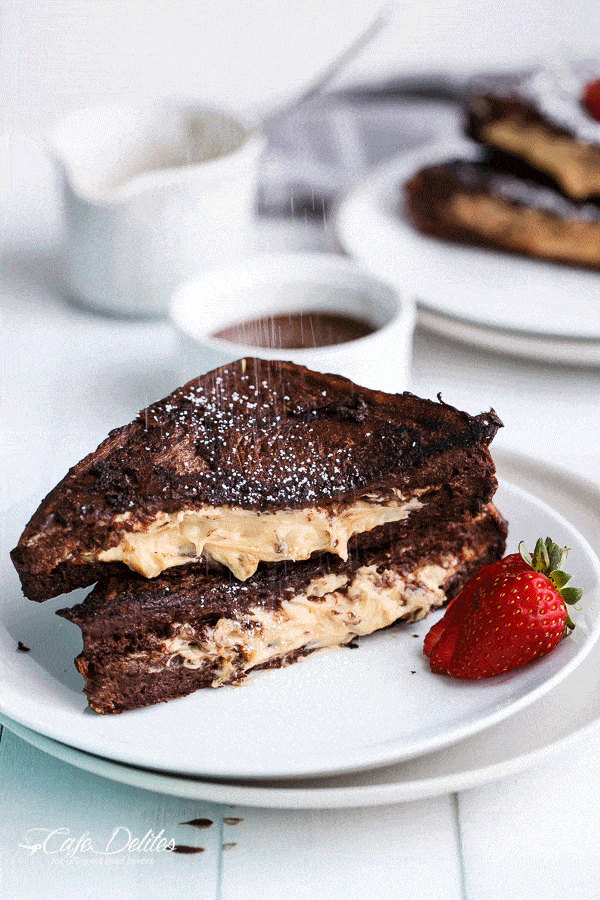 I swear…these are just.like.cake. Or brownies. Or cheesecake. Or whatever. And for once, my husband so damn impressed I heard nothing but silence for a full ten minutes while everyone chewed.
Like music to my ears.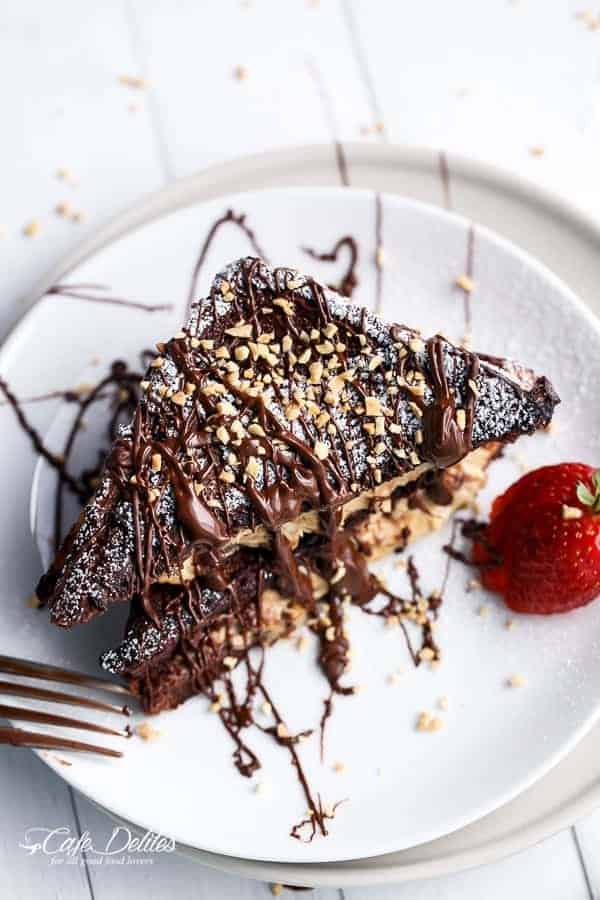 You can leave the out the cheesecake filling and just fill with plain ol' peanut butter…or any nut butter you have on hand.
Either way you go..these will ultimately change your lives.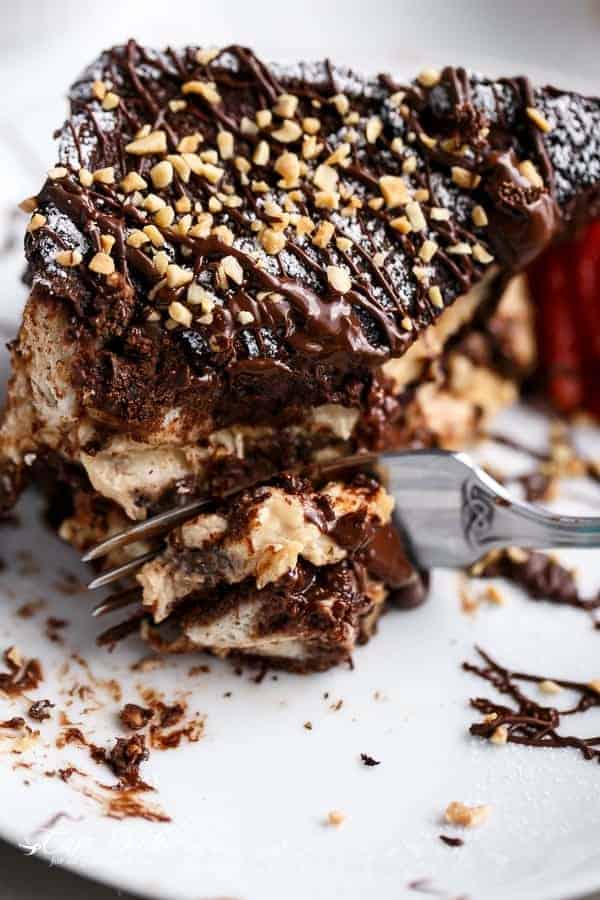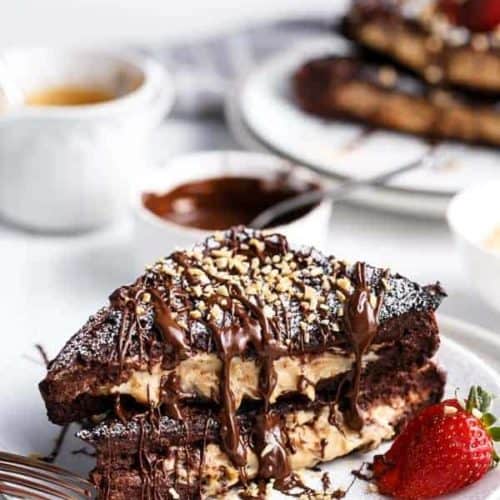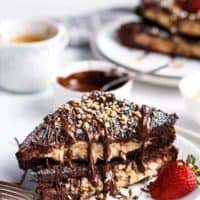 Chocolate brownie peanut butter cheesecake stuffed french toasts
Weight Watchers: 11pp per one whole french toast sandwich (not incl. optional toppings)
PRINT
SAVE
go to your favorites
Ingredients
Brownie French Toasts:
1/2

cup

low fat/skim milk

(or almond milk)

2

tablespoons

unsweetened cocoa powder

(or dutch cocoa powder)

2

tablespoons

raw sugar

(or any sugar/natural sweetener of choice)

1

large egg

1

teaspoon

pure vanilla extract

4

slices

of your bread of choice

(sweet, white, grain or sourdough)
Peanut butter cheesecake
1

tablespoon

powdered peanut butter

(in dry form) or creamy peanut butter

3

tablespoons

5%

(or reduced fat) cream cheese, at room temperature

1

tablespoon

maple syrup

(or sugar)
Additional Toppings (optional):
Icing sugar

1/4

cup

melted chocolate

(milk or dark)

Crushed peanuts

(or nuts of choice)
Instructions
Whisk together the milk, cocoa powder and sugar until dissolved (it's ok if there are still small lumps). Add in the egg and the vanilla, and continue to whisk until everything is combined. Set aside.

Combine all Peanut Butter Cheesecake ingredients together and mix until smooth. Divide the 'cheesecake' mixture between two pieces of bread, and spread them with the mixture. Top with remaining bread slices; dip each 'sandwich' into the chocolate egg wash; turn to evenly coat.

Heat a nonstick pan/griddle over medium heat and lightly grease with cooking oil spray (or a drizzle of oil/butter).

Cover pan with a lid; fry on both sides until a darker brown and firm to the touch on the outside, and cooked through.

Serve with fruit of your choice or dust with icing sugar, drizzle with melted chocolate and sprinkle over crushed nuts.
Nutrition
Calories:
413
kcal
|
Carbohydrates:
78
g
|
Protein:
16.5
g
|
Fat:
5
g
|
Fiber:
2.5
g