Broiled Lobster Tails with a Garlic Butter White Wine Sauce is the perfect Valentine's Day or special occasion dinner!
Fancy, classy and best of all EASY to make lobster tails ready in under 20 minutes, including the sauce! Another 'let the oven do all the cooking for you' recipe. Full of flavour, there's no need to go to a restaurant for chef-tasting lobster tails.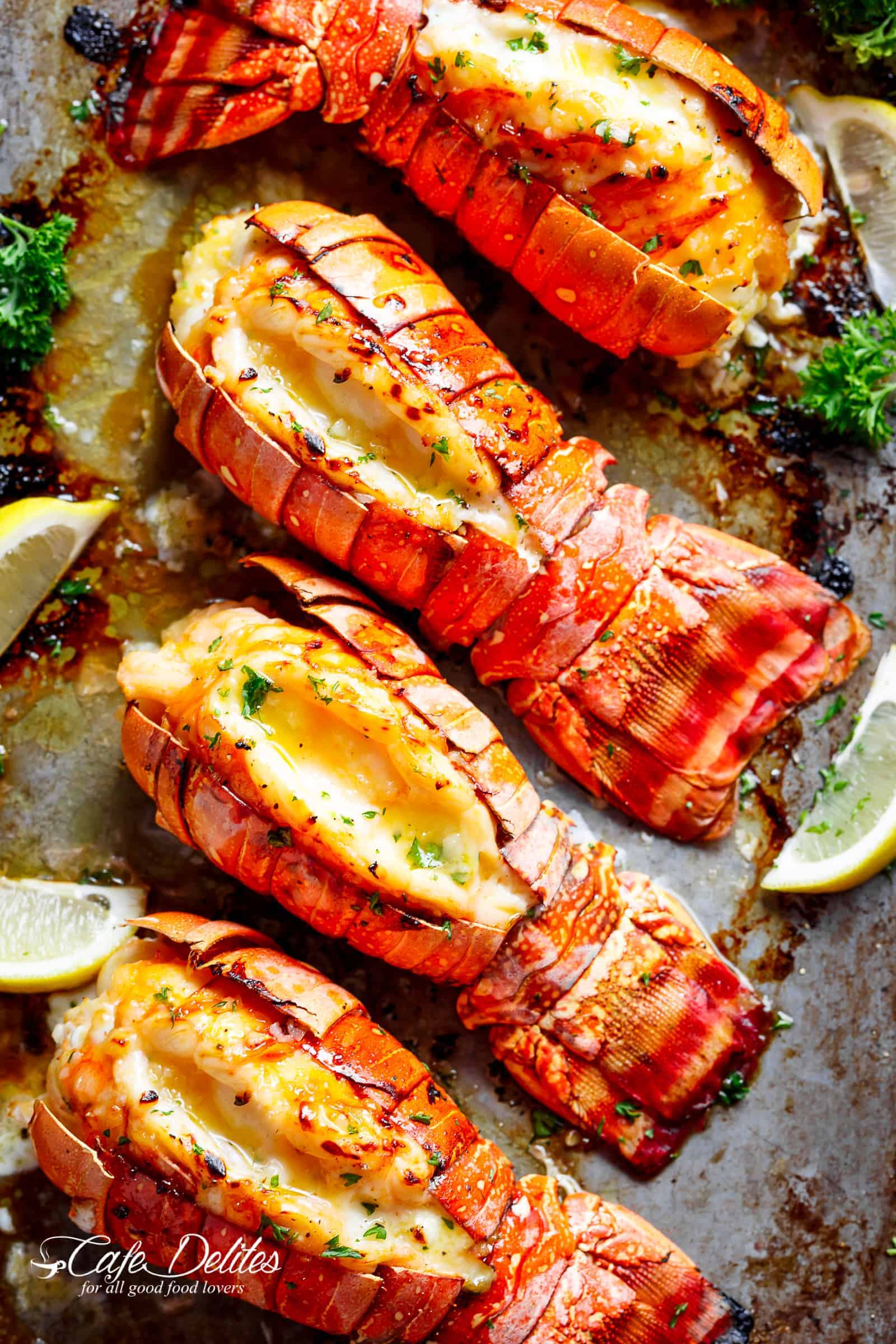 LOBSTER TAILS
I can't think of anything more romantic than seafood on Valentine's Day…especially a couple of lobster tails. I know the one thing that stops me from buying lobster tails more often is that they're so unbelievably expensive. You definitely want to make sure whatever recipe you choose for your special night will provide the flavour you're looking for.
This is THE recipe we loved the most. And what a winning combination! White wine and garlic butter with a hint of lemon juice and honey seeps into the lobster meat, perfectly charring it under the broiler (or grill if you're in Australia), and caramelising the edges. SO. GOOD!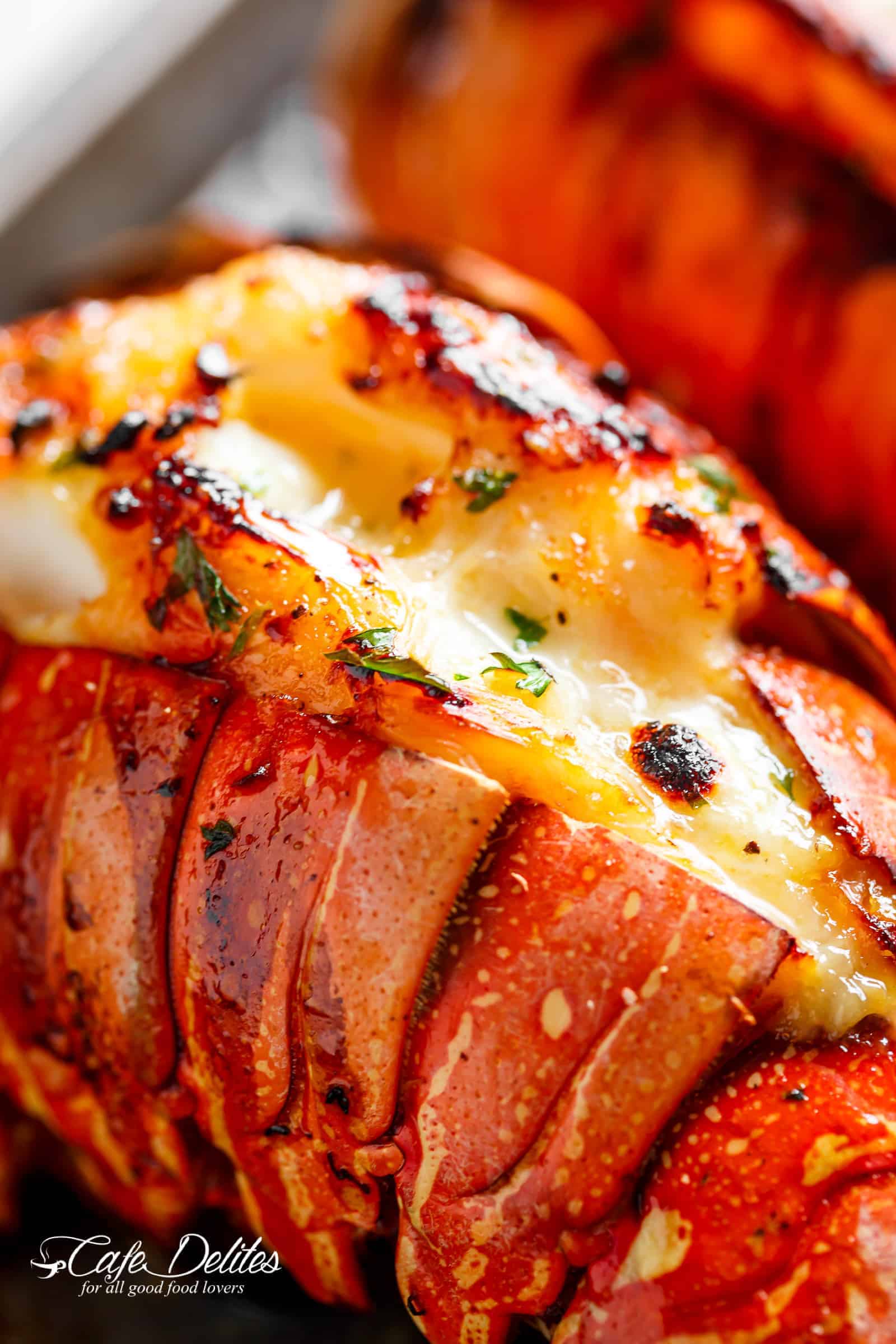 I only have one major tip. Please don't omit the white wine. It provides the sauce with the BEST flavour. We tried the sauce without wine, replacing it with broth instead and it's just not the same. We also tried it with a tablespoon of Dijon to provide the acidity you need in the sauce, but the flavour of white wine won.
If you're worried abut the alcohol quantity, you can reduce the wine to less than half to reduce the amount.
FRESH OR FROZEN LOBSTER TAILS?
We buy frozen and thaw them overnight in the refrigerator. If you're in a hurry and need to thaw them faster, place them in a pot filled with cold water for about half an hour. Please don't be tempted to microwave them or put them in hot water. Go slow and do it right.
HOW DO YOU OPEN A LOBSTER TAIL?
Something that may seem intimidating to some readers is opening a lobster tail. Before you start, get your hands on a pair of sharp scissors. We use a sharp pair of kitchen shears.
Hold a lobster tail in one hand, or place it on a bench top supporting it with your hand. With the shell facing up, cut down through the centre of the back to the end of the tail, leaving tail fan intact.
With your thumbs and fingers, open the shell to loosen it from the meat, opening the meat away from the shell side walls.
Pull the meat up from the bottom of the shell to seperate the shell from the meat underneath it.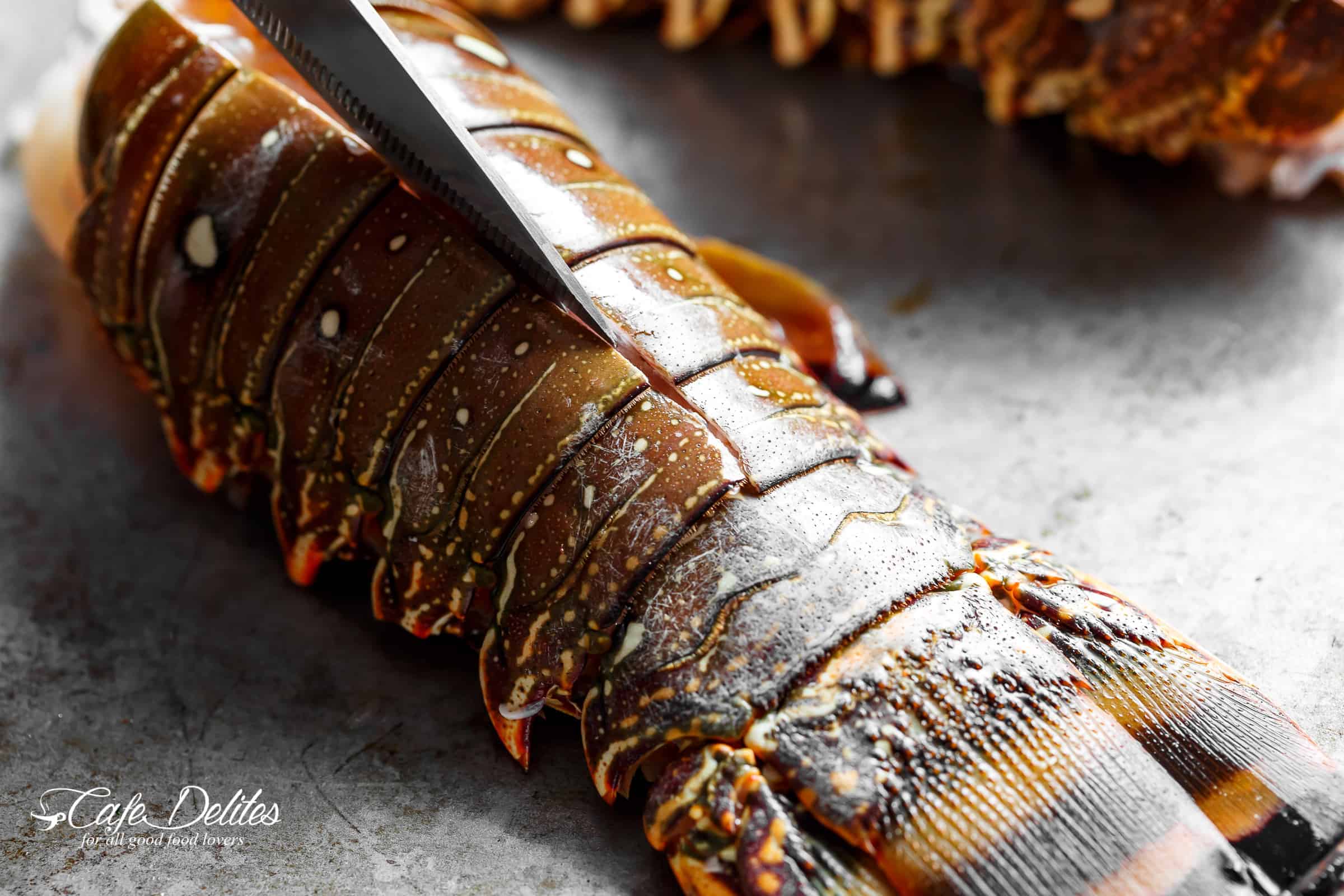 Once you've done that, insert a small wedge of onion in the bottom to allow flavour to steam through. You could also add a couple of smashed garlic cloves in there for extra garlic flavours!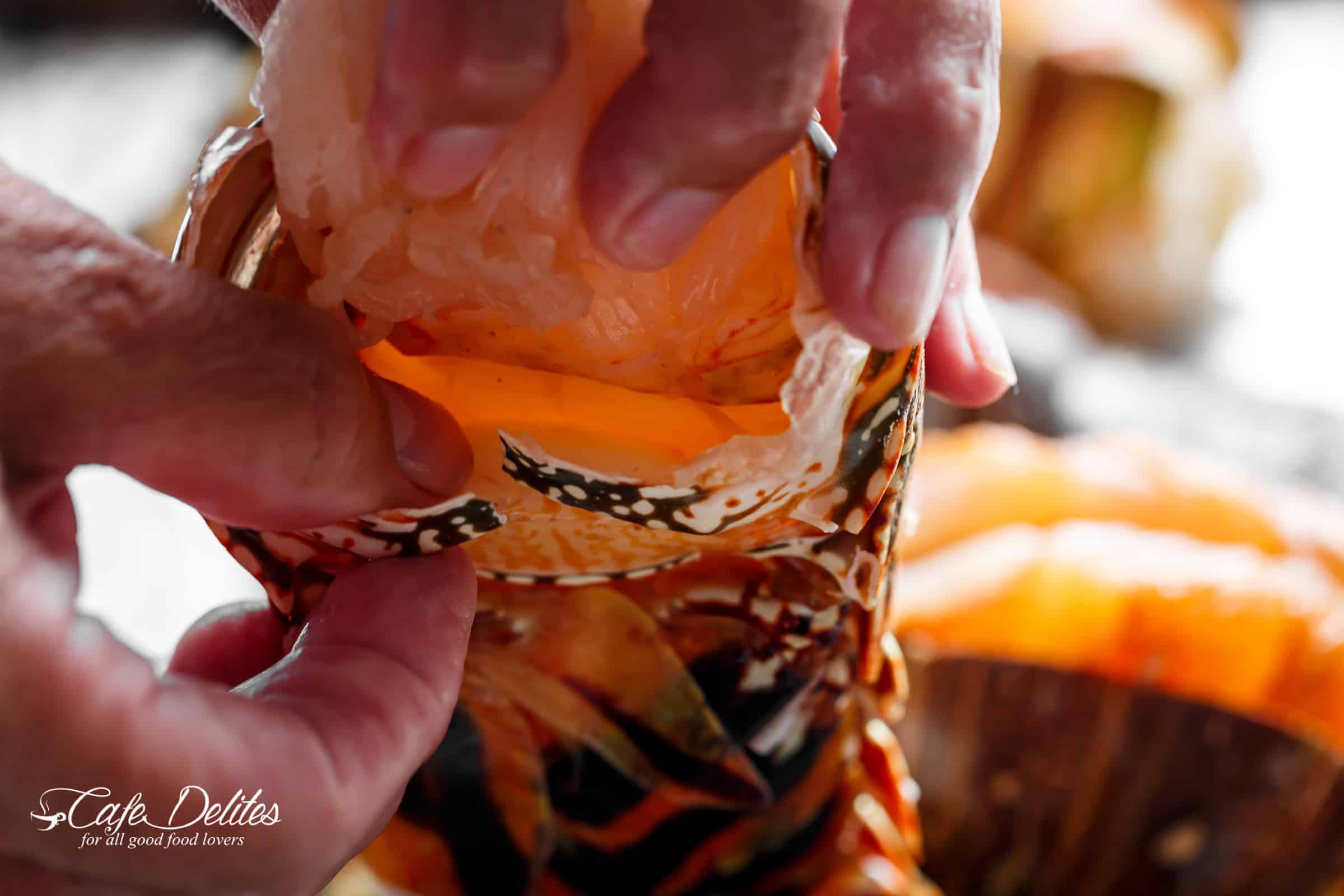 WHAT TYPE OF WHITE WINE DO YOU NEED?
Try to find or use a good quality dry white wine. We use Pinot Grigio for this recipe, but Sauvignon Blanc and Chardonnay will work. Make sure you always choose good quality over something cheap, especially when cooking with seafood.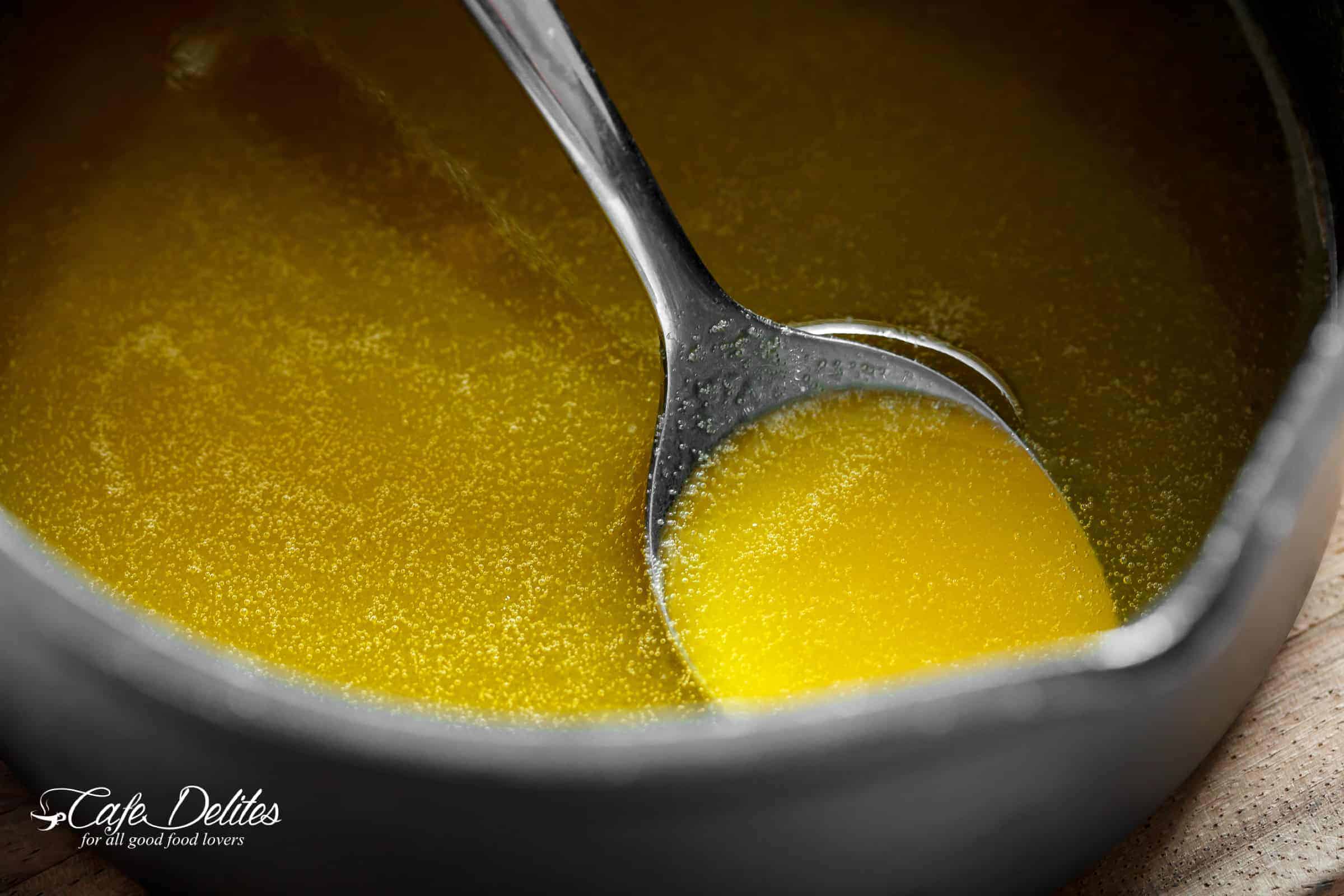 Drizzle with the white wine honey garlic sauce aiming to get as much sauce into the shells as well as all over.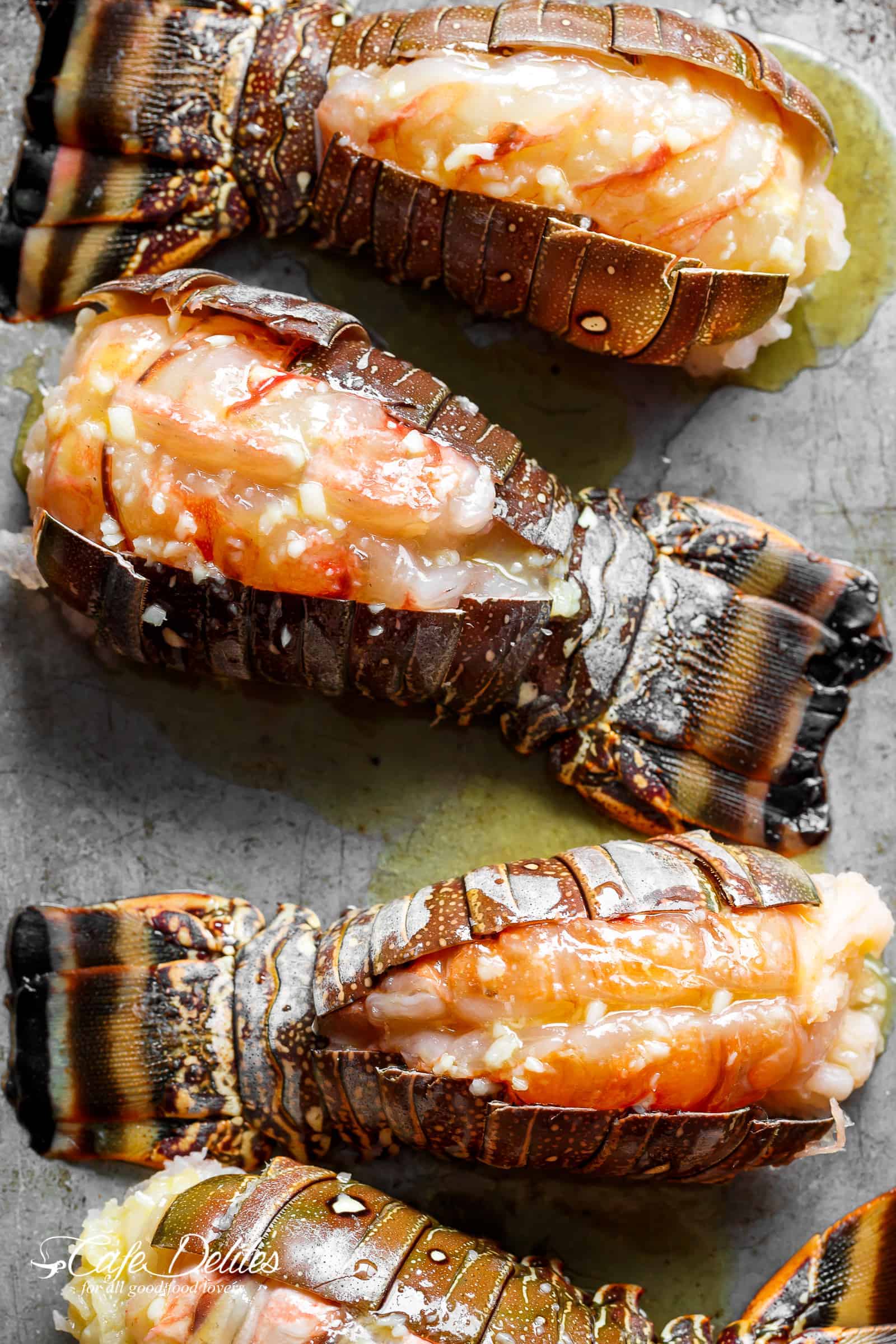 THE BEST WAY TO COOK A LOBSTER TAIL
We normally grill ours on a barbecue, and you're more than welcome to do that if you like. However, due to the amount of honey in the sauce, we went the broiling option. Easier clean up, no honey stuck on grill plates to scrub later and similar results with charred edges.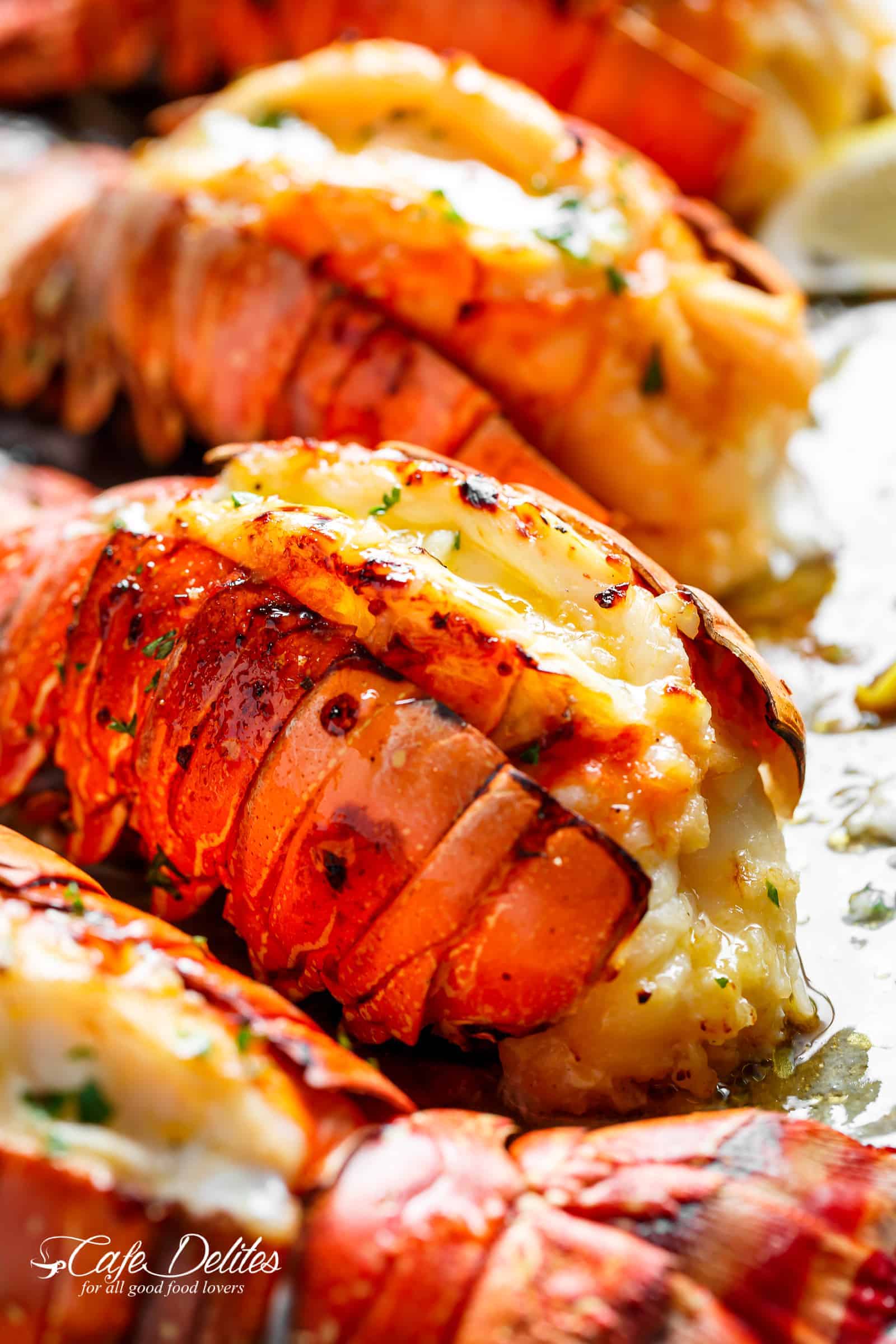 MORE SEAFOOD RECIPES
If you're not a fan of lobster, this Honey Garlic Salmon is similar to the sauce in this recipe, omitting the white wine. There's also Creamy Shrimp Piccata (or Salmon), Tuscan Salmon (or Shrimp), and even Browned Butter Honey Garlic Chicken to choose from.
Broiled Lobster Tails with Garlic Butter White Wine Sauce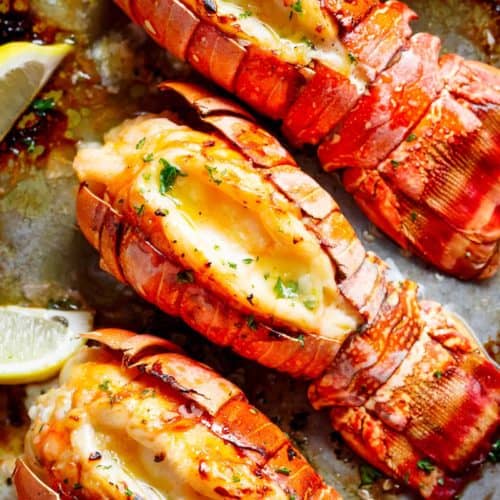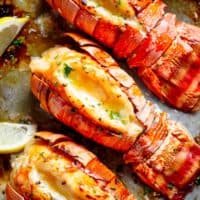 Broiled Lobster Tails
Broiled Lobster Tails with a Garlic Butter White Wine Sauce is a fancy, classy and best of all EASY to make recipe. Ready in under 20 minutes, let the oven do all the cooking for you! Full of flavour, there's no need to go to a restaurant for chef-tasting, slightly charred lobster tails! 
PRINT
SAVE
go to your favorites
Ingredients
4

6oz

(170g) lobster tails

1/2

onion,

cut into 4 wedges

1/2

cup

unsalted butter

1/3

cup

white wine

2

tablespoons

honey

6

large

garlic cloves,

crushed

1-2

tablespoons

fresh lemon juice,

(adjust to your taste)

1

teaspoon

salt,

or to taste

Cracked pepper,

to taste

Lemon slices,

to serve

2

tablespoons

parsley,

freshly chopped
Instructions
Position a rack in the middle of the oven (4-6 inches from heat element). Preheat broiler and line a baking tray / sheet with foil.

Thaw out lobster tails, if frozen, in a pot of cold water for 30 minutes or more, until fully thawed. Rinse and pat dry with paper towels.

In a small saucepan, melt the butter over medium heat. Add the garlic and sauté until fragrant (about 1 minute), then add the white wine. Allow to simmer and let reduce slightly (about 2-3 minutes), then add the honey, lemon juice, salt and pepper. Whisk until the honey has melted through the butter and the mixture is well combined. Set aside.

Using sharp kitchen shears, cut the top shell down the centre of the back

to the end of the tail,

leaving tail fan intact

. R

emove vein or shell shards, if any.

Run your finger between the meat and the shell to loosen it.

Spread the meat slightly open. Pull and lift the lobster meat off of the bottom of the shell, being careful not to pull the tail out completely. Place an onion wedge beneath the meat (between the meat and the shell).

Place lobster tails, meat side up, on baking sheet. Set aside. Sprinkle each lobster with a pinch of salt and a little pepper (If desired).

Using half of the sauce, pour or brush over each lobster (concentrating on the meat) and reserve the remaining sauce for serving.

Broil for 12 to 14 minutes or until lobster meat is opaque, and edges are slightly charred.

Garnish with parsley and serve immediately with the remaining sauce and lemon slices.
Nutrition
Calories:
275
kcal
|
Carbohydrates:
19
g
|
Protein:
9
g
|
Fat:
16
g
|
Saturated Fat:
10
g
|
Cholesterol:
92
mg
|
Sodium:
797
mg
|
Potassium:
170
mg
|
Sugar:
17
g
|
Vitamin A:
680
IU
|
Vitamin C:
5.5
mg
|
Calcium:
65
mg
|
Iron:
0.8
mg