Oven Baked French Onion Stuffed Chicken Recipe! Succulent boneless chicken breasts stuffed with soft, caramelized onions and glorious melted cheese. A LOW CARB KETO RECIPE.
You will love this STUFFED chicken recipe! Chicken breasts baked in an irresistible French onion sauce makes a perfect weeknight or weekend dinner.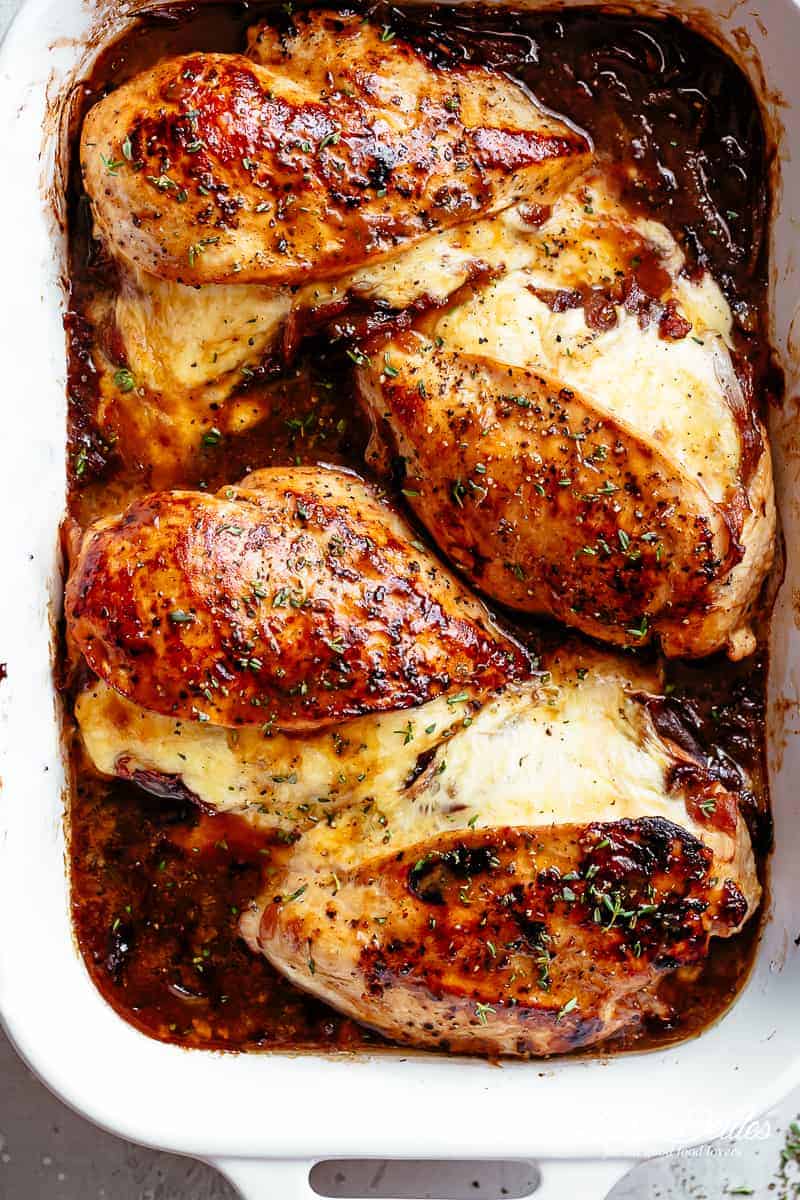 STUFFED CHICKEN
Not your typical STUFFED chicken, this recipe comes to you with a delicious twist. You will love that this recipe comes together in less than an hour. Faster than French Onion Soup, but just as good for dunking garlic bread into the pan juices.
If you love French Onion Soup, you will fall in head over heels for this Stuffed Chicken.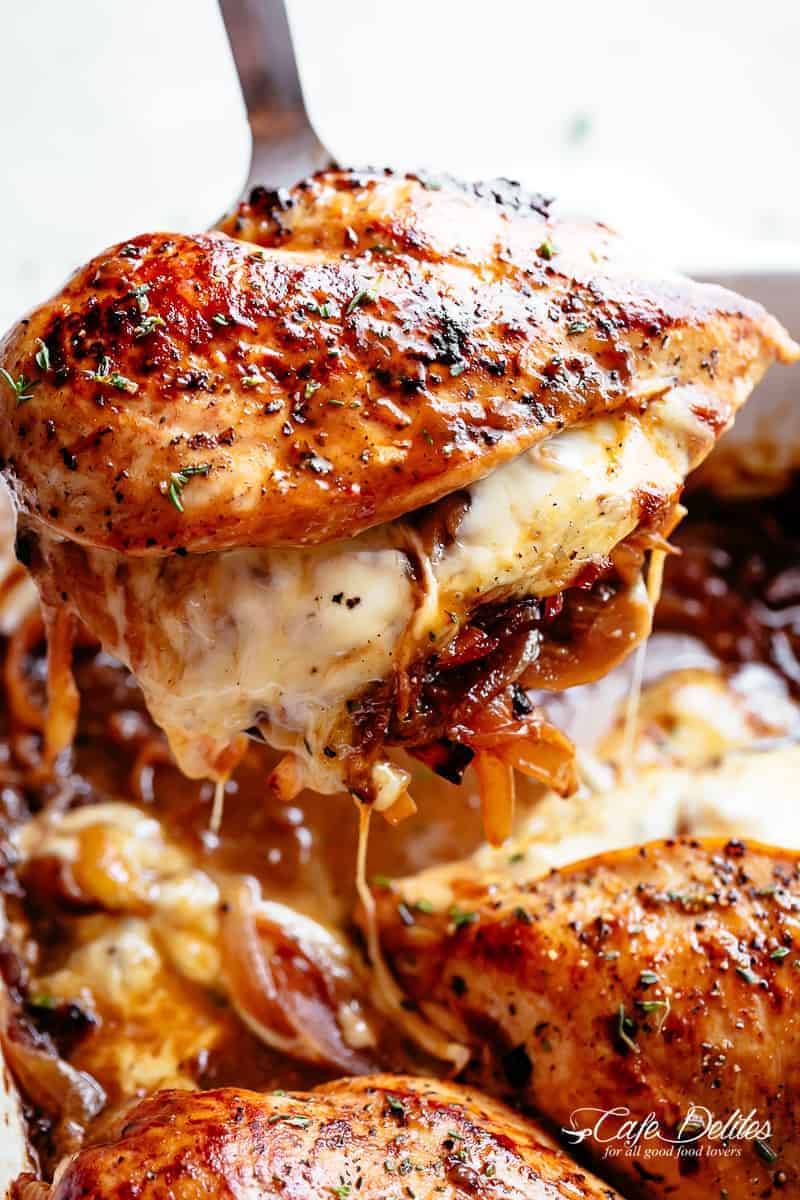 CHICKEN BREASTS
Stuffing chicken with a luxurious French onion soup slash sauce ensures those flavours absorb all the way through your chicken breasts, while being baked in the same mixture. Stuffing two kinds of cheese into the chicken along with caramelized onions keeps those classic French Onion Soup flavours alive in this casserole recipe.
HOW TO MAKE FRENCH ONION STUFFED CHICKEN
Some tips to help you!
Try to find equal-sized chicken breasts. Finding chicken breasts the same size will ensure they cook evenly.
Cut each chicken breast horizontally through the middle to create a 'pocket'.
Season chicken breasts all over and inside the pockets with salt, pepper, ground thyme and garlic powder.
Fill each chicken breast with 1-2 tablespoons of caramelized onions and cheese. Use Gruyere or Mozzarella cheese with a hint of parmesan.
Sear until browned and golden on each side.
Transfer to a baking dish with more caramelized onions for even more flavour.
Top with fresh Thyme and some of the French onion sauce.
BAKE! (SEE recipe box below for the full recipe.)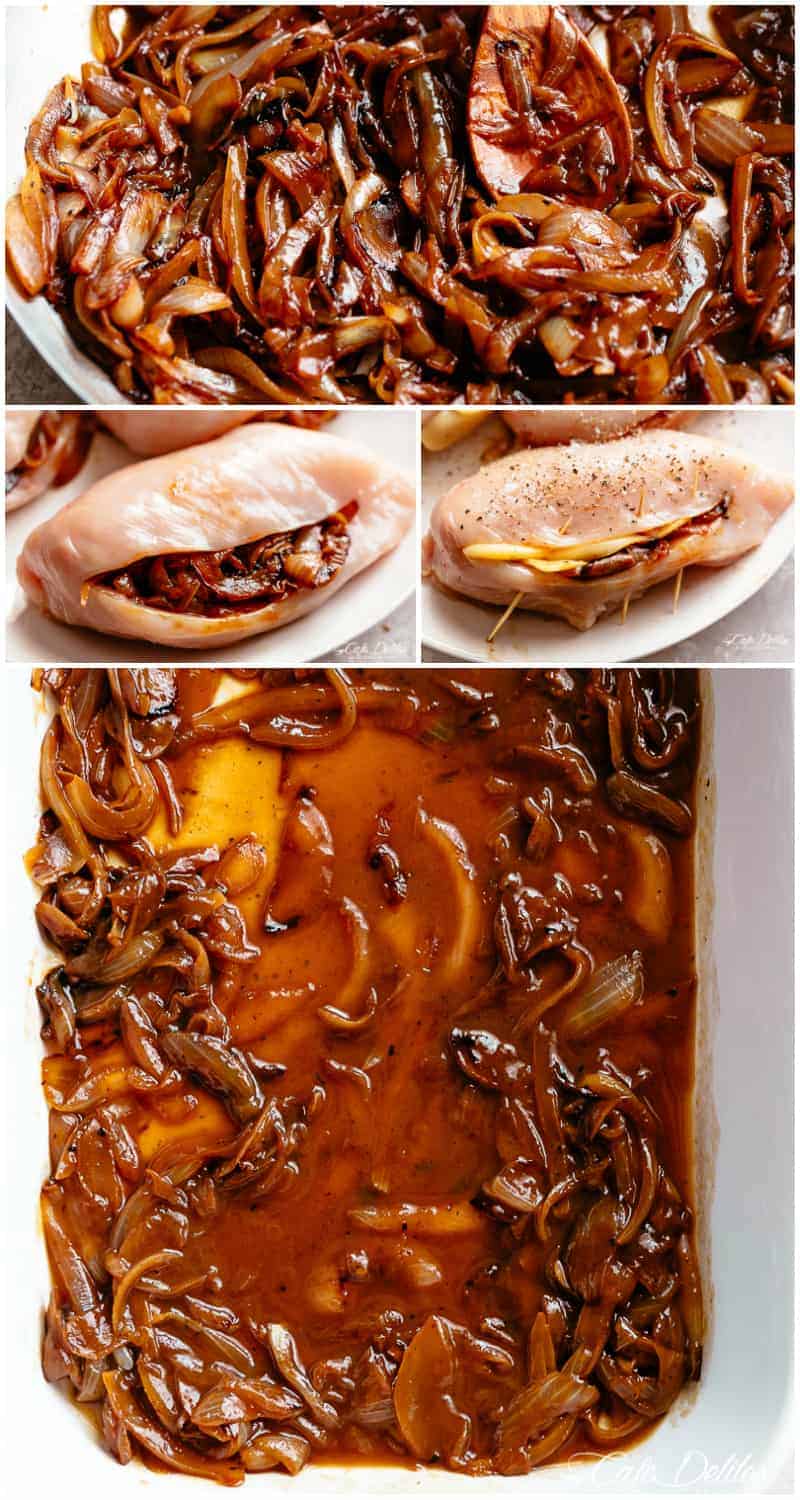 HOW TO CARAMELIZE ONIONS
SAUTÉ ONIONS IN BUTTER UNTIL SOFT AND TRANSLUCENT: This is where the magic happens! Slowly cooking them in butter until they are browned and soft makes them lose their potency. The natural sugars in onions caramelize, making the end result flavourful with a mild sweetness. It takes roughly 15-20 minutes to get them nice and jammy. Let them cook and brown on the skillet before stirring them around two caramelize them faster.
USE BEEF STOCK OR BROTH to create the base for your French onion sauce and stop the onions from drying out while they cook. Scrape up the browned bits from the bottom of the pan while onions are caramelizing to keep those flavours going.
DEGLAZE: You have the option to add a little white wine, sherry or balsamic vinegar to deglaze the pan and get some additional flavours into the onions.
Let onions cool down before stuffing chicken breasts. You will have onions leftover in the pan. Add those to your baking dish, mixing them with a little beef broth to create more sauce to bake your stuffed chicken breasts in.
More sauce = more flavour!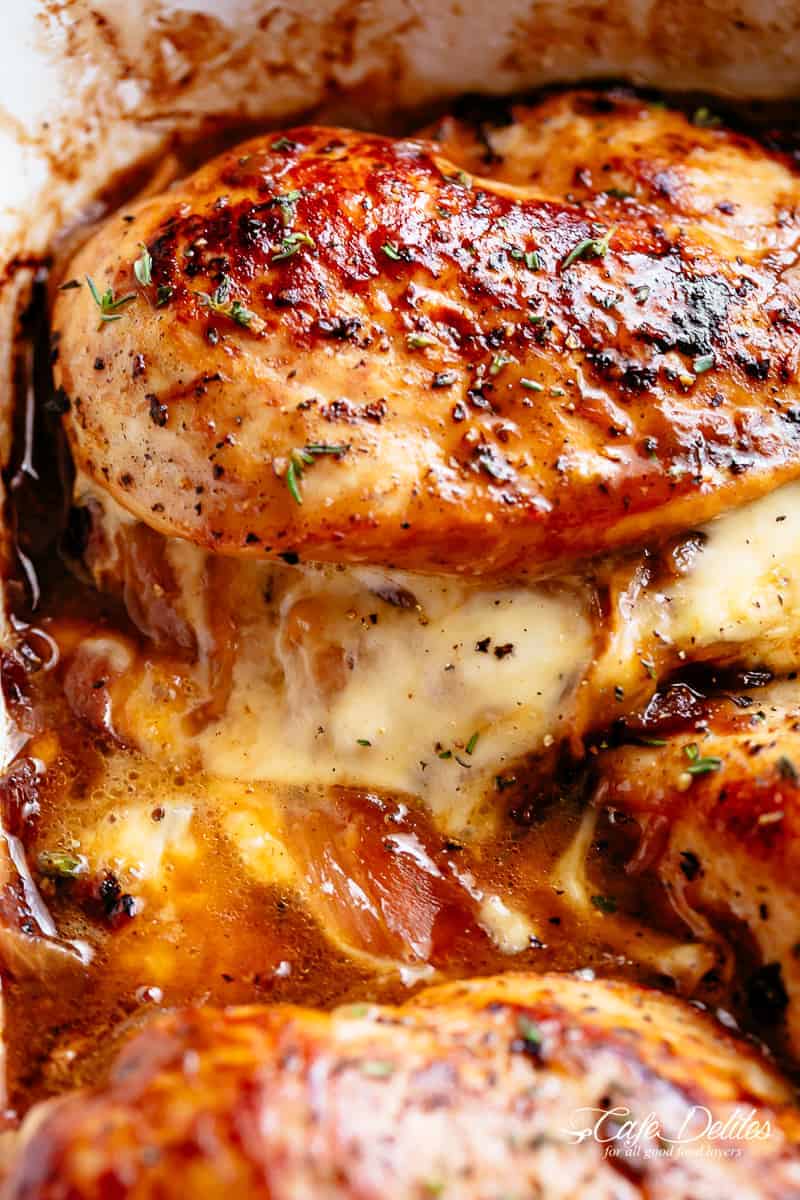 SIDES TO SERVE WITH STUFFED CHICKEN
Keep it low carb and serve with Buttery Cauliflower Mash, Zoodles, steamed veggies or cauliflower rice.
OR! Carb it up with a side of mashed potatoes, rice or pasta!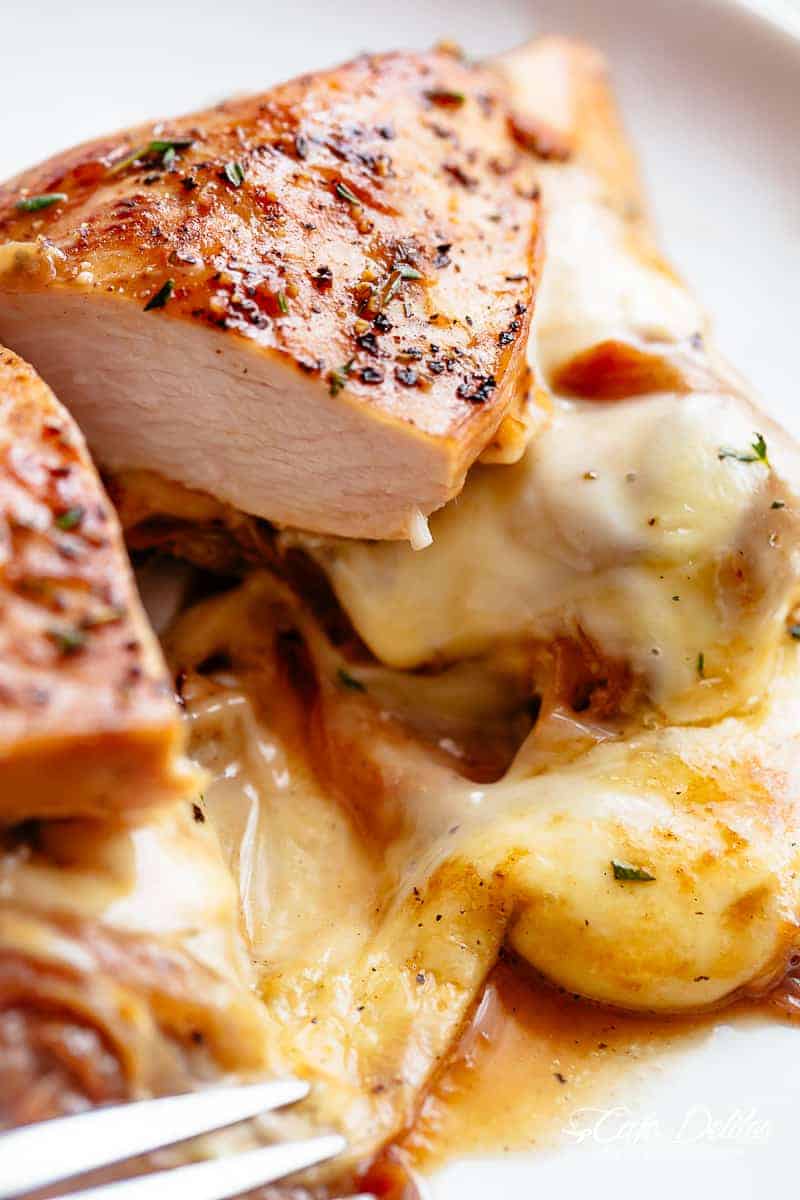 MORE STUFFED CHICKEN RECIPES
Garlic Butter Mushroom Stuffed Chicken
Spinach Artichoke Stuffed Chicken
Mozzarella Stuffed Chicken Parmesan
Caprese Stuffed Balsamic Chicken
STUFFED CHICKEN ON VIDEO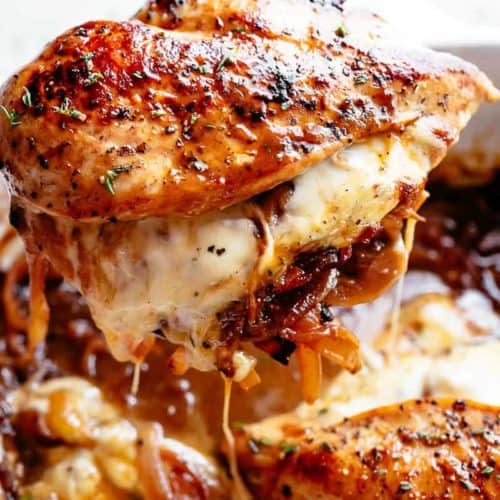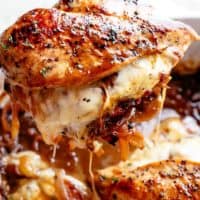 French Onion Stuffed Chicken Casserole
French Onion Stuffed Chicken Casserole makes for a delicious dinner! Juicy, succulent chicken breasts stuffed with caramelized onions and glorious melted cheese. A perfect weeknight or weekend dinner. Low Carb and Keto approved!
PRINT
SAVE
go to your favorites
Ingredients
2

tablespoons

unsalted butter

4

large onions

halved and thinly sliced

Pinch

of salt and pepper

to season

2

teaspoons

fresh chopped thyme

divided

2

tablespoons

white wine, sherry or balsamic vinegar

(OPTIONAL)

2

cloves

garlic

minced

1/2

cup

beef broth or stock

divided

1

tablespoon

olive oil

4

boneless, skinless chicken breasts

2

teaspoons

garlic powder

1

teaspoon

ground thyme

1

cup

shredded gruyere cheese

(or mozzarella cheese)

4

tablespoons

freshly grated parmesan cheese
Instructions
Preheat oven to 400°F (200°C).

Lightly grease a 9x12-inch baking dish. Set aside.

Melt butter in a large skillet over medium-high heat. Add onions and season with salt, pepper and half of the fresh chopped thyme. Cook for 5-8 minutes until soft.

Reduce heat to medium and cook, while stirring occasionally, until onions are caramelized and jammy (about 15 minutes). Pour in 1/4 cup of broth if pan gets too dry, and keep stirring until onions are browned.

OPTIONAL: Pour in white wine, sherry or balsamic vinegar to deglaze the pan and get some additional flavours into the onions. Let cook for a minute until the sauce thickens slightly.

Stir in garlic and cook until fragrant, about 1 minute. Turn off heat and let cool slightly.

Cut chicken breasts in half horizontally to create pockets. Season chicken all over and inside pockets with salt, pepper, garlic powder and ground thyme.

Spoon 1-2 tablespoons of caramelized onions into each pocket. Stuff each breast with the cheeses and seal chicken with toothpicks.

Transfer the remaining caramelized onions from the skillet to the prepared baking dish. Mix in remaining 1/4 cup of broth. Set aside.

Heat oil in the same skillet over medium high heat. Sear the stuffed chicken breasts for 4 minutes each side until browned. (They will not be fully cooked. You will finish them off in the oven.)

Arrange chicken on the caramelized onions in the baking dish. Spoon some of the sauce in the dish over each chicken breast. Top with remaining chopped thyme and bake for 15-20 minutes or until fully cooked.

Discard toothpicks. Serve with pan juices and onions.
Nutrition
Calories:
414
kcal
|
Carbohydrates:
10
g
|
Protein:
37
g
|
Fat:
24
g
|
Saturated Fat:
11
g
|
Cholesterol:
128
mg
|
Sodium:
435
mg
|
Potassium:
621
mg
|
Fiber:
2
g
|
Sugar:
4
g
|
Vitamin A:
610
IU
|
Vitamin C:
11.1
mg
|
Calcium:
424
mg
|
Iron:
0.9
mg