Fluffy Greek Yoghurt And Mixed Berry Choc Chip Pancakes
Just in time for Valentine's Day! Perfectly fluffy and healthier-ish Greek Yoghurt Pancakes, full of juicy berries and melty chocolate chips. Because the fact that they have greek yoghurt makes them healthier, right?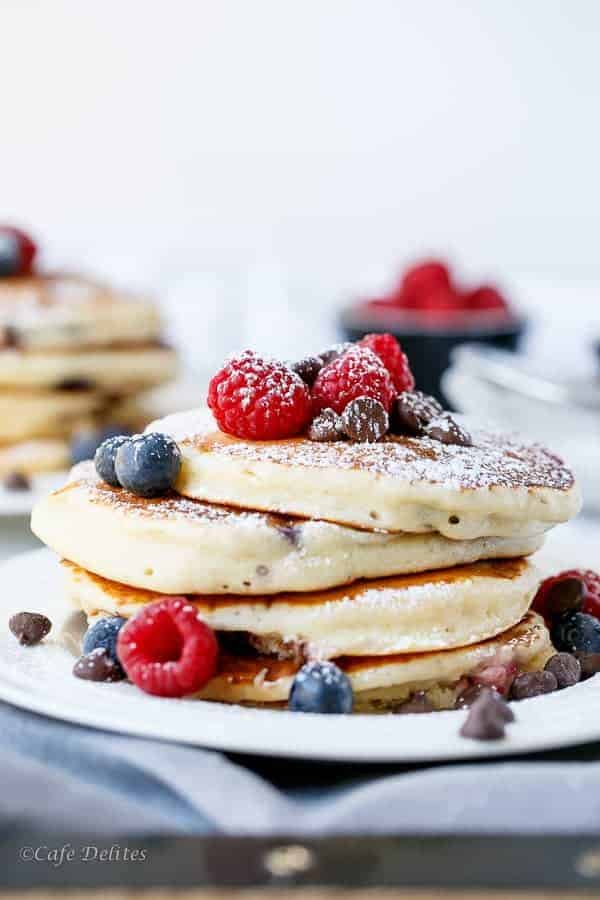 Don't ya wish your pancakes were hot like mine… So fluffy. So soft. So unbelievably decadent and just.yum. I can't put it all into any more words other than those. Because I'm all flustered and fanning myself down from the excitement of fluffy pancakes – for real – made of the 'good-for-you' stuff of Greek Yoghurt.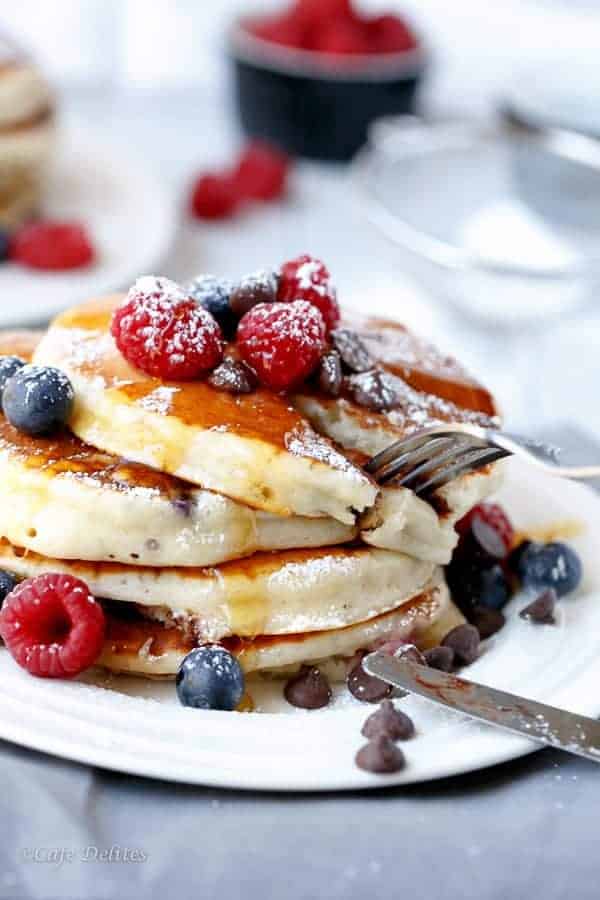 Let's all just take a moment to look inside this stack of epic fluffiness, and melted chocolate chips, shall we? And maybe give them a round of applause.I mean, finally getting it right, I can tell you I was dancing around the kitchen, and mayyyybe there was a leeeedle screeching involved, but basically there was a lot of  downright excitement.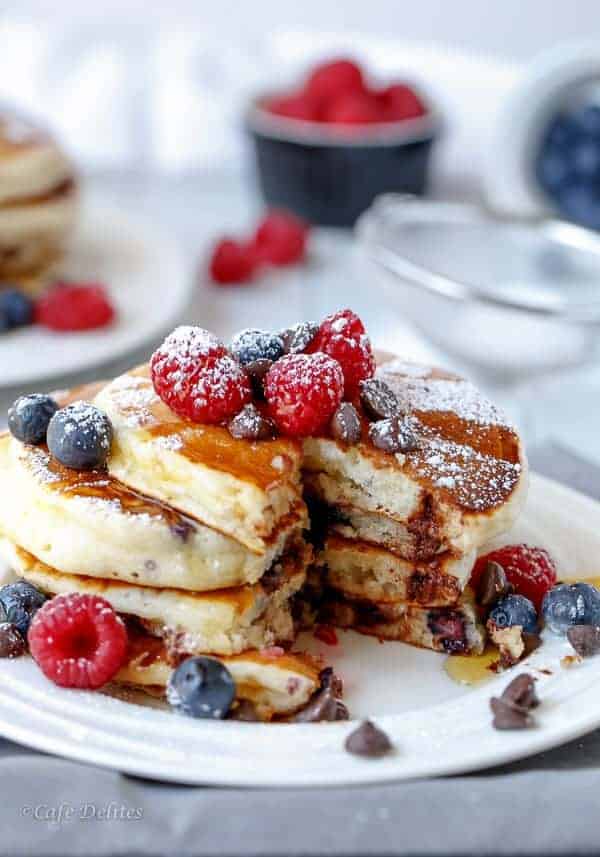 Because fluffy cake for breakfast excites me so much more than it should. But especially healthier type cake things that I can eat-more-than-one.
And dusted with icing sugar for good measure. Yes, with extra chocolate chips. Because chocolate comes from a plant.
I love my lens. Because it is in my firm and strong belief that pancakes all up in our faces is so much better than far away shots needing a magnifying glass to see what you're looking at. And the best part of food blogging? Eating. Yep. That's a huge bonus.
Anyone want some?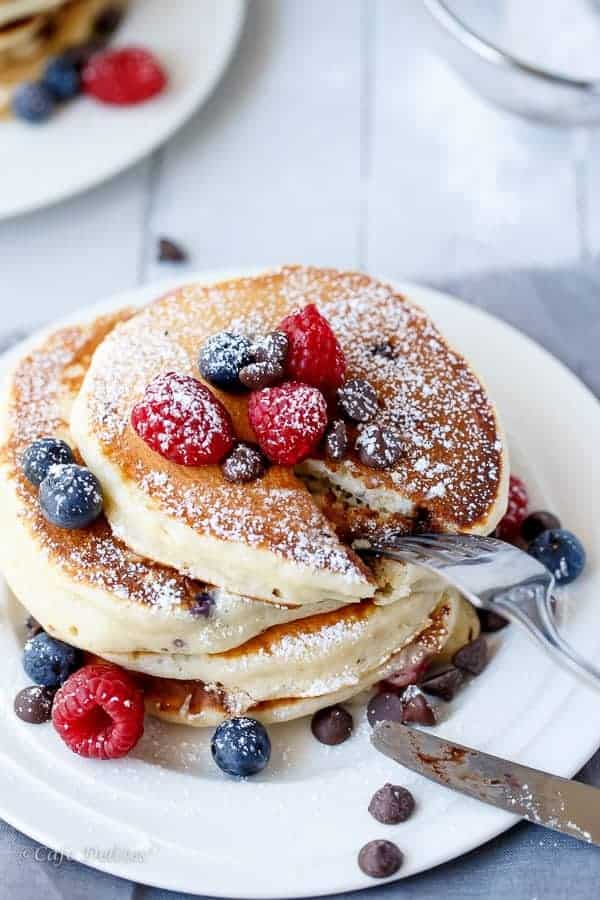 I drizzled these with some honey instead of maple syrup, and oh lordy…. It was a 'hello world!' moment.
So many blueberries and raspberries happening. And not a peep was heard outta my kids while they demolished their stacks.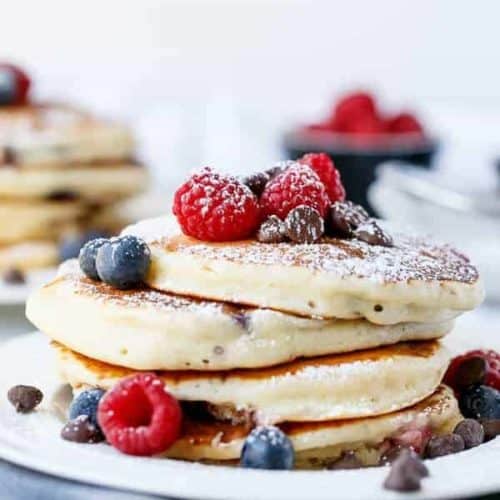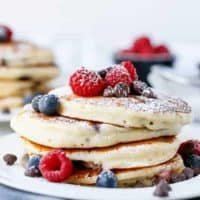 Fluffy Greek Yoghurt and Mixed Berry Choc Chip Pancakes
Perfectly fluffy and healthier-ish Greek Yoghurt Pancakes, full of juicy berries and melty chocolate chips! The perfect start to a healthy day! Weight Watchers: 3pp per thick and fluffy pancake!
PRINT
SAVE
go to your favorites
Ingredients
2

cups

organic white self raising flour

(or light spelt flour; whole wheat or all purpose flours)

2

teaspoons

baking powder

(1 tablespoon baking powder if using the other flour options)

2

tablespoons

raw sugar

1/4

teaspoon

salt

(1/2 teaspoon if using other flours)

2

large eggs

2 1/2

tablespoons

coconut oil

, melted (or any oil)

1

tablespoon

pure vanilla extract

1

cup

plain non-fat Greek yogurt

1

cup

unsweetened almond milk

(or skim/low fat milk)

1/3

cup

fresh

(or frozen) raspberries

1/3

cup

fresh

(or frozen) blueberries

1/4

cup

dark/semi-sweet chocolate chips
Instructions
Combine together all dry ingredients into a large mixing bowl and whisk. Set aside.

In a smaller bowl, combine together the eggs, oil, vanilla and yogurt. Whisk well until creamy and smooth. Add the milk, and mix until combined.

Pour the yoghurt mixture over the dry ingredients and stir slowly and gently with a wooden spoon until batter is just combined. The batter won't be smooth. Don't worry about any lumps. Fold the berries and the chocolate chips through the batter, being gentle again, not to break the berries.

Heat a pan/griddle on medium heat and spray with cooking oil spray, spreading it out evenly with your spatula. Using a ladle or 1/4 cup measuring cup, pour batter onto pan to make pancakes. When batter is on the pan, spread it out a little with the back of your spoon to shape them.

Cook them for about 3-4 minutes, and check the underside before flipping. If golden, flip and cook for a further 2-3 minutes, or until cooked through. Bubbles don't form on these due to thickness. Repeat with remaining batter.

To serve, dust with a little icing sugar and top with extra berries!
Nutrition
Calories:
144
kcal
|
Carbohydrates:
17.1
g
|
Protein:
4.7
g
|
Fat:
4.6
g
|
Fiber:
0.8
g