Flourless Oatmeal Peanut Butter Chocolate Chip Cookies
Yes. Flour-less. How? Keep reading. Crispy on the outside; soft and chewy on the inside; full of creamy peanut butter flavour and melted chocolate chips. I promise you…there's good stuff in here. And it doesn't involve a whole entire jar of peanut butter either.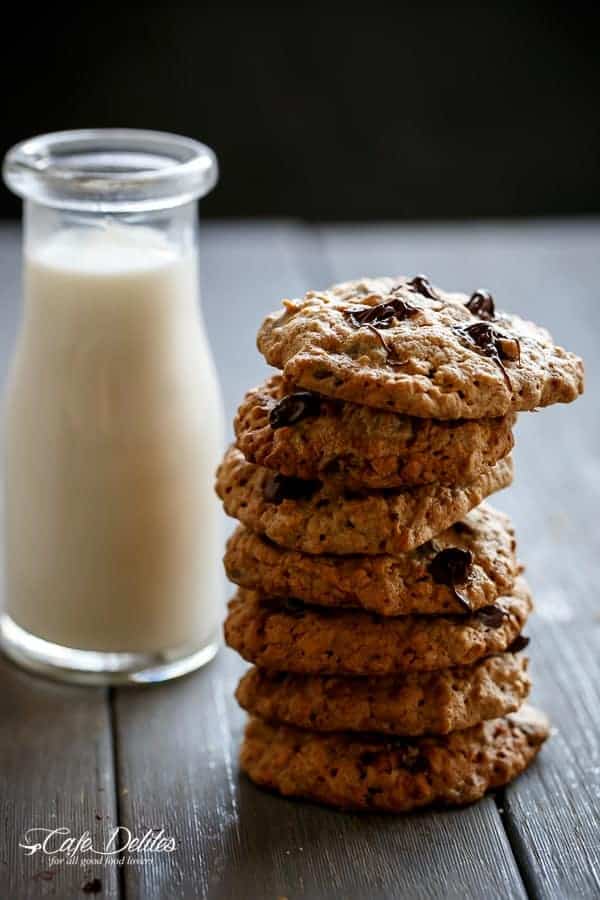 No beans. Or chickpeas. I solemnly swear and promise you on my baking bible.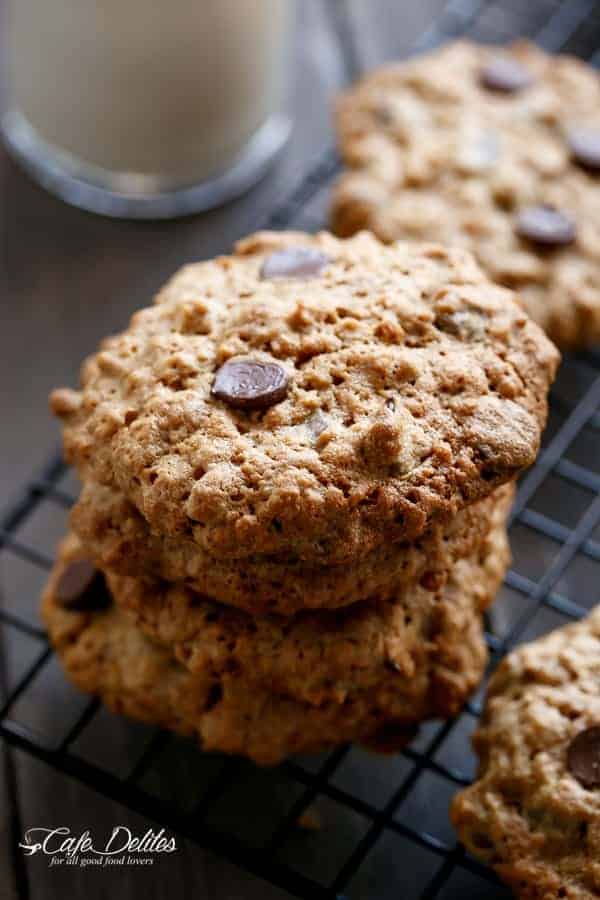 Unless you've ripped right down to the recipe (which I'm guilty of too, your honour), the secret is oats. And oat flour. Gluten free Oats can be used too. But beloved Oats come riding in on a milky white horse to save the day.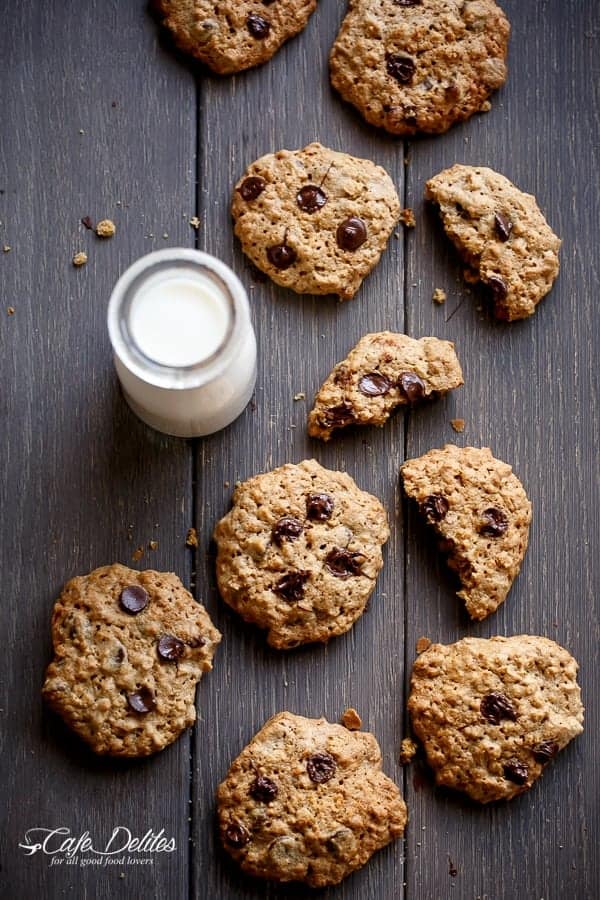 Usually in Oatmeal cookies, there's a perfect delicate balance of white flour and Oats. But not today my friends! Because over here I like to try different things and live my life on the edge.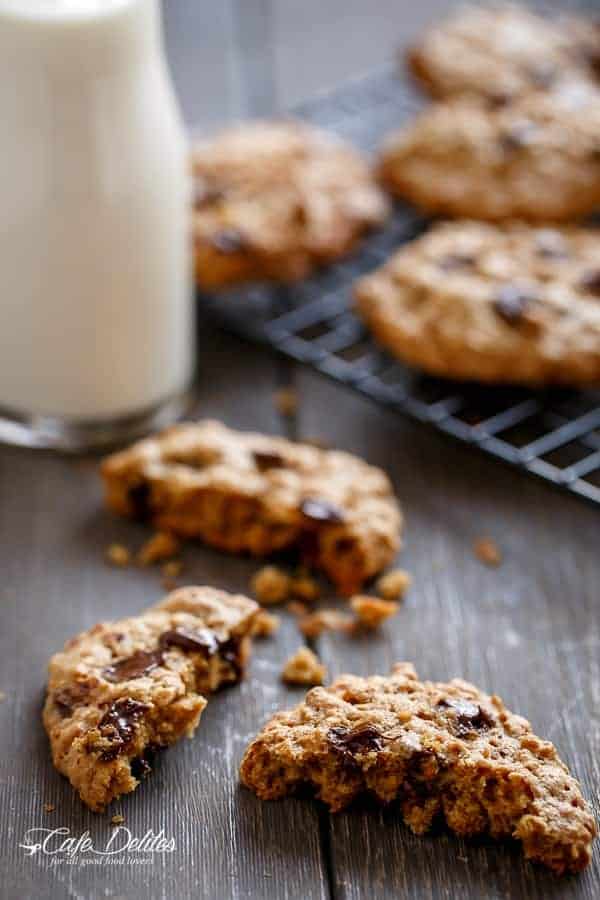 And they worked! I thought they'd turn out gluggy and just wrong. But they didn't.
See? I like pointing out the obvious.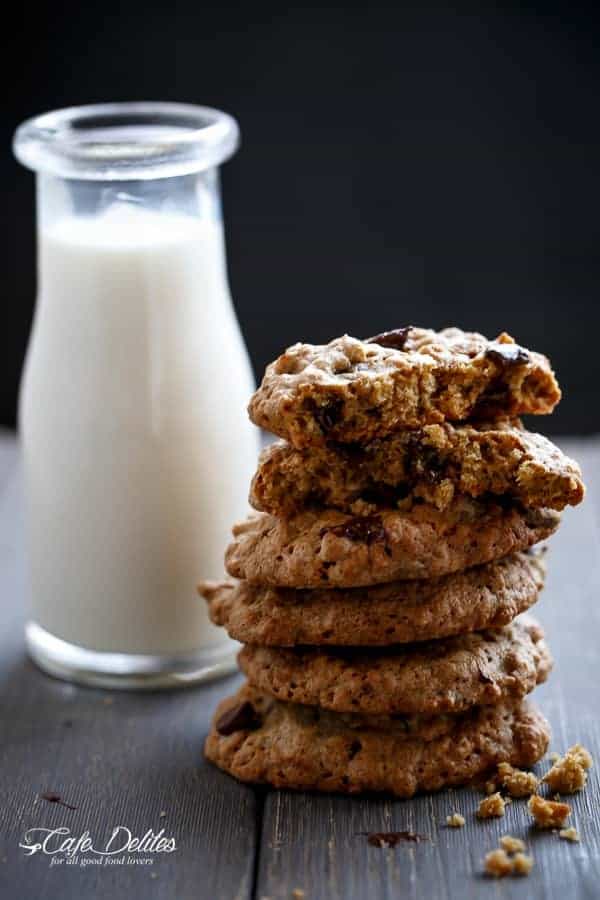 And you know what makes these even more insane?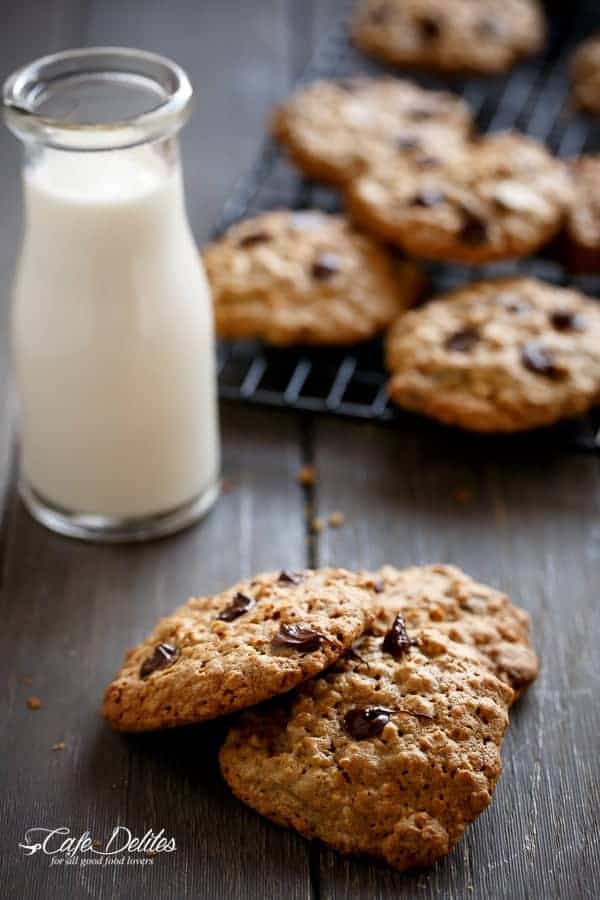 The addictiveness. The can't-put-the-tray-down-without-taking-another-5-before-crying-and-they're-all-gone-and-the-moment-is-over thing. Ohhhhh hellooooo cookiiieesssss……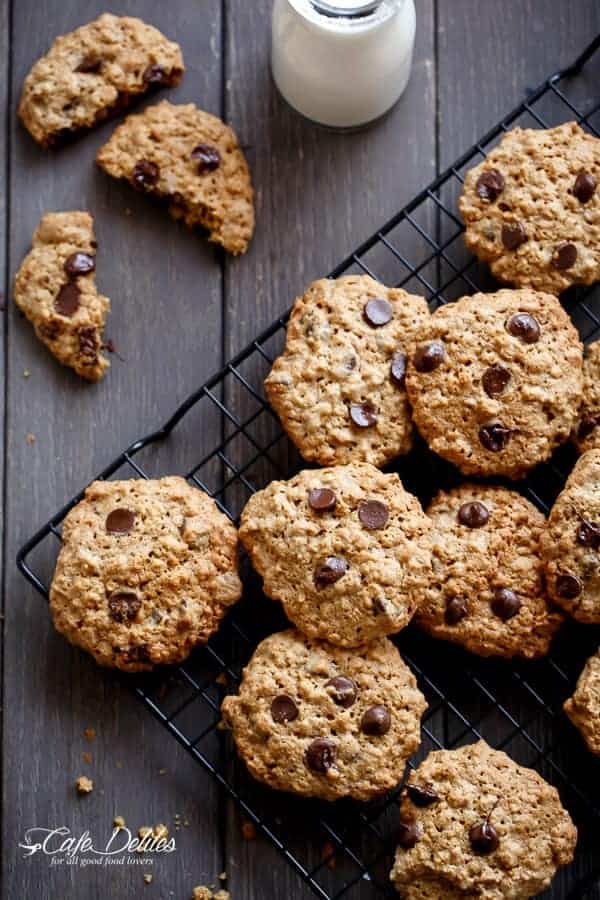 The Peanut Butter flavour in these is even more insane than the cookies themselves. Especially when they just came out of the oven with those steaming hot melty chocolate chips. I may have given myself 9,4296% degree burns and blown 67% of my taste buds. But the other 33% were extremely pleased with the flavour. Did I lose you? Yeah, I'm really not a numbers person.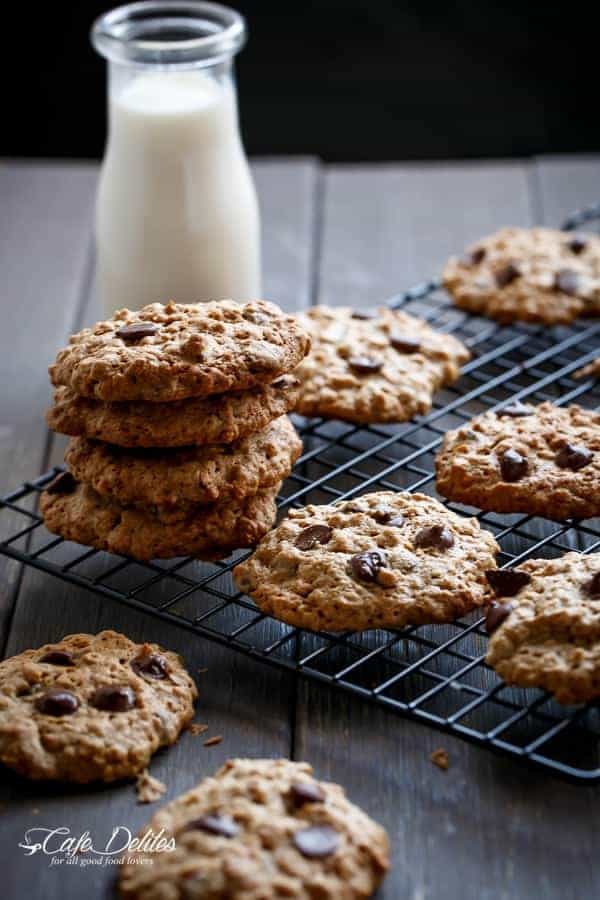 Food blogger example: I tried stopping at one. Didn't happen. I, um, needed to keep trying them to see if the flavour and texture were right. You know? So I tried again — to stop after the second one, and my brain was like, 'Karina….really? You don't know me by now?'  And yes, the same thing happened with the other 3 batches I baked. Ahem.
By this stage, I realised, stopping was not an option. Giving the whole entire tray to my kids was my option. And running far from the smell of peanut buttery melty-ness like Road Runner. My life depended on it.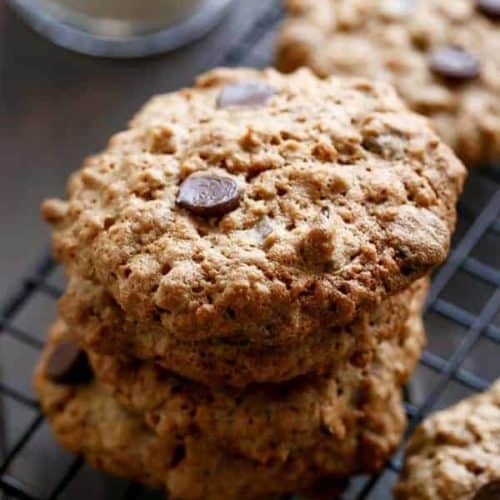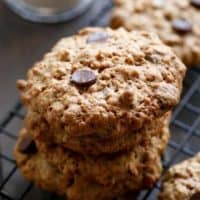 Ingredients
1/2

cup

light or reduced fat butter

(or coconut oil)

1/4

cup

granulated sugar

(sub with coconut sugar for a healthier alternative)

1/2

cup

firmly packed brown sugar

1/2

cup

powdered peanut flour - I use this brand

(or any peanut butter)

1

large egg

1

tablespoon

pure vanilla extract

1

cup

quick oats

(not instant) (use Gluten Free if needed)

1 1/4

cups

oat flour - I use this brand

(or 1 1/3 cup oats ground in a food processor until a flour forms; use Gluten Free oats if needed)

1/2

teaspoon

baking soda

1/3

teaspoon

salt

(or to taste)

1/3

cup

chocolate chips of choice

(I used dark)
Instructions
Preheat oven to 176C | 350F. Line a baking tray with parchment/baking paper; set aside.

Whisk together the butter and sugars until smooth and creamy. Add peanut butter (or peanut flour in dry form) and mix until combined; add the egg and vanilla, mixing until well combined.

Add the oats, flour, baking soda and salt to the top of the wet ingredients; mix them lightly first to combine them before folding them into the wet ingredients. Mix all ingredients together until the batter forms a cookie dough, Fold in the chocolate chips.

Using a tablespoon, drop cookie dough onto the prepared tray (about 1-inch apart), and bake for 12-15 minutes, or until lightly golden and still soft in the center. Transfer cookies onto cooling racks.
Nutrition
Calories:
87.6
kcal
|
Carbohydrates:
11.7
g
|
Protein:
3.1
g
|
Fat:
3.4
g
|
Fiber:
1.2
g