Easy Mango Blueberry Crumble (Crisp). The crumble itself is exactly like an oatmeal cookie ⇒ crispy on the out side and chewy/soft on the inside.
When I make this recipe, we scoop a bunch of frozen yogurt or ice cream scoops over the crumble and sit around the pan eating until there's none left. No plates or bowls needed. Just a bunch of spoons and hungry people.
Mango and Blueberry is a Spring-time combination for most of my readers who are saying a BIG hello to Spring. For those of us in Australia, it's a bittersweet moment, saying goodbye to Summer while enjoying the last our favourite fruit before they disappear forever (well, 7 months feels like forever)!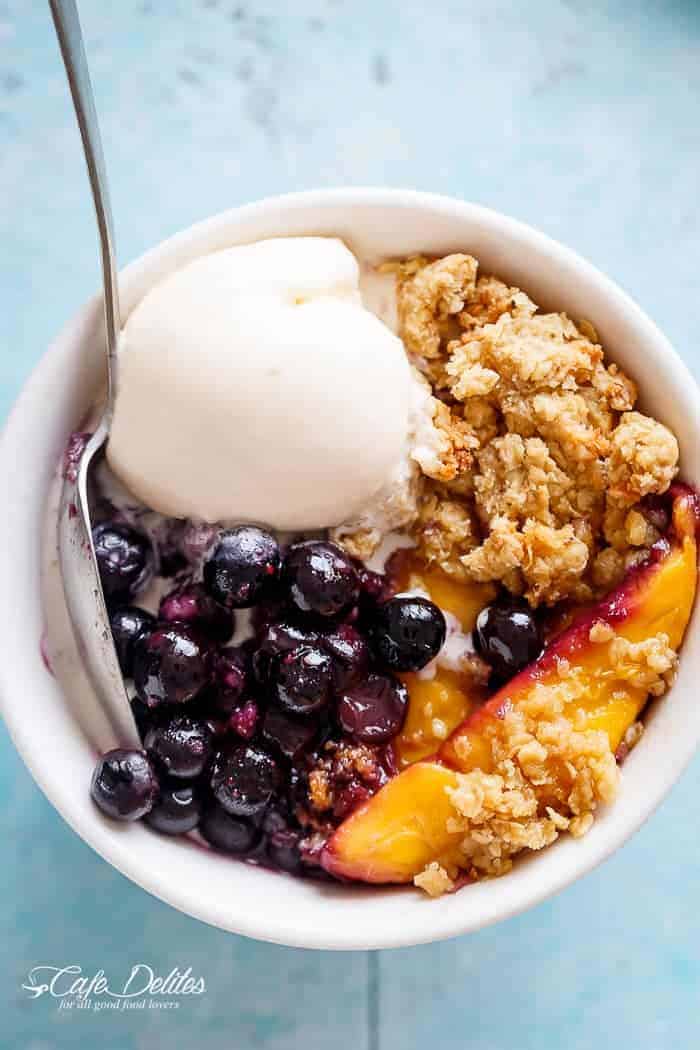 Craving a crumble and seeing our beloved Summer fruits going on sale at the same time was a sign from the crumble Gods that our favourite family dessert had to come to Cafe Delites before it's too late. I had to go to four different supermarkets to find these Mangos because they are selling out so fast. It could be the panic of winter pushing everyone to act out desperately, storing for our next hibernation (aka winter). However, since Autumn has started, Summer has decided to finally pay us a visit. The weather is loco.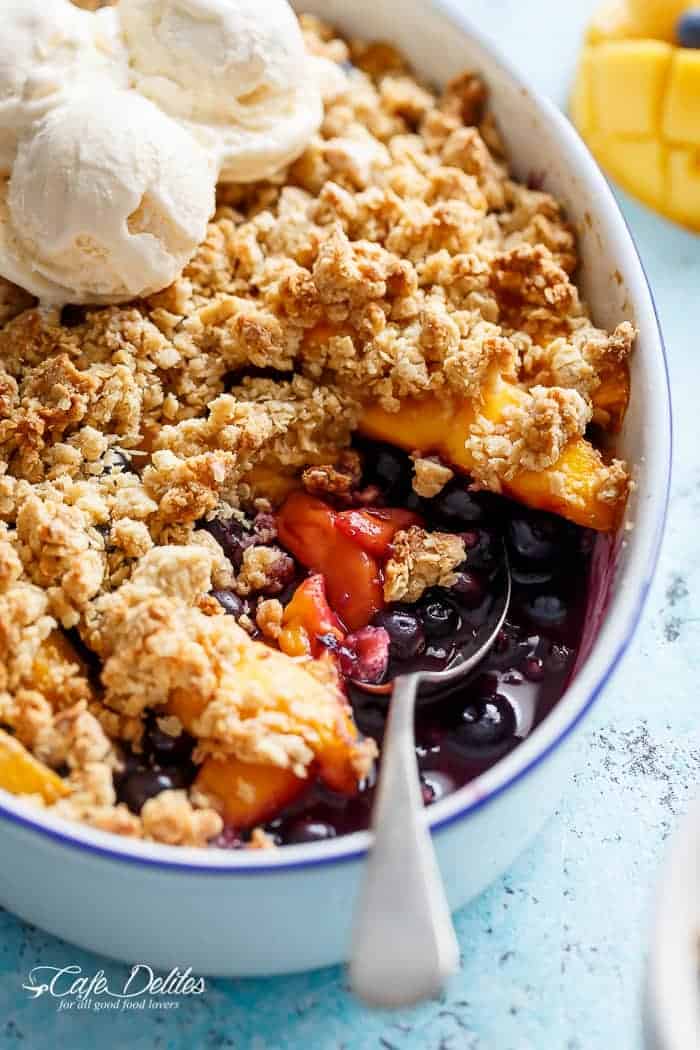 The one thing I love most about a good crumble recipe is all of the juices at the bottom of the pan when scooping out huge helpings. The blueberries make their own incredible syrup which makes a classic crumble even better when combining it with the crispy topping. There's nothing worse than a dry crumble begging for more syrup.
Most crumble recipes ask for 1/2 cup – 3/4 cup of butter. This recipe only requires a fraction of that. And if you're a coconut fan, the optional add-in of coconut will be the best extra you could add.
Begin by mixing your fruit with a touch of flour, light brown sugar (or coconut sugar), and vanilla.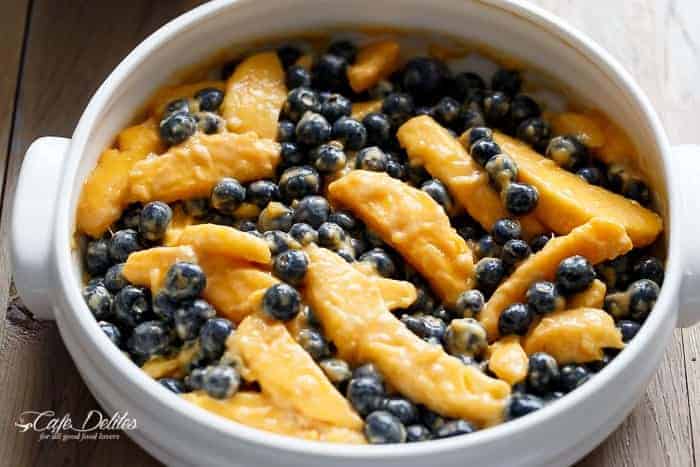 Next, make your crumble and spread it out evenly over the fruit, which allows the fruit to stew and simmer underneath, releasing all of their juices. A mango/blueberry blend from heaven.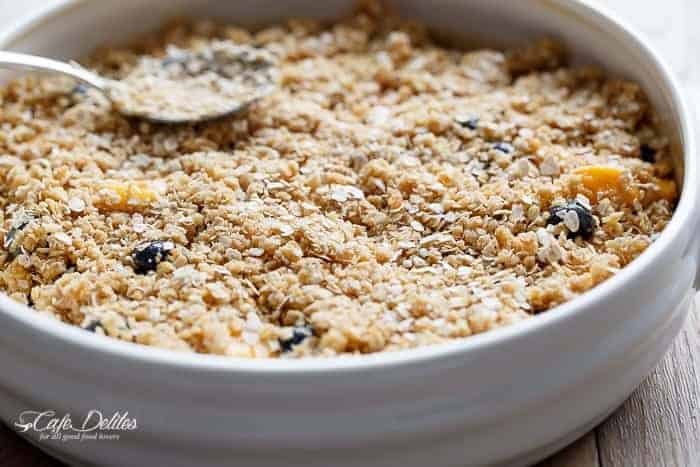 Good luck not eating the crumble before getting it in the pan. I would even go as far as suggesting NOT to taste test it, because when you start, you won't be able to stop.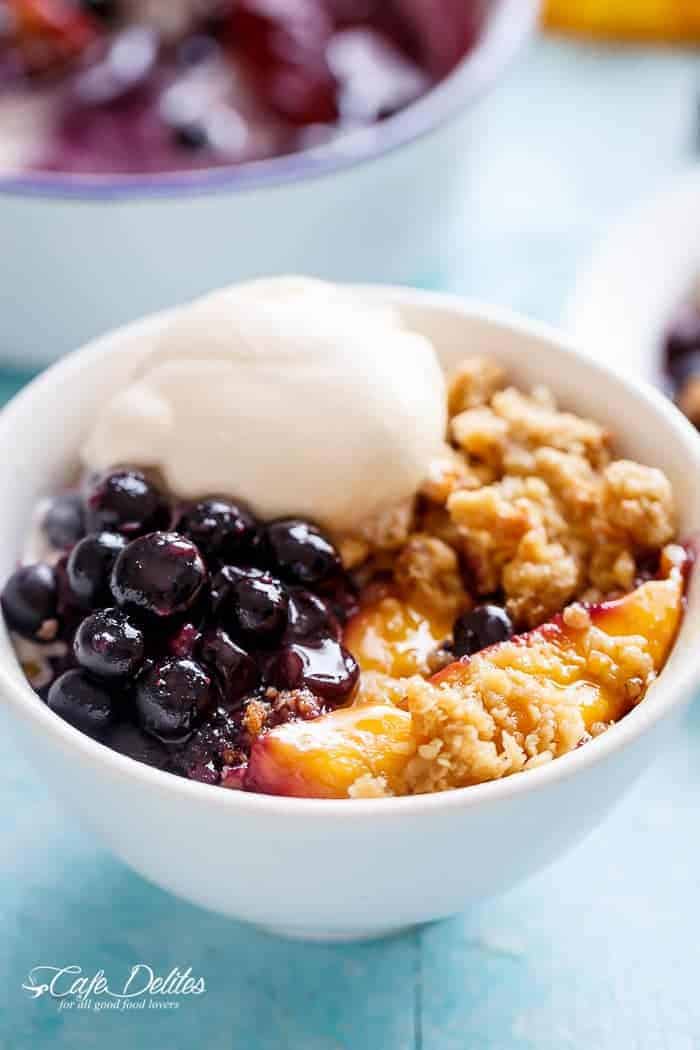 During those 35 baking-minutes, your kitchen will fill up with the sweet smells of a fresh, homemade buttery crumble that you could eat for breakfast, brunch, or as a dessert. Are we the only ones that eat crumble for breakfast? I mean, there's fruit in it, if that counts.
And are we the only ones that scoop the ice cream on our crumble as SOON as it comes out of the oven, just for the ice cream to melt straight through?
If you're looking for more Mango recipes, you may like this Mango Coconut Cheesecake Parfait!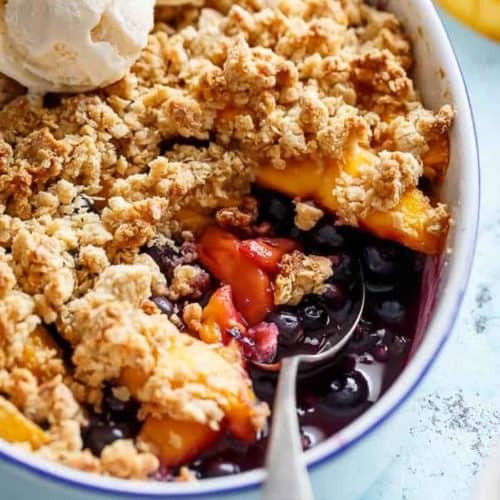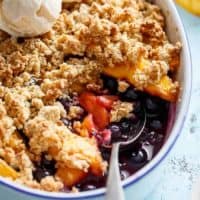 Mango Blueberry Crumble
Easy Mango Blueberry Crumble (Crisp). The crumble itself is exactly like an oatmeal cookie ⇒ crispy on the out side and chewy/soft on the inside.
Weight Watchers Smart Points: 5 per serve
PRINT
SAVE
go to your favorites
Ingredients
Fruit Mix:
3

cups

fresh blueberries

2

large mangos

, sliced

1/2

tablespoon

flour

(light spelt, all purpose or plain)

1

teaspoon

pure vanilla extract

1

tablespoon

light brown sugar

(or coconut sugar)
Crumble:
3/4

cup

rolled oats

1/3

cup

plain or all purpose flour

(light spelt to almond flour are fine to use)

2

tablespoons

finely shredded coconut

(optional)

2

tablespoons

honey

3

tablespoons

reduced fat butter

, melted (or coconut oil)

1

tablespoon

light brown sugar

(or coconut sugar)

pinch of salt
Instructions
Preheat oven to 350˚F | 175°C. Place berries and mango slices in an 8-inch baking dish. Add the flour, sugar and vanilla; mix through to evenly coat.

In another medium bowl, combine the oats, flour (or almond meal), coconut (if using), honey, butter, sugar and salt together. Mix well.

Top with the oat mixture evenly covering the fruit. Bake for 35-40 minutes, or until the fruit starts to bubble and the crumble is golden and crisp. Serve immediately with ice cream, frozen yogurt, or plain.
Nutrition
Calories:
211
kcal
|
Carbohydrates:
38.1
g
|
Protein:
3.3
g
|
Fat:
6.1
g
|
Fiber:
4
g