Cinnamon Cheesecake Swirl Pumpkin Bars
It's like 12am over here and I'm typing like a mad woman because I have to share these. I can't wait longer!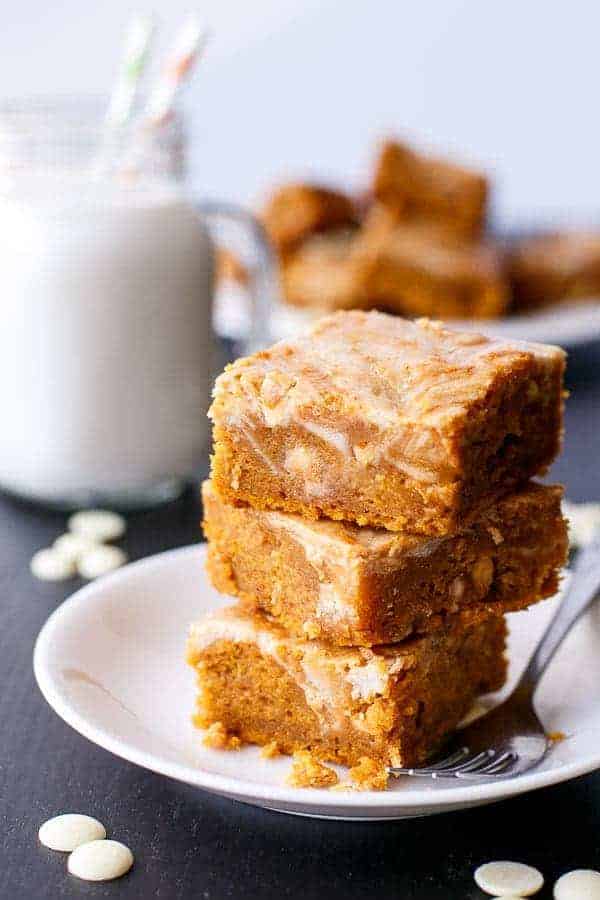 Ohhh..kayyyy. So how do I put this. You know those Cinnamon Cheesecake Swirled Pumpkin Blondies with Chocolate Chips I made a coupl'a weeks ago? Ummm… Well, I wanted to make them again. But me being, well, me…can't make the same thing twice. I'm forever altering recipes and changing things around. I don't know why. It's like a foodie disorder. And this one? Yeap. I twerked it.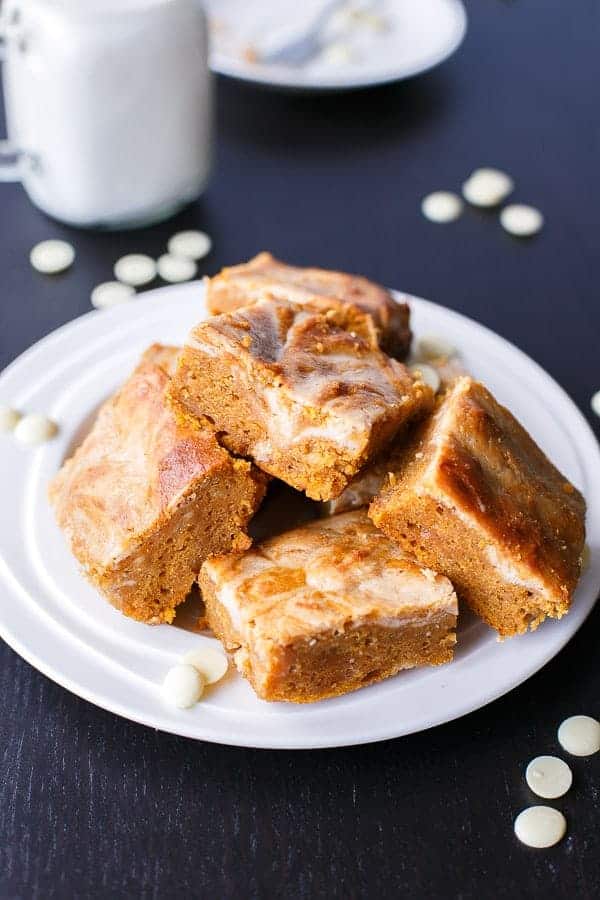 So basically, I wanted them, but I wanted to try them with white chocolate chips…there's something about white chocolate and cheesecake and pumpkin and honey just meshing and fusing and marrying each other to create the most harmonious loving relationship besides chocolate and peanut butter.
I wanted cake-ier — spongier. Still fudgy, but fluffy at the same time. Does that even make sense? I would't know. It's either share now, or suffer an insomniac crazed night full of adrenalin sporadic rushes because I needs'ta share this now type of feeling.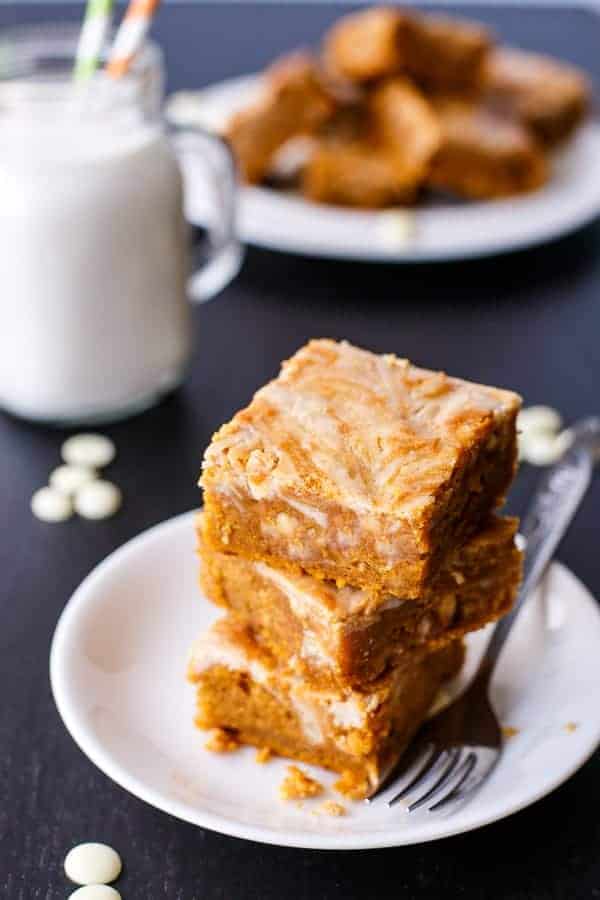 And I think it's safe to say I did it. Whatever ideas I had swimming around my head before plunging into this experiment totally worked. The blondies were so freaking good, don't get me wrong, but these cake slices just warmed the shackles of my heart.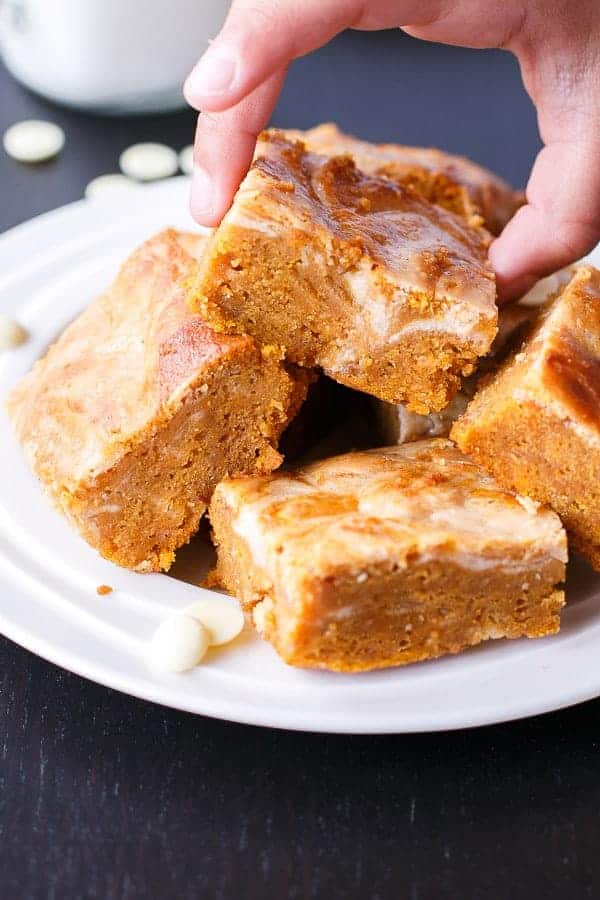 These are a definite must-try-and-bake-before-fall-is-over-and-there's-no-more-pumpkin.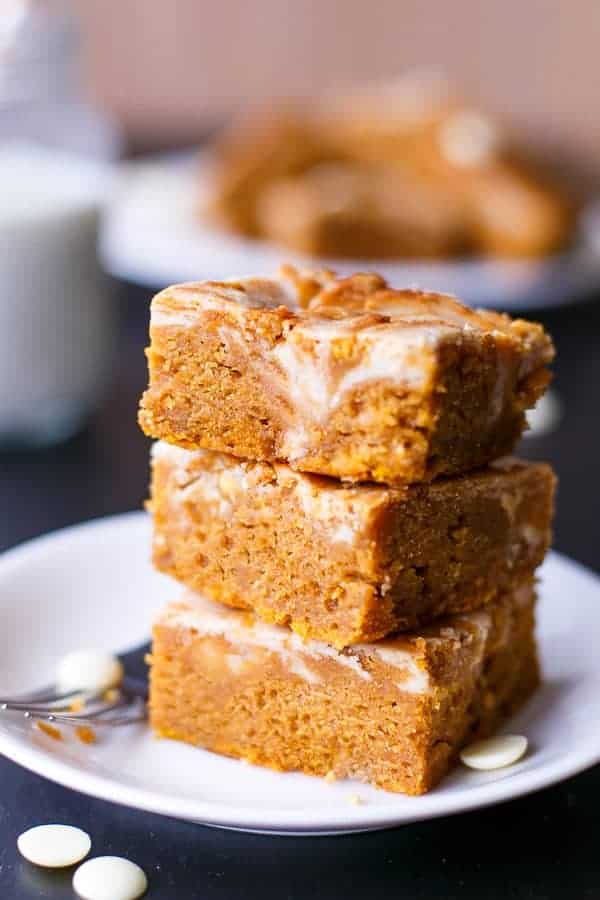 Because the sponginess and the fudginess combination rocked our socks…I'm pretty sure it'll rock yours right off. These didn't last long at all. Nope. It was breakfast/lunch — or brunch-time even — when these warm slices of pimped pumpkin paradise came out of the oven (try saying that 10 times. I dare you).
These with a steaming hot cup of Nutella Hot Chocolate, and the smile was planted on our faces for the following few days…that followed.
And now, before I share this recipe and slide into my awaiting bed, I wanted to thank ya'll for even reading these ravings of a totally sweet-toothed mad woman. You guys make my day.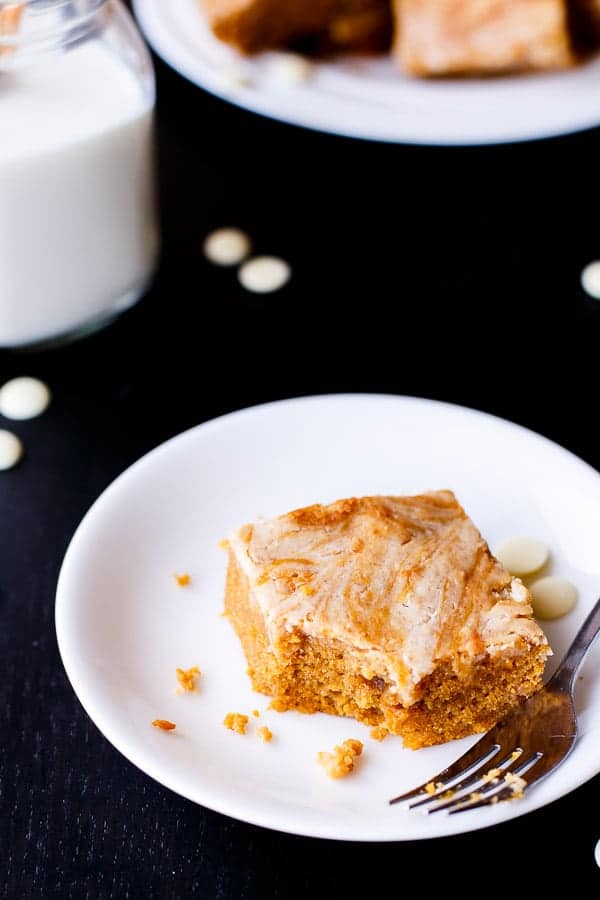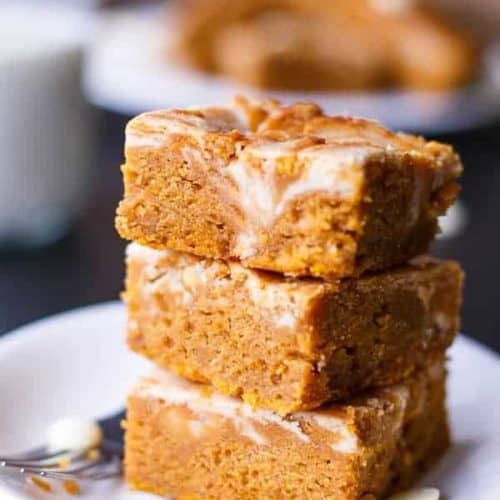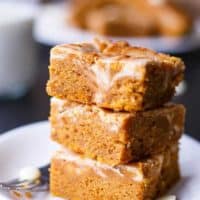 Ingredients
Cake Slice
1

large egg

½

cup

light brown sugar

, packed

1/3

cup

natural sweetener/or sugar of choice

1

cup

pure pumpkin puree

, canned or homemade (not pumpkin pie filling)

1/4

cup

oil

(cooking oil or melted coconut oil)

1

tablespoon

honey

½

tablespoon

vanilla extract

1 1/2

cups

plain flour

(I used light spelt flour, but plain or all purpose flour(s) are fine)

1

tablespoon

baking powder

1½

teaspoons

ground cinnamon

Pinch of salt

¼

cup

white chocolate chips
Cheesecake
1

x 250g | 8.8oz packet low fat/fat free cream cheese

, at room temp

2

tablespoons

flour

1

teaspoon

ground cinnamon

4

tablespoons

natural sweetener/sugar of choice
Instructions
In a large bowl, whisk the egg, brown sugar, sweetener/sugar, pumpkin, oil, honey and vanilla until smooth and creamy.

Add the flour, baking powder, cinnamon and salt, and stir until just combined (don't over-beat.)

Fold through chocolate chips, set aside and make the cheesecake layer
Cheesecake
Combine cream cheese, flour, cinnamon and sweetener/sugar in a medium sized bowl, and beat until smooth.
Assemble:
Pour the cake batter into prepared pan and evenly smooth the top lightly with a spatula.

Pour the cheesecake mixture over the top, and using the back of a knife, swirl small amounts of the blondie batter gently into the cheesecake mix until a marble effect is created on the top (not too much because you still want both layers).

Bake for about 38 - 45 minutes (depending on your oven), or until done. A toothpick inserted in the center should come out mostly clean/slightly dirty, with a few moist crumbs BUT no batter. Allow cake to cool in pan for at least 30 minutes before slicing and serving.
Notes
Storage: Bars should be stored in an airtight container, or on a tray/plate covered with plastic wrap at room temperature for about 3 days, or in the freezer for up to 6 months.
Nutrition
Serving:
1
g
|
Calories:
136
kcal
|
Carbohydrates:
18.4
g
|
Protein:
3.3
g
|
Fat:
5.2
g
|
Fiber:
0.5
g