Cheesy Mashed Sweet Potato Cakes are the perfect snack! Cheesy on the inside, so crispy on the outside and so easy to make!
Originally posted in 2014 as these Bacon Sweet Potato Hash Cakes way back when this blog was only just born, these Mashed Sweet Potato Cakes were so loved back then! The only difference with these is all the CHEESE! Serve them with poached eggs, bacon, or just on their own, they are so versatile, the whole family loves them!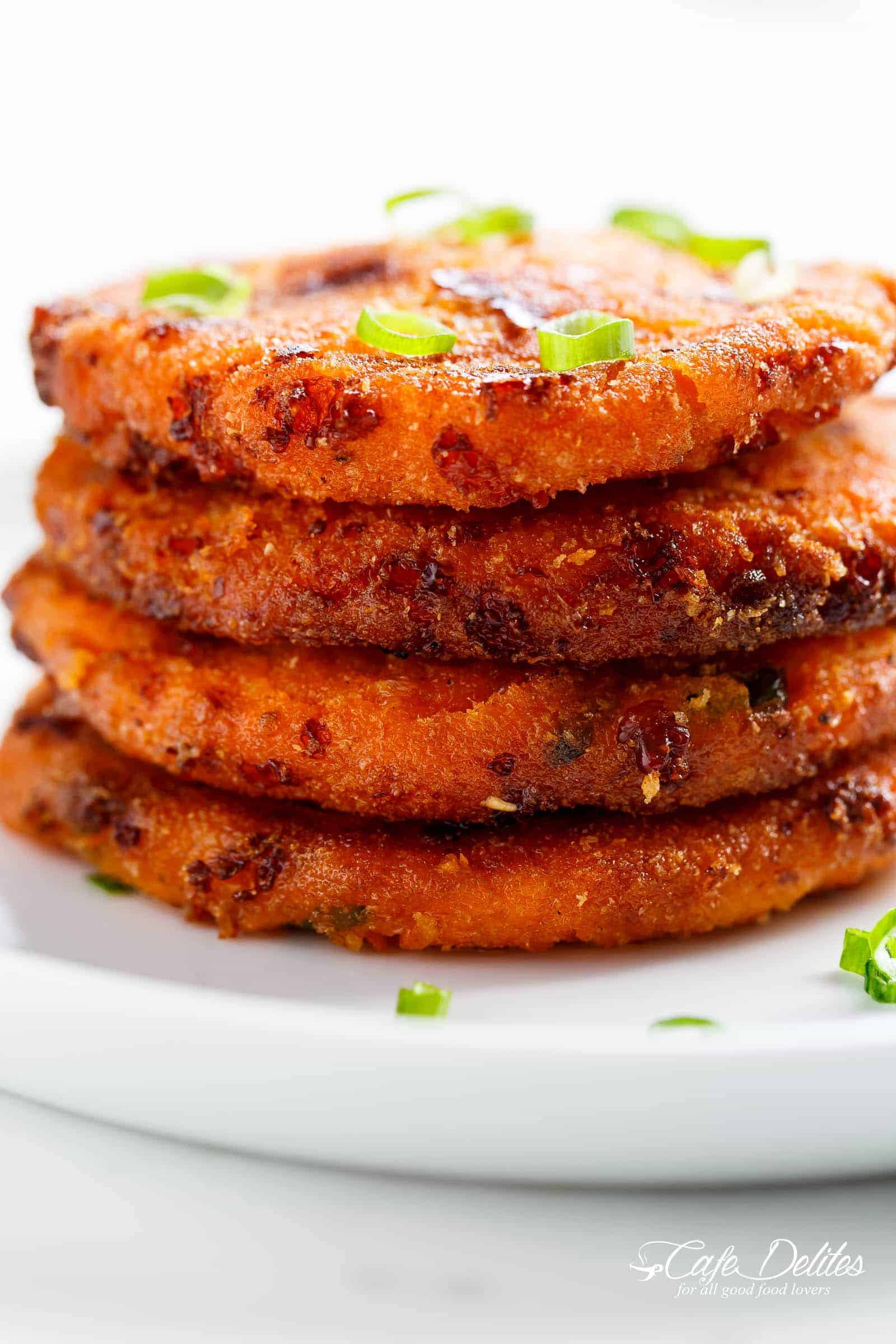 I mean….the cheese pull right here is just perfect!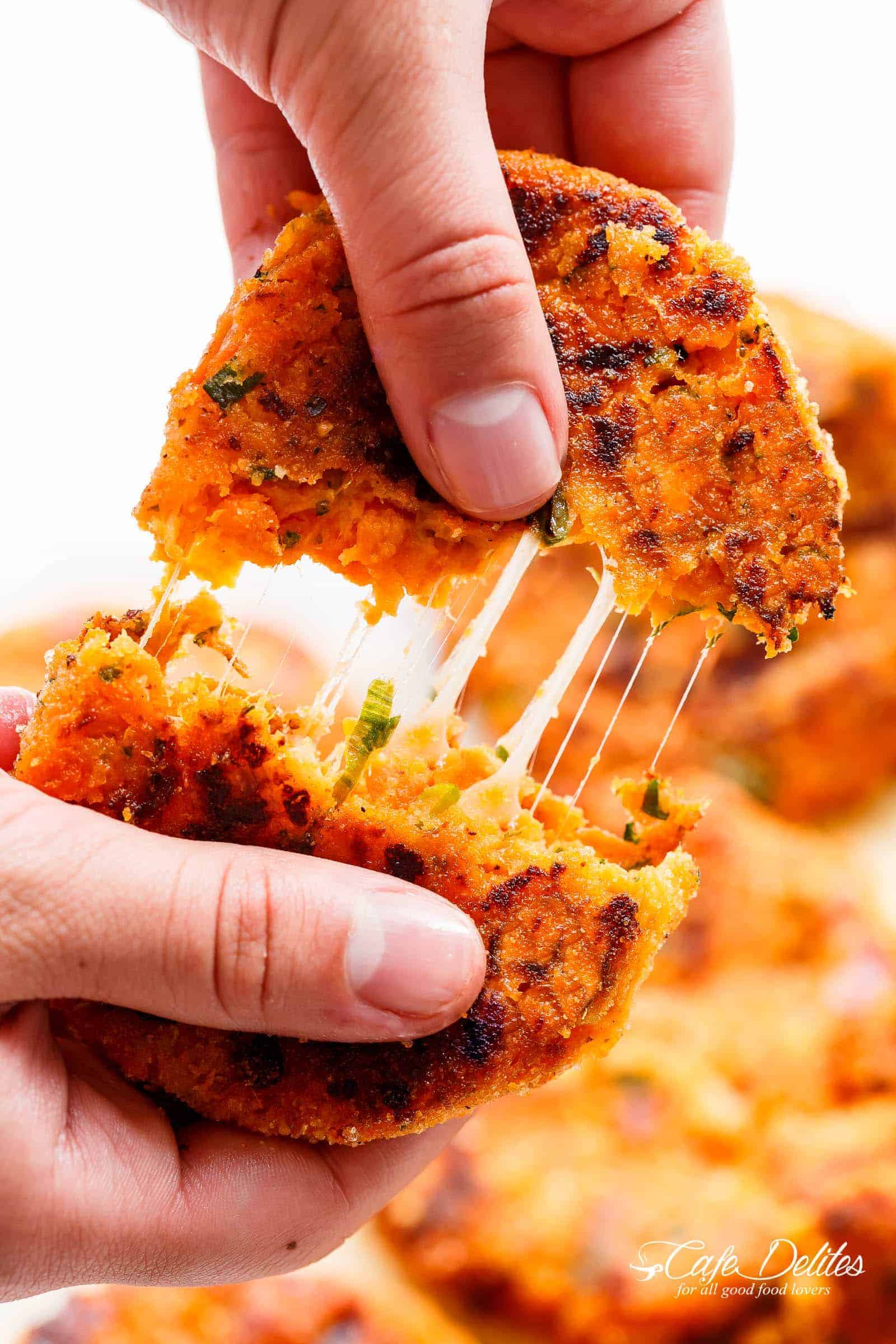 The only advice I have with these is be gentle. Mashed sweet potato cakes tend to be a lot more delicate than normal mashed potato cakes. When flipping them, do so gently or they may break apart on you. Also, I always make these with breadcrumbs. The times I've tried these with flour, they come out gooey in the centre. Very very soft and almost like a cake batter.
I also prefer to fry them on a nonstick pan, as the cheese tends to run out of them and stick in a regular pan.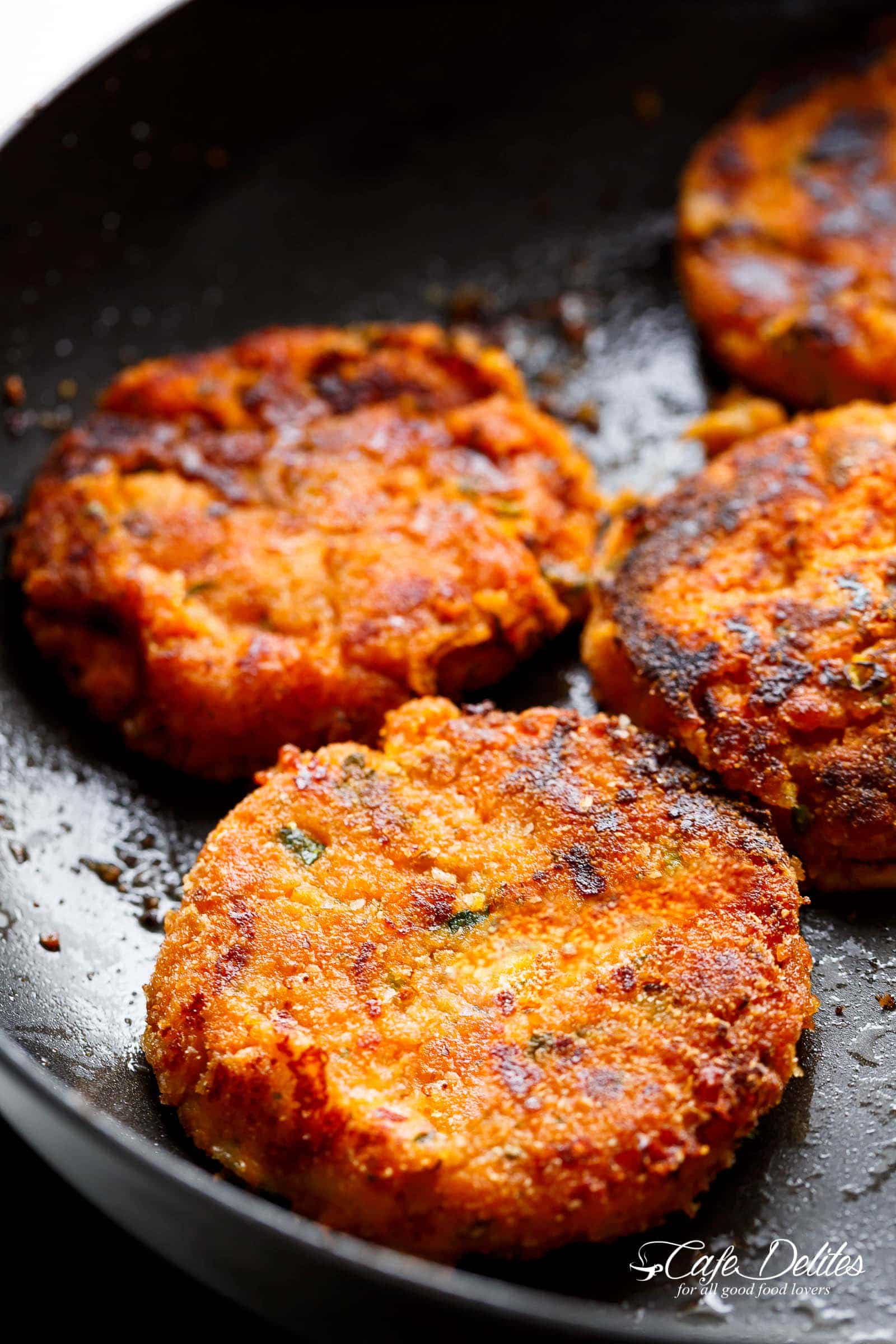 Serve them with sour cream, chives, more green onions, bacon on the side, or a dripping poached egg. YUUUHM.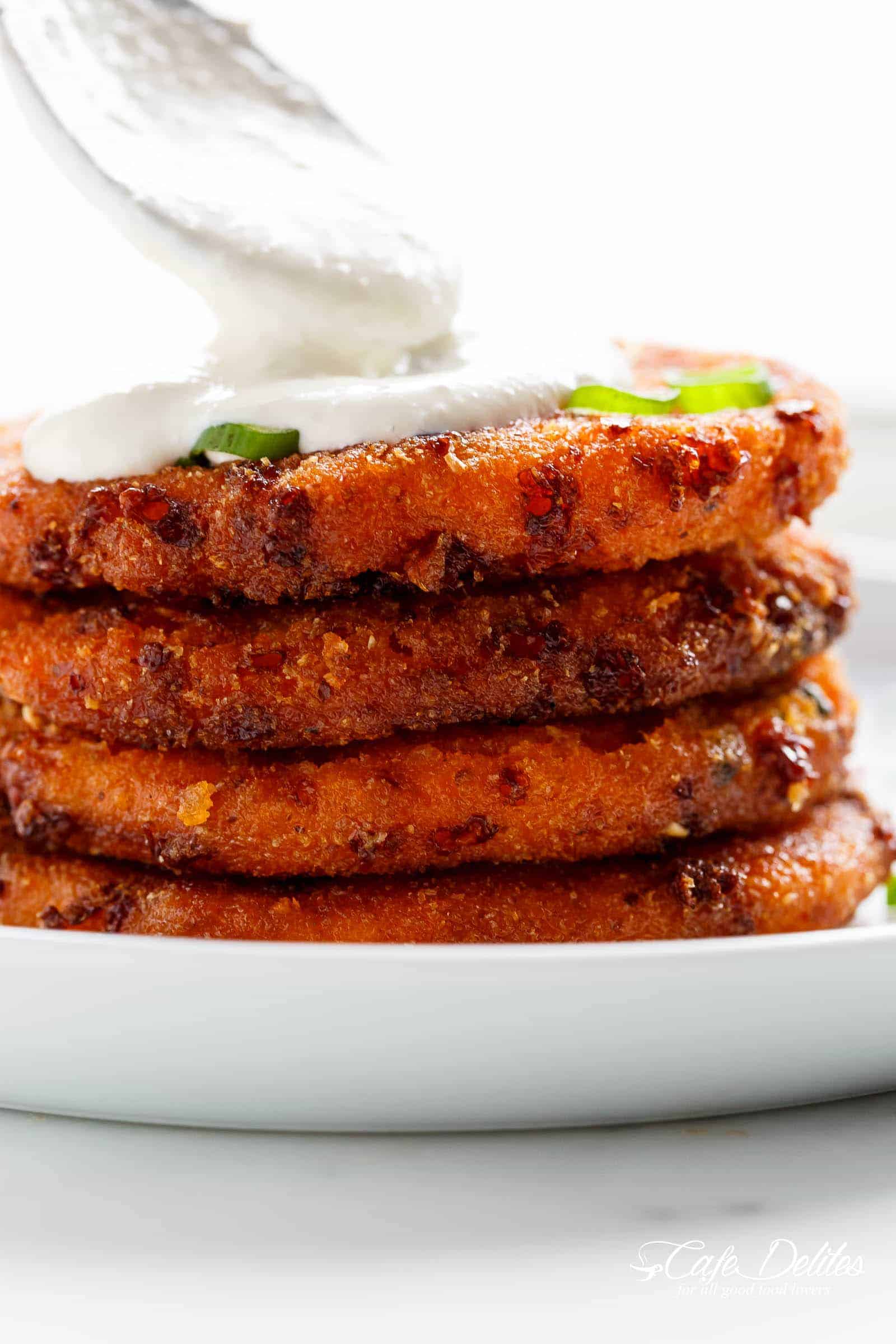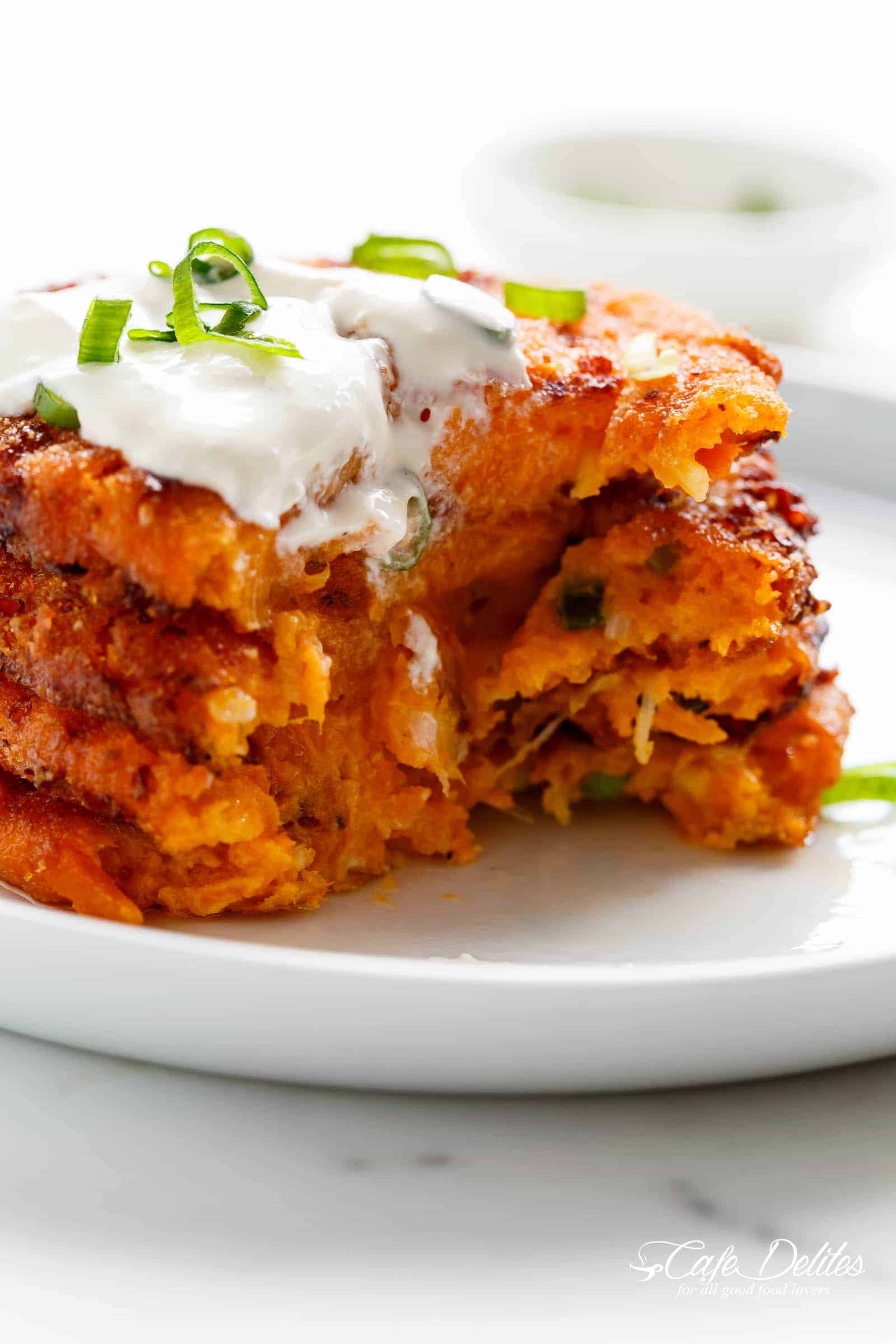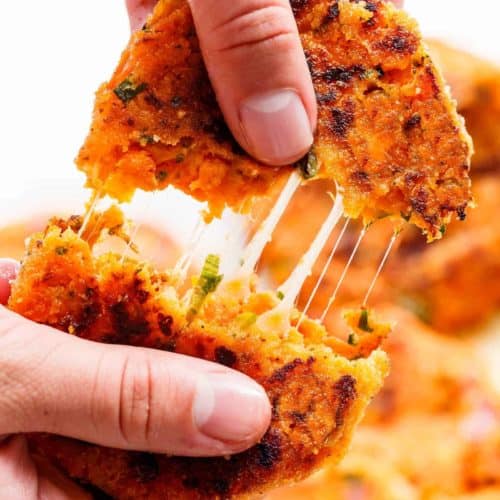 Ingredients
4

cups

mashed sweet potatoes

(we used 5 medium-sized sweet potatoes)

2

cups

grated mozzarella cheese

1/4

cup

fresh grated parmesan cheese

1/2

cup

green onions

(scallions or green shallots), chopped

3/4

cup

bread crumbs,

divided

2

large cloves of garlic

finely chopped (or 2 tablespoons minced garlic)

2

tablespoons

freshly chopped parsley

1

egg

salt and fresh cracked black pepper,

to taste
Instructions
TO MAKE MASHED SWEET POTATOES:
OVEN BAKED: Line a baking sheet with foil or parchment paper. Wash, peel and cut sweet potatoes into quarters or 6 pieces, depending on how large they are (we do ours in 6 pieces). Arrange onto baking sheet; drizzle with a small amount of oil and season with salt and pepper. Cover baking sheet with foil and bake for 30-45 minutes, or until easily pierced with a fork. (Baking time will depend on how large they have been cut.) Transfer cooked sweet potatoes to a mixing bowl and mash well with a potato masher.


STOVE TOP: Fill a large 5 Quart (or 5 litre) pot with water and add about 1 tablespoon of salt. Wash, peel and cut sweet potatoes into quarters or 6 pieces, depending on size, and add them to the pot. Cook until easily pierced with a fork. Drain; transfer to a mixing bowl and mash well with a potato masher.

TO MAKE THE SWEET POTATO CAKES:
To the mashed sweet potatoes in the bowl, add the mozzarella, parmesan, green onions, 1/2 cup of bread crumbs, garlic, parsley and egg. Season with salt and pepper, and mash all ingredients together well with a potato masher to combine.

Place remaining 1/4 cup of breadcrumbs onto a plate. Scoop 1 tablespoon of mixture into the palm of your hands and form into round patties about 1/2-inch thick. Dredge patties in the bread crumbs, evenly covering both sides, and set aside until ready to cook.

Heat about 1 tablespoon of oil in a medium-sized nonstick pan over low-medium heat. When oil is hot, add the patties in batches of 4 or 5, and cook for about 6 minutes on each side, or until golden and crispy, using a small spatula to flip them very carefully. Add more oil in between batches if needed.
Notes
Do not replace breadcrumbs with flour. We tried this and they were super gooey in the centre. The breadcrumbs absorb some of the moisture of the sweet potatoes, and set better. They will still be softer than potato cakes, but not gooey.