Strawberry Rosé Slushies are THE best way to BEAT THE HEAT! If you love a great drink, this 2-ingredient slushy is for you!
You GUYS! Okay, so I may be dying slowly of the freezing cold temperatures hitting us at the moment, BUT that did NOT stop me from drinking one (okay, three) of these slushies last night. Cold? WHO? NOT ME! For just about all of my readers enjoying the sunshine and heat and poolside good times, these Strawberry Rosé Slushies are just what you need to cool yourselves down!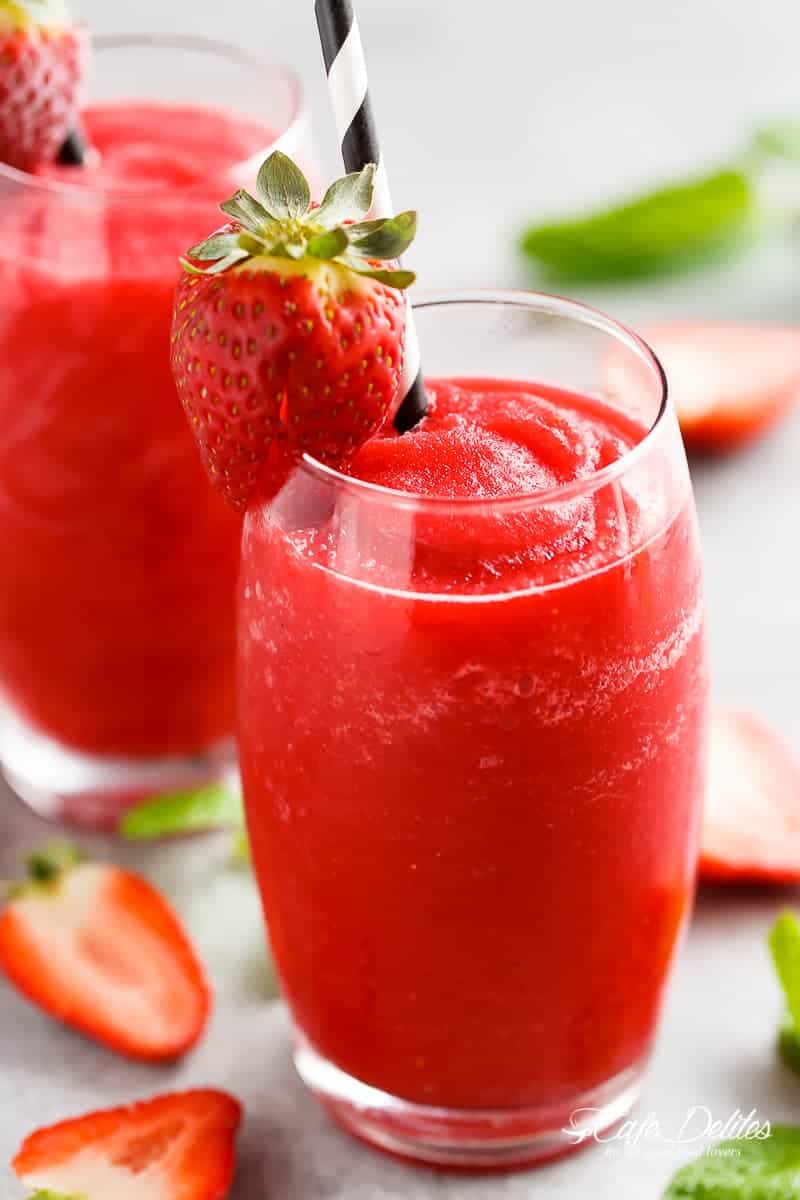 Rosé Slushies
Yes, we are totally upside down on the wrong side of the world (wrong because it's SO COLD), and we may be up to our eye balls in skivvies and sweaters and scarves, but picture this: 2 of us fully clothed and shivering people, waiting for our heater to turn on, while blending frozen strawberries and wine and ice, drinking said blended boozed strawberries and ice, and proceeding to drink the hell out of each slushy WHILE SHIVERING and not being able to stop because ROSÉ SLUSHIES!
Lips may have turned blue. Purple. Blue. I can't remember.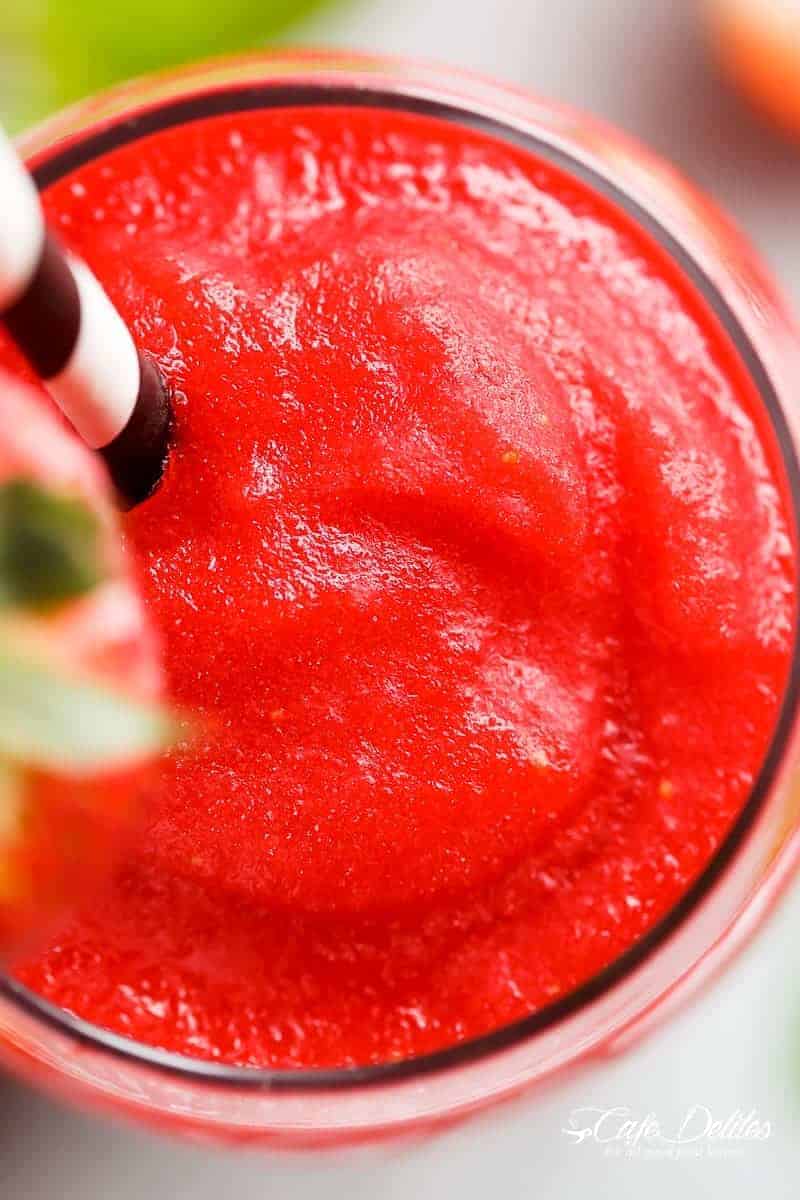 Summer Drinks
With so many fruit slushies making their rounds on the internet, I'm not one to back down and NOT try them. I mean, HELLO! Rosé happens to be my most favourite wine EVER. To be completely honest here, bottles of Moscato Rosé (or Pink Moscato) can be found in my fridge stocked up and ready to go for ANY occasion. And frozen strawberries are a fridge staple — you know, for smoothies, not alcohol.
This recipe is all of my dreams come true, and I hope yours too. All you need to do is blend together frozen strawberries and wine. NO. FREEZING. TIME. REQUIRED.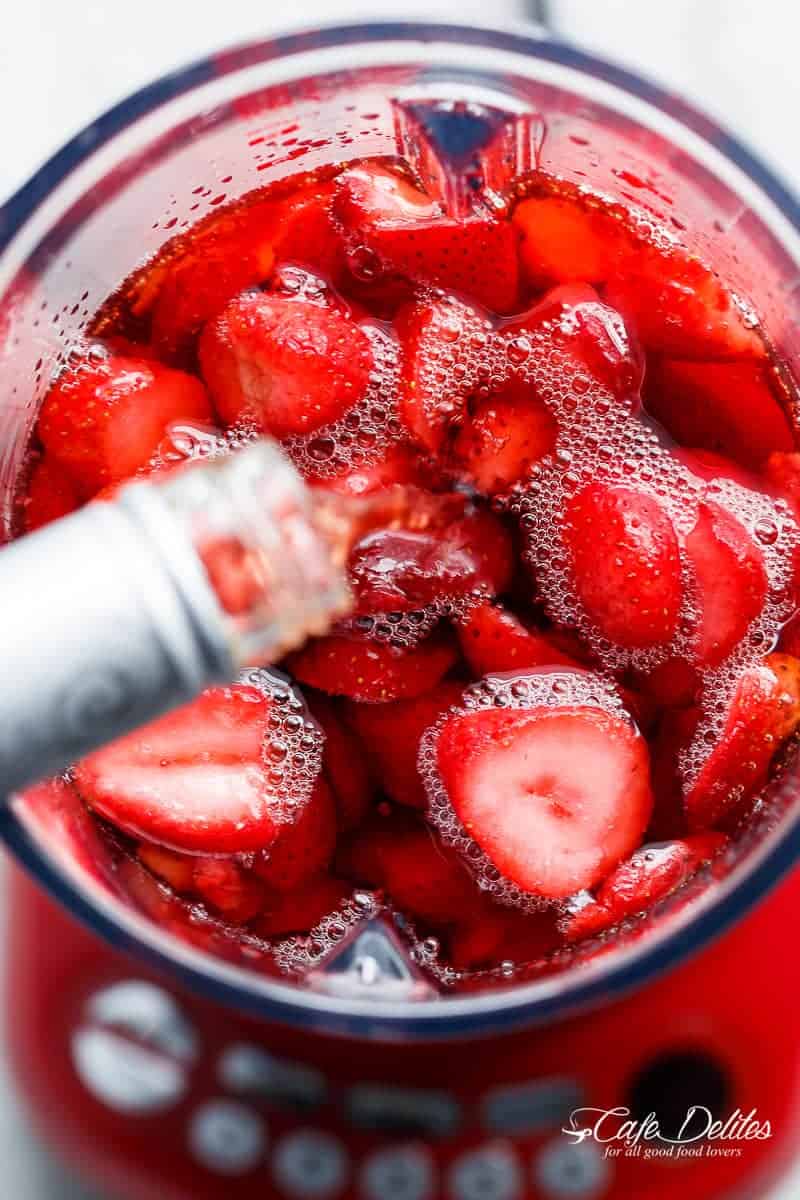 Tips
Now, being a blogger, I of COURSE had to try different types of Rosé wines to see which had the best flavour in these slushies, and hands down Moscato Rosé wins. If you're a sweet tooth, please go for a good brand of Moscato Rosé for this. It's such a pleasure to drink. However, if you like a less sweet and milder wine, use a normal Rosé. Personally, we found using a standard Rosé a bit bitter and didn't enjoy the drink at all. To really enjoy these slushies, you need to use a wine you love.
You could even swap out the Rosé all together and use any of the dry white wines (chardonnay, sav blanc), or semi sweet (most Reislings).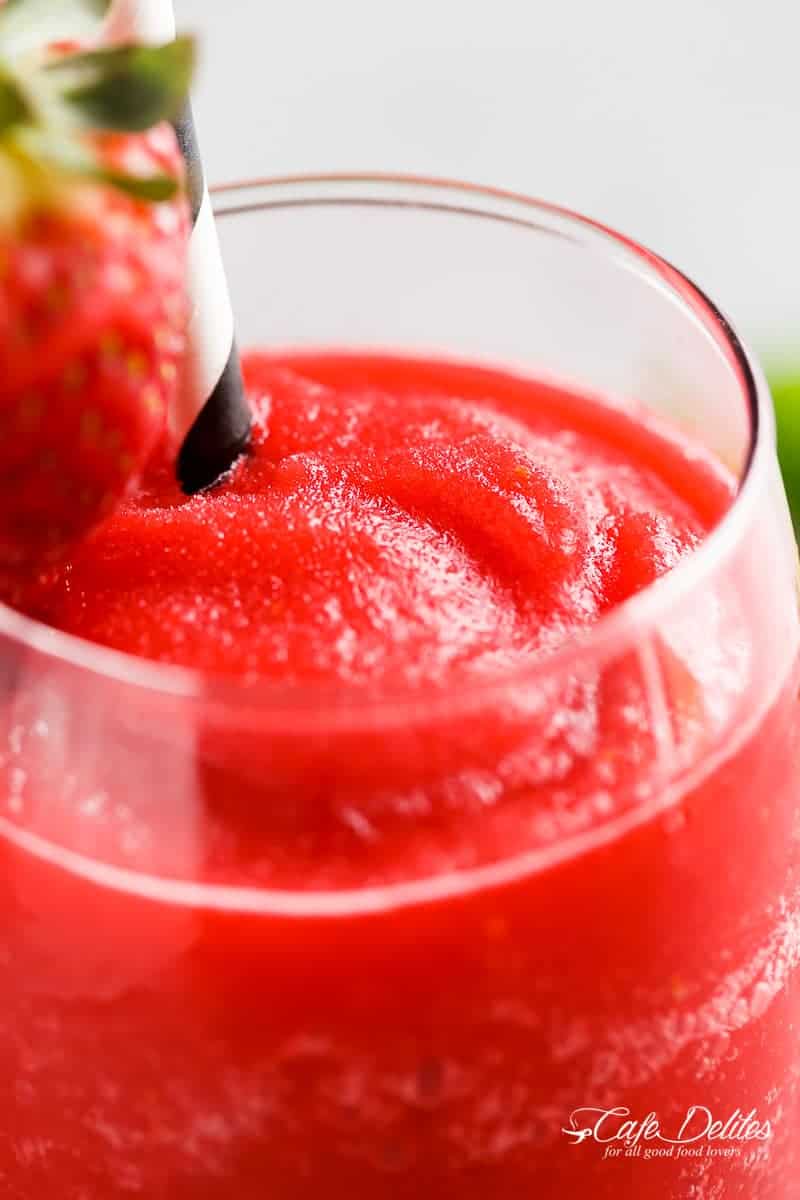 Whoever you decide to go with, SALUD!
If you love this, you may love these Frozen Margarita Slushies!
Watch us make Strawberry Rosé Slushies right here!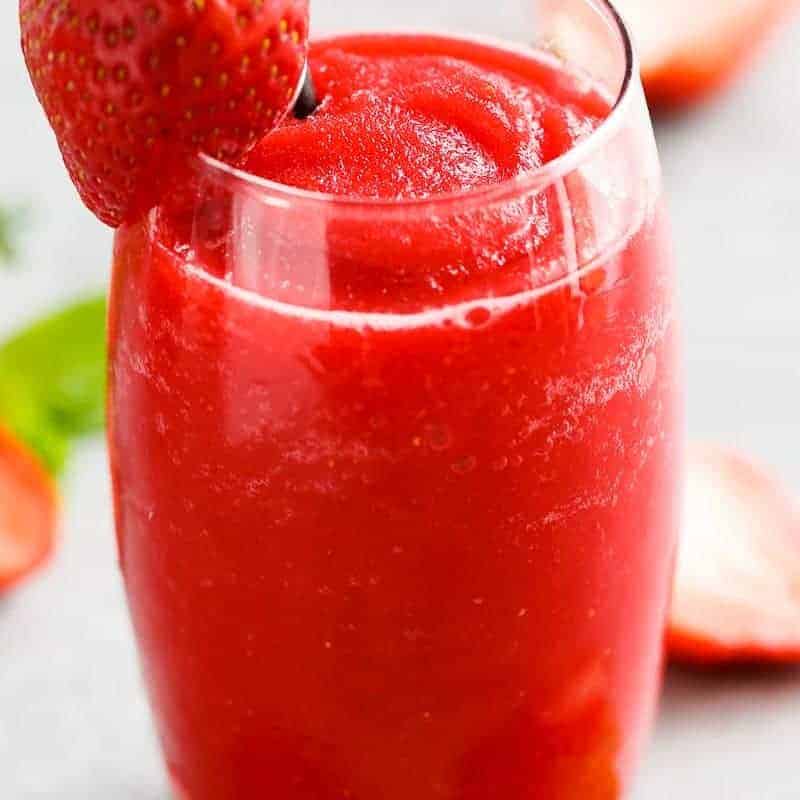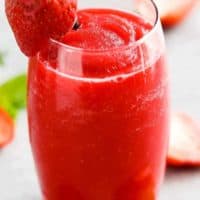 Strawberry Rosé Slushies (Frosé)
Strawberry Rosé Slushies is THE best way to BEAT THE HEAT! If you love a great drink, this 2-ingredient slushy is for you!
PRINT
SAVE
go to your favorites
Ingredients
1

x 750ml bottle of Moscato Rosé Wine

(or Pink Moscato)

1

pound

| 500 grams SLICED frozen strawberries*

1-2

cups

of ice
Instructions
Using a good quality blender or food processor, blend the wine and strawberries together until smooth and lump free. Check the texture and add in ice cubes (starting with 1 cup), and blend until reaching your desired consistency. We like ours thick, as it melts fast while drinking! Especially in hot weather,
Notes
*Hull and slice before freezing, or use ready to use store bought sliced strawberries.
Nutrition
Calories:
443
kcal
|
Carbohydrates:
8
g
|
Protein:
1
g
|
Fat:
46
g
|
Saturated Fat:
29
g
|
Cholesterol:
122
mg
|
Sodium:
406
mg
|
Potassium:
187
mg
|
Fiber:
2
g
|
Sugar:
5
g
|
Vitamin A:
1430
IU
|
Vitamin C:
66.7
mg
|
Calcium:
32
mg
|
Iron:
0.5
mg