Salted Chocolate Dipped Peanut Butter Cookies! (LOW CARB) Chewy and soft on the inside with a slight crispiness on the outside!
Flourless 4 ingredient peanut butter cookies that take about 50 seconds to mix, 10 minutes to bake and 2 minutes to eat a whole tray full (not that I did that)…..pimped up, dipped in chocolate and sprinkled with salt flakes.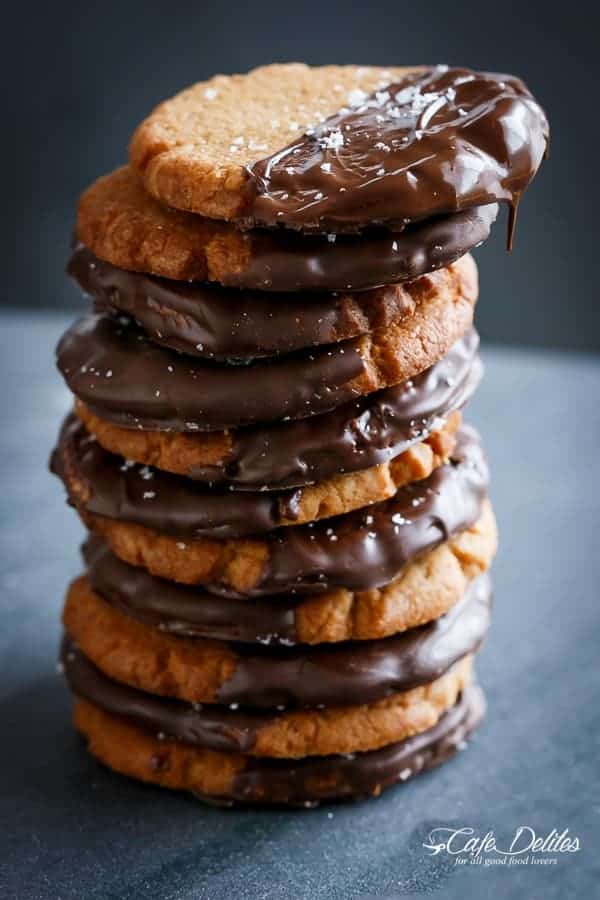 Can I just remind you how much of a fan I am of minimal ingredient anythings? Especially those situations we all have when a strong craving hits so hard and slaps you upside the face, the last thing you want to do is wait around for cookie dough to chill out in the fridge. I mean, there's a thing called desperation that waits for no one. And I know I'm not just speaking to myself out loud.
Yes. I'm talking to you too.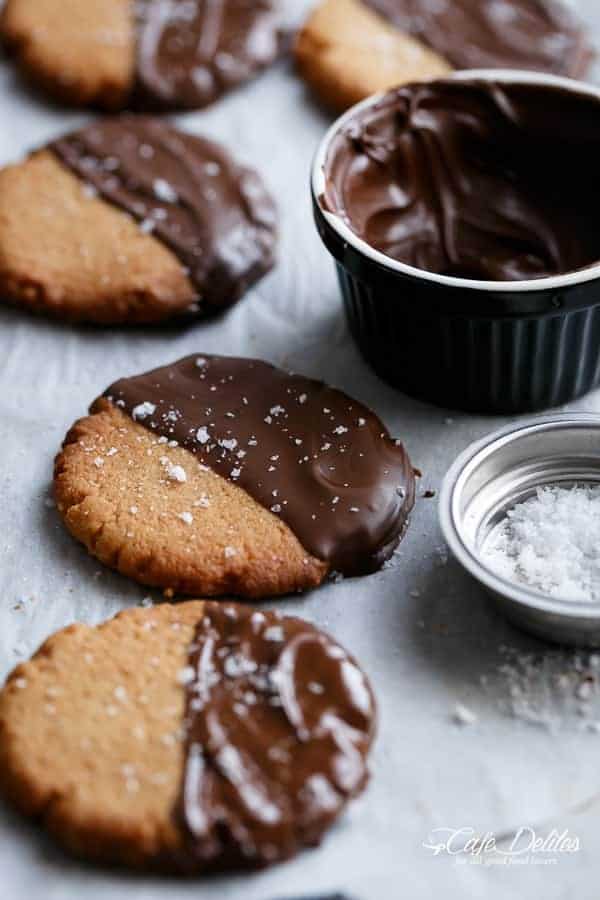 My husband first introduced me to the concept of sweet and salty way back when I was much younger and easily influenced…last month, to be exact.
But. His interpretation didn't win me over. Because who in their right mind dips french fries into chocolate sundaes? Well, apparently he does. And now so do my kids. Yeah…thanks Paul.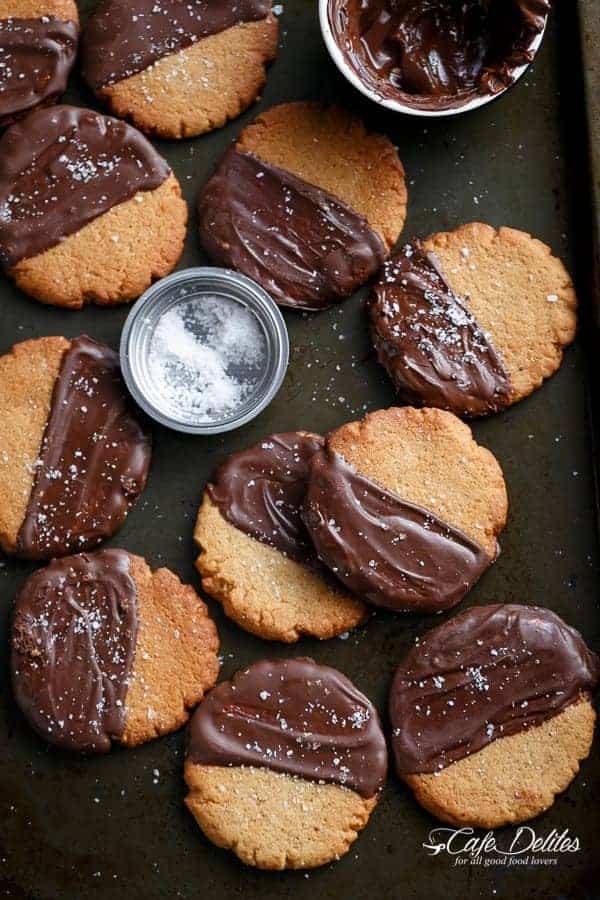 Anyway…the salt from the french fries that lingered in my chocolate sundae experiment hit my taste buds and popped my sweet/salty cherry. A memory that has always lingered with the voices in the back of my brain.
So, it was only logical to pimp up some pretty fine peanut butter cookies, dip em in chocolate and salt them up with flakes. And these are so easy, I could cry,  but I won't.
Ready? Mix the 'so-called' cookie dough. Roll into balls. Flatten with love.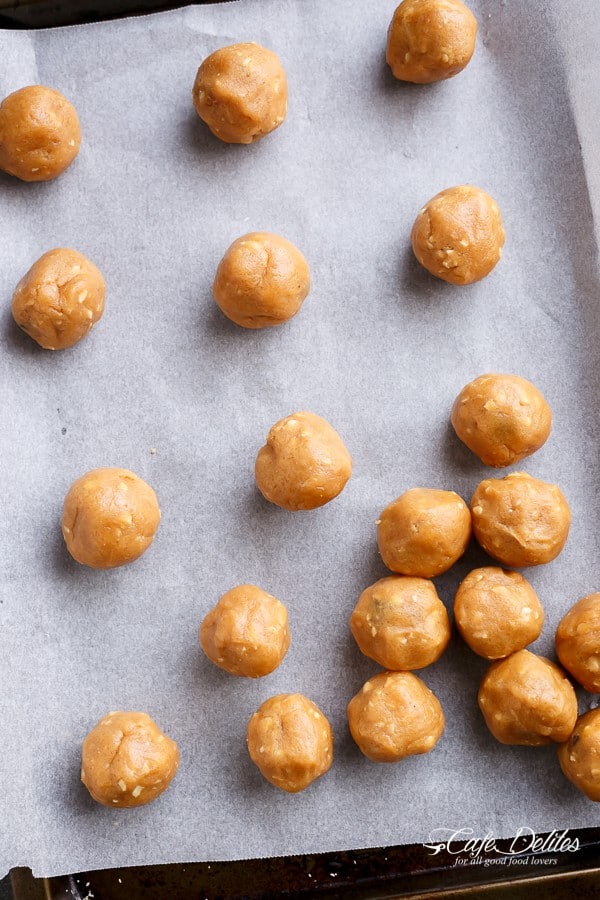 Bake until they're so perfectly golden. Cool. Dip in chocolate. (That's my favourite part).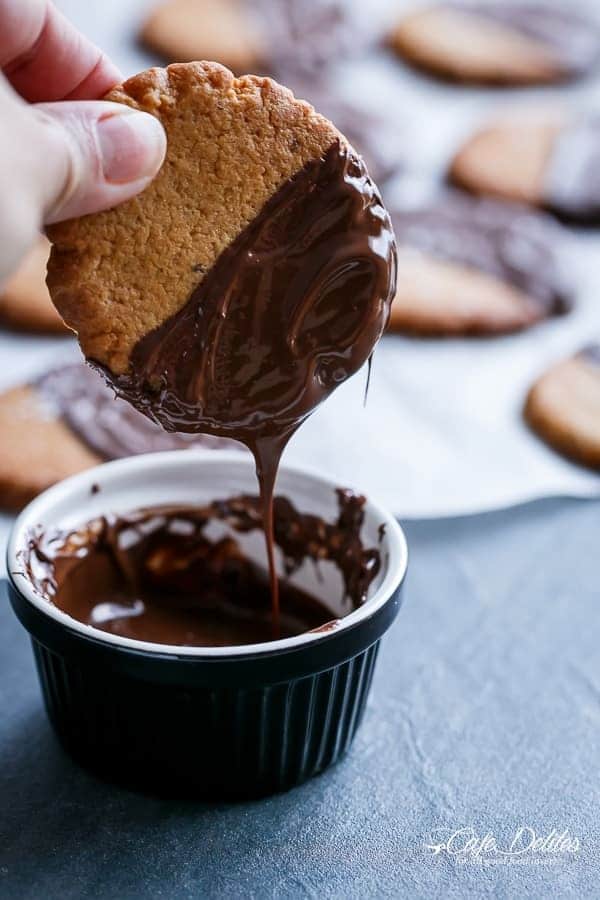 Allow them to set. Lick any excess dipping chocolate off of your fingers. Wash your hands.
(Hygiene = Important)
Sprinkle with salt. And place the whole tray in the freezer, except for two. Because you will want the whole tray.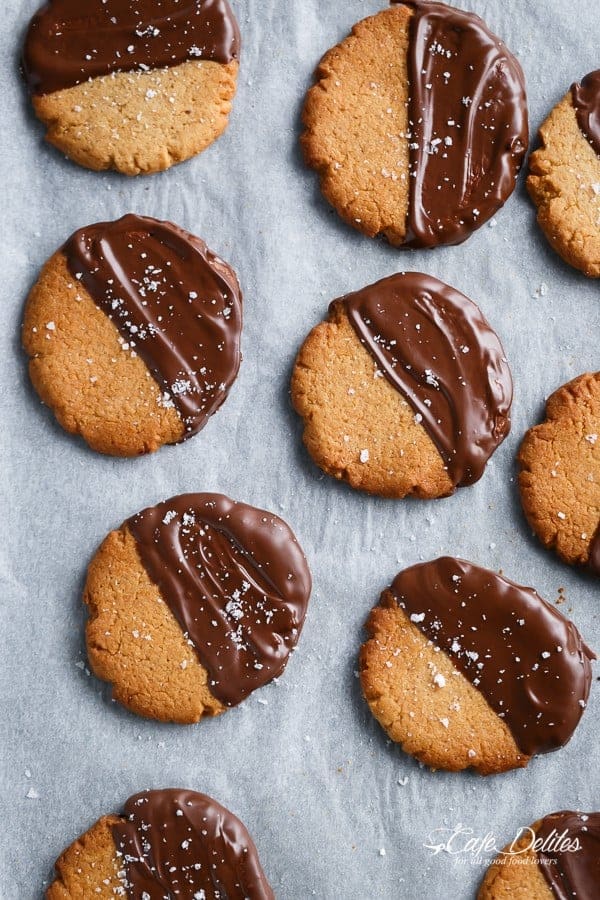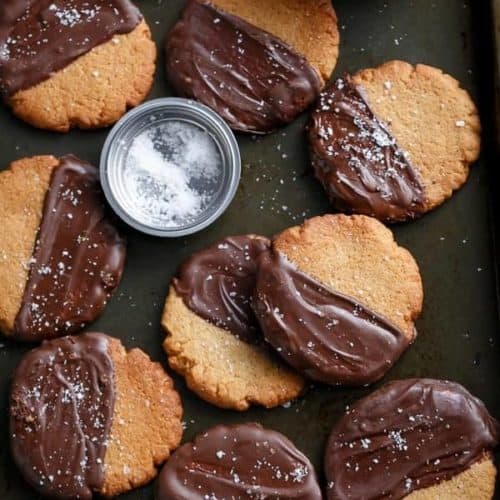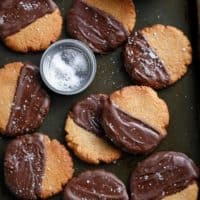 Salted Chocolate Dipped Peanut Butter Cookies
4 ingredient Salted Chocolate Dipped Peanut Butter Cookies! 50 seconds to mix, 10 minutes to bake and 2 minutes to eat a whole tray full! Weight Watchers: 2pp per cookie!
PRINT
SAVE
go to your favorites
Ingredients
1

cup

smooth peanut butter

(I use No Sugar, No Salt)

3/4

cup

natural granulated sweetener

(I used a natural granulated sweetener to keep these low carb, but you can use white sugar, raw sugar or coconut sugar).

1

large egg

1

teaspoon

pure vanilla extract

1/3

cup

sugar free

, semi sweet or dark chocolate chips

1

teaspoon

butter or shortening

salt flakes
Instructions
Preheat oven to 190°C | 375°F. Prepare two baking trays with parchment/baking paper and set aside.

Combine together peanut butter, sweetener (or sugar), egg and vanilla in a medium-sized bowl and mix well. Scoop out 1 tablespoon of cookie dough per cookie; roll into a ball and flatten with the palm of your hand (or use the end of a fork).

Bake for 10-15 minutes or until golden. Remove and allow to cool for about 10 minutes before transferring to a wire rack to cool completely.

While cookies are cooling, melt chocolate and butter (or shortening) together, mixing until smooth. Dip each cookie halfway into the melted chocolate, allowing any excess chocolate to drip back into the bowl. Place onto waxed paper; sprinkle with salt flakes and allow to set.
Nutrition
Serving:
1
g
|
Calories:
94
kcal
|
Carbohydrates:
2.1
g
|
Protein:
3.4
g
|
Fat:
7.2
g
|
Cholesterol:
1.8
mg
|
Fiber:
0.3
g