Portobello Pizzas have ALL the flavours of a GOOD pizza…without the guilt! Using portobello mushroom caps for a pizza crust, these pizzas are quick and easy to make, low carb and ready in less than 10 minutes!
Okay if there is any way to enjoy a healthier, quick and easy pizza recipe it's this one… 10-minute Portobello Pizzas!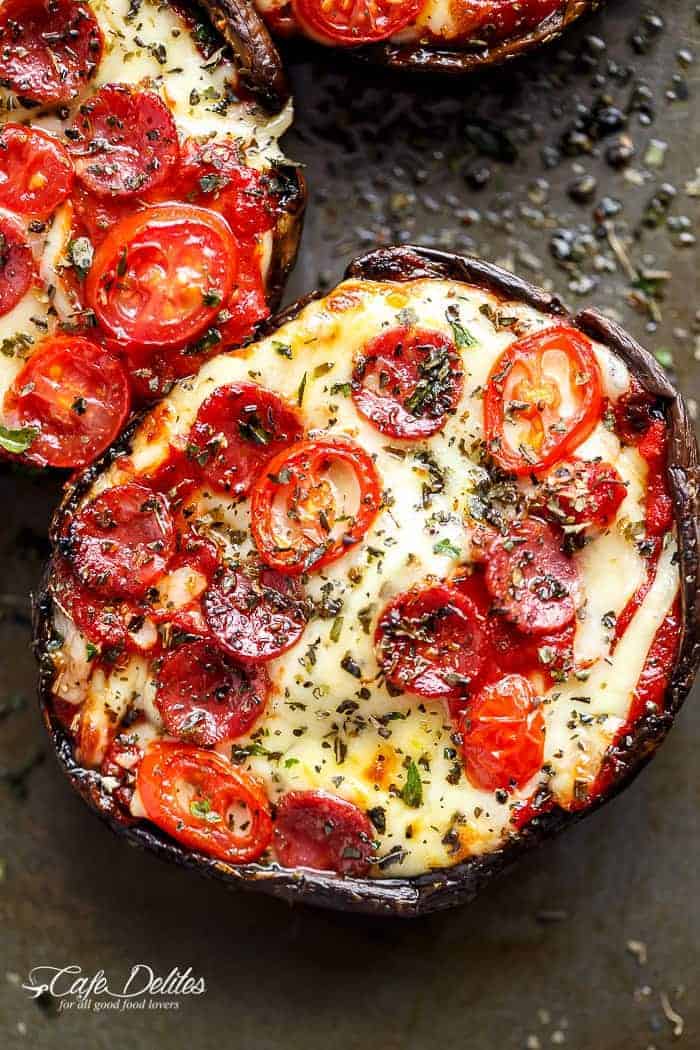 There are no words to describe the deep love over 90% of the worlds population has for a good, cheese-filled and mouth watering pizza. Using portobello mushroom caps is one of my favourite ways to kick a craving → with ALL of the flavours → without the calories. And I just didn't feel like stinking out my house with cauliflower, squeezing the hell out of it, and creating a crust just to get what I wanted. Using portobello caps means easy, quick, no fuss, no work, no awkward cauliflower smells, and a meaty base of mushroom smothered in garlic and Italian seasonings.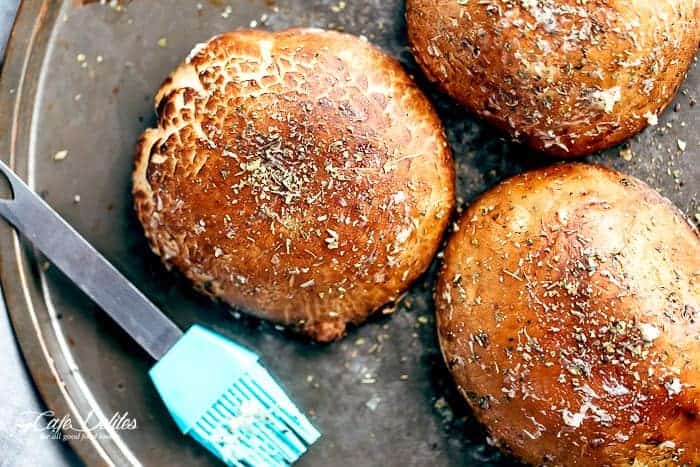 Also, I wanted pepperonis for added pizza flavourings. BUT! I wanted MINI pepperonis — and sometimes what I want, I can't find. So, I make do, use what I have, and CREATE what I want. In this situation, I used an apple corer like this one to create the smallest pepperonis I've ever seen!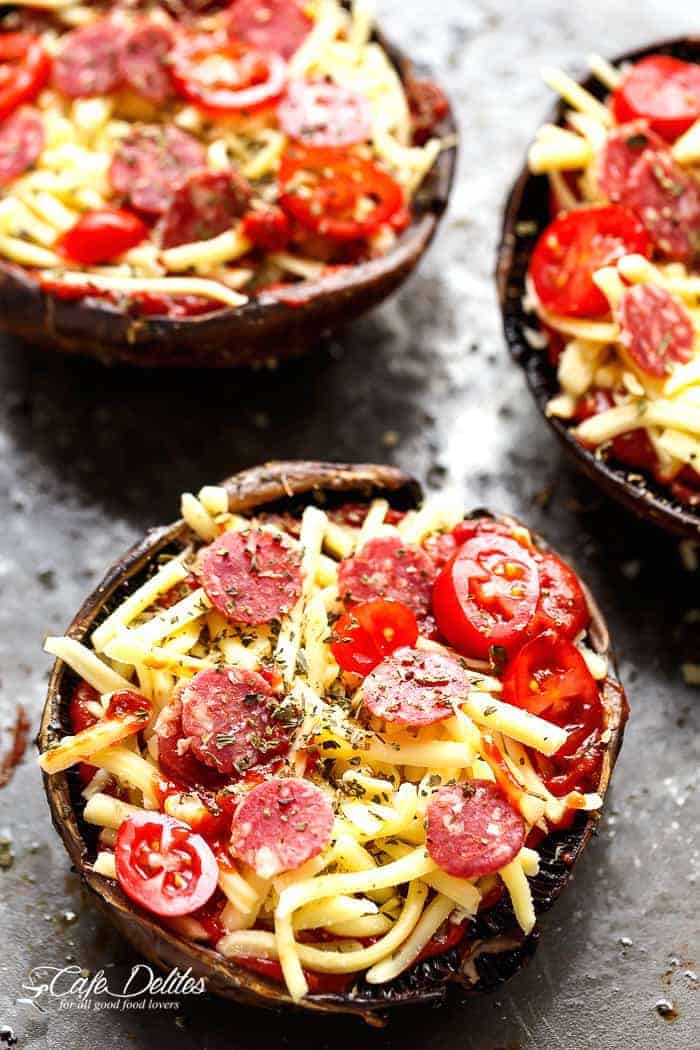 To make your portobello pizza experience even better, I recommend you use a pizza sauce you LOVE the flavour of. I use a Garlic and Herb flavoured sauce, because, well, GARLIC. But you can use plain or any other flavoured sauce you feel like.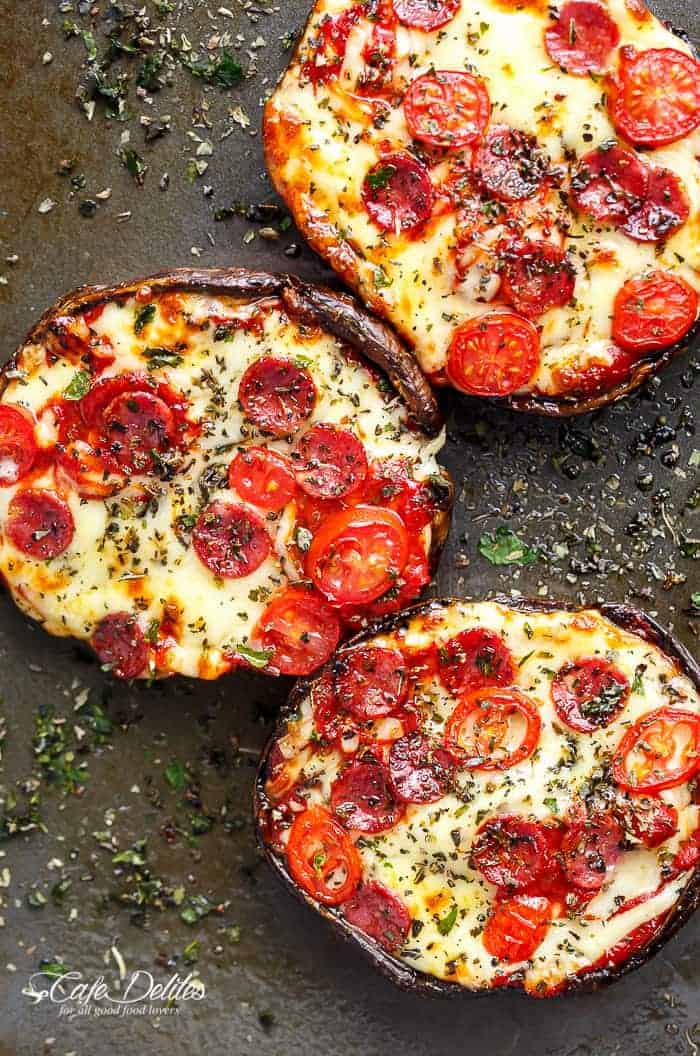 Then it's a case of mozzarella cheese, gras or cherry tomatoes (to keep the miniature theme going), and, um, CHEESE. Thi is the easiest pizza recipe you will EVER make that is healthier than most pizzas, and one you can alter with your OWN pizza toppings! And if you're wanting to try something similar, give these Caprese Stuffed Garlic Butter Portobellos a try!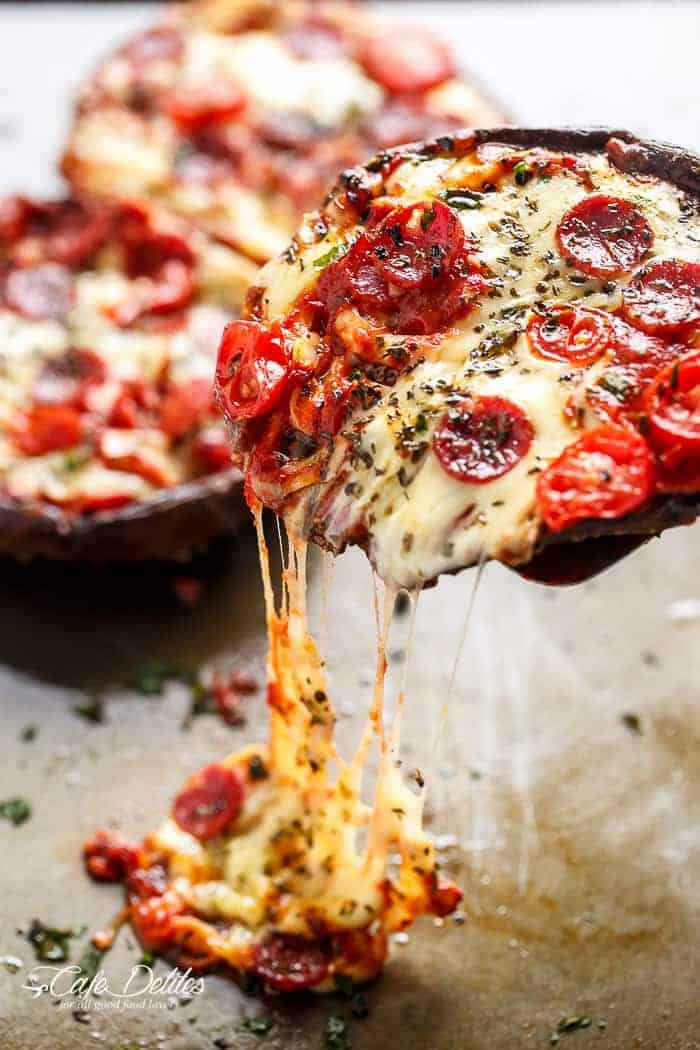 REMEMBER TO SUBSCRIBE TO CAFE DELITES NEWSLETTER FOR FREE AND RECEIVE FRESH RECIPE NOTIFICATIONS DELIVERED INTO YOUR INBOX!
If you try a recipe, please use the hashtag #cafedelites on INSTAGRAM for a chance to be featured!
FOLLOW CAFE DELITES ON FACEBOOK | INSTAGRAM | PINTEREST | TWITTER
FOR ALL OF THE LATEST CONTENT, RECIPES AND UPDATES.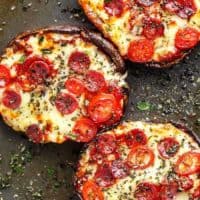 10-minute Portobello Pizzas
Portobello Pizzas have ALL the flavours of a GOOD pizza without the guilt! These pizzas are quick and easy to make, low carb and ready in 10 minutes!
PRINT
SAVE
go to your favorites
Ingredients
6

portobello mushroom caps

, stems removed, washed and dried with a paper towel

2

tablespoons

extra virgin olive oil

2

teaspoons

minced garlic

6

teaspoons

Italian seasoning

(or a dried oregano and basil leaf blend), divided

3/4

cup

pizza sauce

(garlic and herb)

1 1/2

cups

reduced-fat shredded mozzarella cheese

(or a pizza cheese blend)*

30

miniature-sized pepperonis**

6

cherry or grape tomatoes

, sliced thinly

Salt and pepper

, to taste
Instructions
Preheat oven to broil / grill settings on high heat. Arrange oven shelf to the middle of your oven.

Combine the oil, garlic and 4 teaspoons of the seasoning together in a small bowl. Brush the bottoms of each mushroom with the garlic oil mixture and place each mushroom, oil side down, on a lightly greased baking sheet / tray.

Fill each mushroom with 2 tablespoons of the pizza sauce per cap, 1/4 cup of mozzarella cheese, 6 pepperoni miniatures and tomato slices. Broil / grill until cheese has melted and is golden in colour (about 8 minutes).

To serve, sprinkle with the remaining Italian seasoning (or mixed herbs), and season with salt and pepper to taste.
Notes
*I find using dry cheese such as shredded mozzarella gives the best results. Using fresh mozzarella may cause the mushrooms to release some liquid during the broiling / grilling process.
**For the miniature pepperonis, I bought normal-sized pepperonis and cut them with an apple corer like this one to get miniature sized ones. (I used 8 slices.) However, you can use whatever you can find!
TIP: Do NOT over bake them! They WILL release a lot of liquid if left in the oven for too long! Make sure your oven is preheated well and HOT when putting them in.