Pancake Maple Blondies
Ok. Ummm. Well. Ok.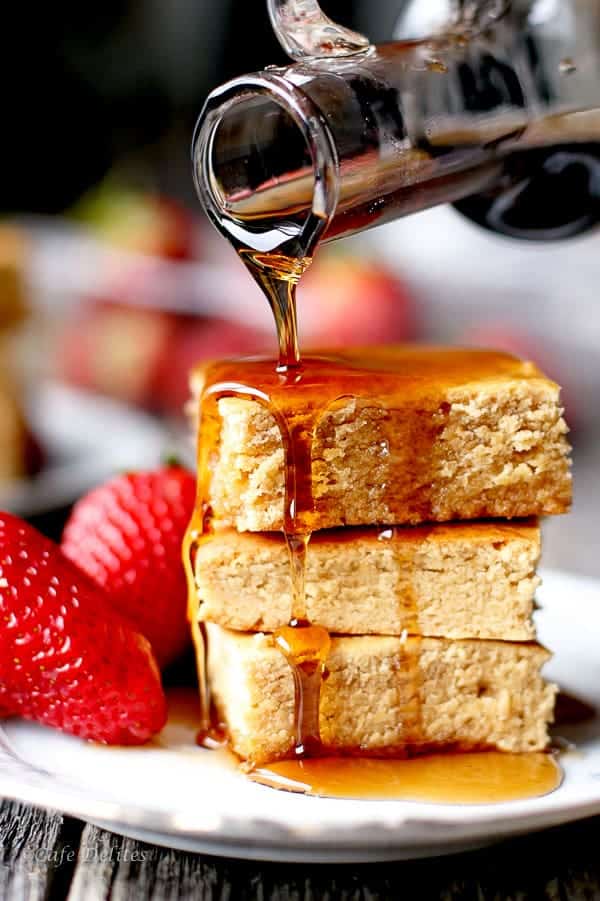 First. I wanted to make Maple Blondies. I've been craving Maple anything for a while now. Then my beautiful daughter came out with, "hey mum, why don't you make pancake flavoured blondies?" So…who am I to say no to a child? I mean, she's a genius! Two of the ultimate ultimates rolled into ONE! Yep. I'm taking full credit for her talents. She definitely gets her love of food from her mama.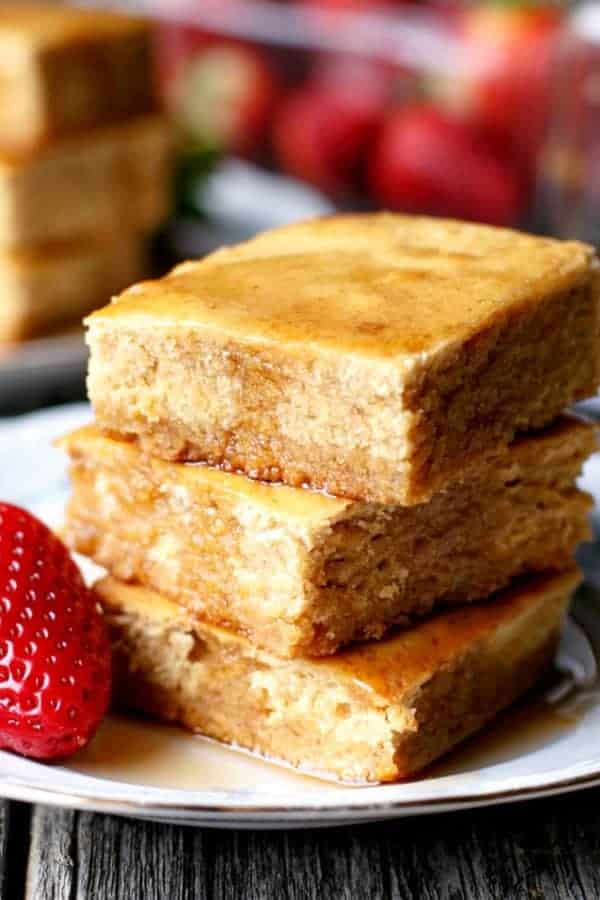 Behold: The Pancake Blondie! A vanilla and maple syrup infused Pancake Flavoured Blondie….drenched in more Maple Syrup: just like pancakes! Because it's the only way to eat pancakes. Pancake Blondies. Maple syrup inside these bad boys…and maple syrup allllll over them!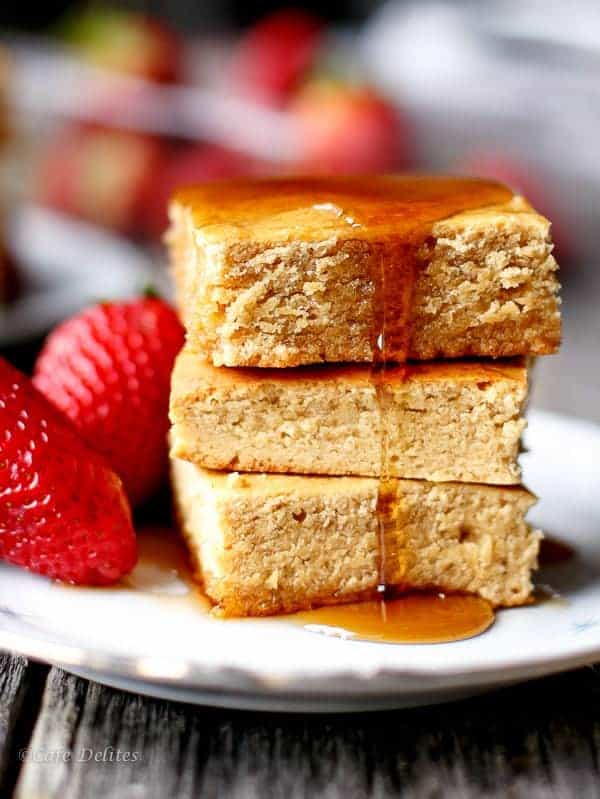 Second, I had to think about what type of blondie did I want these to become? Chickpea ones? Or normal pancake batter ones….only fudge-y. I'm fo'ever making up chickpea blondie recipes because I absolutely love the texture of them. But, well. Pancakes don't have chickpeas in 'em. So I went with normal pancake batter ones, and exceee-uuuse me. These came out better than I had thought in my head!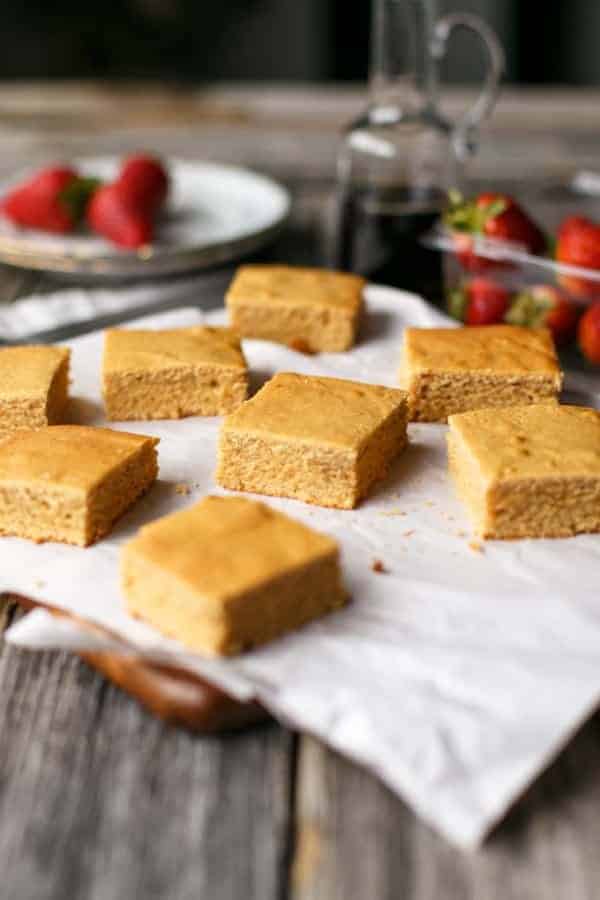 Taking my Churro Chocolate Chunk Blondie recipe and tinkering with it; swapping out some things and adding others, I think I nailed it. And if the whole pan of blondies disappearing in less than 5 minutes has anything to do with how good these came out, I think I'll take that as a subtle hint.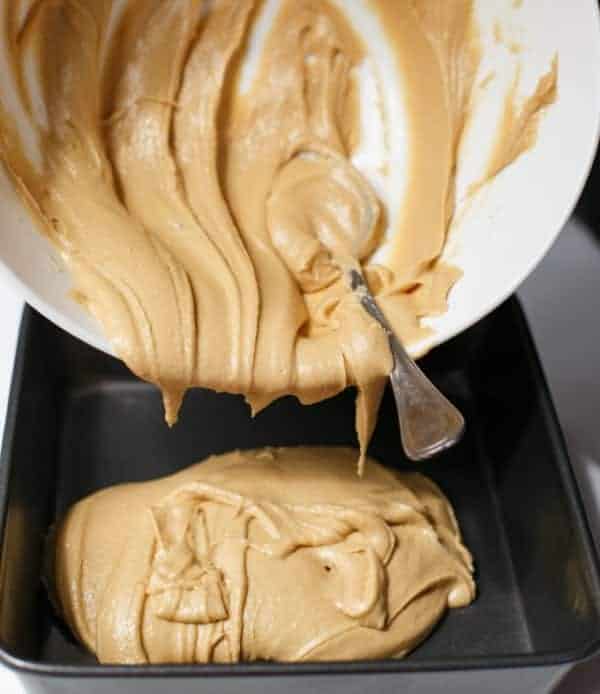 I love that the batter for these is quite sticky and thick. One taste test of the batter and good luck getting it into the pan. Seriously. I had a, 'I'll just try one tiny little bit' moment…turned into 3 tablespoons full of chaos. Licking and fighting over the spoon chaos. Yes, when it comes to raw batter, we fight over the spoon, like any great family. We are not the Brady Bunch over here.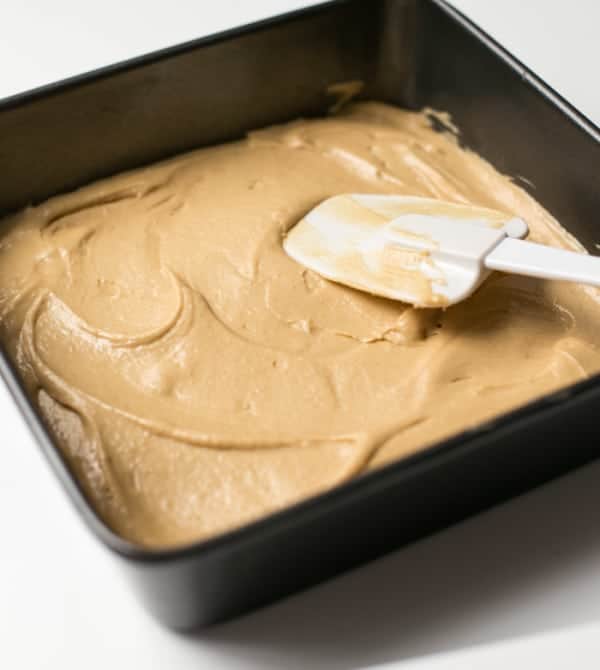 And waiting for these to cool down was torture. Like I've said before, I don't wait for anything to cool down. But with these, I practically sat on my hands until they went blue. I needed to see how they were when at an edible temperature. I did not want to burn my tongue.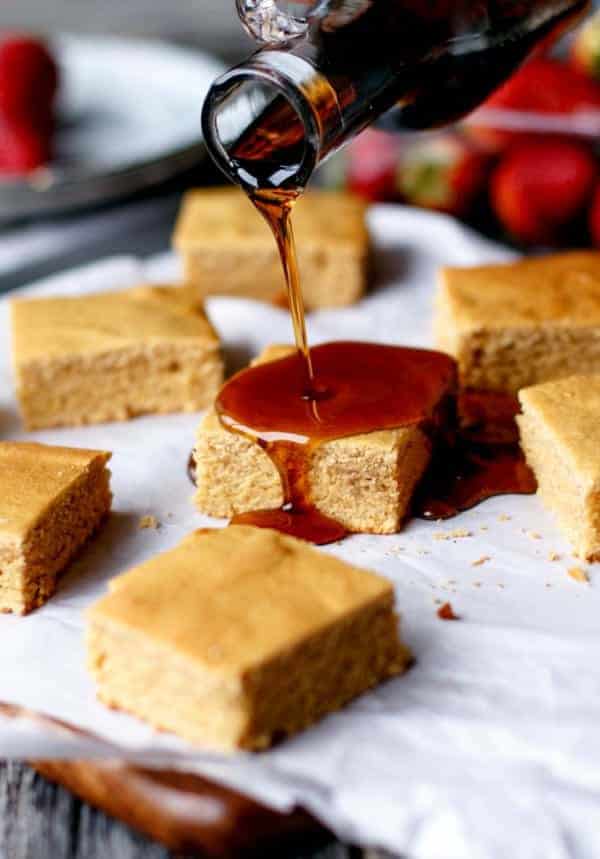 They were everything I dreamed…and then some more. In the voice of Mary Poppins: Super-fudgey-caramelicious-sexy-and-ferocious.
Yep. Just totally made that up. And now…in succession from 1-2-3..the pour shots…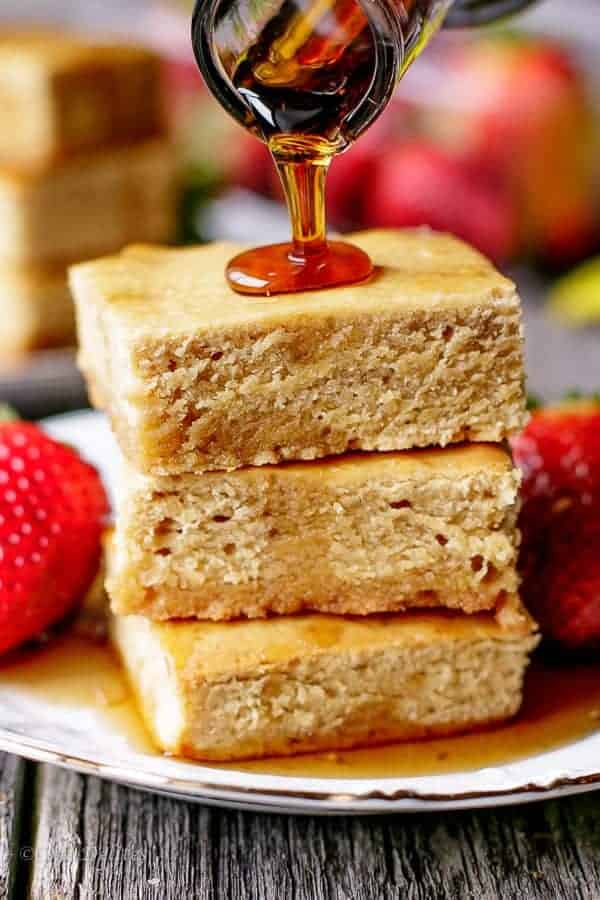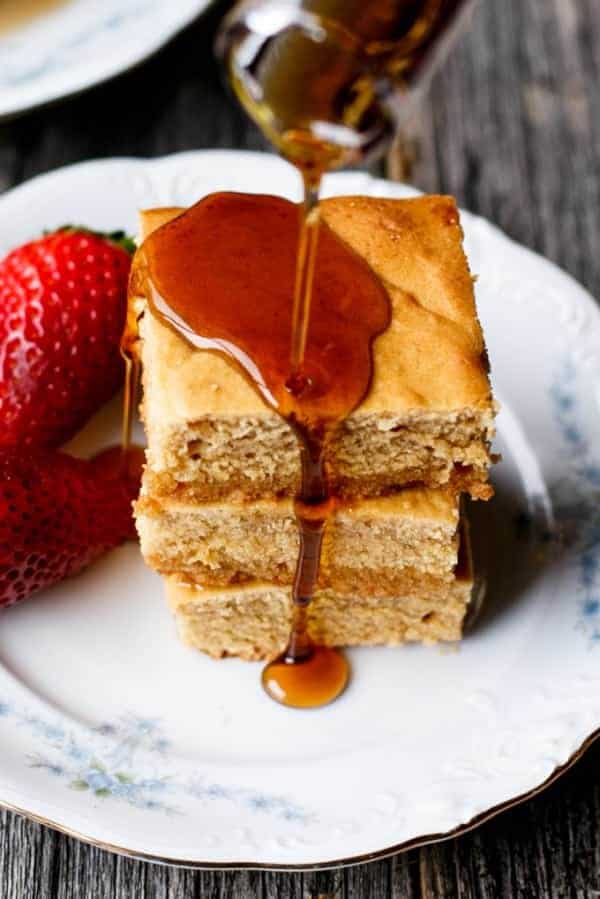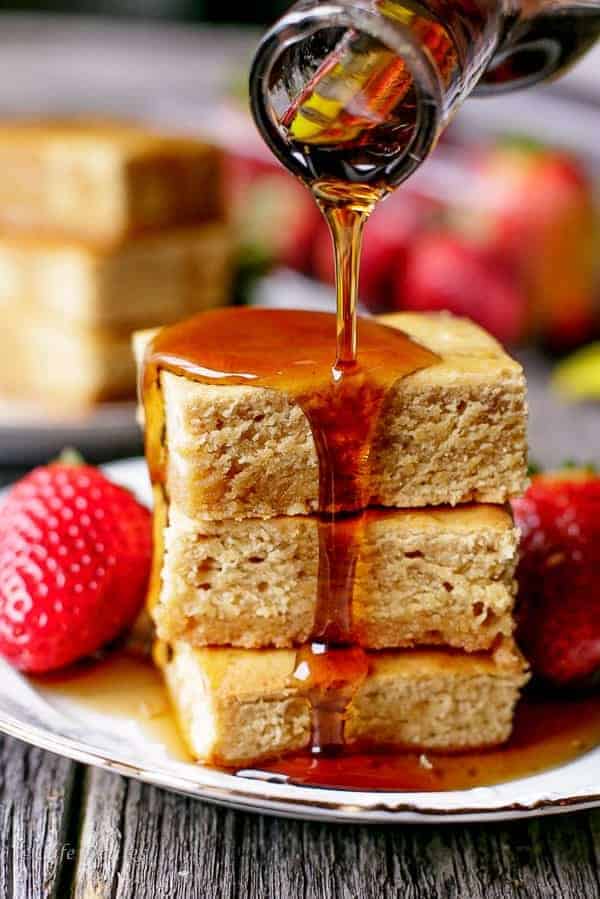 So super fudge-y…I passed out for a bit.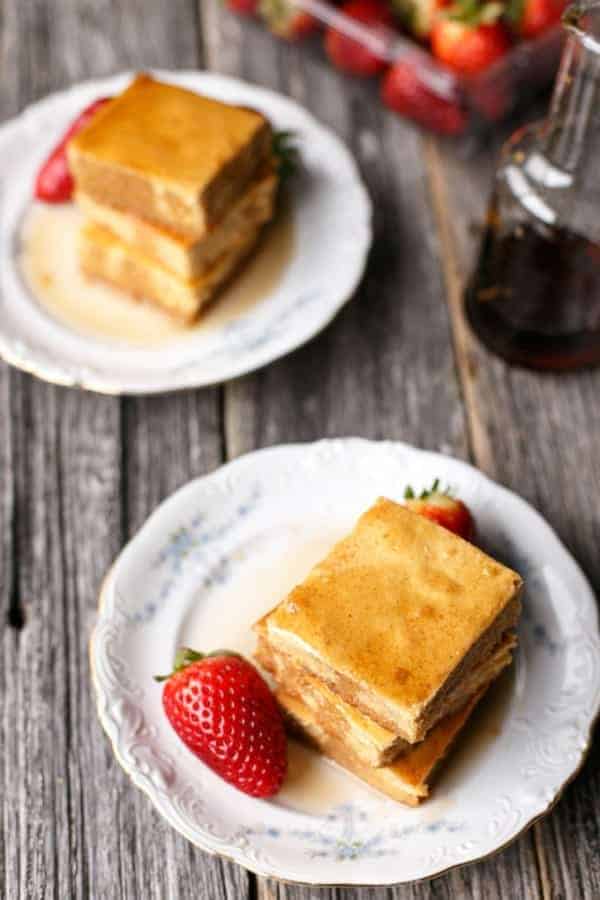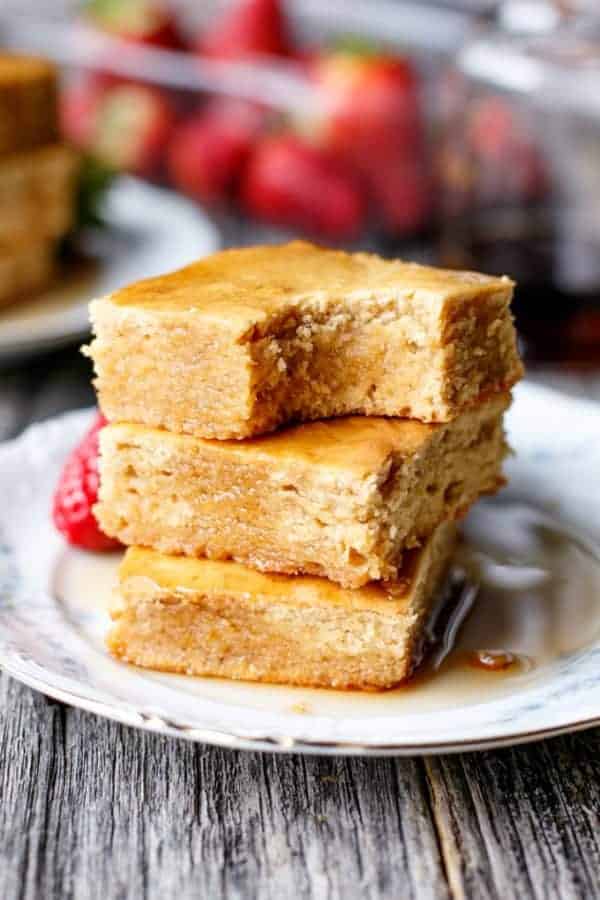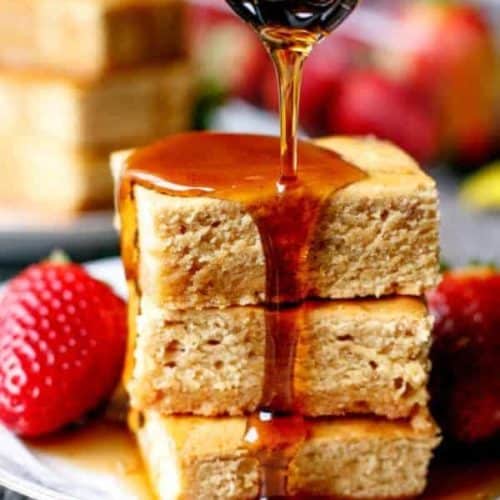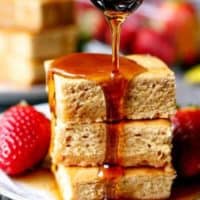 Ingredients
1/2

cup

firmly packed light brown sugar

(or muscavado sugar)

1/4

cup

natural sweetener/sugar of choice

1/2

cup

light butter/coconut oil

, room temperature

1/3

cup

maple syrup

(I used Sugar Free)

1

x-large egg

1

tablespoon

vanilla extract

1 1/2

cups

plain flour

(spelt or all-purpose are fine)

1/4

tsp

baking powder

Pinch of sea salt
Instructions
In a medium sized bowl, whisk together the brown sugar, sweetener/sugar and butter/oil until mixture is light and fluffy. Whisk in the egg and maple syrup.

In a separate large bowl, whisk the flour, baking powder and salt. Pour the liquid mixture into the dry ingredients and fold gently with a wooden spoon until combined (Do not over beat batter, or blondies will be tough)

Pour batter into prepared baking tray and smooth to even out the top. The batter should be on the thick side.

Bake until golden, about 30 - 40 minutes, or still soft on the inside but just firm to the touch. (The centre should be just cooked through to create the perfect fudge-like blondie)

Cool completely in the pan before removing and gently cutting into 16 bars.
Nutrition
Calories:
94.6
kcal
|
Carbohydrates:
15.2
g
|
Protein:
3
g
|
Fat:
3.3
g
|
Fiber:
0.3
g