Roast Lemon Chicken thighs with crispy skin, seared then oven baked for tender and juicy chicken full of flavour!
Your new favourite chicken recipe is here! An easy Lemon Chicken recipe with a kick of garlic and a touch of herbs will fast become a requested chicken dinner. Simple to make with minimal ingredients and maximum flavour, this is one low carb meal the entire family will get behind!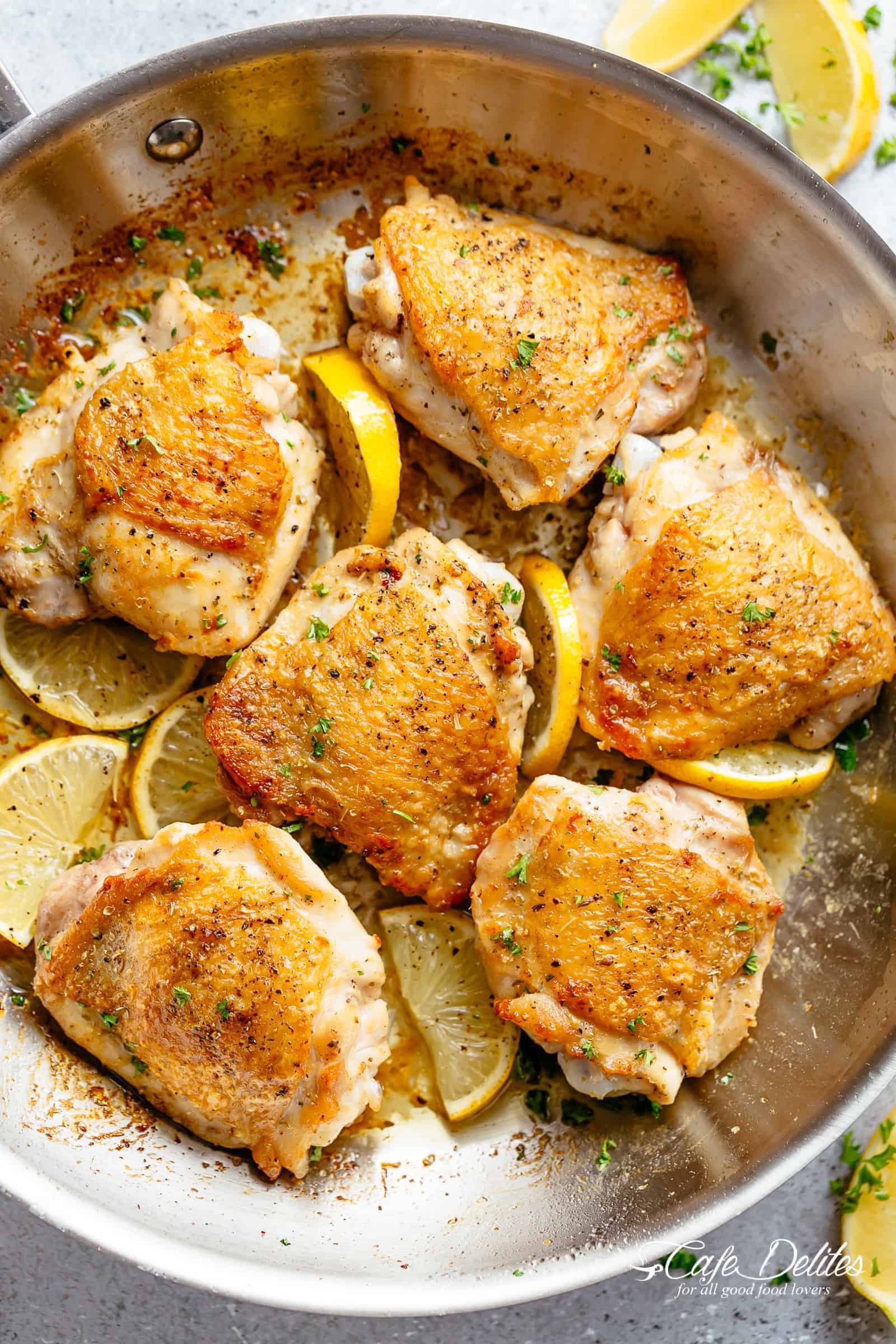 Roast Chicken
You all know how much I love a good, juicy whole roast chicken recipe, but my absolute most favourite parts of a chook are either legs or thighs. I know, I know most people hate dark meat and for those people, we have juicy baked chicken breasts. For today, however, these thighs are the shiznit!
Chicken Thighs Or Breasts?
Bone-in, skin-on chicken thighs are an inexpensive cut of chicken that won't kill your weekly food shop! Deliciously versatile, easy to make on either stove top or oven, nothing beats crispy skin on chicken! Due to the nature of this recipe, I recommend using thighs. If you want to use chicken breasts, I'd recommend using skin-on and bone-in for ultimate flavour.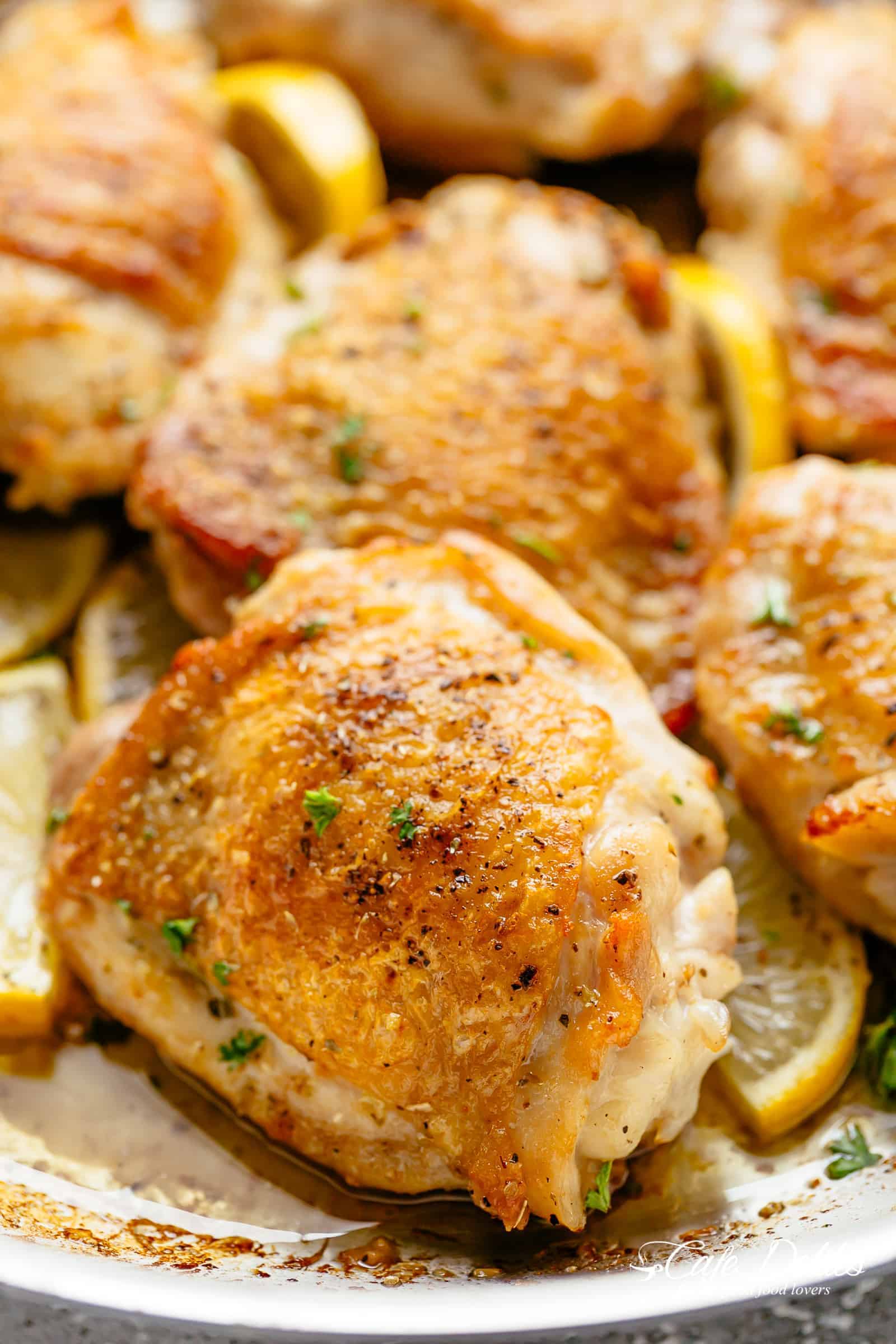 How To Make Lemon Chicken
Our lemon chicken recipe starts off seared in a pan first. Searing skin-side down in a hot skillet over medium-high heat gives the skin time to get the crispy texture we love so much, while roasting them finishes cooking them off, giving you tender, juicy meat.
Seasoned with only salt and pepper to avoid any other seasonings from burning in the hot pan, you're going to sear your bone-in chicken thighs, UNDISTURBED, for a good 8-10 minutes — skin-side down first — to render the fat and get the skin nice and golden brown in colour.
Tips for a crispy skin
Thoroughly pat skin dry with a paper towel. This gets rid of any excess water from freezing or refrigeration.
Use a cast iron skillet or oven-proof stainless steel pan and heat over medium heat until hot.
Add in a tiny amount of oil (about 2 teaspoons) and wait for it to shimmer. When it's hot enough, add your chicken as mentioned above.
Once skin has seared, flip and continue searing the underside for a crispy, golden meat base.
When adding in the rest of the ingredients, add them to the base of the pan without touching the skin to keep that skin as crunchy and crispy as possible.
If wanting to baste the skin with the liquid ingredients, it won't turn out as crispy as it was. Yes, the flavour will be present, but the pan seared crispiness will diminish a little.
Transfer the pan or skillet to a hot oven and roast for 15 – 20 minutes until done and cooked through to the bone.
Baste with pan juices when serving.

Sides for Roast Chicken
Looking for more chicken recipes? Try these!
Chicken Thighs With Creamy Mushroom Garlic Sauce
Crispy Chicken Parmesan (Parmigiana)
Chicken Tikka Masala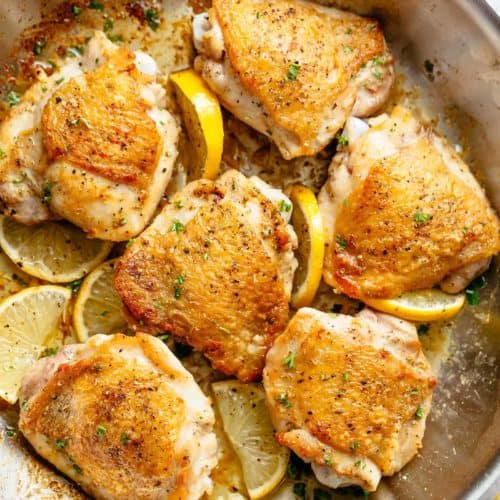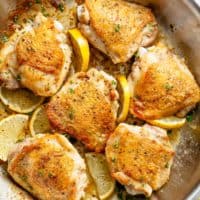 Lemon Chicken
Roast Lemon Chicken thighs with crispy skin pan, seared then oven baked for tender and juicy chicken full of flavour! Your new favourite chicken recipe is here! With a kick of garlic and a touch of herbs, simple to make with minimal ingredients and maximum flavour!
PRINT
SAVE
go to your favorites
Ingredients
6-8

chicken thighs

skin-on, bone-in, trimmed of excess fat

1

teaspoon

salt

1/2

teaspoon

black pepper

2

teaspoons

olive oil

divided

1 1/2

tablespoons

garlic

minced or crushed

1/4

cup

lemon juice

1/4

cup

chicken stock or broth

(or a dry white wine for extra flavour!)*

2

teaspoons

dried oregano

1

teaspoon

dried thyme

1

tablespoon 

fresh chopped parsley,

plus extra to garnish

Lemon slices for garnish
Instructions
Preheat oven to 220°C | 430°F. Thoroughly pat thighs dry with paper towel. Season with salt and pepper.

Heat 2 teaspoons of oil in a large oven-proof pan or skillet over medium-high heat. When pan is HOT, sear chicken skin-side down for 8-10 minutes, until crispy and golden browned. Flip and sear the underside for another 8 minutes, until the meat is golden.

Move thighs to the side and add the garlic to the pan juices. Sauté until fragrant (30 seconds). Pour in the lemon juice and stock, then add in the herbs.

Transfer chicken to hot oven and roast until completely cooked through (about 15-20 minutes).

Garnish with extra parsley; taste test and adjust salt and pepper, if needed. Serve with lemon slices.
Notes
*If using a dry white wine instead of chicken stock/broth, use a Sauv Blanc, Chardonnay or Pinot Grigio.
Nutrition
Calories:
510
kcal
|
Carbohydrates:
4
g
|
Protein:
36
g
|
Fat:
38
g
|
Saturated Fat:
10
g
|
Cholesterol:
212
mg
|
Sodium:
772
mg
|
Potassium:
520
mg
|
Vitamin A:
495
IU
|
Vitamin C:
11.7
mg
|
Calcium:
49
mg
|
Iron:
2.4
mg