Fetta and Sundried Tomato Stuffed Chicken and Spinach Rolls
Succulent Chicken thighs stuffed with tender bacon and spinach, with the rich flavours of sundried tomato pesto; oven-grilled to perfection and ready to serve with your choice of side dish.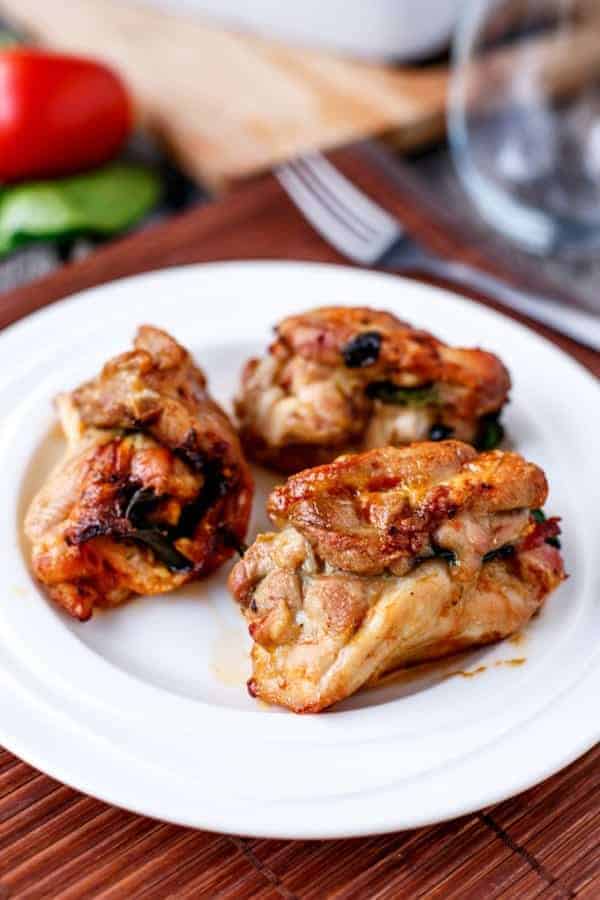 You are my sunshiiiine, my only sunshiiiine…
This.was.amazing. Period. A food science experiment with flavours I only ever dreamed about, coming together to create the most amazing low carb meal experience. Ever. The chicken was so juicy. The bacon was so tender, with the parts that were peaking up out at us crisped to that perfect bacon crisp. And the fetta cheese, so creamy inside with the  sundried tomato pesto creating a different level of flavours that every bite came with a moan and groan that you just know, this was some good 'ish.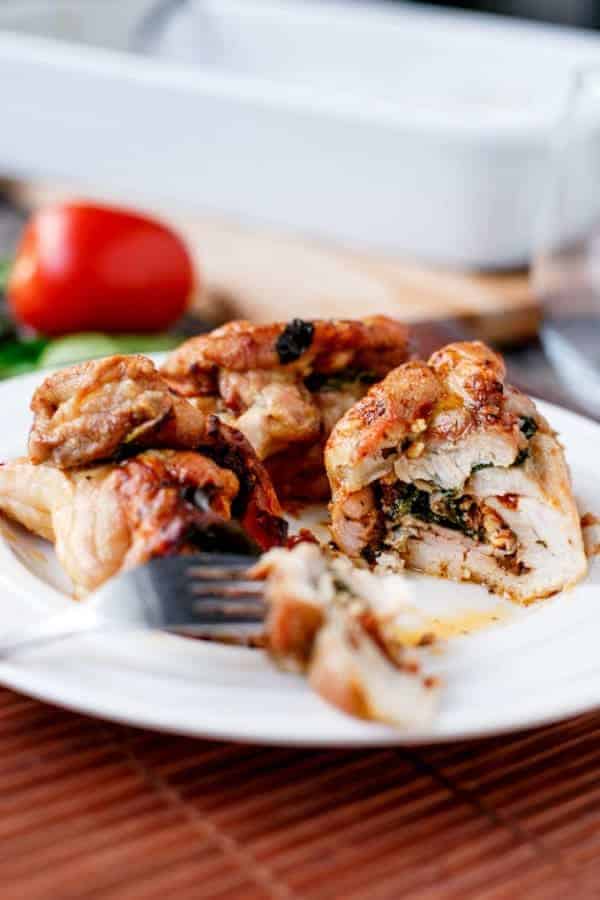 I mean. That bacon. Baaayyyycoooonnnnn. I think the pictures speak for themselves. After staring at them for way too long in the editing piece of this puzzle, now, I'm hungry. And I want some. Again.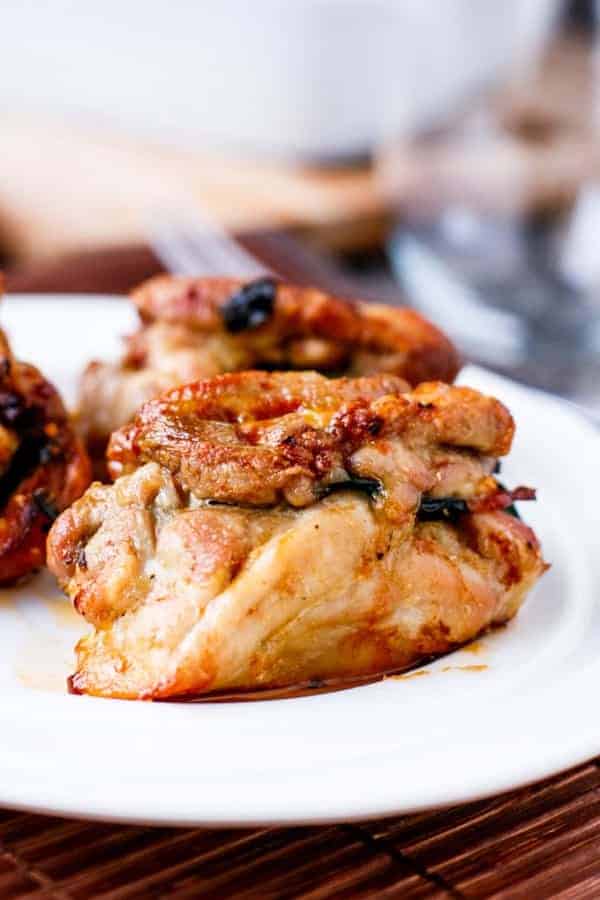 I had my mum over for some mummy and daughter time, and when she asked me what I had planned for dinner, she snapped on these sexy pair of cooking gloves and started on it. The easy way of taking food shots: have someone cooking for you. Yep. I'm totally loving that idea.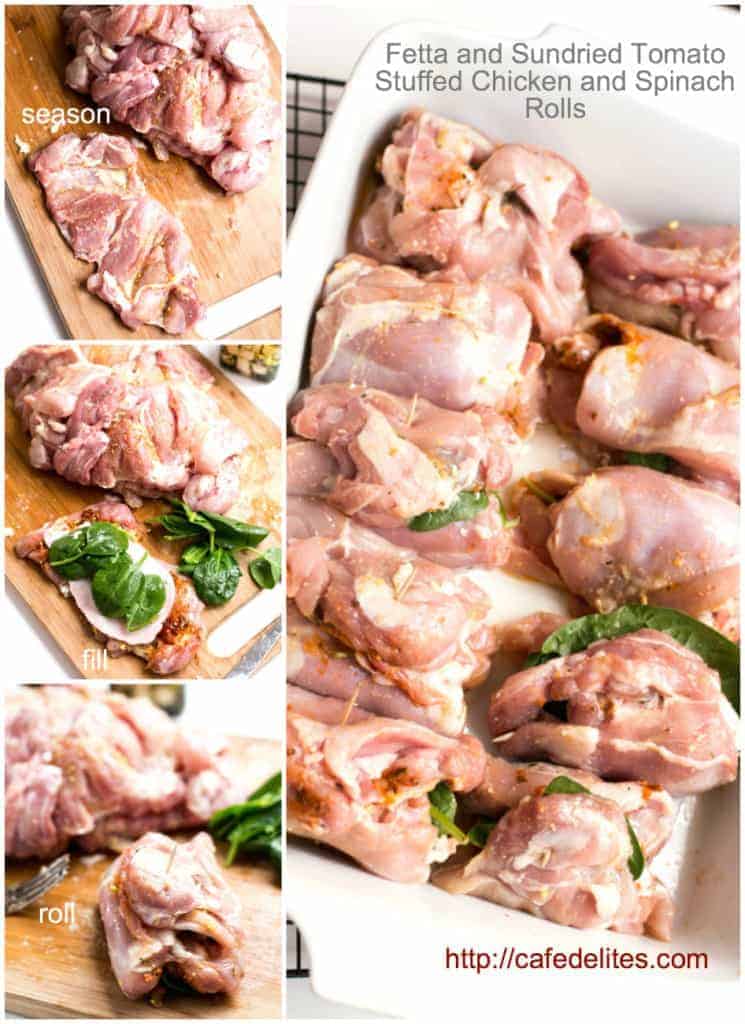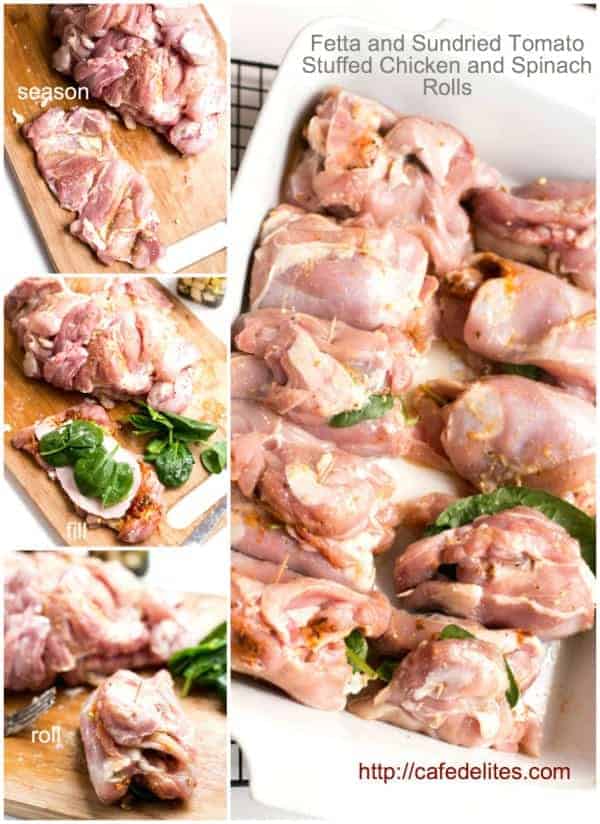 Whizzing around her to take this happy snaps, my mouth was literally drooling. I won't lie. Ya'll know me so well by now. I may have swiped some fetta cubes in the process. Ok, maybe not some. But I'll just leave that there.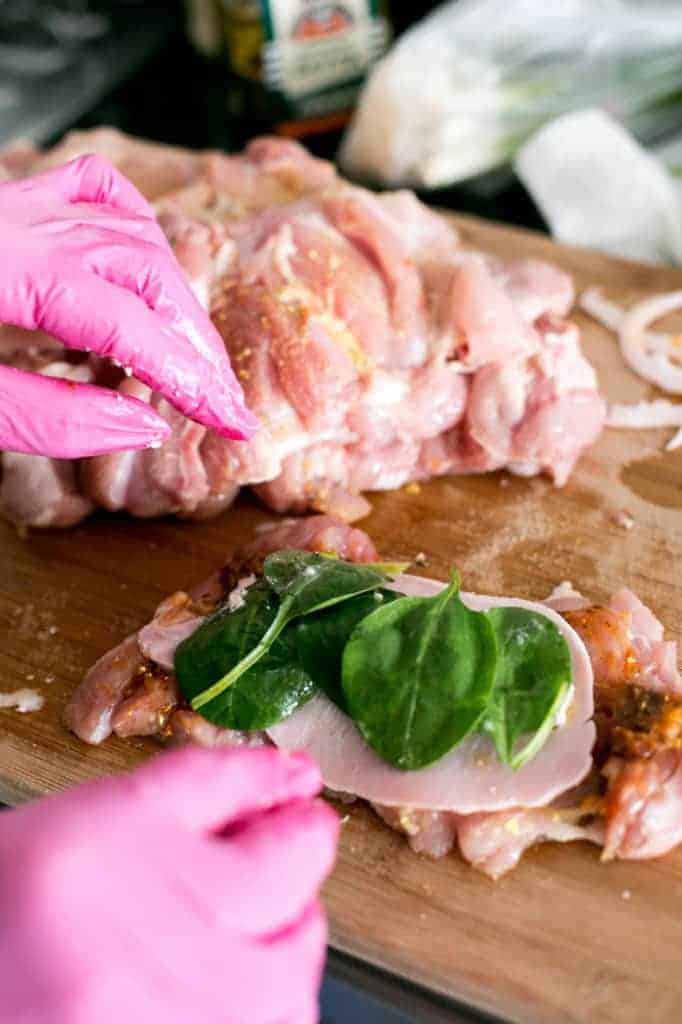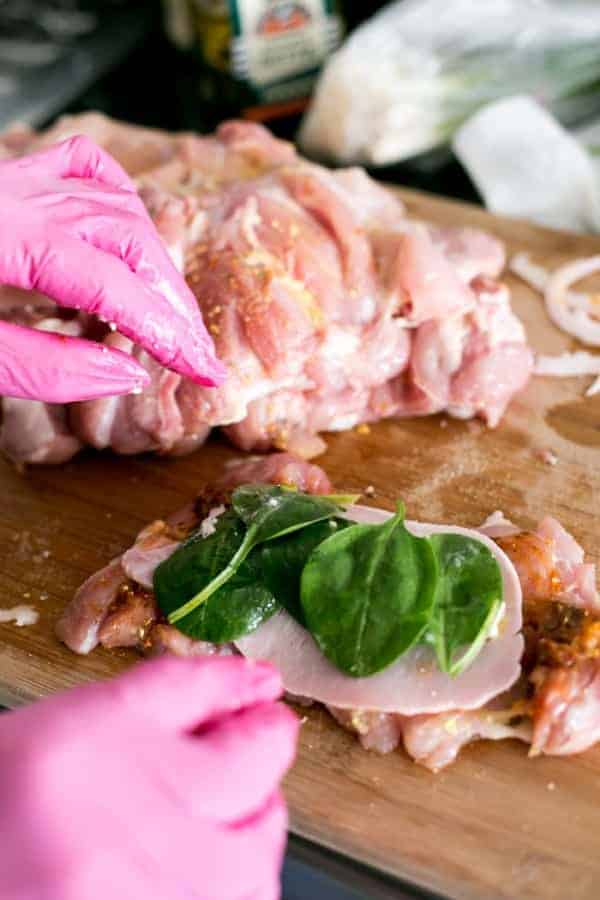 Do you see those sexy Hot Pink gloves? I had to. I couldn't help myself.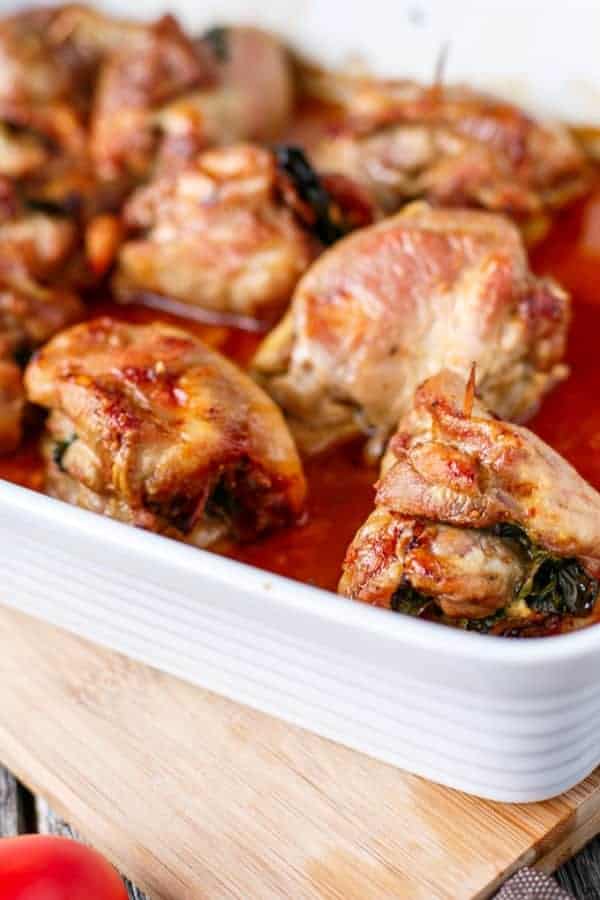 And somehow, as if my prayers had been answered, when we removed this pan of sizzling hot and golden brown chicken; the  tomato pesto had oozed itself out of the chicken and mixed into the juices of the pan. Yep. Like I said. This. was.amazing.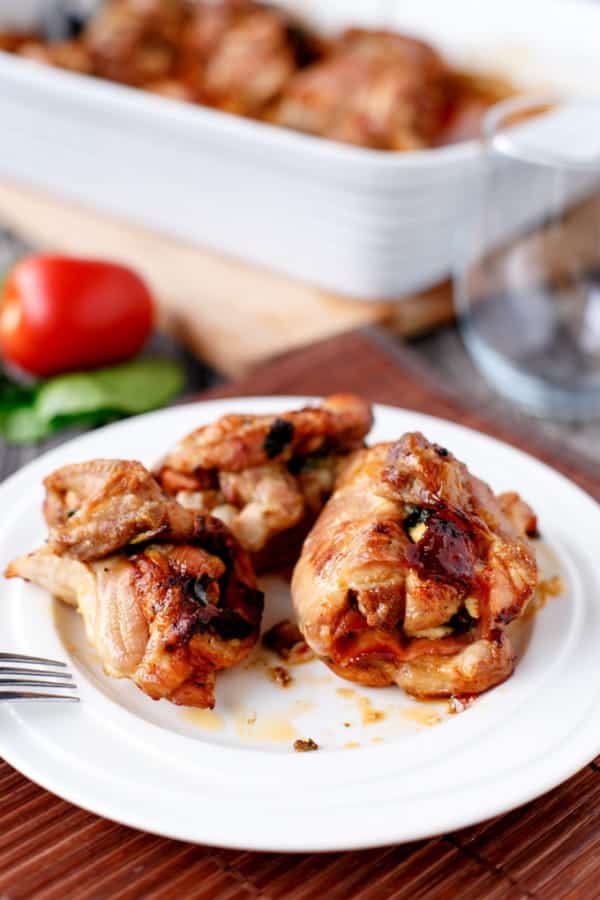 Perfect pockets of chicken.
Hellooooooo….. Still hungry…..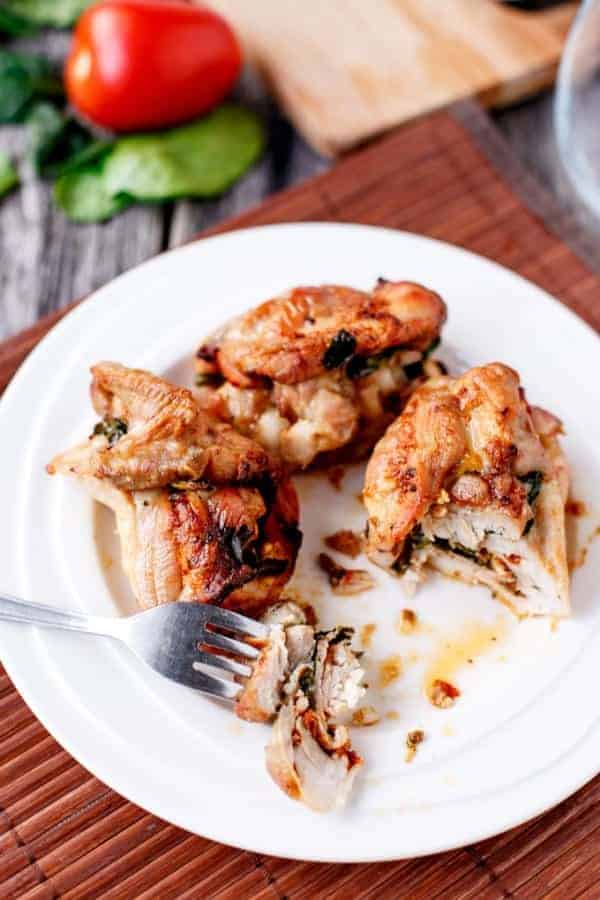 My family were hovering around while I took these shots. "Are you done yet? Can we eat now?"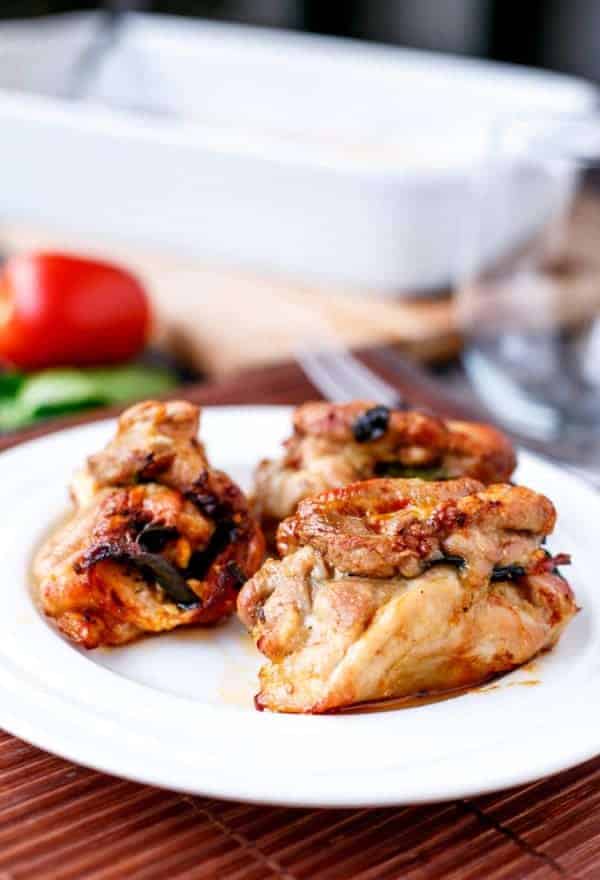 The silence while we were at the dinner table enjoying these rolls was priceless. Apart from the moaning that took place between each bite. Normally, we are worse than lions in a feeding frenzy in the middle of the jungle at meal time. But with these? I dunno. We suddenly became civilised, enjoying our time with these as if we were fine dining.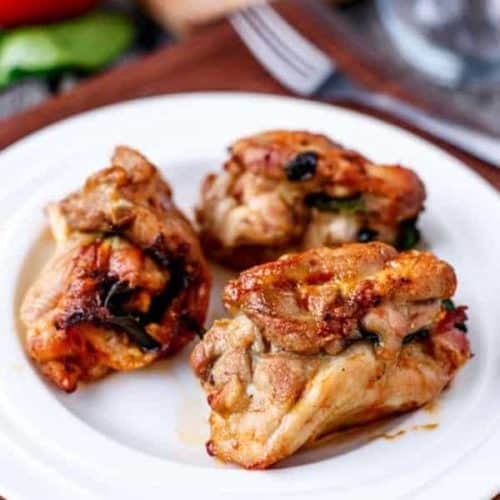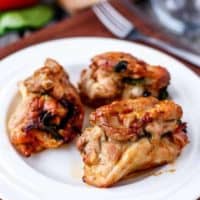 Fetta, Bacon and Sundried Tomato Stuffed Chicken Rolls
Succulent Chicken thighs stuffed with tender bacon, Spinach and Sundried Tomato Pesto, grilled to perfection and ready to serve with your choice of side dish.
Weight Watchers: 6pp per chicken roll
PRINT
SAVE
go to your favorites
Ingredients
6

boneless and skinless chicken thighs

, trimmed of all visible fat

3

teaspoons

vegetable stock powder

(I use Vegeta)

salt to taste

garlic powder to taste

3

tablespoons

sundried tomato pesto

, divided (or you can use tomato paste)

6

slices

shortcut bacon

12 1-

inch

cubes reduced fat fetta cheese

24

fresh baby spinach leaves

Drizzle of garlic olive oil
Instructions
Preheat your oven to 220C | 425F.

Place the chicken on a board/work surface. Lay each fillet flat and sprinkle with 1/2 teaspoon vegetable stock powder per fillet, salt to season and the garlic powder (enough to suit your taste buds). Rub the seasonings into the fillet.

Spread 1/2 tablespoon of the tomato pesto (or paste) per fillet, onto each chicken thigh.

Lay a slice of bacon over each chicken fillet, and four spinach leaves per fillet. Place 2 cubes of fetta cheese onto each thigh (you can crumble the fetta with your fingertips for even distribution).

Firmly roll up each chicken breast (with the smallest width/side facing you) and secure with 2 or 3 toothpicks.

Lightly rub a little extra salt and garlic powder on the outside of each chicken roll and drizzle with a small amount of garlic olive oil.

Place the stuffed chicken rolls into an oven proof baking dish, and cover with foil.

Bake for about 25 - 30 minutes, or until the chicken is cooked through.

Uncover and change oven settings to grill/broil on medium heat, and grill your chicken for a further 5 minutes on each side, or until each roll is nice and golden in colour.

Remove and serve.
Nutrition
Calories:
230
kcal
|
Carbohydrates:
2
g
|
Protein:
31
g
|
Fat:
13
g