Chocolate Chip Cookie Dough Filled Easter Eggs. I'm just going to go and apologise ahead of time for these. As if cookie dough isn't enough, I stuffed Easter eggs with it because apparently I'm nuts.
The perfect treat for you, you know since after easter day your kids won't share their easter eggs. At least YOU get a double treat!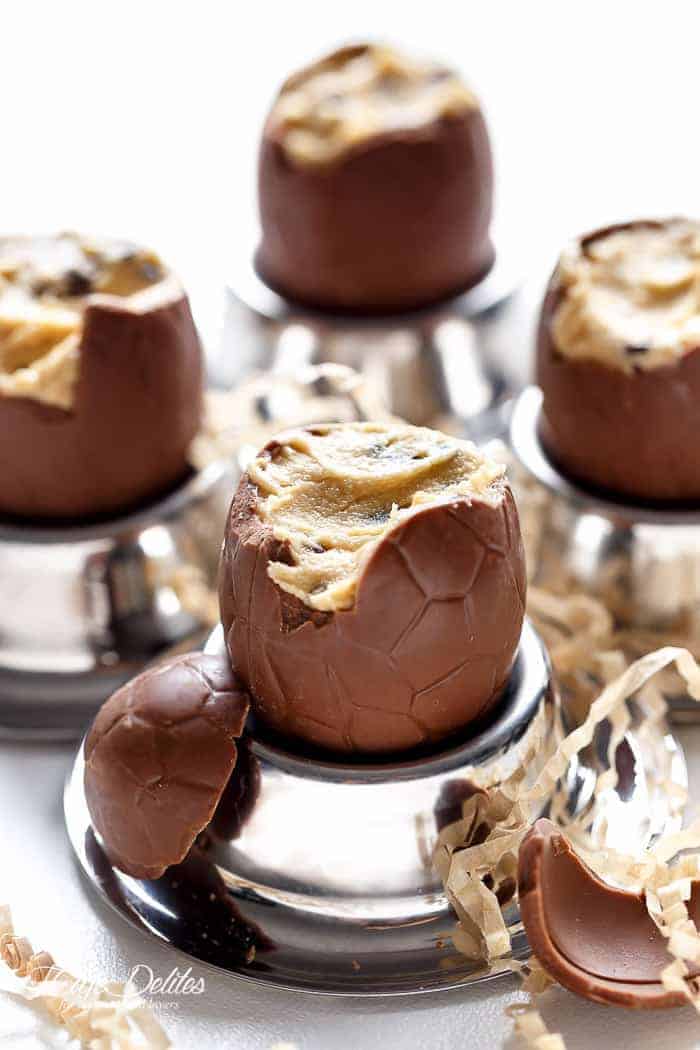 The problem with Easter is all of the leftover eggs. You buy about a hundred of them because:
A) You find them at heavily discounted prices when you wait last minute ?
B) To give the kids more of a hunt and watch the excitement on their faces when they find them all (with your ever subtle help)
When Easter is done and dusted, there are SO MANY eggs lying around that can sit in the pantry for the next year because no one eats them. Pretending to be the Easter bunny every year is tough! Looking for new hiding places you've never thought of and worrying the next day if they found them all and picturing melted chocolate behind dusty bookshelves, is only part of the issue.
But….what about the leftovers? That's where these come in.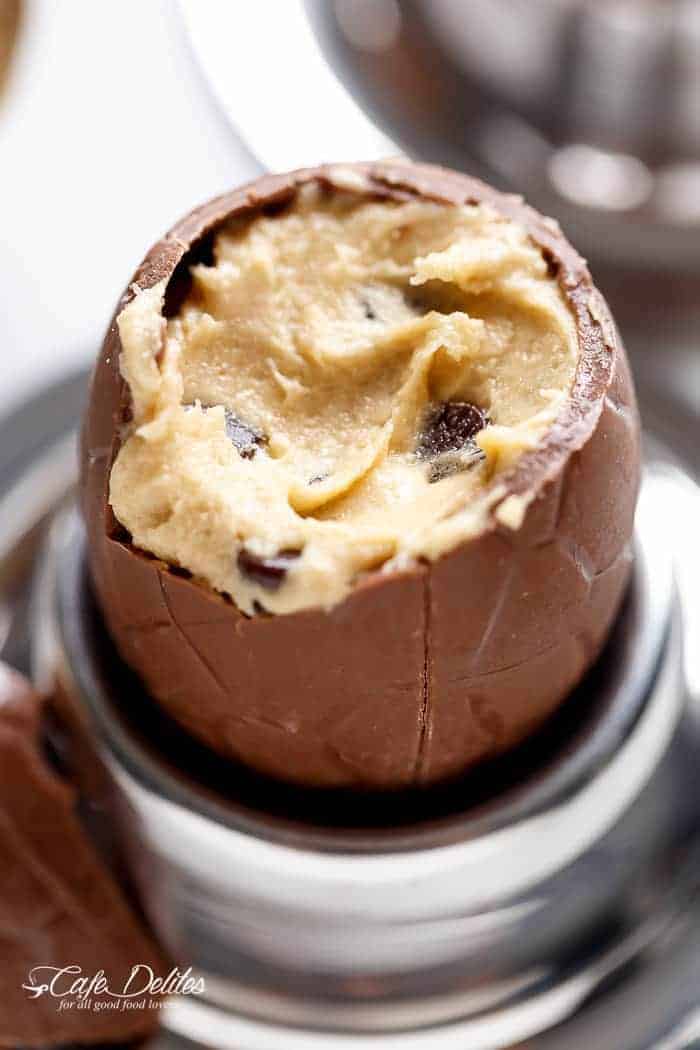 To be made for those leftovers OR for a kids Easter party where everyone under 10 falls madly-obsessed with you because all-of-a-sudden you're their new favourite person with chocolate chip cookie dough filled Easter eggs. The Easter Bunny got nothing on you.
These are easy. They're super decadent, like half is enough for even the sweetest of sweet tooth. And they only take minutes to make with no freezing, refrigerating, baking or rolling in between.
Make sure you get the hollow Easter eggs that are on the small side. These measure about 2 1/2-inches long (or 6 cm) and weigh 1/2 an ounce or 17g each. They don't need to be huge, unless you want them to be? That part is up to you.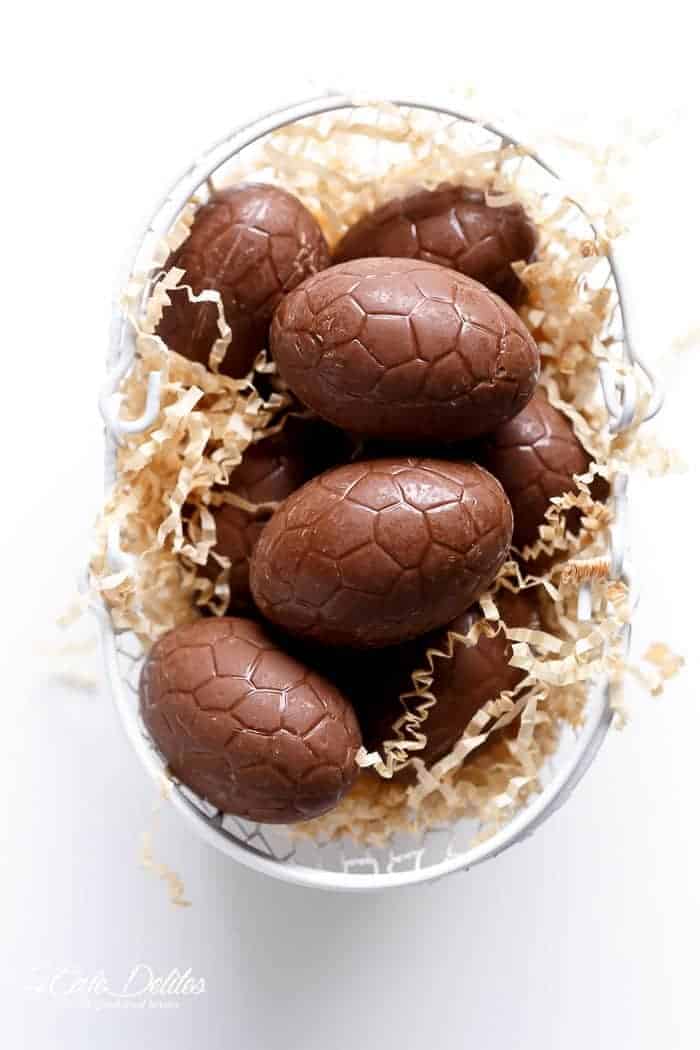 Next, whip up your cookie dough. You can use your favourite cookie dough OR a store bought one to save even more time. I preferred this one altered from this recipe here.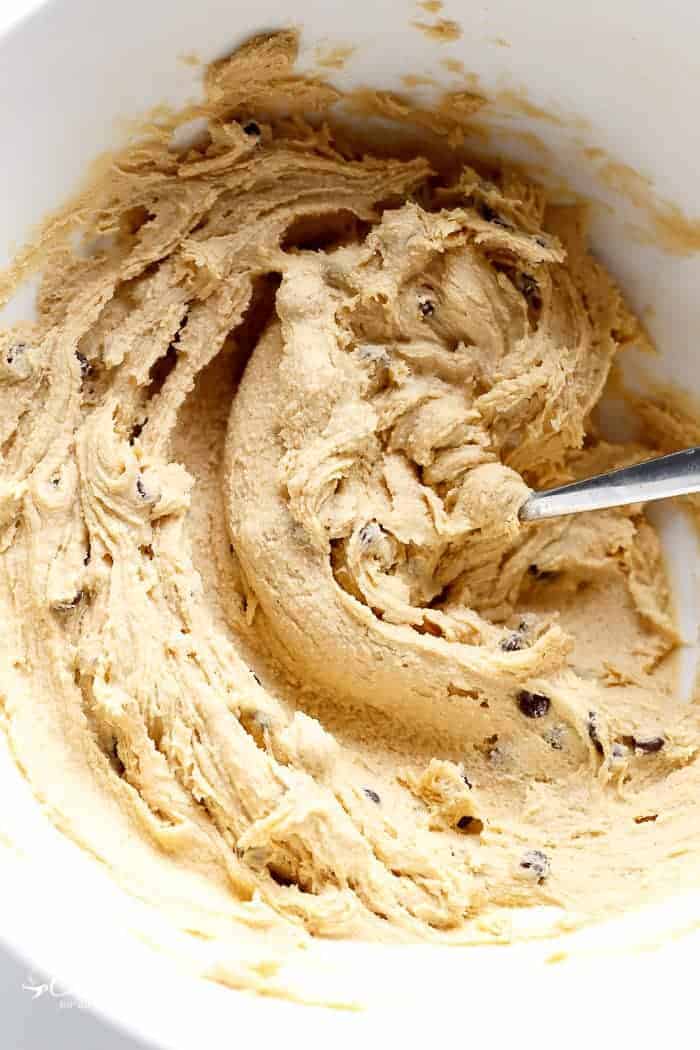 Cut the tops of your Easter eggs carefully with a sharp knife. They will crack in some places, but I love that rustic, broken egg look.
Using a 1/2 teaspoon measuring spoon, fill your eggs! With an egg this size, I used 2 teaspoons worth of cookie dough. However, if you're wanting less indulgence, you can halve your Easter eggs and fill each half with 1 teaspoon of cookie dough instead. You can also use a piping bag and fill them that way.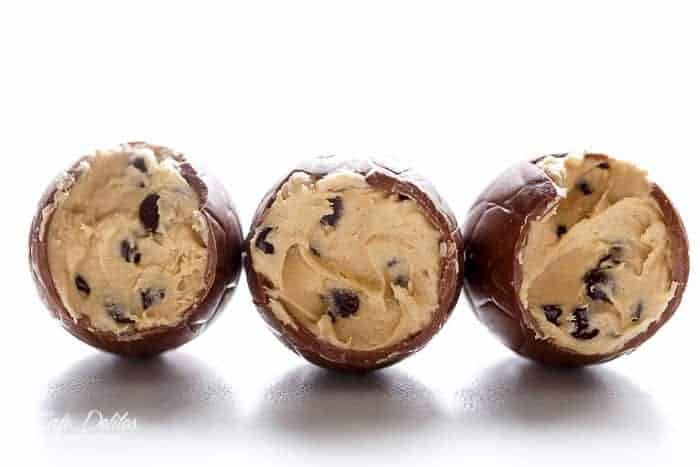 Top with extra chocolate chips if you're crazy like me ?

REMEMBER TO SUBSCRIBE TO CAFE DELITES NEWSLETTER FOR FREE AND RECEIVE FRESH RECIPE NOTIFICATIONS DELIVERED INTO YOUR INBOX!
If you try a recipe, please use the hashtag #cafedelites on INSTAGRAM for a chance to be featured!
FOLLOW CAFE DELITES ON FACEBOOK, INSTAGRAM, PINTEREST AND TWITTER FOR ALL OF THE LATEST CONTENT, RECIPES AND UPDATES.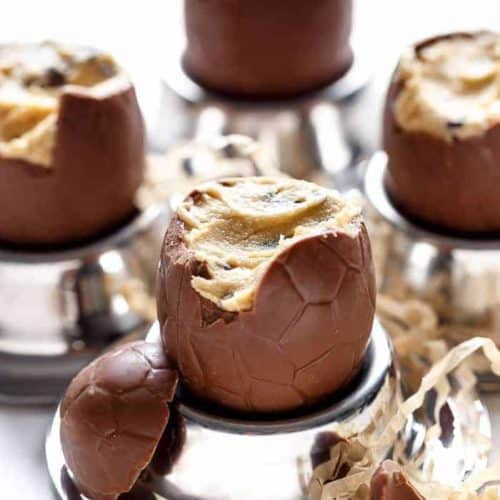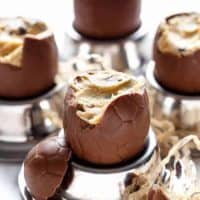 Ingredients
½

cup

light butter

(or your spread of choice), softened

½

cup

light brown sugar

(or coconut sugar)

1/4

cup

natural granulated sweetener

(or your sugar of choice: white, coconut, raw, or castor)

1

teaspoon

pure vanilla extract

1

cup

flour

(plain or all purpose)

⅓

teaspoon

salt

3-4

tablespoons

unsweetened almond milk

(or skim, reduced fat or full fat)

1/3

cup

dark/semi-sweet chocolate chips

8-10

hollow Easter eggs
Instructions
In a large bowl, combine the butter, sweetener/sugar and vanilla, and whisk until light and creamy. Add the flour and salt, and mix the dry ingredients into the wet until just combined. Add in the milk (3 tablespoons first then go from there) until the cookie dough is smooth and creamy in consistency. Mix the chocolate chips through. Set aside.

Carefully remove the tops of the chocolate eggs with a non-serrated sharp knife. Using a 1/2 teaspoon measuring spoon, fill your eggs with the cookie dough.

Serve immediately or leave in the refrigerator until ready to serve.

Can be refrigerated for up to 3 days.