Espresso Fudge Brownies with Mocha Swirl Cookie Dough
This is one of those mergers where 3 different cravings became one….and they lived happily ever after.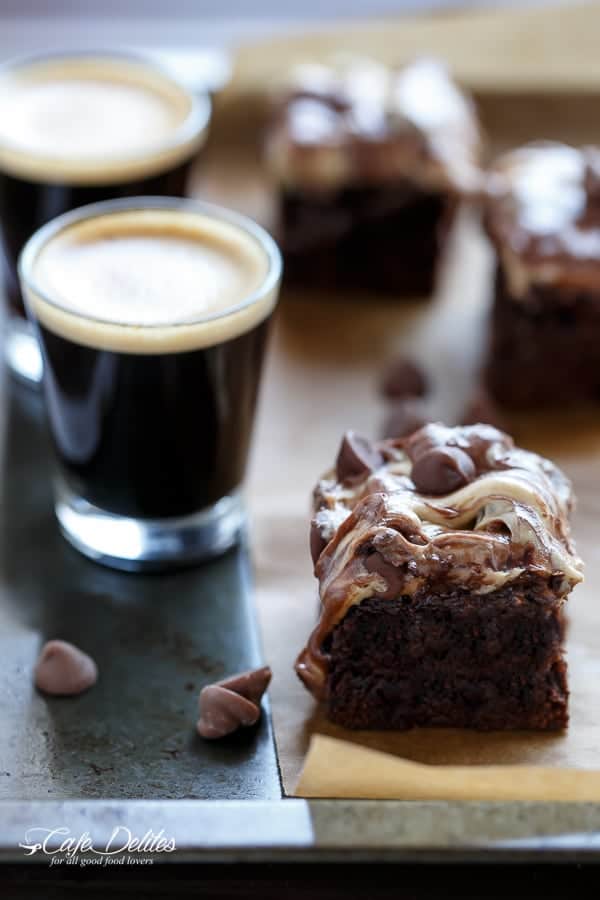 Super fudgy Espresso Brownies meets cookie dough topping. But, not just any cookie dough. No, no, do not be fooled.
This hybrid creation is Mocha flavoured cookie dough swirled with original cookie dough. Just because I couldn't make my mind up. This would be one of those occasions where I'm actually thankful for my indecisiveness. Thank you voices in my head.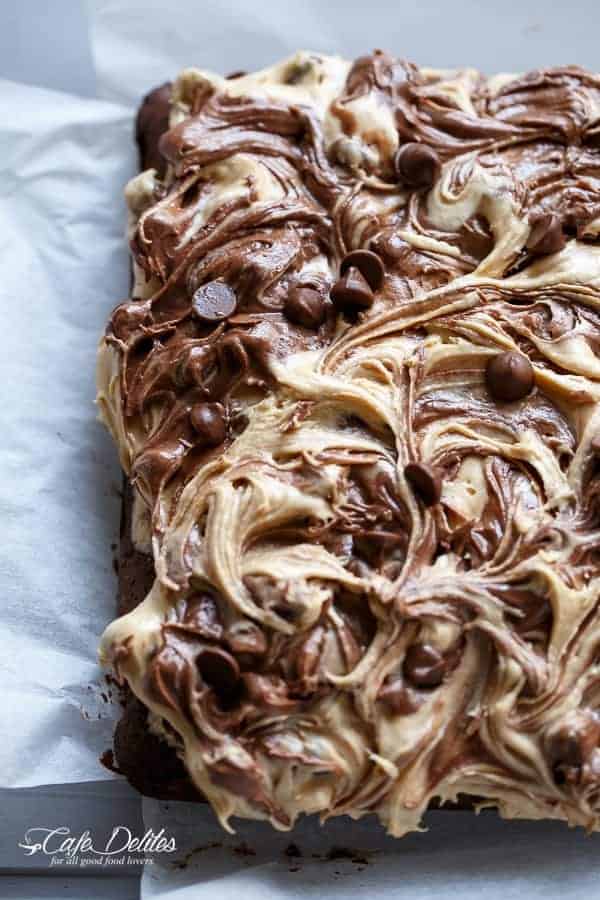 Coffee + chocolate + cookie dough = one of the best brownies we've ever had in our our lives. I searched all over the place to find a mocha flavoured cookie dough….mostly to confirm I'm normal and it's been done before by someone as equally mad as me. Turns out…I'm not normal. There's no mocha flavoured raw cookie dough to be found. But. Now there is.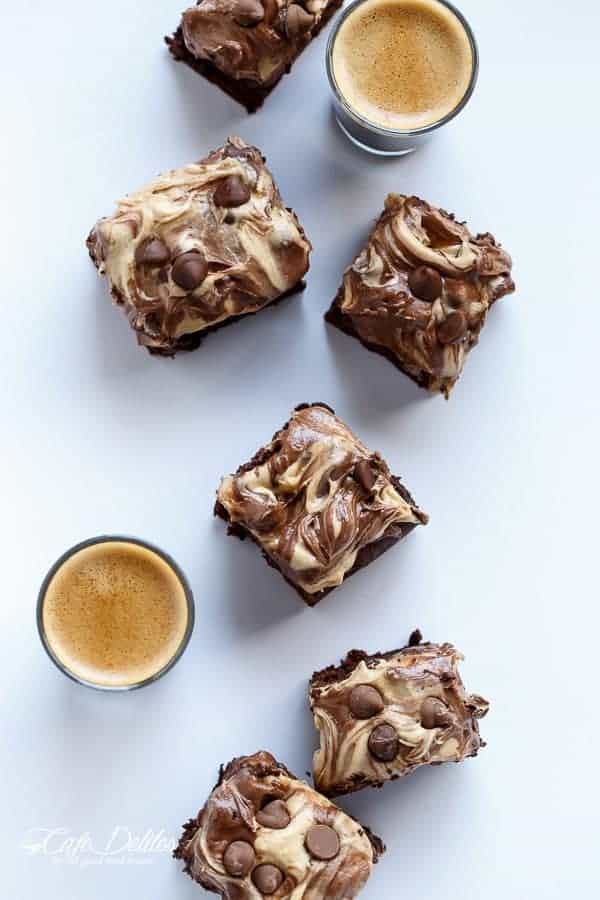 Super fudgy. Super chocolatey. And not as many calories as they look.
2 different cookie dough flavours hit these brownies in ways you wouldn't believe even if I told you. Egg-free and safe for copious amounts of consumption.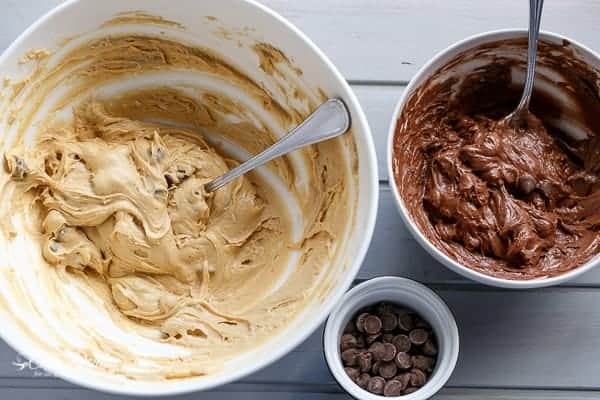 Because I tried the whole topping-them-with-one-flavour-only-and-wasn't-impressed.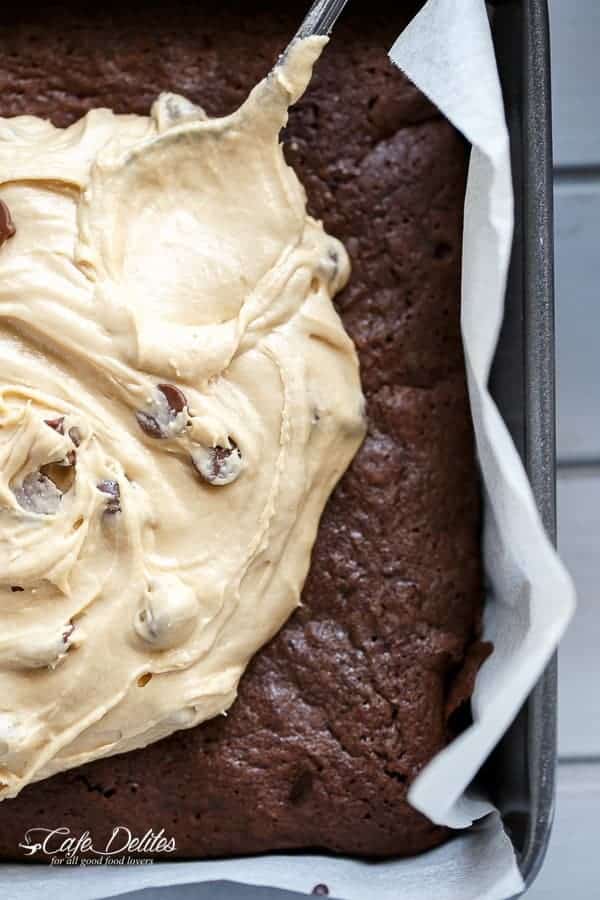 But with two flavours? Holy caffeine.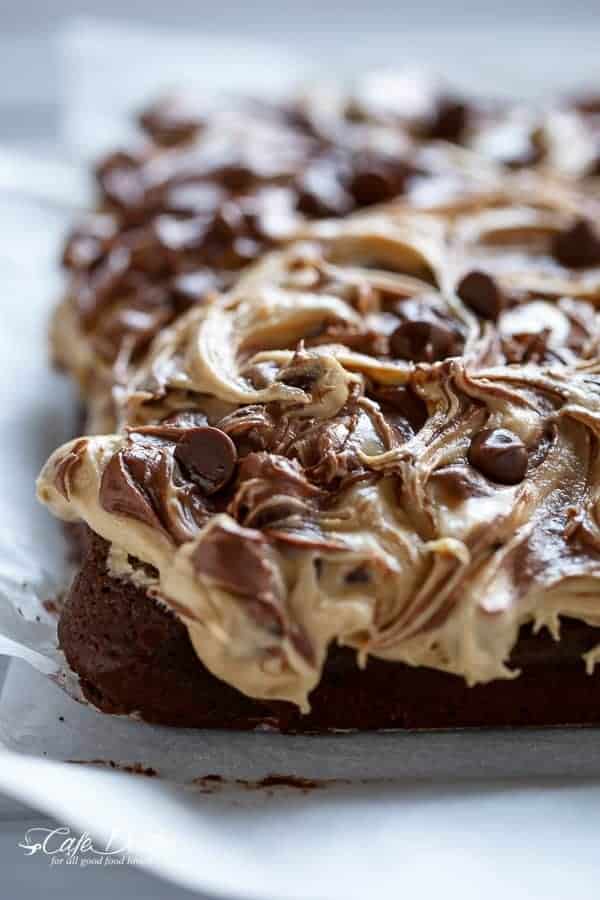 This is where I was singing, 'I'm a slaaaaaave for you,' the whole entire time while shooting these things. Yes, they're messy. Yes, they're completely outta control. But isn't all chocolate supposed to be like that? I mean, isn't that the stuff brownies are made of? With a serious hit of coffee in these, it's enough to wake you up three times over.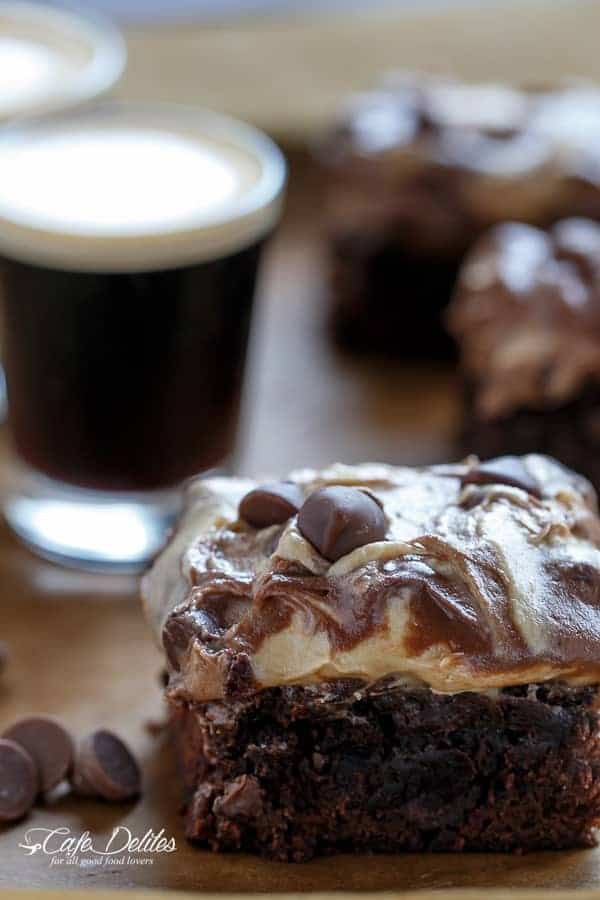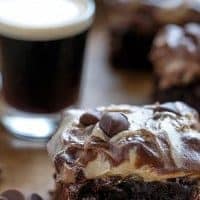 Espresso Fudge Brownies with Mocha Swirl Cookie Dough
Weight Watchers: 5pp per brownie (incl. cookie dough topping)
PRINT
SAVE
go to your favorites
Ingredients
Brownies:
1/2

cup

(1 stick) butter, (100g)

1

cup

sugar

1 1/2

tablespoons

instant coffee powder dissolved in 1 tablespoon boiled water

2/3

cup

unsweetened cocoa powder

2

teaspoons

pure vanilla extract

1/3

teaspoon

salt

2

x-large eggs

, cold

1/2

cup

flour

(plain or all purpose)

1/3

cup

chocolate chips of choice

(milk, dark or semi-sweet)
Cookie Dough:
1/4

cup

butter

, softened at room temperature

1

teaspoon

pure vanilla extract

2

tablespoons

brown sugar

2

tablespoons

caster sugar

(or a natural sweetener)

1/2

cup

flour

(plain or all purpose)

pinch of salt

1/4

cup

chocolate chips of choice

(milk, dark or semi-sweet), divided

1/2

teaspoon

instant coffee powder + 1/2 tablespoon unsweetened cocoa powder dissolved in 1 tablespoon boiled water
Instructions
Brownies:
Preheat oven to 160C | 325F. Line a 8x8-inch baking pan with parchment/baking paper, pressing into the corners of the base of the pan and leaving some paper over hanging to easily remove your brownies; set aside.

Melt the butter over stove top in a medium-sized saucepan over low heat. Add the sugar; stir to combine and continue to stir over the heat until butter/sugar mixture is hot (about 1 minute) and sugar has dissolved (the mixture should be shiny).

Remove from the heat; stir in the coffee to dissolve; add the cocoa powder continuously whisking to blend. Allow to cool slightly (about 5 minutes), before whisking through the vanilla extract until all ingredients are well combined.

Add in eggs, one at a time, beating after each addition, until the batter is smooth and glossy. Add flour and chocolate chips; stir through until just combined (do not beat or over mix).

Pour the brownie batter evenly into the prepared pan, smoothing the top over with a spatula (or with the back of a metal spoon). Place in the oven and bake for 25-30 minutes or until a toothpick inserted into the centre comes out slightly dirty. Remove from oven and allow to cool completely in the pan.
Cookie Dough:
Combine butter, vanilla and sugars in a bowl and beat until light and fluffy. Add the flour and salt; beat until a cookie dough forms. Fold in half of the chocolate chips; mix to combine. Divide batter in half. Set one cookie dough aside. To the other, add the coffee and cocoa powder mixture and stir through to combine. (Add 1-2 tablespoons of milk or just enough to make it the same consistency as the other cookie dough if needed).

When brownies have cooled completely; scoop the plain cookie dough over the top and spread evenly. Scoop out the mocha flavoured cookie dough over the top of the plain layer, and swirl with the back of a metal knife. Top with remaining chocolate chips.

Cut into 16 squares.
Notes
I din't add any baking soda or powder as I wanted fudgy brownies, but if you'd like them to rise a little; add in 1/4 teaspoon baking soda with the flour.
Nutrition
Calories:
162.7
kcal
|
Carbohydrates:
26.2
g
|
Protein:
4.2
g
|
Fat:
5.8
g
|
Fiber:
1.1
g