Cheesy Pizza Pull Apart Bread
So much cheeeeese… So much garliccccc…So many pizza flavours my taste buds jumped up and did the Macarena through this whole eating experience.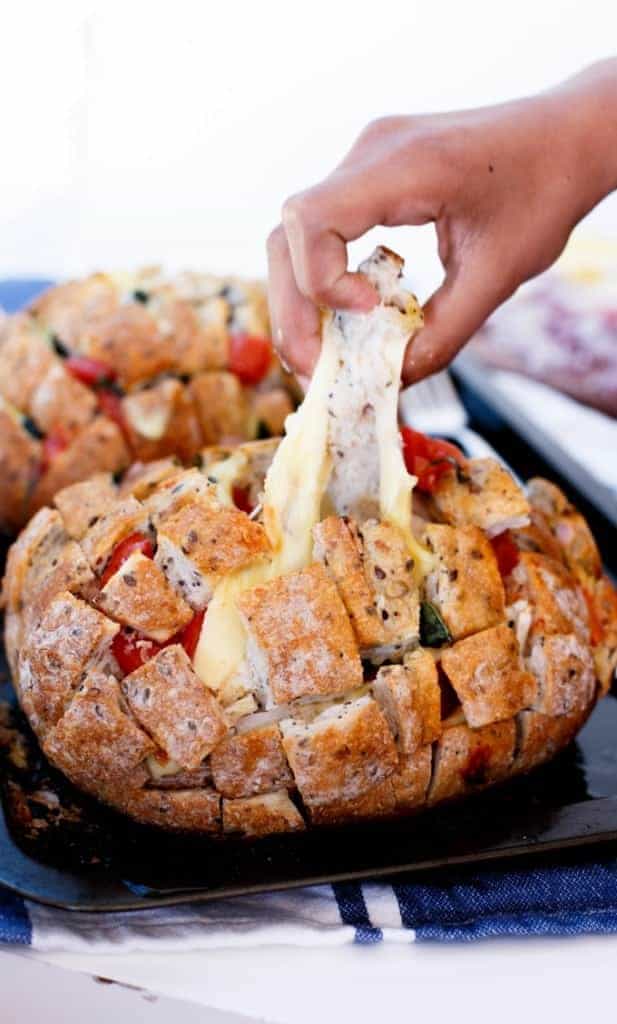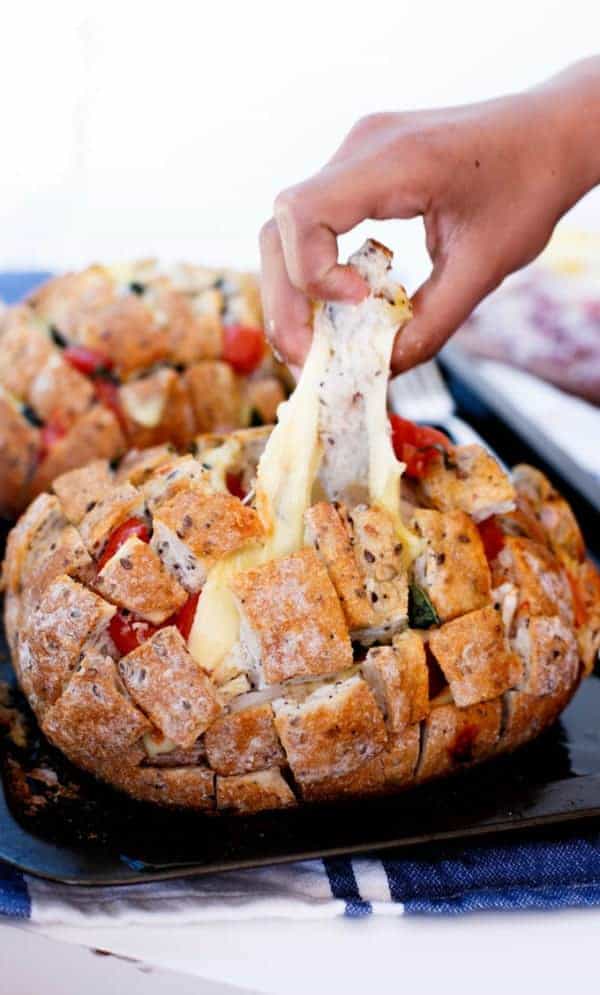 Yes, your honour. I'm guilty. I'm guilty of making my family eat cheesy pull apart bread.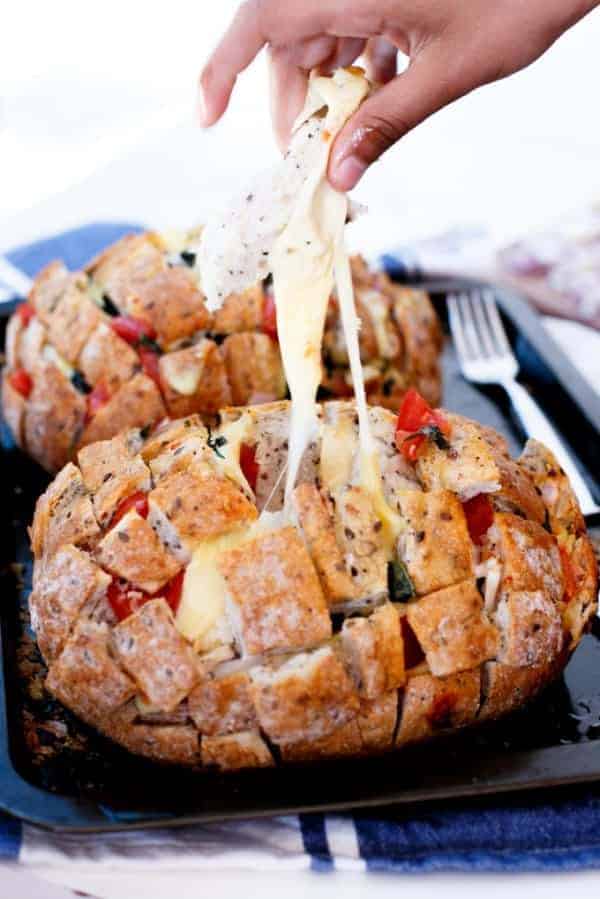 Did I regret my actions? Um. No. Welcome to carb-lovers paradise.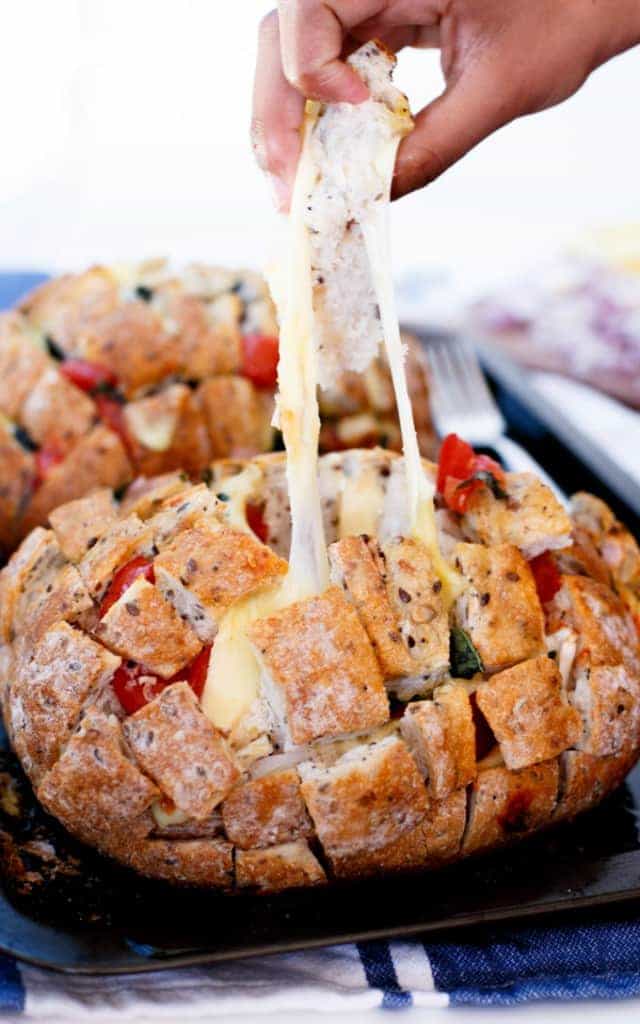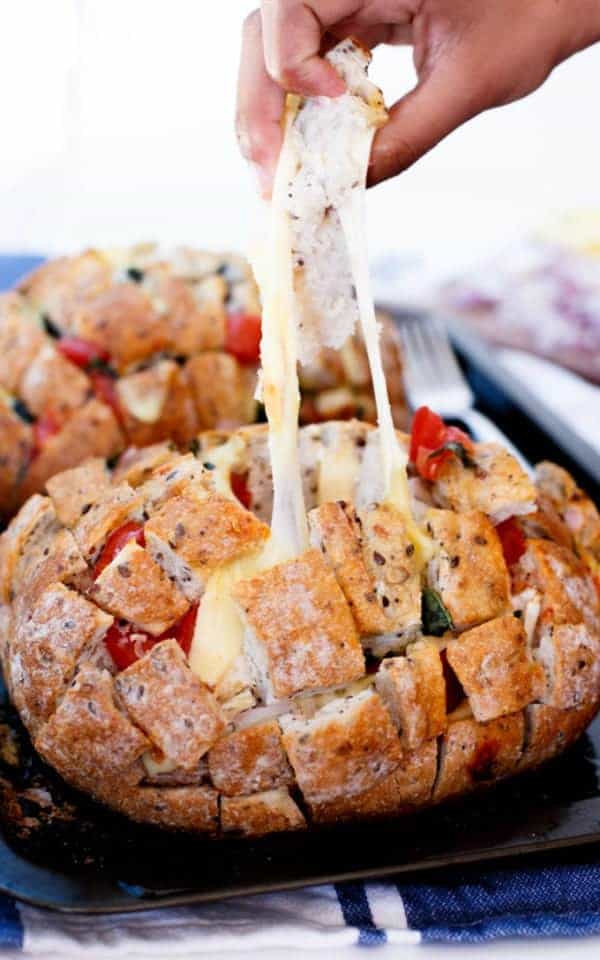 To cut a long story short…the kids were asking me for pizza. Those kids. Those crazy kids. Those crazy little people, screaming out for pizza. But not like that. Just Pizza. Because that's kinda boring, and my kids don't do boring.
More like this: pizzaaaaaaahhhhhhhhh!!!!!!!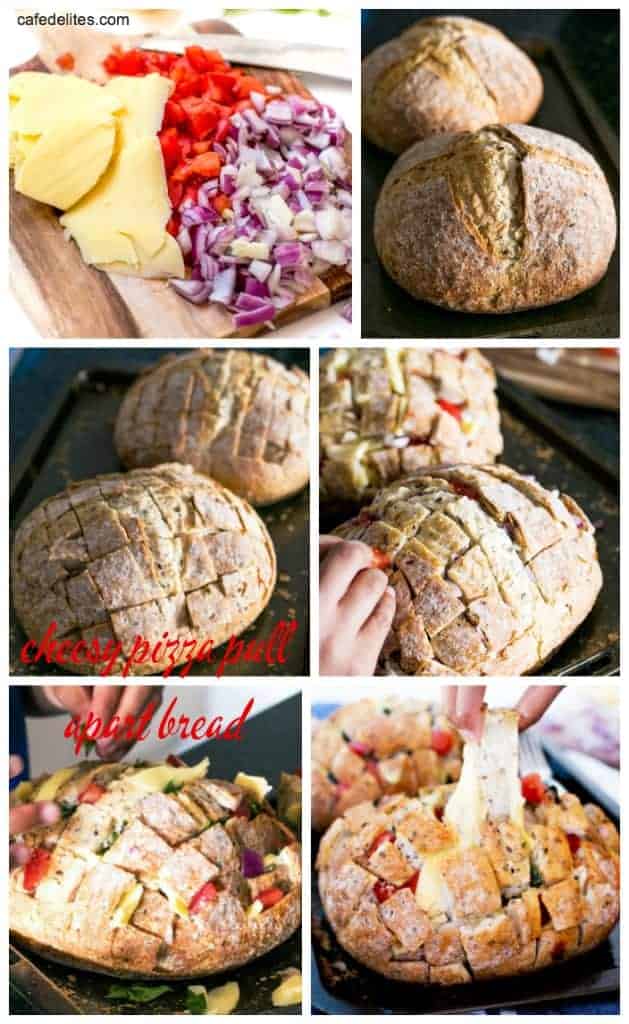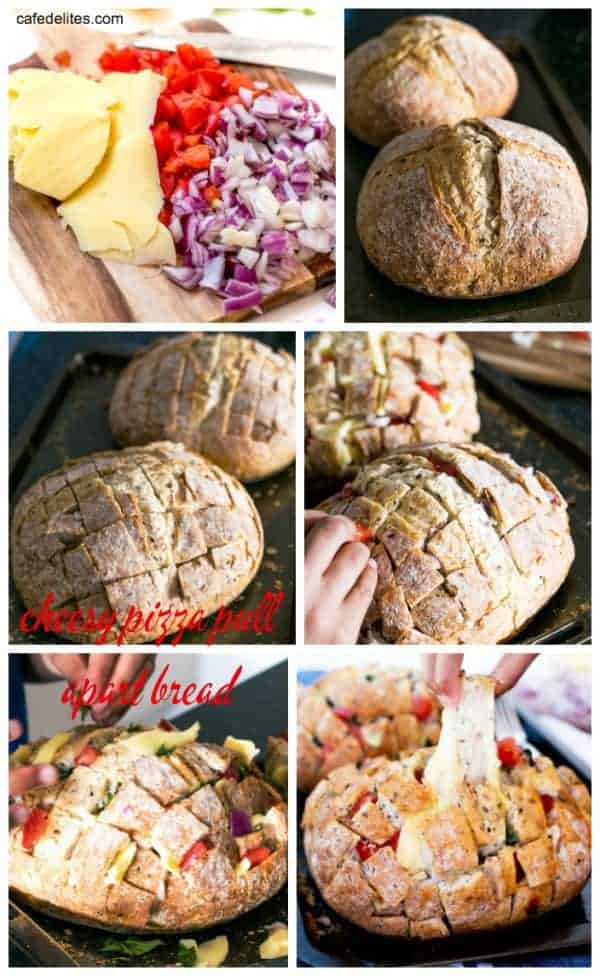 And like the proud parent I am, I couldn't help but take 50 million shots of my baby…I mean, this pull apart bread.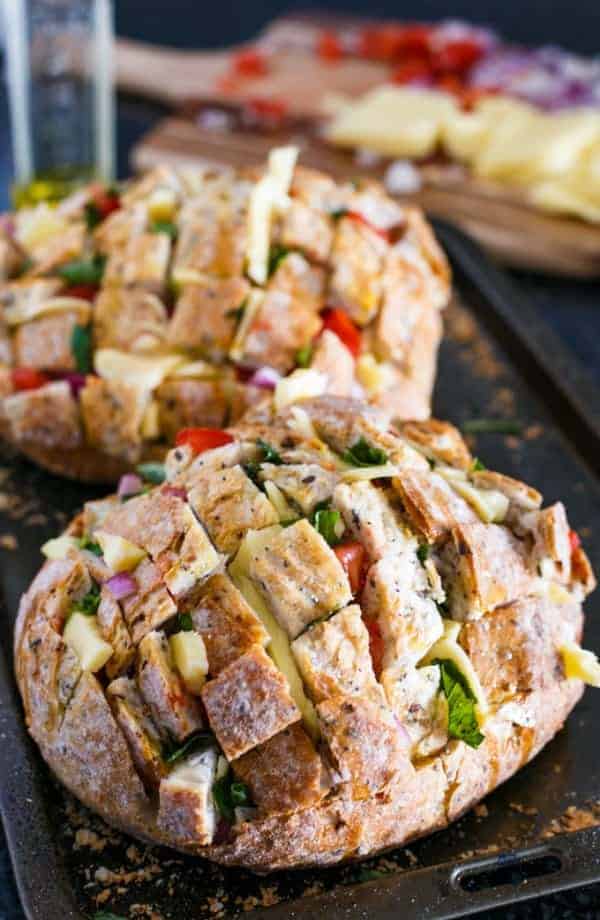 I found beautiful fresh and crusty loaves of sourdough bread with grains from my local bakery. It was as if they were listening to my inner BS about pizza, and kids, and a making dough, and who has time to make dough?
Brownies…I have time for brownies. That's a whole other level of 'make time for that,' but dough? Seriously? Ugh.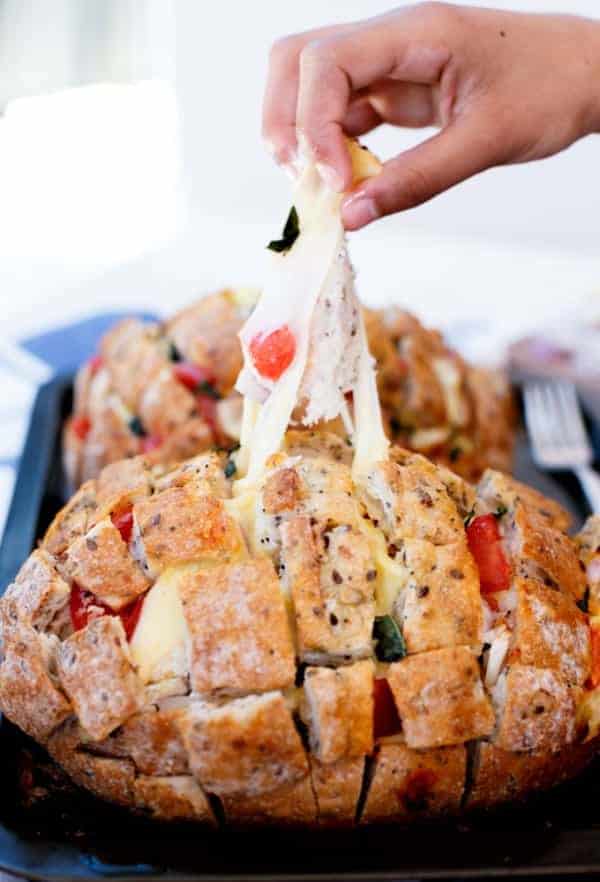 So behold! Pizza pull apart bread that takes no time to prepare and just as much time to bake to crispy golden and melty per.feck.seee.yon. In my best Italian accent.
Also, I'd like to thank my hand model for this episode of cheesy-ness…my daughter Aaliyah. Say hi Aaliyah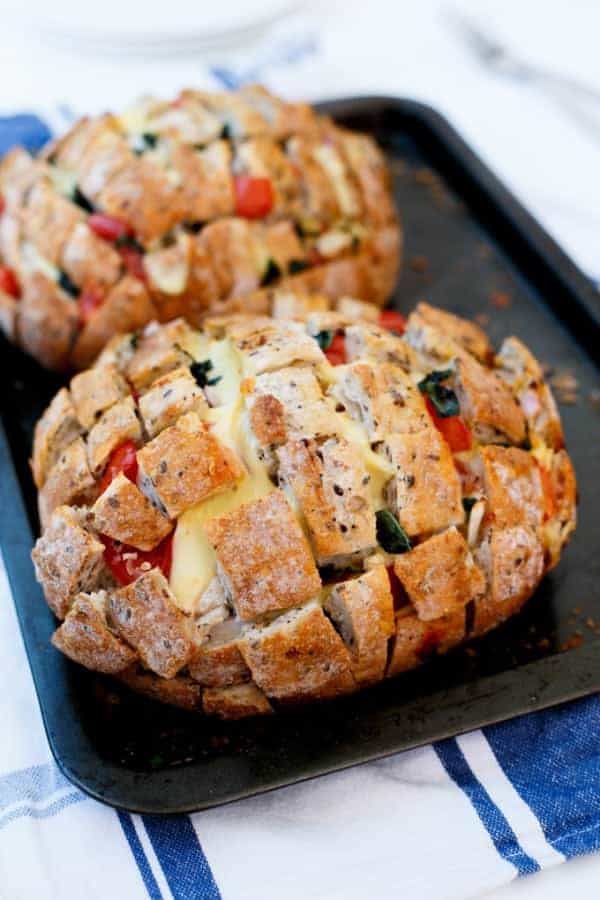 But who can resist that cheeeeese?!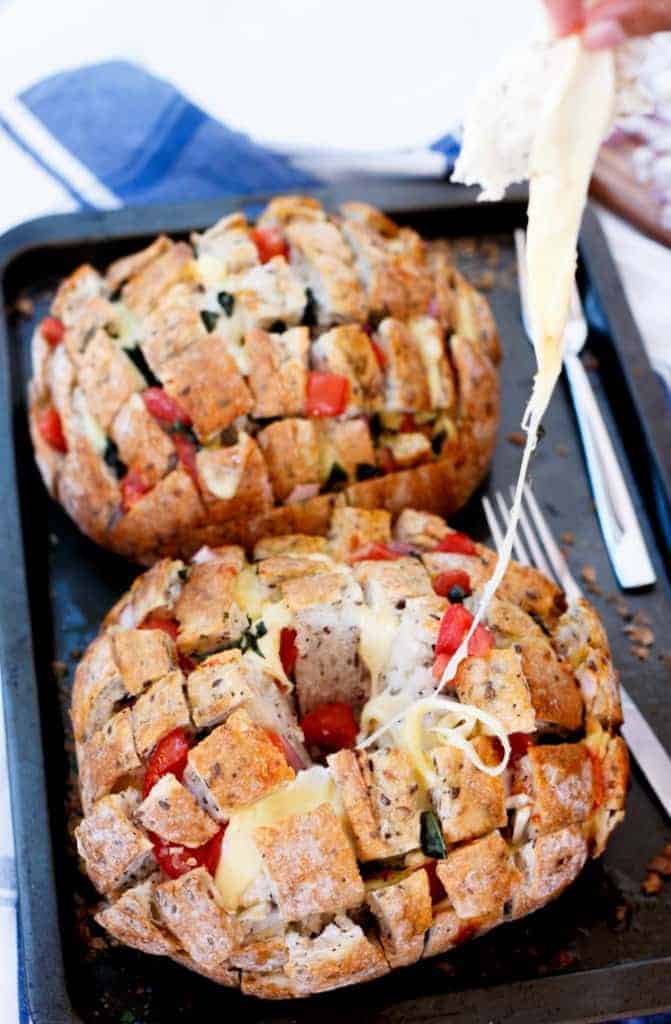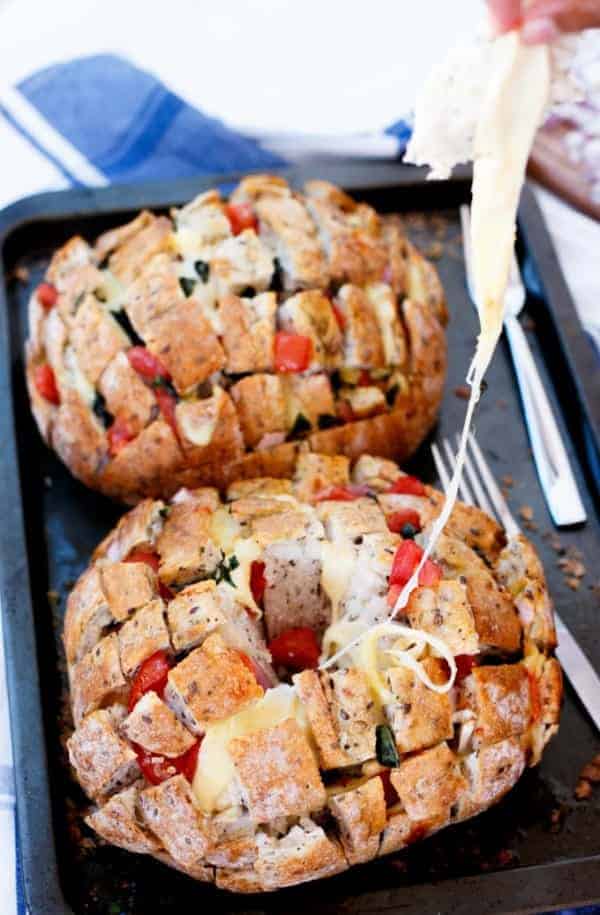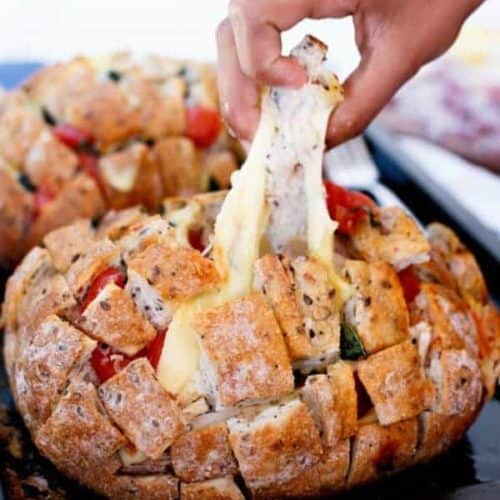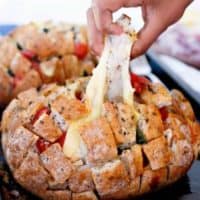 Ingredients
2

loaves sourdough bread

(unsliced)

300

g

| 10oz mozzarella cheese

, thinly sliced

2

tomatoes

, finely chopped

1/2

red onion

, finely chopped

basil leaves

, shredded or chopped finely

1/3

cup

garlic butter

, melted (or 1/4 cup garlic olive oil)

Italian pizza herbs

(dried seasoning)

Optional add in: pepperoni slices
Instructions
Preheat oven to 176C | 350F degrees.

Place the loaves on a lightly greased

baking tray

(I use

cooking oil spray

). With a

sharp knife

, cut the bread in rows lengthwise being careful not to cut through to the base of the loaf. Holding the bread over the top, cut across into it widthwise, again about 1cm above the base crust.

Insert onions first into each slice/wedge, then tomatoes, and finally cheese. Push all ingredients down into the bread really well.

Drizzle the garlic butter or garlic oil into each cut and over the top of bread. Sprinkle with the italian pizza herbs.

Cover with foil and bake for 15 - 20 minutes, or until cheese has melted.

Uncover and bake again for a further 10 minutes, or until bread has turned golden and crispy.

Remove and allow to cool before ripping it apart and devouring each wedge!
Nutrition
Calories:
347
kcal
|
Carbohydrates:
49
g
|
Protein:
13.2
g
|
Fat:
7.4
g
|
Fiber:
1.5
g