This Garlic Parmesan Mac And Cheese is better than the original! A thick and creamy garlic parmesan cheese sauce coats your macaroni, topped with parmesan fried bread crumbs, while saving some calories and time!
Garlic Parmesan Mac And Cheese, could Mac and Cheese EVER get any BETTER than this?! I don't think so…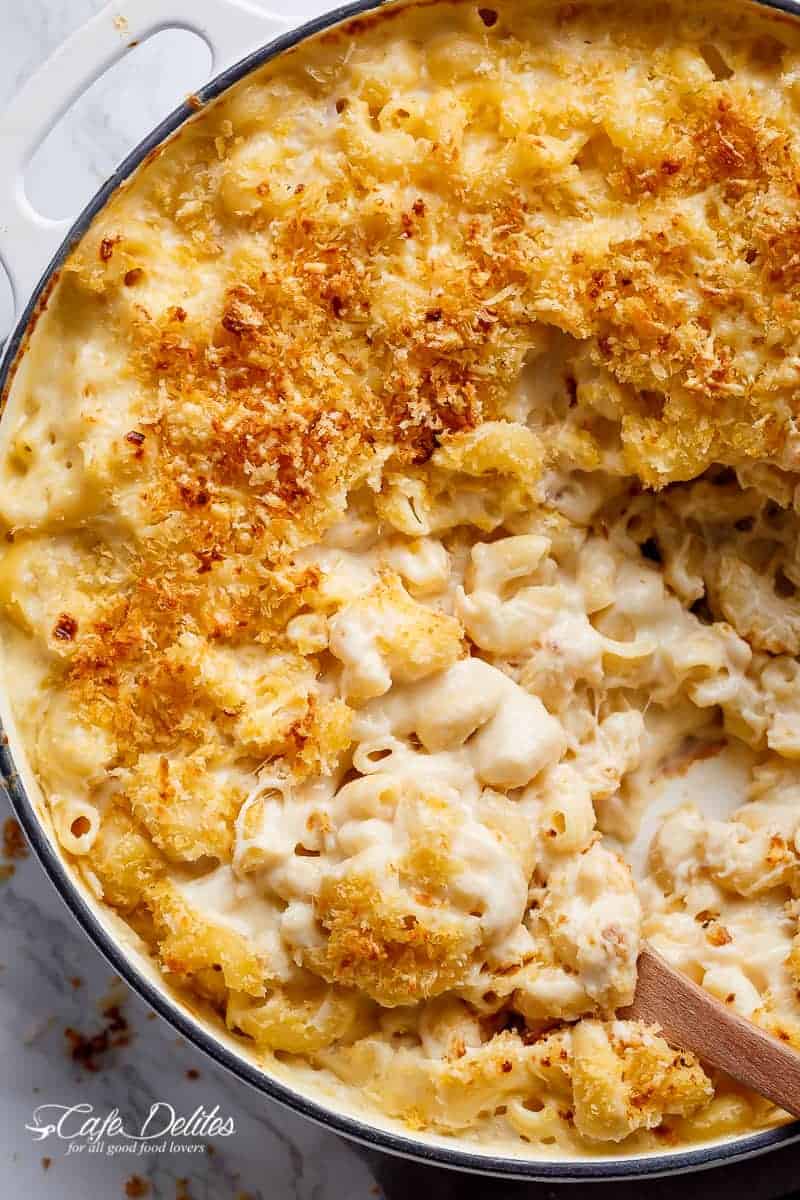 Okay friends. It's now time to switch up your favourite mac and cheese recipe and make way for this glorious dish full of flavoured comfort food. I can guarantee THIS will become your new favourite recipe. I no lie. In fact, I can guarantee your mac and cheese experience will forever be changed and will never be the same after you try this recipe.
Not only is this dish made with the usual cheddar cheese found in most recipes; it has a GOOD kick of stringy mozzarella AND loaded with parmesan because — well — parmesan. AND hello, my obsession with parmesan garlic everything is kinda getting out of hand at the moment, I know.
Do you SEE that cheese pull?!? 👇 👇👇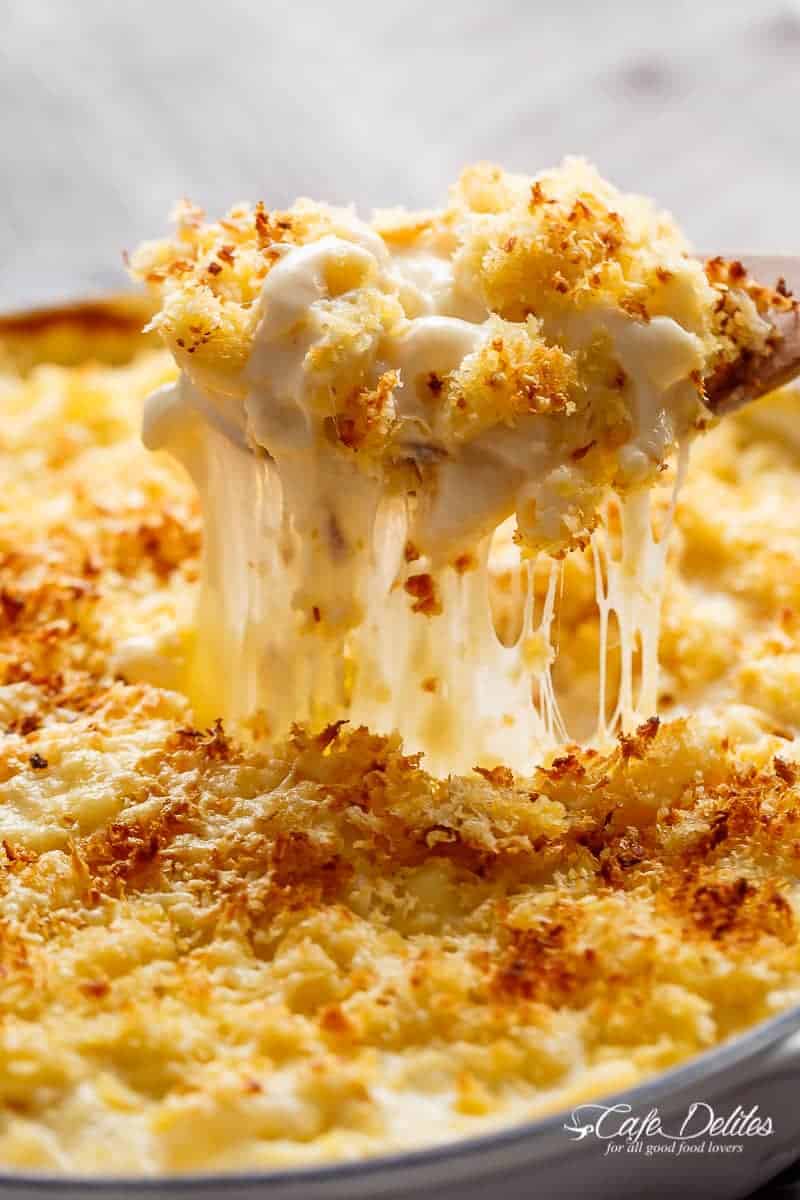 Usually with a recipe — any recipe — you can decide in a split second which element you like better. Well, people, let me tell you right now I'm so undecided and have absolutely no idea where to start. The thick and creamy sauce? The perfect, butter fried topping with extra crispy parmesan? Or the kick of garlic? Gah! No, I can't even!

I do solemnly swear though, that I kept you all in mind while trying out this recipe more than 20 times before posting it. I wanted low cal for you, BUT I didn't want to skimp on the important mac and cheese flavours of butter….. and butter. You know what I mean? So instead, I cut the butter and flour quantity in half in the white sauce, and used a cornstarch / milk combo to do the rest of the thickening for me. All without sacrificing flavours. You're so welcome.
In fact, I had a checklist. Kinda like Monica would if she could see me now.
Creamy sauce ✔️
Abundance of pasta ✔️
Crispy topping
Cheese ✔️
Lots of cheese ✔️
Loaded with cheese ✔️
As low as I can possibly get in calories without hurting our senses ✔️✔️✔️
My Macaroni And Cheese hating husband LOVED this! Don't even get me started on what I just said, BUT, it took a lot of convincing to get a spoonful of pasta in his mouth. Don't worry. He has now been promoted to the dark side.

And there you have it. A bowl of comfort.
REMEMBER TO SUBSCRIBE TO CAFE DELITES NEWSLETTER FOR FREE AND RECEIVE FRESH RECIPE NOTIFICATIONS DELIVERED INTO YOUR INBOX!
If you try a recipe, please use the hashtag #cafedelites on INSTAGRAM for a chance to be featured!
FOLLOW CAFE DELITES ON FACEBOOK | INSTAGRAM | PINTEREST | TWITTER FOR ALL OF THE LATEST CONTENT, RECIPES AND UPDATES.
EQUIPMENT USED: