Snowball Cookies (also known as Mexican Wedding Cookies) are a festive holiday treat! Full of chopped pecans, flour, butter and sugar for a melt-in-your-mouth texture.
The holiday season is here and it's time to fire up your oven for some cookie baking! With endless varieties to choose from, snowball cookies always seem to make it to the dessert table. The texture is irresistible, with the slightest nibble the crumb quickly dissolves.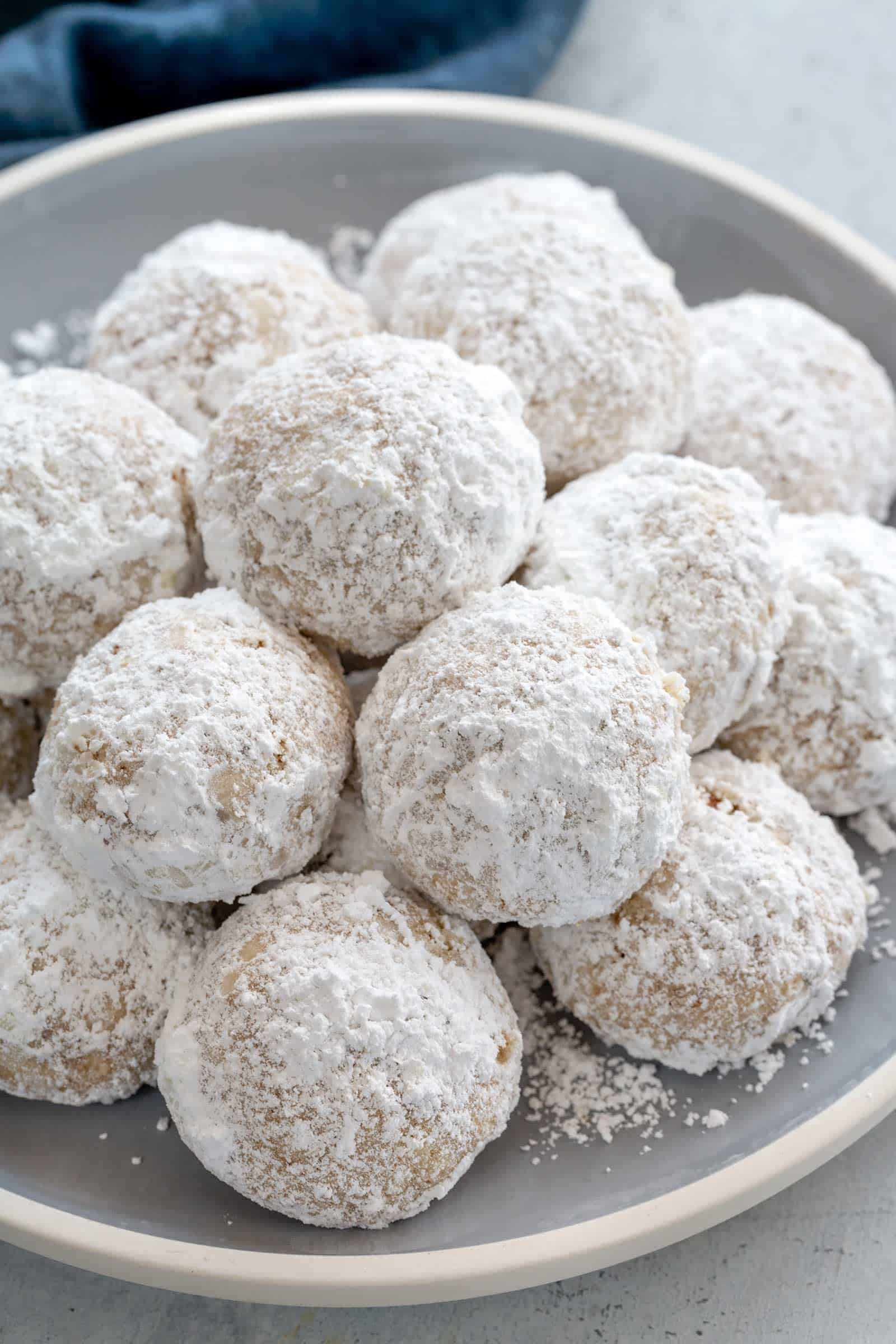 COOKIES
Loaded with toasted pecans to give a little extra crunch and flavor to each ball. The hallmark of the cookie is it's powdered sugar coating. The sweet snowfall on each cookie leaves dusted fingertips and happy eaters.
Maximizing the Nutty Flavor
What makes the flavour of these cookies pop is toasting the nuts, and then chopping them into two different sizes. Often times you'll find snowball cookie recipes with or without nuts.
To prevent them from tasting bland and pasty, I'm pro pecans. Toasting the pecan halves for just a few minutes allows the oils to warm, making the chopped pieces more aromatic. The nut oil infuses into the cookie dough, for a stronger taste.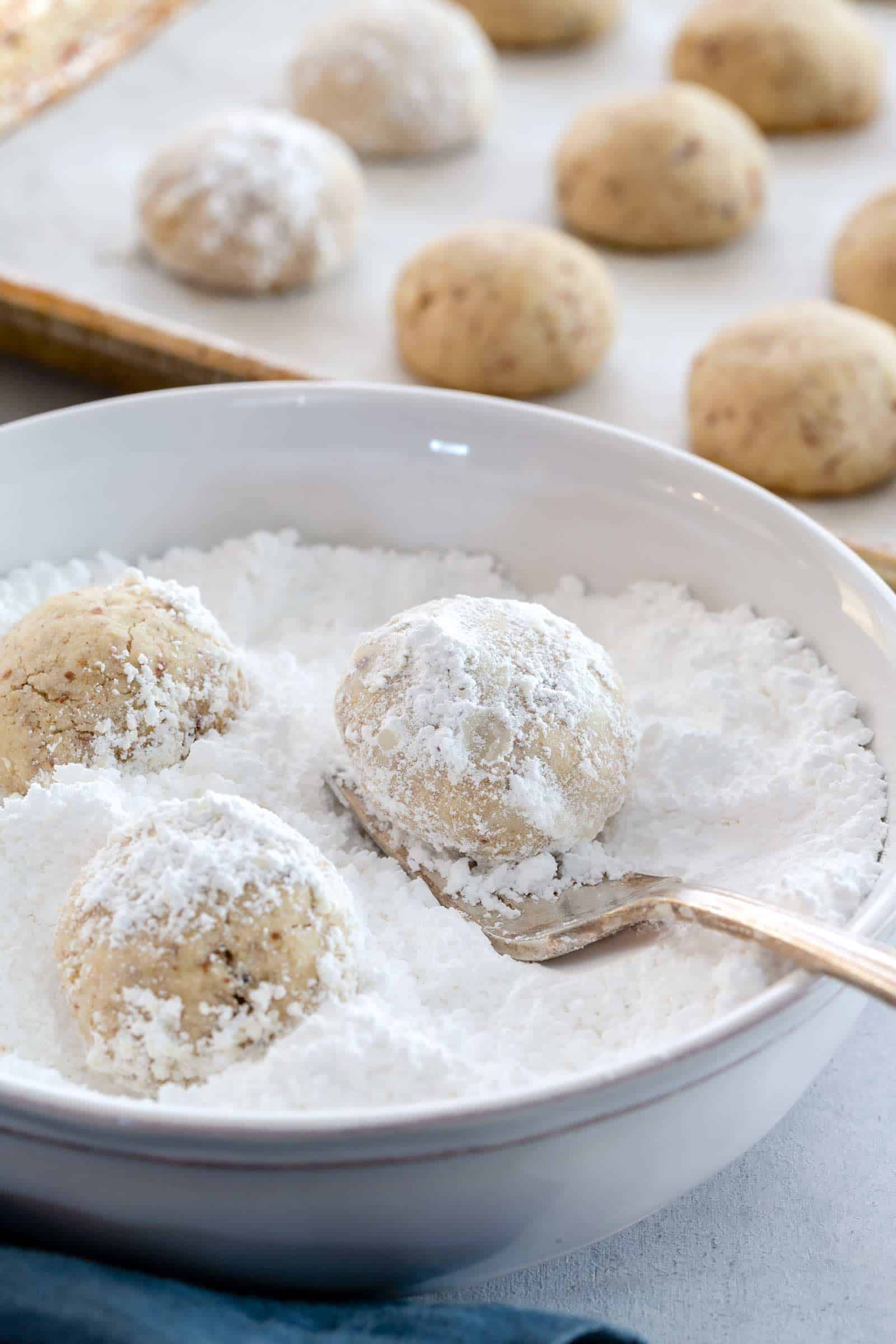 How to make Snowball Cookies
Using a food processor, chop a portion of the pecans into fine pieces and some more chunky to give contrasting textures to the dough.
Soften the butter to between 60 to 65F, you want it soft but slightly cool.
Cream the butter and sugar together until light and fluffy. There is no other leavening agent in the dough, so trapping some air in the butter is important.
Add the flour and pecans, mix until just combined and the dough becomes a cohesive mass.
Roll cookie dough into 1-inch balls. The cookies don't expand out much but do grow slightly in size after baking.
Keep baking until lightly browned on the bottoms, the surface will stay beige in color.
Roll in powdered sugar when still warm! Add another coat before serving.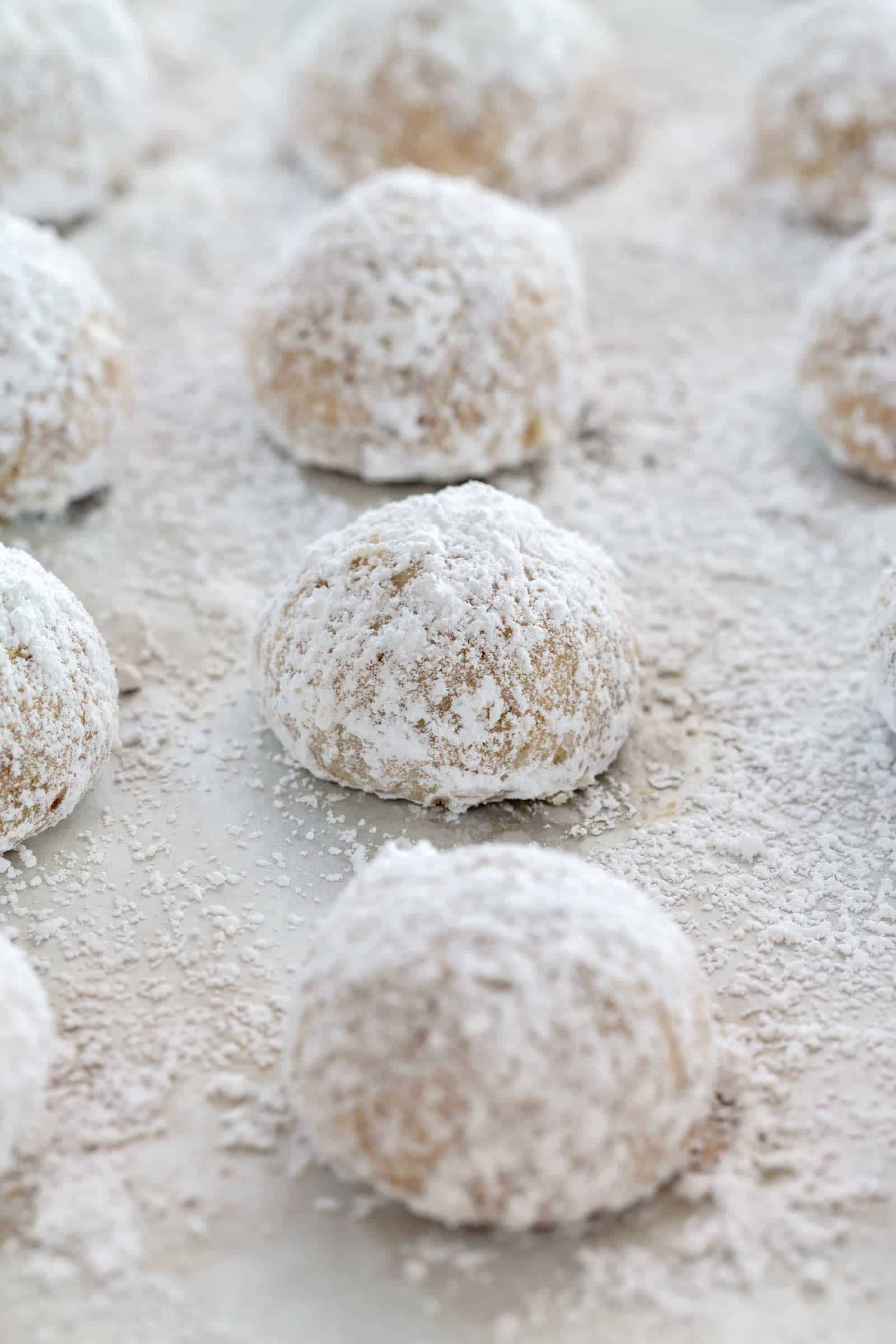 When to roll cookies in powdered sugar
The most confusing step is when to roll the cookies in the powdered sugar. Should they be warm, cooled, once, or twice? My technique is to roll them once while they are still warm. This will slightly melt the sugar, giving it a sealed sugar coat on the outside so it sticks better to the surface.
However, the heat dissolves the sugar and won't keep the bright white snowy appearance. That's why I let the cookies cool completely after the first coating, and do one more roll or sprinkle on top with a fine mesh sifter right before serving or packaging.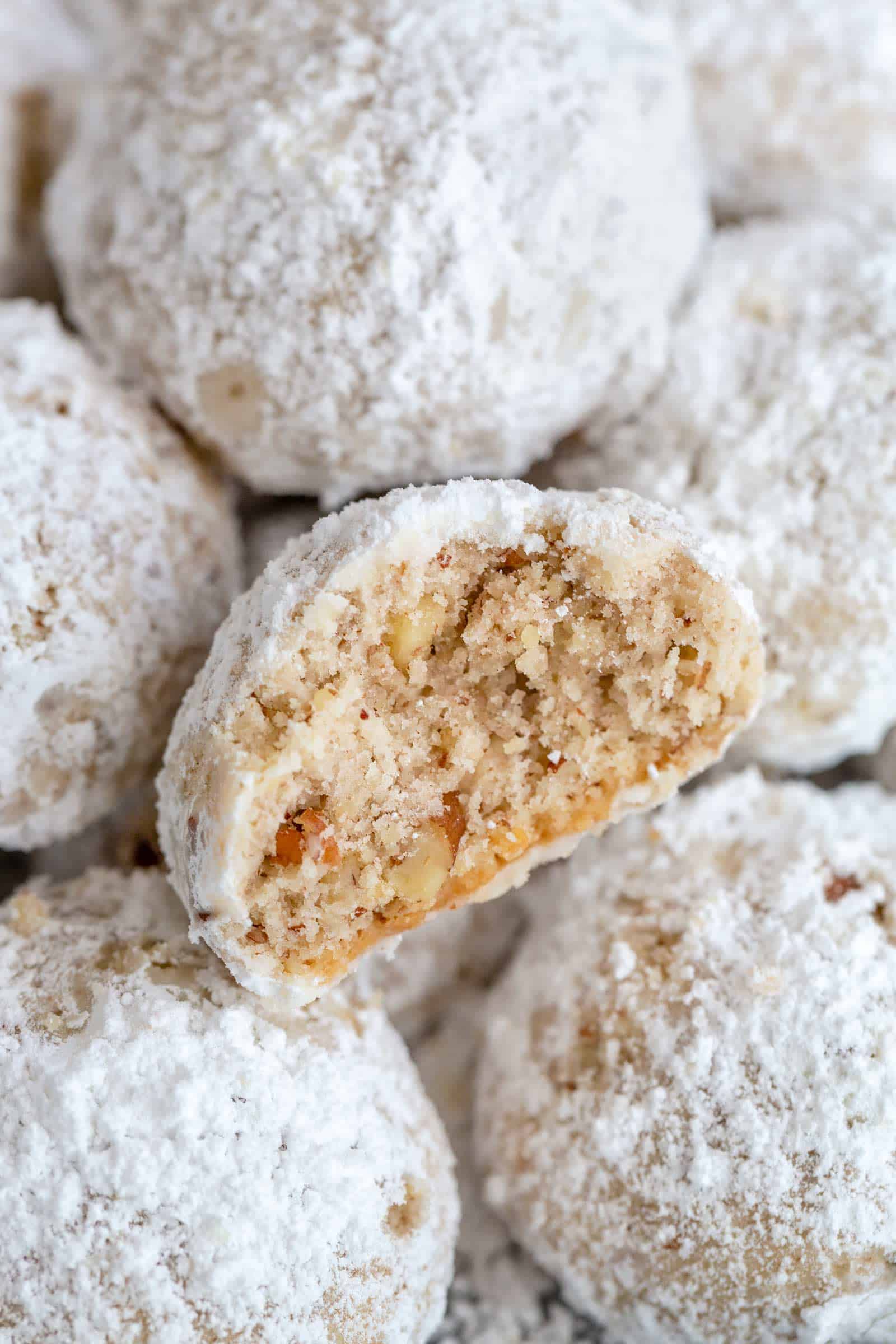 I have to admit, sometimes I like to eat these uncoated. They have a shortbread texture and perfect for enjoying alongside a cup of tea or hot cocoa. Besides chewy chocolate chip cookies and peanut butter kiss cookies, these treats are on top of the request list during cookie season. They are a fun recipe to make with your family and great to give away as edible gifts!
LOOKING FOR MORE CHRISTMAS COOKIES? TRY THESE!
Peanut Butter Blossoms
Best Fudgy Chocolate Crinkle Cookies
Christmas Saltine Toffee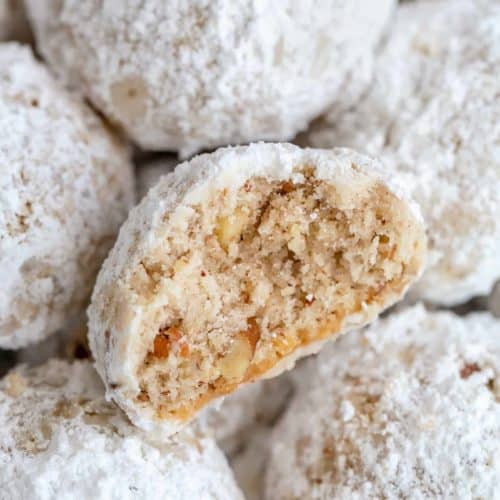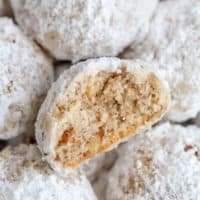 Snowball Cookies
Snowball cookies are a festive holiday treat! The dough is made with chopped pecans, flour, butter and sugar for a melt-in-your-mouth texture.
PRINT
SAVE
go to your favorites
Ingredients
1 ½

cups

pecans

divided

2

cups

all-purpose flour

(10 oz / 280 g)

¼

teaspoons

kosher salt

1

cup

unsalted butter, softened to 60 to 65ºF

(8 oz / 250 g)

⅓

cup

granulated sugar

(2.3 oz / 65 g)

1

teaspoon

pure vanilla extract

1 ½

cups

powdered sugar

(6 oz / 170 g)
Instructions
Set the oven rack to the middle position. Preheat the oven to 325ºF (160°C).

Line two baking sheets with parchment paper and set aside.

Toast the pecans in the oven on a small baking sheet for 6 minutes, stirring the nuts halfway through. Transfer to a plate and allow to cool, about 10 minutes.

Add 1 cup of the pecans to a food processor and pulse about 15 times, until a finely ground texture is achieved. Transfer to a medium-sized bowl.

Add the remaining ½ cup of pecans to the food processor and pulse and 3 to 5 times, until roughly chopped. Add to the finely ground pecans.

Add flour and salt to the pecans, stir to combine.

Cream the softened butter and sugar in a mixing bowl, or stand mixer on the medium speed, 3 minutes. Scrape down the sides of the bowl halfway through creaming.

Add vanilla and mix on low speed until incorporated, 30 seconds.

Add the nut mixture and combine on the lowest speed until just incorporated and dough comes together about 30 seconds.

Measure the dough into leveled 1 tablespoon portions. Roll into a ball and place 1-inch apart on the baking sheets, they should be about 1-inch in diameter. Bake 20 cookies per pan.

Bake one cookie sheet at a time until the light golden in color and the bottoms are browned about 18 minutes. Rotate the pan halfway through baking.

Cool the cookies on the pan for 5 minutes.

Add powdered sugar to a shallow bowl. Roll the cookies in the powdered sugar while still warm until completely coated, then transfer to wire rack to cool.

Once the cookies are cooled, roll them in the powdered sugar for a second coat or sprinkle on top with more sugar, shaking off any excess. This can be done right before serving for the most attractive appearance.
Nutrition
Calories:
104
kcal
|
Carbohydrates:
9
g
|
Protein:
1
g
|
Fat:
7
g
|
Saturated Fat:
3
g
|
Cholesterol:
12
mg
|
Sodium:
15
mg
|
Potassium:
23
mg
|
Sugar:
4
g
|
Vitamin A:
145
IU
|
Calcium:
5
mg
|
Iron:
0.4
mg