Roasted Mushroom with a balsamic, soy and garlic glaze is the perfect side dish for pretty much anything!
Absolutely incredible: Roasted Mushrooms look beautiful, taste amazing and create their own sauce when cooked in the oven, mixing through the flavours in this glaze to create the best, quick and easy, balsamic roasted mushroom recipe! Vegetarian, low carb and KETO approved!
A complete meal in itself, if you haven't tried our roasted mushrooms yet, make sure you include them in your 2020 menu plans!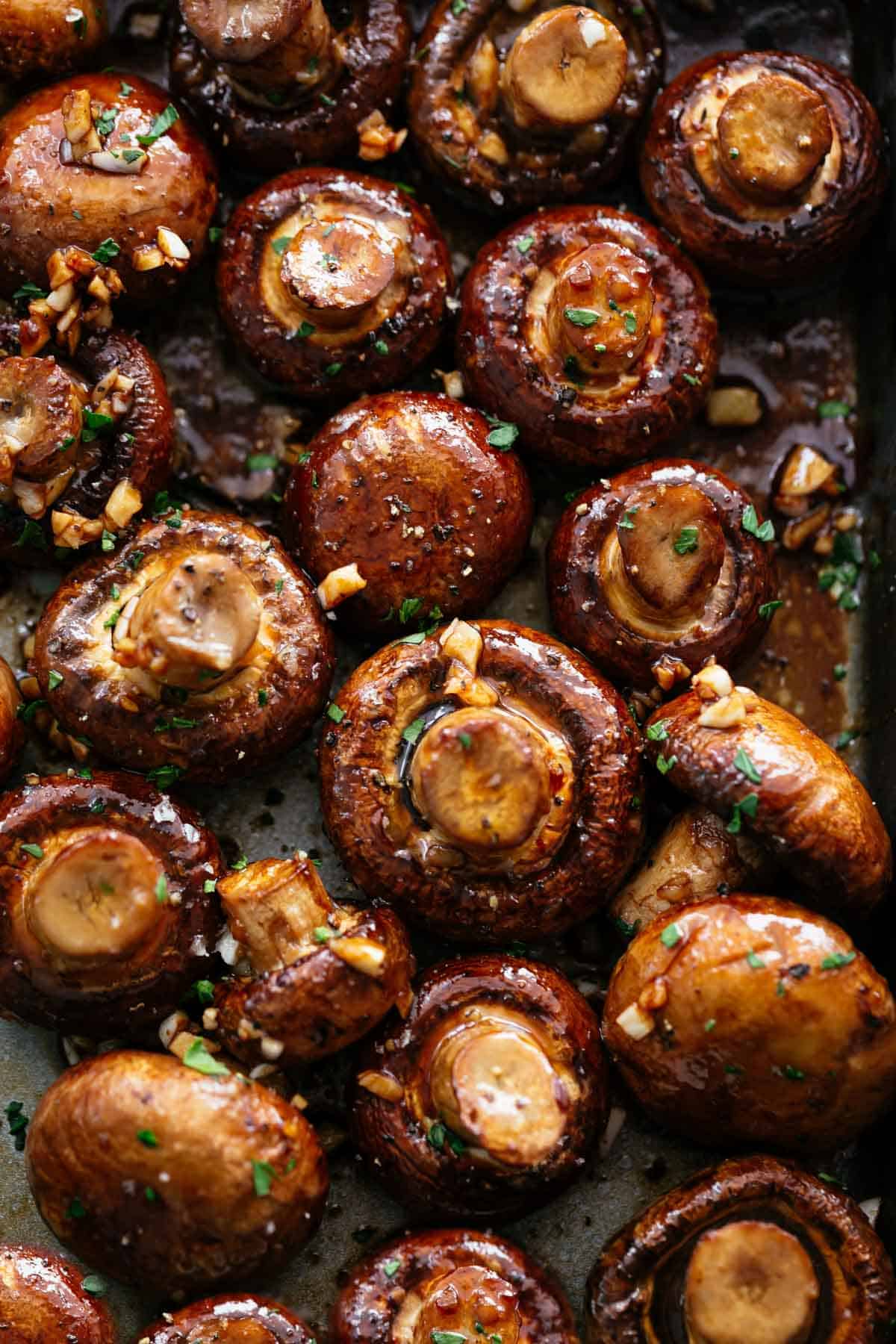 BEST ROASTED MUSHROOMS
There is no doubt you will love everything about this recipe: from the savoury flavour to how versatile it is. It's right up there along with our Creamy Garlic Butter Tuscan Mushrooms, Crab Stuffed Mushrooms, Garlic Mushrooms and Mushrooms in Bacon Sauce.
Once you start, you can't stop!
PAN JUICES!
THIS is the best part! Roasted mushrooms create their own sauce, and tossing them in this balsamic-soy glaze first gives you an incredible sauce to drizzle over them.
A butter, oil, balsamic vinegar, soy sauce, garlic, herb + mushroom liquid gold combination. They are naturally packed with incredible amounts of liquid, which is essential for the flavours in this!
Let your oven work it's magic and do all of the work for you with minimal effort. No standing around the stove, no stirring and no risk of burning anything. Just throw the pan in the oven and walk away. YES! My kinda recipe.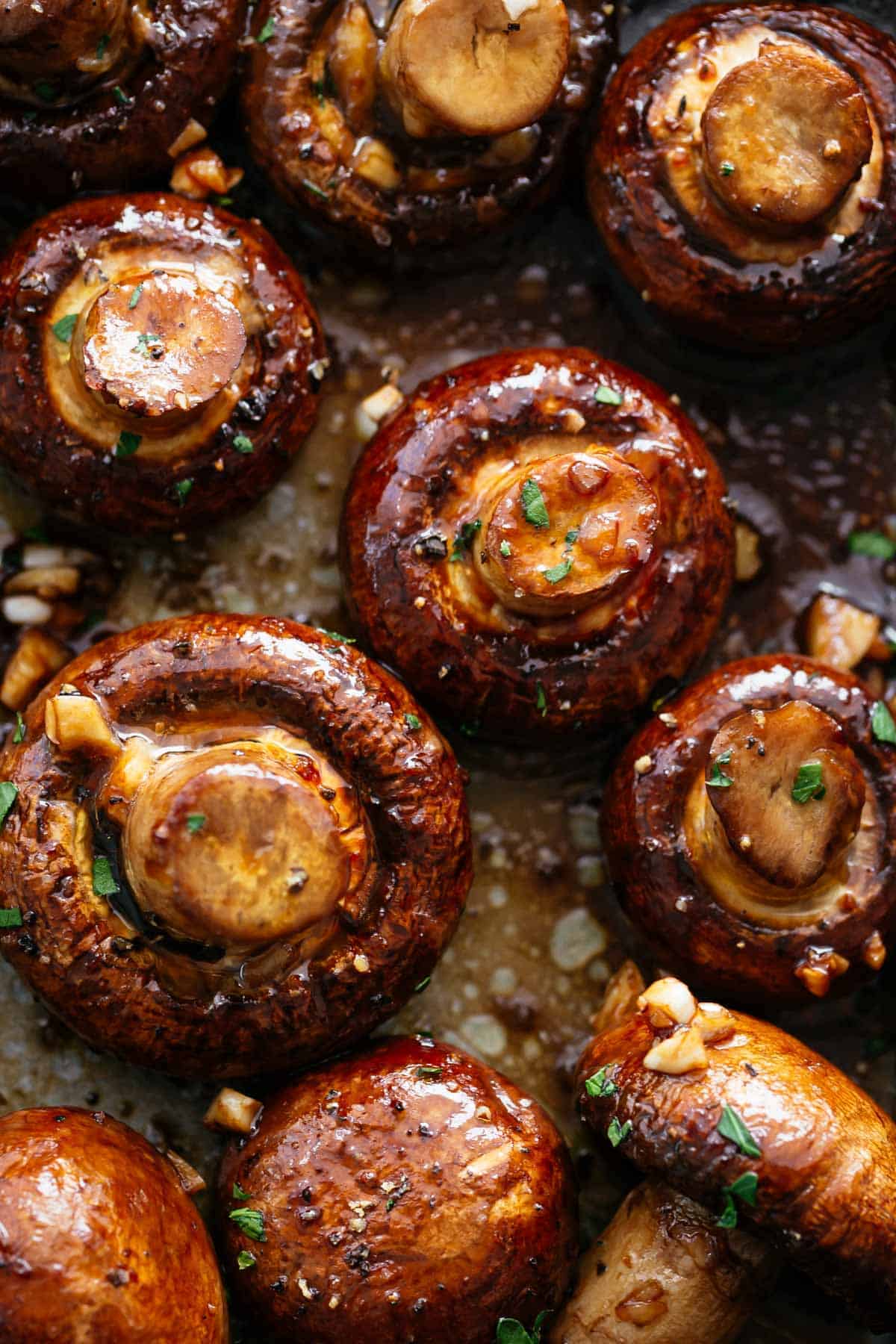 DO YOU NEED TO PEEL MUSHROOMS?
Mushrooms are different to other vegetables in that they don't need to be peeled before cooking.
A a quick rinse in water is ok if they are covered in dirt. Wipe away the dirt and debris with a sheet of damp paper towel until clean. Just be sure to dry them well as they release a lot of liquid while cooking.
TIP: wash mushrooms when you're ready to cook them or may turn slimy.
HOW TO ROAST MUSHROOMS IN THE OVEN
So easy I could cry:
Toss mushrooms with oil and melted butter mixed with minced garlic, balsamic vinegar, herbs, brown sugar, salt and pepper. Brown sugar creates that mouthwatering, lip-smacking glaze. For low carb or Keto followers, use a brown sugar substitute, or leave it out.
The balsamic vinegar cuts through the buttery goodness, as well as a sprinkle of a fresh herbs. Thyme, parsley, rosemary and chives work so well with this recipe and complement roasted mushrooms perfectly.
Roast mushrooms for 15-20 minutes, mixing halfway through cooking time to ensure they're evenly coated when they're finished.
2 pounds (or 1 kg) sounds like a lot, but remember they do shrink a lot when roasted!
Using our beloved combination of butter and olive oil in the sauce ensures nothing burns or smokes out your oven.
You can use brown or white mushrooms, button or cremini, both large or small. Just make sure you choose mushrooms roughly the same size so they cook evenly.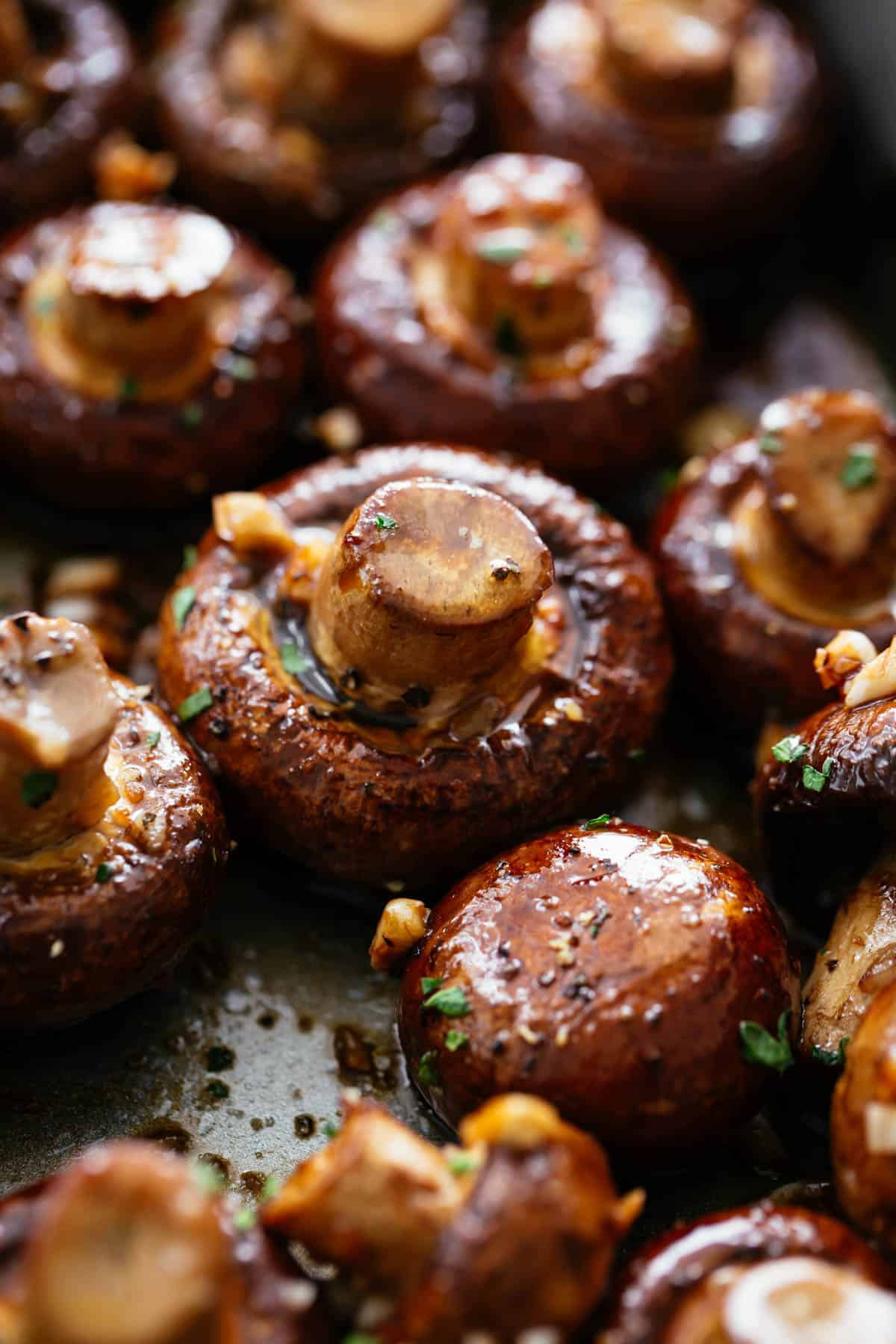 MAKE AHEAD
Yes, you can definitely make roasted mushrooms the day before serving and rewarm in the microwave. However, fresh is best!
WHAT TO SERVE WITH ROASTED MUSHROOMS
Outrageously good and get rave reviews, this one is a keeper! Enjoy roasted mushrooms as a side over Creamy Mashed Potatoes or Buttery Mashed Cauliflower (for a low carb option), with a side of Black Beans & Rice or over pasta.
Remember: pan juices = liquid gold! Garlicky, buttery, incredibly perfect.
Or, have them as the perfect side to serve with Prime Rib Roast (pictured below with buttery sautéed green beans), Roast Chicken, Lamb, or Turkey.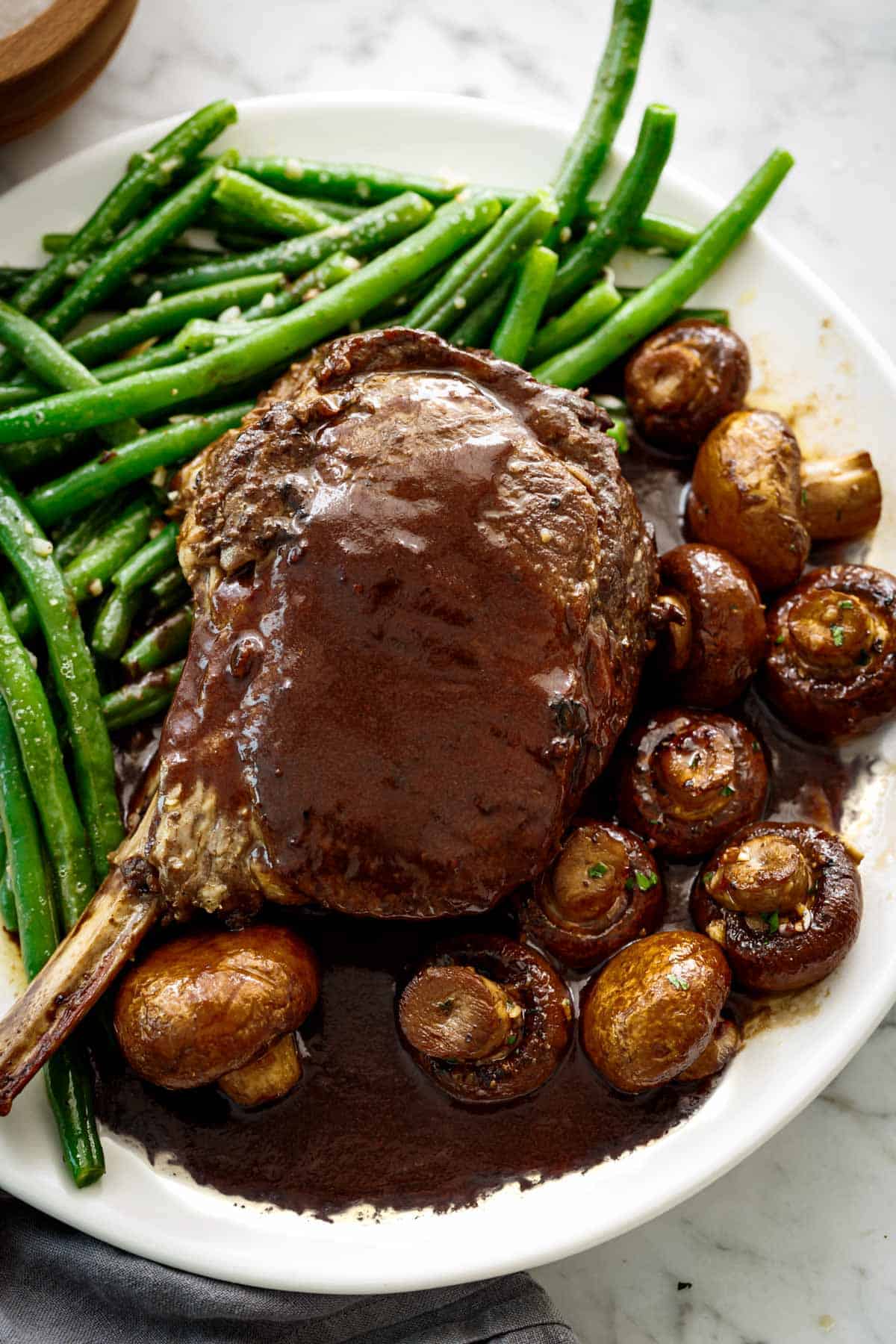 However you serve them, don't leave those pan juices in the pan! Drizzle your roasted mushrooms with all of those juices, dunk some garlic bread right in there because you're going to love them!
MORE MUSHROOM RECIPES
Pizza Stuffed Mushrooms
Caprese Stuffed Mushrooms
Steak with Mushroom Sauce
Cream of Mushroom Soup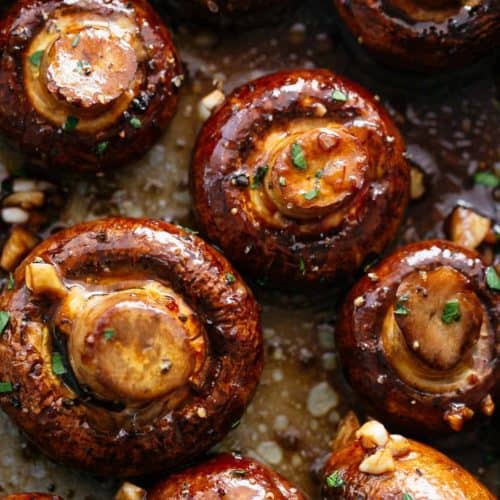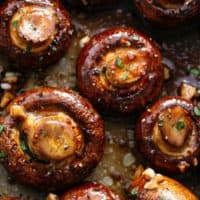 Roasted Mushrooms with Balsamic and Soy
Deliciously easy roasted mushrooms in a balsamic and garlic soy glaze! A stand out side or main for your dinner table!
PRINT
SAVE
go to your favorites
Ingredients
2

pounds

(1 kg) mushrooms

1

tablespoon

unsalted butter,

melted

1

tablespoon

oil

3

tablespoons

balsamic vinegar

2

tablespoons

soy sauce

4

cloves

garlic,

minced or chopped

1/2

teaspoon

parsley,

chopped

1/2

teaspoon

thyme,

(or rosemary)

1/2

teaspoon

brown sugar,

(omit for low carb or KETO)

Coarse salt

Cracked black pepper,

to taste
Instructions
Preheat oven to 400°F (200°C).

Lightly grease a large baking sheet/pan with nonstick cooking oil spray.

Wipe mushrooms over with a damp sheet of paper towel to clean off dirt and debris.

In a large bowl, combine the mushrooms with the melted butter, oil, balsamic vinegar, soy sauce, garlic, parsley, thyme, brown sugar, salt and pepper. Toss to evenly coat.

Arrange mushrooms in a single layer on prepared baking sheet.

Roast in hot oven for 15-20 minutes, mixing them halfway through cooking, until tender.
Nutrition
Calories:
154
kcal
|
Carbohydrates:
11
g
|
Protein:
8
g
|
Fat:
10
g
|
Saturated Fat:
4
g
|
Fiber:
2
g
|
Sugar:
6
g