Portuguese BBQ Peri Peri Chicken (or Homemade Nando's Recipe) cooked TWO WAYS! On the barbecue OR in the oven! THE CHOICE IS YOURS!
Bring your favourite Nando's chicken to the table with this Portuguese BBQ Peri Peri Chicken Recipe! PLUS the addition of juicy corn cobs in foil packets are charred for added flavour.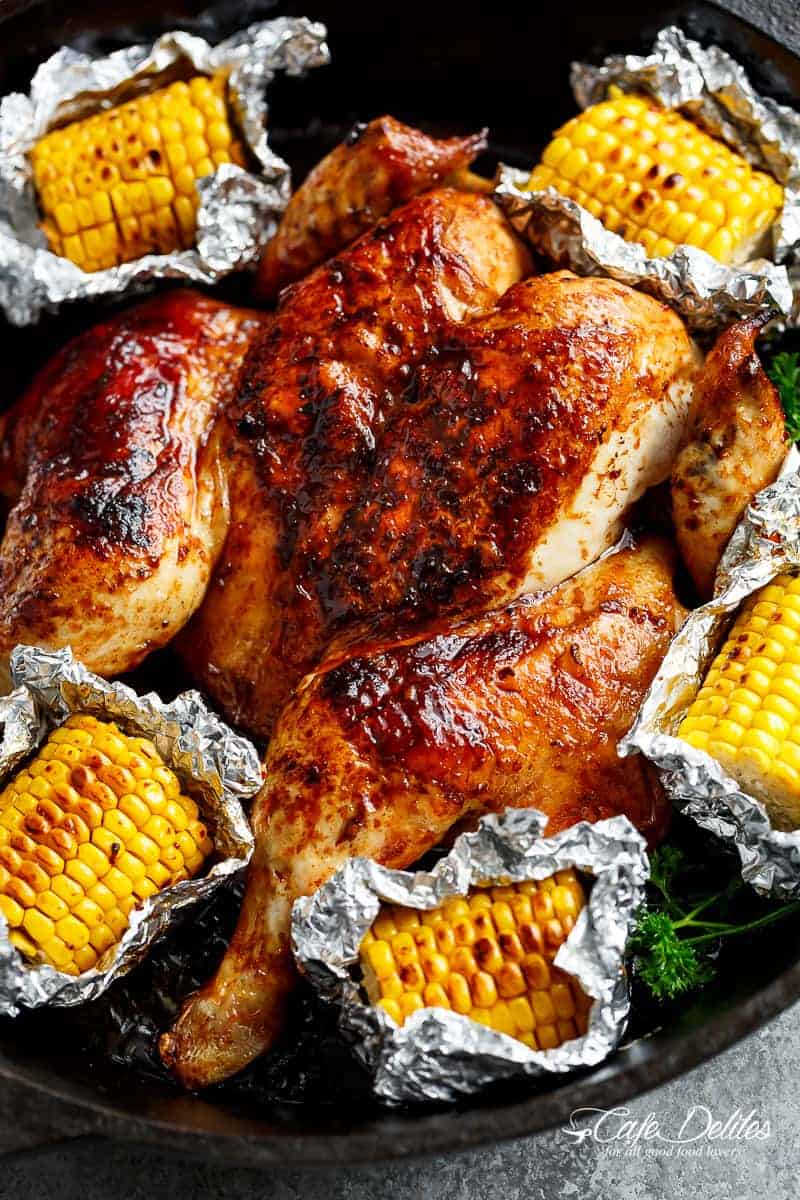 Every single time we go to Nando's, the chicken marinade flavour we all order is the BBQ. It's the perfect balance of sweet and salty, with added onion or garlicky flavours, plus a slight tang.
I shared a recipe like this one TWO YEARS AGO… only in that recipe I used the BBQ sauce marinade found in supermarkets.
This time, I wanted to try and recreate it for myself.
It's safe to say…. I think I did it. Portuguese BBQ Peri Peri Chicken for the WIN!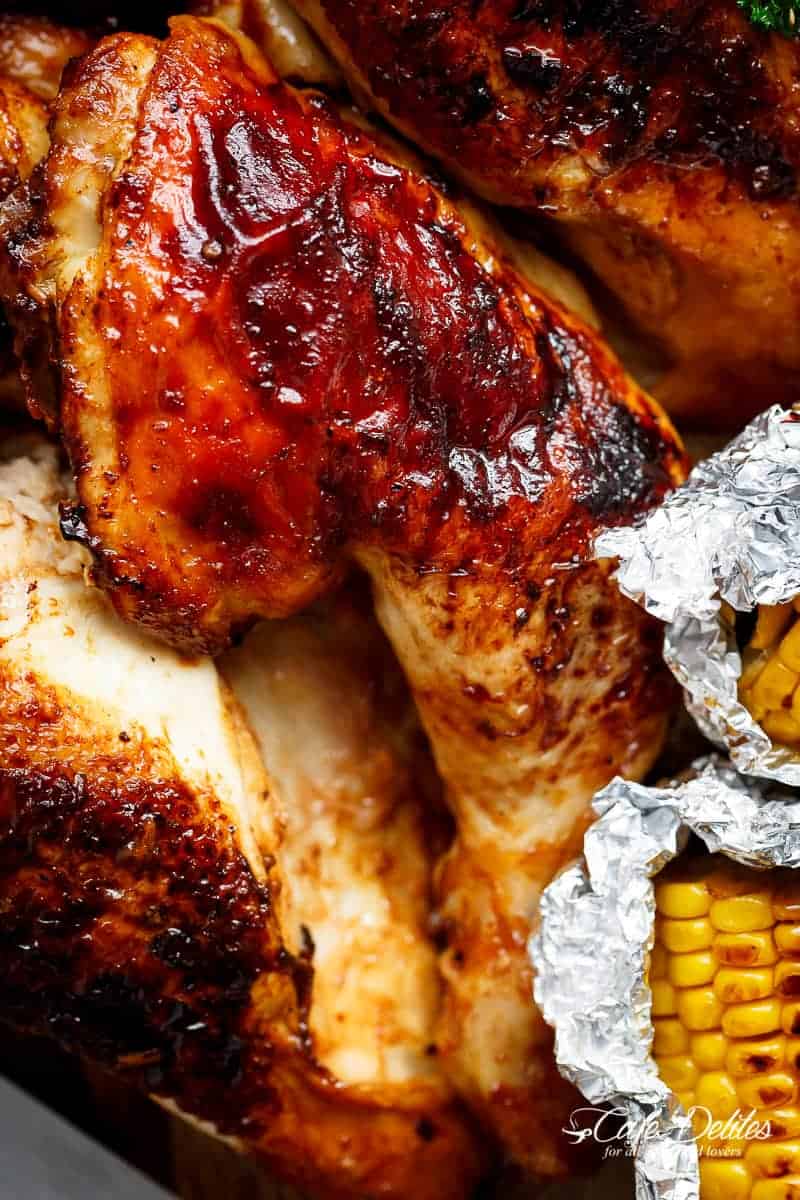 Studying the back of the bottle for days on end and testing and failing and testing AND FAILING 6 more times, I finally nailed it. Or, at least I've come close to it! Also, it wouldn't be Nando's chicken without the burst-in-your-mouth corn cobs as a side dish!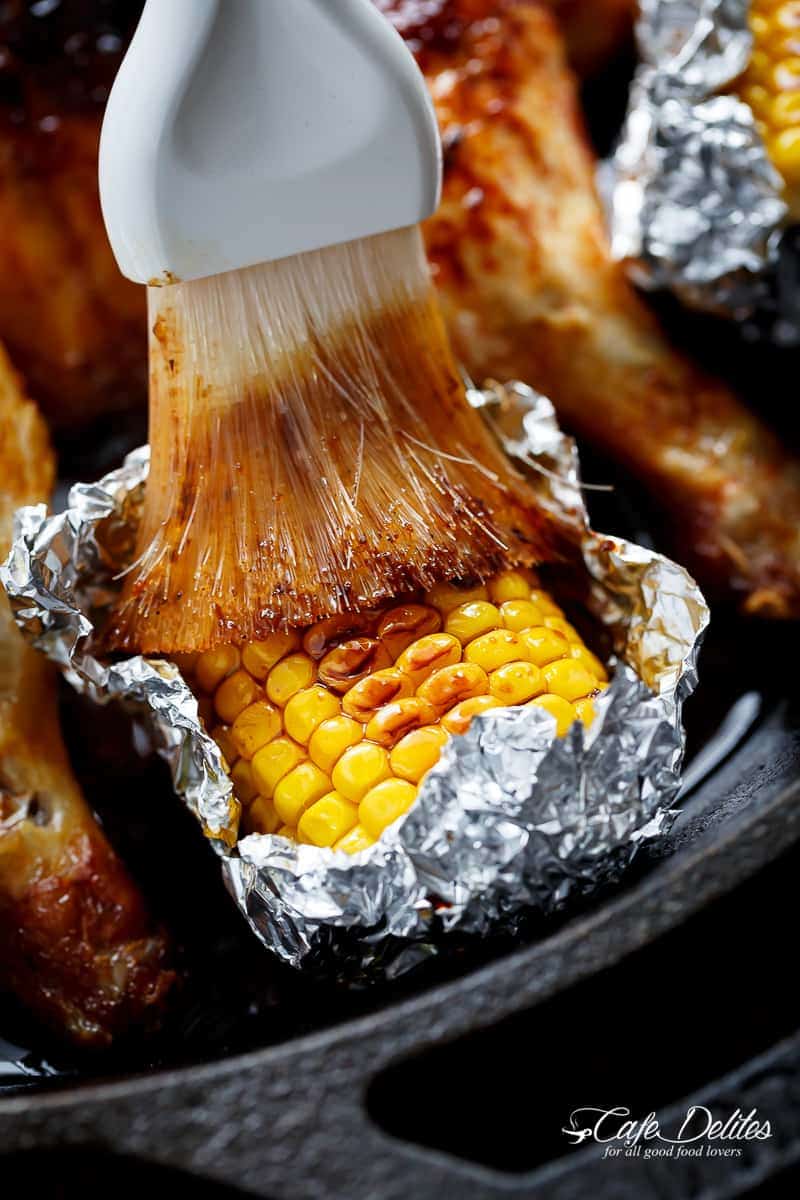 The secret is definitely in the sauce. I managed to include just about ALL of the ingredients on the back of that bottle except anything with numbers, and came upon a flavour so damn good, my whole family forced us to make this chicken 5 more times. You know, just to be sure, I guess.
I've included two cooking methods in the recipe. Both oven and barbecue methods are equally just as good. We tried both on our family and friends, and both methods were given the same thumbs up results.
I prefer barbecue because I LOVE BARBECUE flavours, BUT you can use your oven. Just sear your chicken in a skillet until nice and charred before putting it in the oven. I do NOT recommend broiling (or grilling) in the oven at the end of cooking time. We tried it and the sauce burned on the chicken — even after a minute on a low heat setting. However, you can try it at your own risk!
Let me know what you think if you try this Portuguese BBQ Peri Peri Chicken!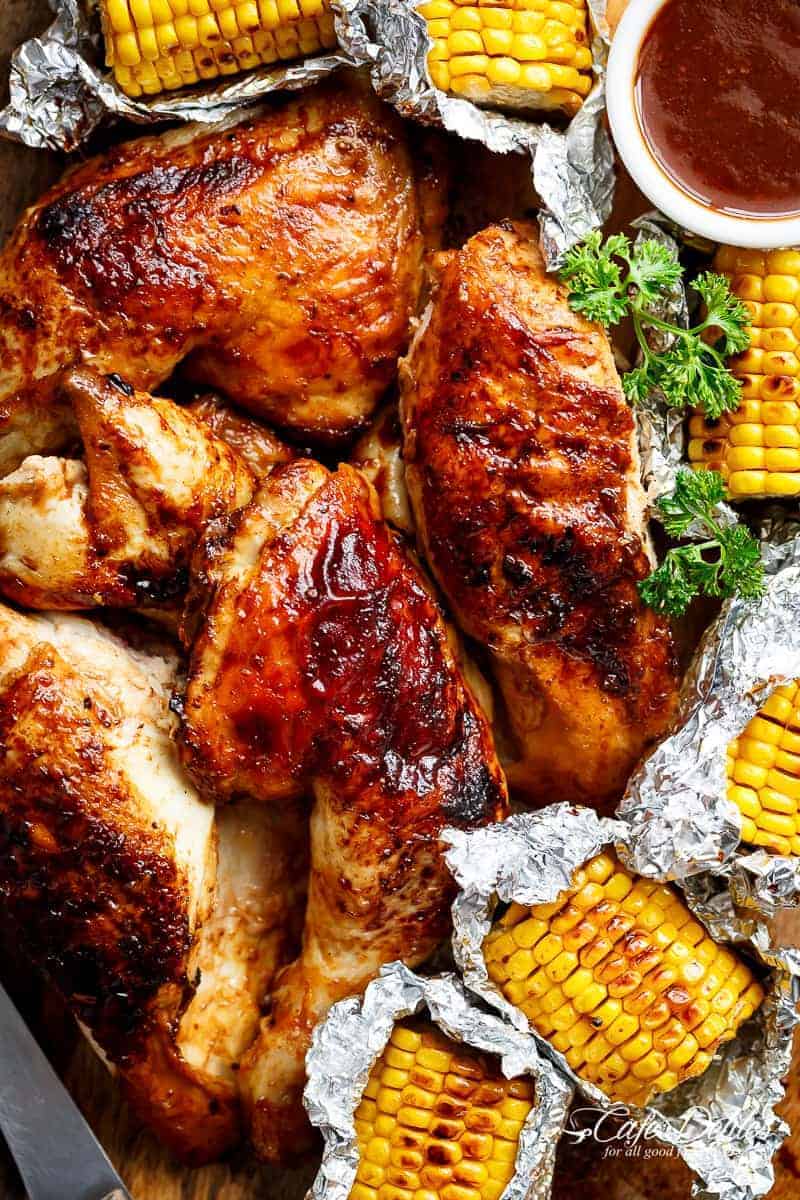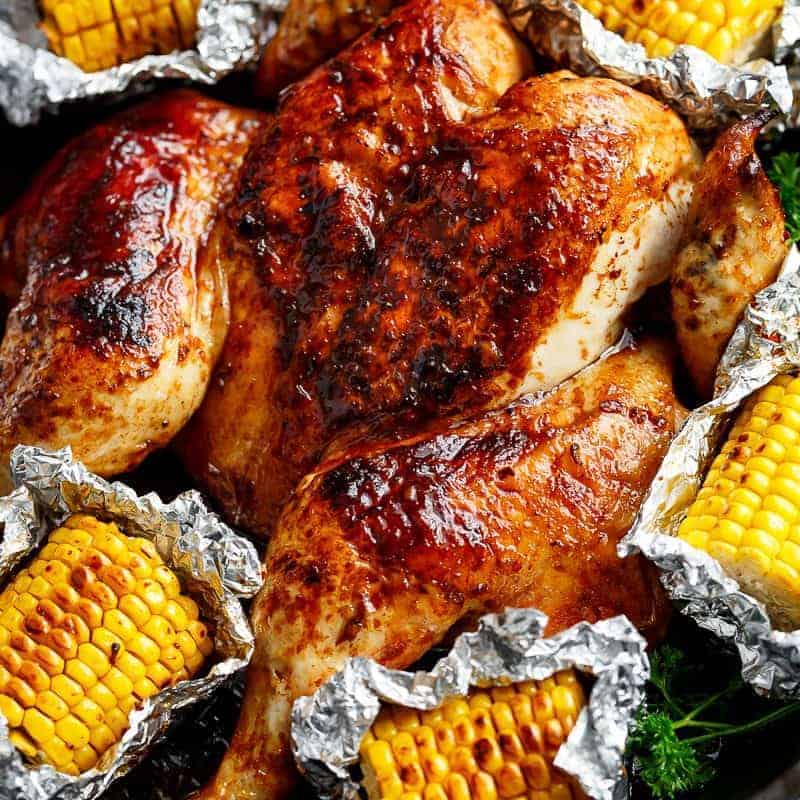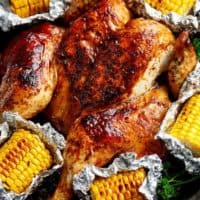 Portuguese BBQ Peri Peri Chicken (Homemade Nandos Recipe)
Bring your favourite Nando's chicken to the table with this Portuguese BBQ Peri Peri Chicken Recipe! PLUS the addition of juicy corn cobs in foil packets! AN ORIGINAL CAFE DELITES RECIPE, INSPIRED BY NANDO'S BBQ CHICKEN AND MARINADE!
PRINT
SAVE
go to your favorites
Ingredients
For The Marinade:
1/2

cup

vegetable oil

1/3

cup

BBQ sauce

3

tablespoons

Worcestershire sauce

2

tablespoons

minced garlic

1

tablespoon

onion powder

2

teaspoons

fresh squeezed lemon juice

(optional)

2-4

teaspoons

sriracha*

1

teaspoon

yellow mustard

2

teaspoons

salt

Cracked black pepper

, to taste (optional)
Chicken:
3-4

pounds

(or 1 1/2kg to 2kg) whole chicken (Butterflied is preferred)

Salt and pepper to season
Corn (OPTIONAL):
6

corn cobs

3

teaspoons

butter

(optional)
Instructions
Mix all of the marinade ingredients (except for the Sriracha) together until well combined. Mix in 2-4 teaspoons of Sriracha, taste test, and work up from there until reaching your desired level of heat (or leave it out all together if you don't want any spice at all).

Using 3/4 of the marinade, coat the chicken evenly on the outside, as well as under the skin where possible (the breast especially), until fully coated in sauce. Cover with plastic wrap and refrigerate over night if time allows. (I recommend a minimum marinade time of two hours for this chicken. The longer you leave it, the better the flavours.)
FOR THE OVEN:
When ready to cook, arrange oven shelf to the middle of the oven, and preheat to 470°F | 245°C.

Remove the chicken from the refrigerator and let it sit on a bench top for 20 minutes, or just enough time to take the chill out of the chicken. (I find 20 minutes plenty of time. Don't leave it any longer than half an hour at room temperature.)

Heat 2 tablespoons of oil in an oven proof pan or well seasoned skillet over medium heat. When pan is hot, place the chicken, breast-side down into the pan, and sear for a good 5-6 minutes, until the skin becomes golden browned. Flip and sear on the other side for a further 5 minutes.

Add 2 more tablespoons of vegetable oil to the remaining marinade, and pour half of it over the chicken. Use a basting brush to coat evenly.

Place the chicken in the preheated oven, and cook for 20 minutes. Reduce heat down to 400°F (200°C) and roast for a further 35-40 minutes, or until cooked right through to the centre and juices run clear.

(If serving with the corn: completely wrap each cob in foil large enough to cover them, and add the corn foil packets to the same pan as the chicken, half way through cooking time (after 30 minutes). If your pan is too small, arrange them on another pan. They only need 30-35 minutes of cooking time.) Once corn is done, dollop with 1/2 teaspoon of butter per cob (optional).

Once the chicken is done, baste with the pan drippings and serve with any remaining UNTOUCHED marinade to use as a dipping sauce.

Serve with the corn!
FOR THE BBQ:
Place chicken on well-greased grill over medium heat, skin-side down, for 10-12 minutes, until the skin begins to have a nice char on it. Add 2 more tablespoons of vegetable oil to the remaining marinade. Flip and baste with a small amount of sauce (not too much or it will burn on your grill plates). Close barbecue lid and cook for 40-45 minutes, flipping once or twice while cooking, until chicken is completely cooked through and juices run clear.

Follow corn foil instructions above. Place corn foil packets on the grill halfway through chicken cook time (after 30 minutes), turning the corn every 5 minutes or so to ensure an even char.
Notes
*I use Sriracha because it's the easiest chili sauce found for readers worldwide. If you can find peri peri (or piri piri sauce), please use that instead.
2 teaspoons of Sriracha yields a very mild spicy result. So mild we could hardly taste it. Feel free to leave it out if you have doubts, but we love it in there for the flavour enhancement. For a good kick of spice, 1-2 tablespoons is a good start. I started with 2 teaspoons, taste tested, and added extra teaspoonfuls from there until reaching our desired spice level (we loved ours at 1 1/2 tablespoons of Sriracha). For an extremely HOT marinade, add in 3-4 tablespoons. When taste testing, the marinade will be strong. Don't worry, and please don't add any water to dilute it. It will dilute naturally in the oven when cooking through the pan drippings.
**COOK time does not include Marinating time
Nutrition
Calories:
529
kcal
|
Carbohydrates:
26
g
|
Protein:
23
g
|
Fat:
37
g
|
Saturated Fat:
21
g
|
Cholesterol:
87
mg
|
Sodium:
1175
mg
|
Potassium:
575
mg
|
Fiber:
2
g
|
Sugar:
11
g
|
Vitamin A:
420
IU
|
Vitamin C:
12
mg
|
Calcium:
37
mg
|
Iron:
2.1
mg