Peanut Butter Chocolate Chip Banana Bread – The Low Fat Way
The perfect addition to fluffy and sweet Banana Bread would have to be peanut butter and chocolate chips. Theeee best. With a chocolate peanut butter topping, you'll be reaching for more than three slices. And you can. Because this has half the fat than regular cakes…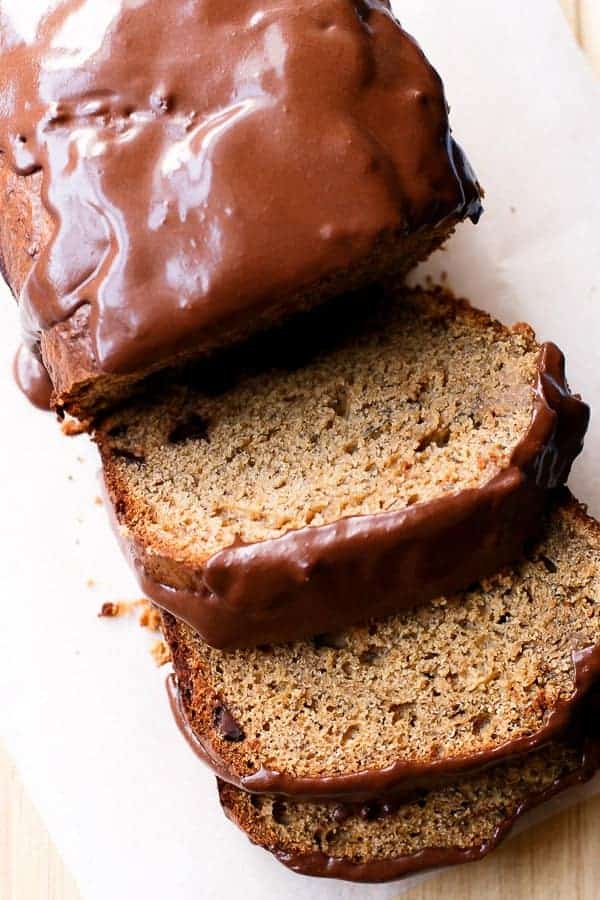 And if you don't like peanut butter, chocolate AND banana all in one sentence, then whaaaatttt?
That combination was my all time favourite breakfast on toast. Or bread. Or crackers. Anything I could find in the cupboard raiding my house — smearing peanut butter on it — sprinkling chocco chips on it — and drizzling a leeeedle honey on it — to make the perfect concoction of all time.
And you guys may remember, I kinda already hit the peanut butter chocolate craving with Chocolate Peanut Butter Cup Brownies, Chocolate Peanut Butter Cup Crepes and Chocolate Peanut Butter Cheesecake Brownies. Then, there are all of those Banana chocolate peanut butter infusions with that fudg-y-licious Chocolate Peanut Butter Banana Bread, and those Banana Blondies with peanut butter and chocolate chips recipes. Yes. I'm an addict.
This Banana Bread was a mix of fluffy cake and bread; just how I wanted it.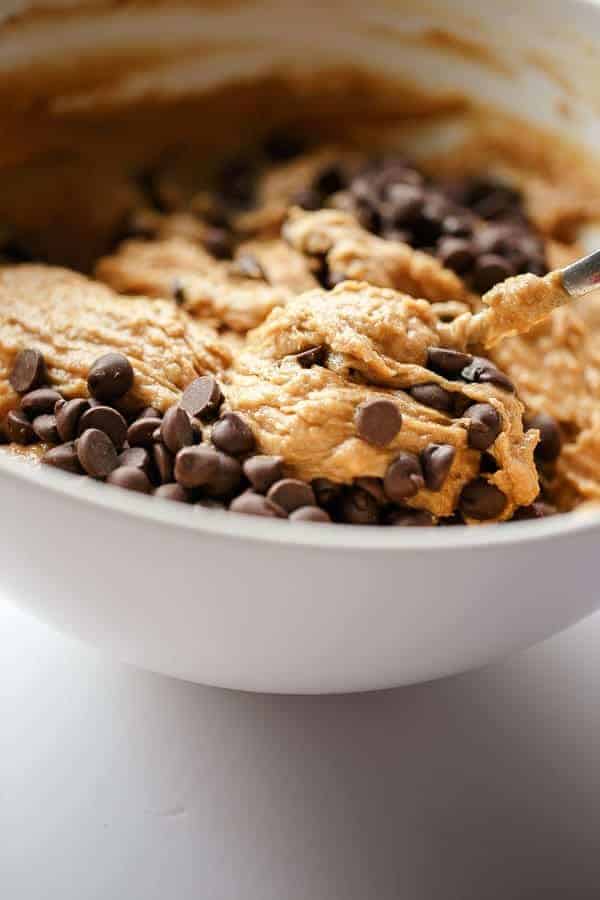 And adding chocolate chips to anything soothes the soul and makes everything better.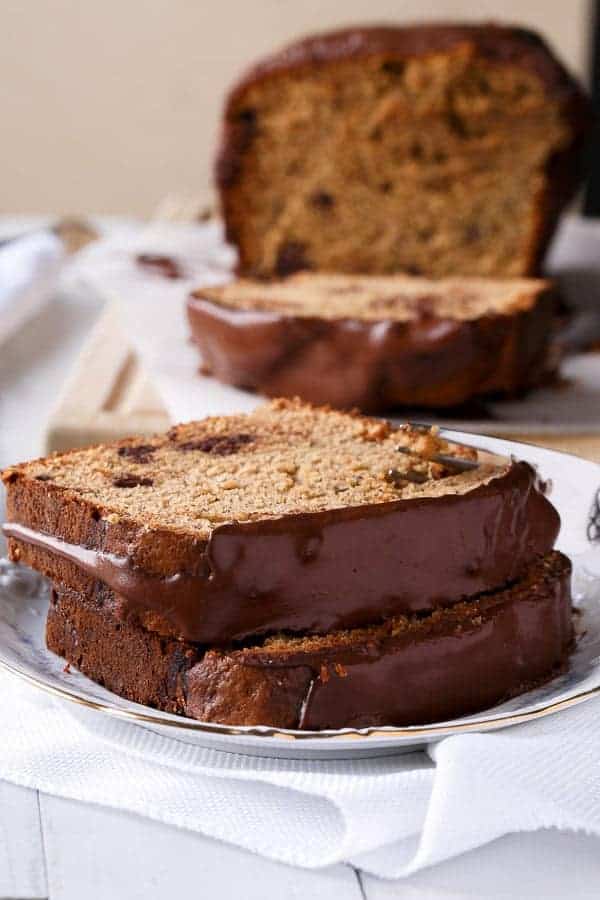 So… I believe you guys got a sneaky peek preview of how my blog posts come together.. My daughter hit the publish button while I was busy with my son. Aaaahh the joys!
Also, I have a confession to make. I've had a macro lens lying around for a while now since buying my Canon 6D, but I've been so scared to use it, sticking to my best friend the Canon 50mm f/1.4, until finally today, I pulled up my big girl pants and just tried it out. Well. I'm in love. This would have to be the best present I've ever had in my life. Thank you husband.
Which one is it? The Canon EF 100mm f/2.8L IS USM Macro Lens.
And taking shots with it is a dreeeeam! The reason I mention it it because I get so many messages on my Instagram page and through this blog about what lens, camera and lighting I use, so I thought I'd cover it here quickly before moving on to the best Banana Bread of mankind.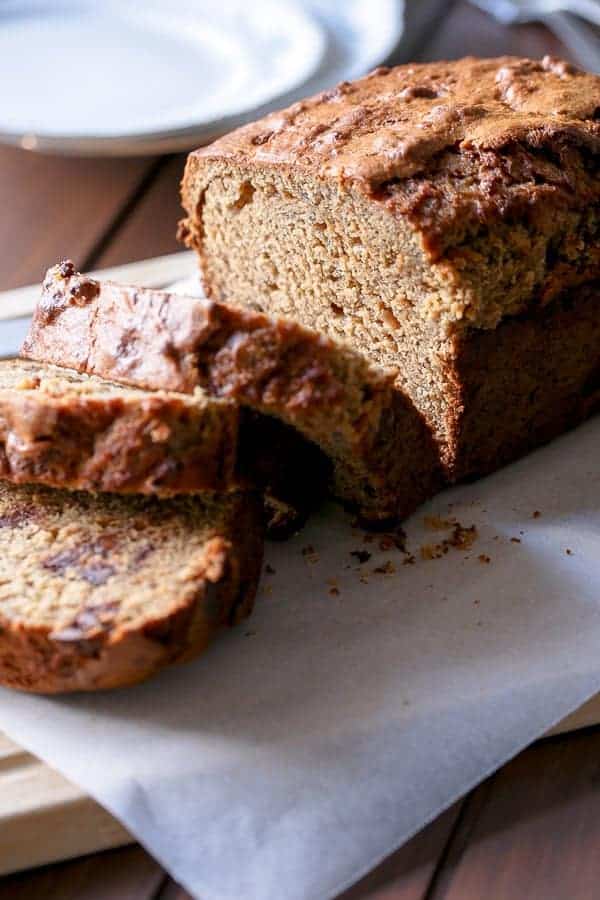 I use natural light next to a window. That's it. No lighting set up. I love natural light.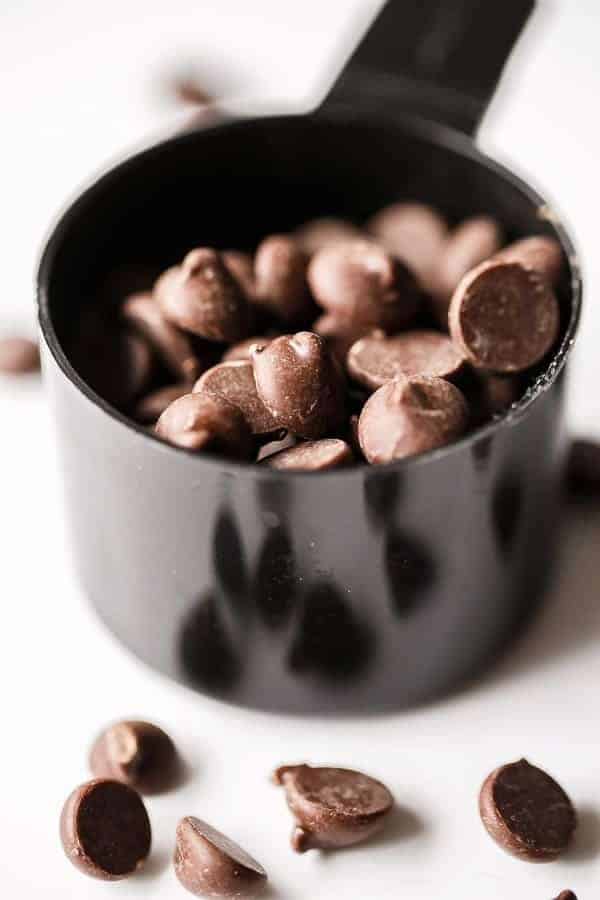 Anyway — back to this CAKE!
Ohhhhh this cake!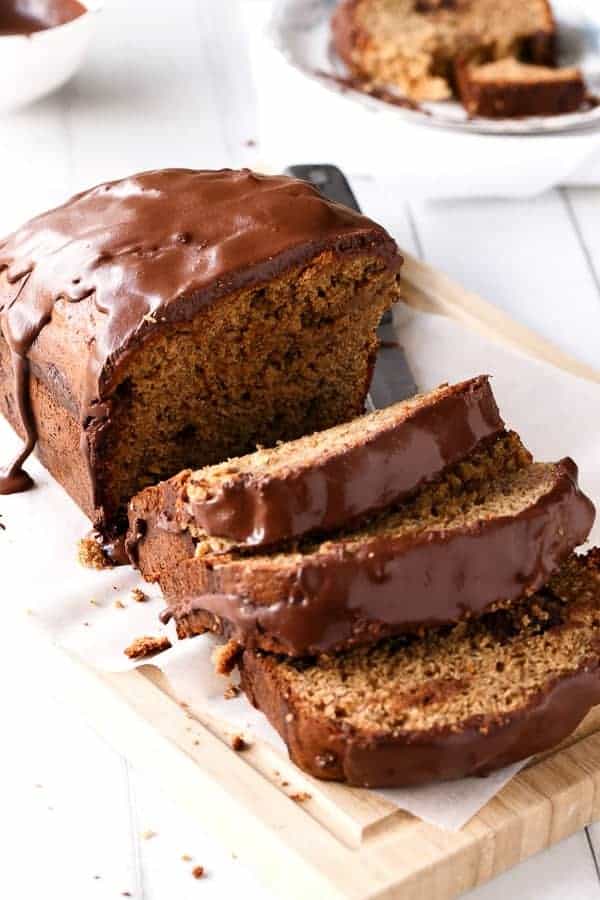 The peanut butter flavour is so smooth and comes through in the perfect amount in this bread/cake/concoction.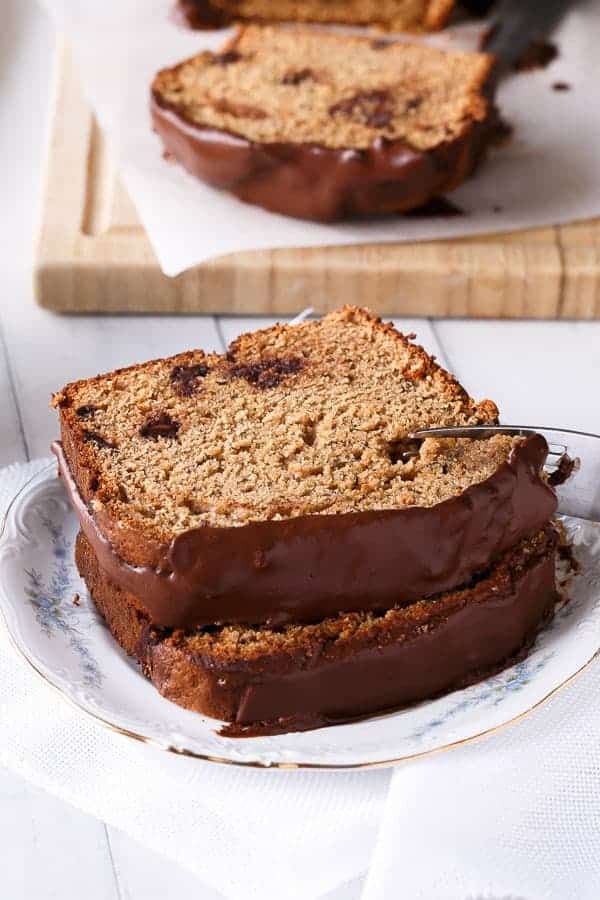 The subtleness of the honey, and the richness of the chocolate, and the chocolate peanut butter topping is just oh-so-rediculous!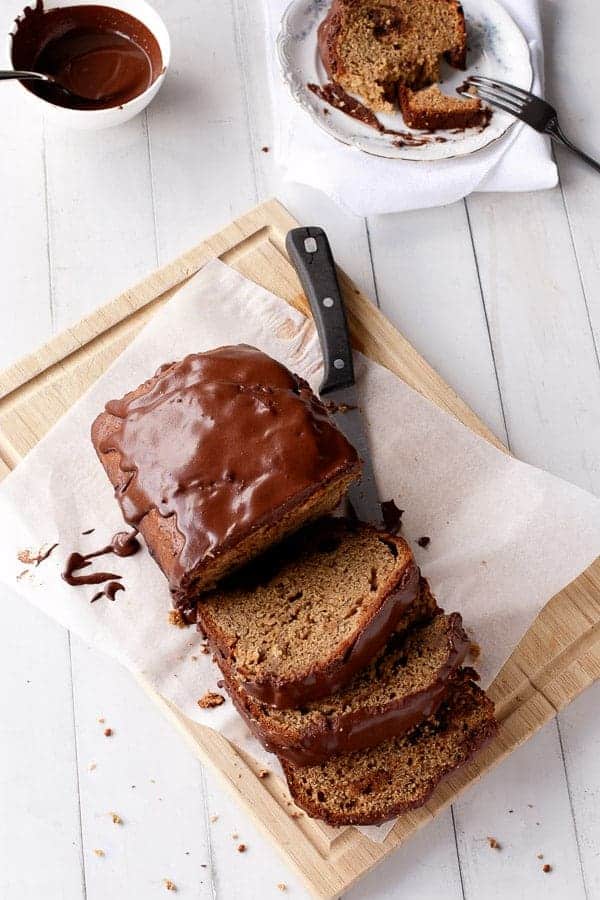 What makes this special is the powdered peanut butter, but having said that, you can totally make this with regular peanut butter. Totally.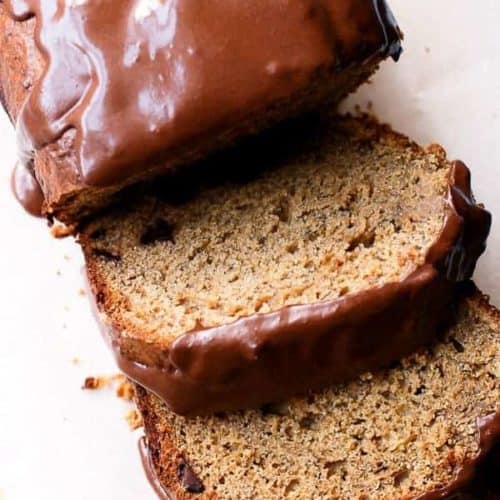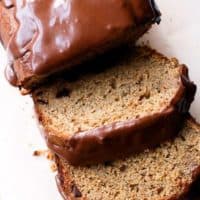 Chocolate Peanut Butter Banana Bread
A fluffy and sweet Banana Bread full of peanut butter flavour and chocolate chips! The best combination. With a chocolate peanut butter topping, you'll be reaching for more than three slices. And you can. Because this has half the fat than regular cakes.
Weight Watchers: 5pp per slice!
PRINT
SAVE
go to your favorites
Ingredients
Banana Bread:
1/2

cup

butter

, softened

1

cup

(175g) brown sugar (or natural sweetener to reduce calorie amount)

2

teaspoons

vanilla extract

2

eggs

3

bananas

, mashed

½

cup

powdered peanut butter

(to keep calories and fat content low) or normal peanut butter

2

cups

light spelt flour

(or plain/all-purpose) flour

2

teaspoons

baking powder

1

teaspoon

bicarbonate of soda

4

tablespoons

honey

1/2

cup

dark/semi sweet chocolate chips
Chocolate Peanut Butter Topping:
4

tablespoons

unsweetened cocoa powder

2

tablespoons

powdered peanut butter or normal peanut butter

3

tablespoons

sugar of choice or natural sweetener

6-8

tablespoons

warm water

(more if you need it)
Instructions
Preheat oven to 175°C (350°F). Lightly grease a

loaf cake pan

with cooking oil spray, wiping over the excess with a paper towel and set aside.

Combine butter, sugar and vanilla in a large bowl and whisk until light in colour and creamy. Beat in the eggs and beat well until combined. Add the mashed banana, powdered (or normal) peanut butter, flour, baking powder, bicarbonate of soda and honey and stir gently until batter is combined, but don't over beat. Pour batter into prepared loaf cake pan and bake for 55-60 minutes or until firm to the touch and cooked through when tested with a toothpick.

Cool in the tin for 15 - 20 minutes before turning out onto a wire rack to cool completely.

To make frosting: combine all topping ingredients together (it helps when the water is warm), and mix until smooth. Add tablespoon amounts of extra water to reach the consistency you like.
Nutrition
Calories:
228
kcal
|
Carbohydrates:
32.1
g
|
Protein:
4.2
g
|
Fat:
6.8
g
|
Fiber:
2.8
g