Orange Creme Caramel with Toffee Shards (Orange Caramel Flan)
A Creme Caramel recipe passed on in our family, served at every christmas, with a hint of orange flavour and sticky toffee pieces…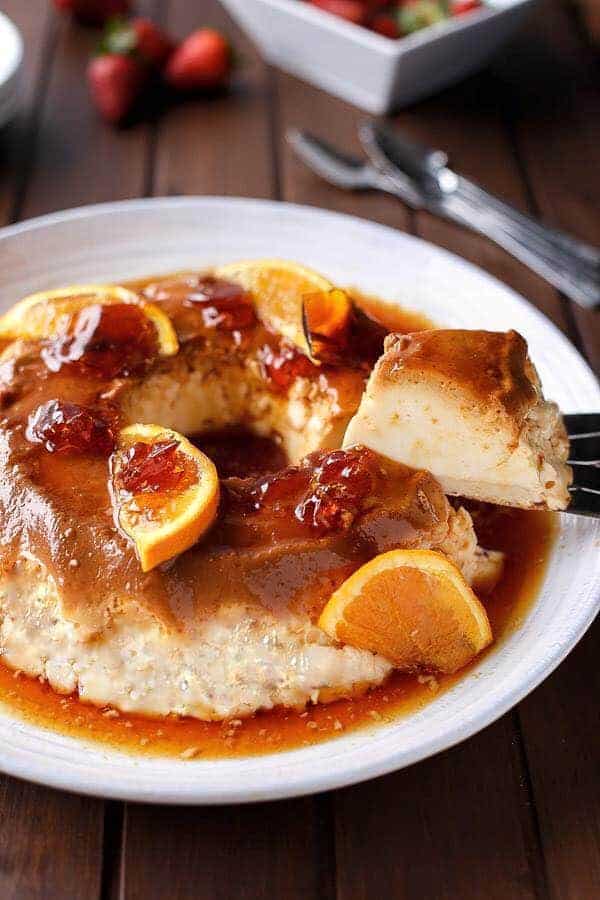 I am so proud of this dessert. Not just because it's a hit; a guest favourite and a family recipe that has everyone knocking down our door when we make it…but because crunchy toffee pieces and custard make such a beautiful dessert — it feels like you're dining in a five start cuisine restaurant instead of your dining room table. And that's always a win-win situation, right?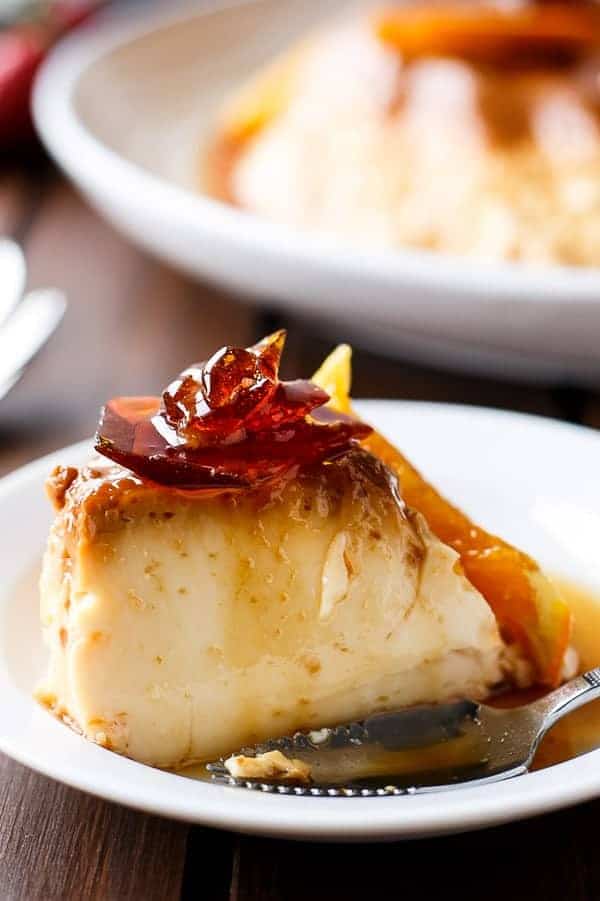 The art of making this beautiful dessert is a little involved, but so worth the process. I mean, who doesn't love caramel? Or custard even?
And I gotta say, 1 000, 000 times better than store bought Creme Caramel cups, the flavour in this flan is so good, we never have any complaints. Ever.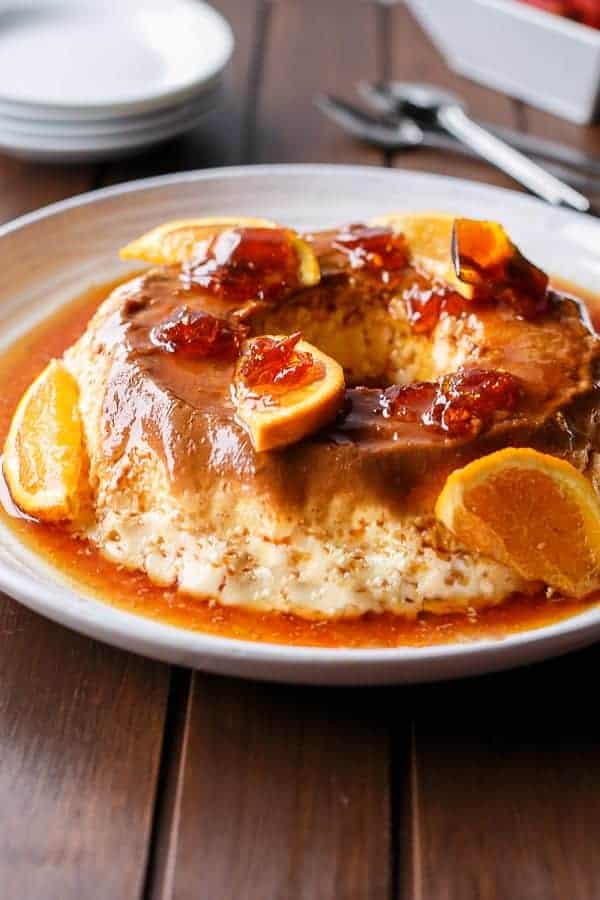 There are mainly three steps with the whole process:
1. Coating the pan with caramel…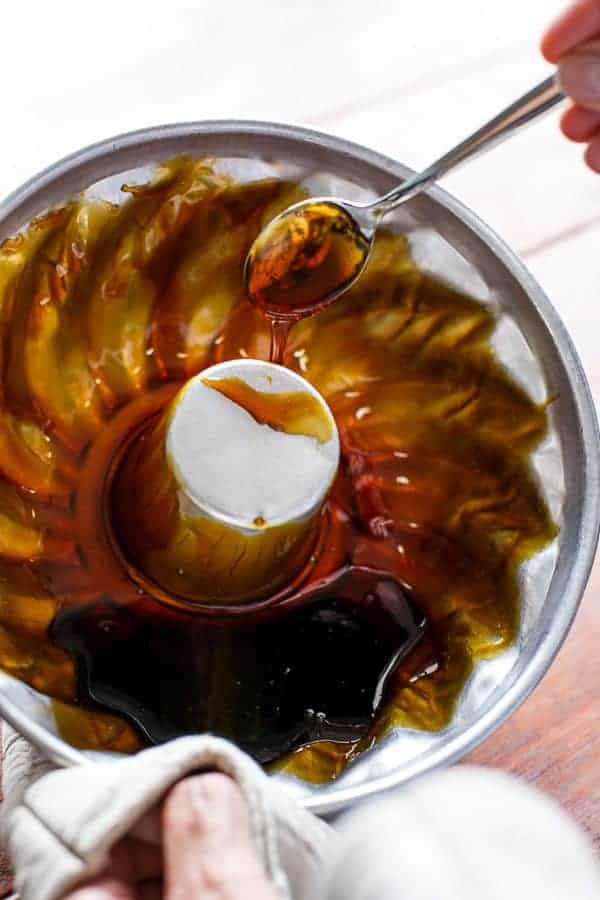 2. Straining the custard mixture, with the mouth-watering vanilla and orange scents…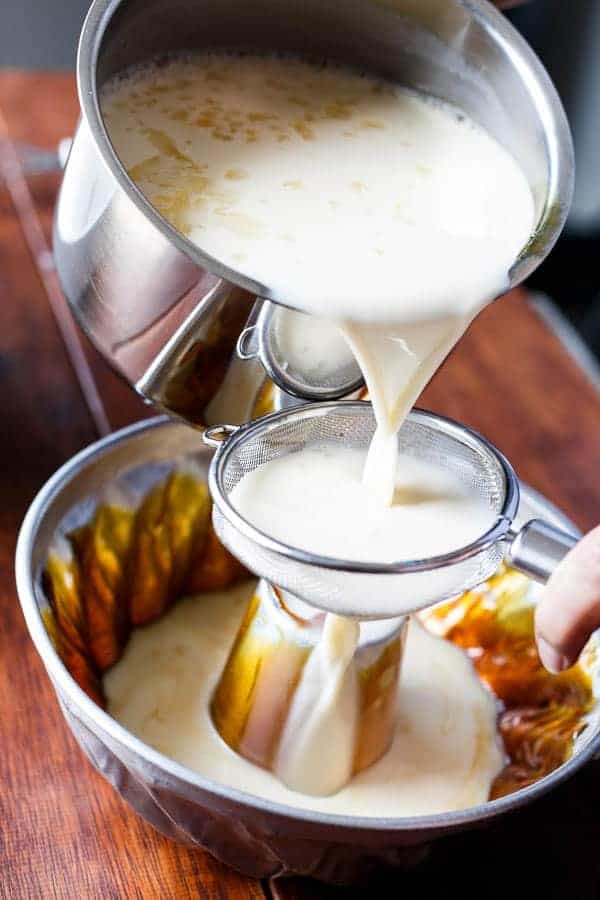 3. Baking the flan in an oven tray filled with water for the best results.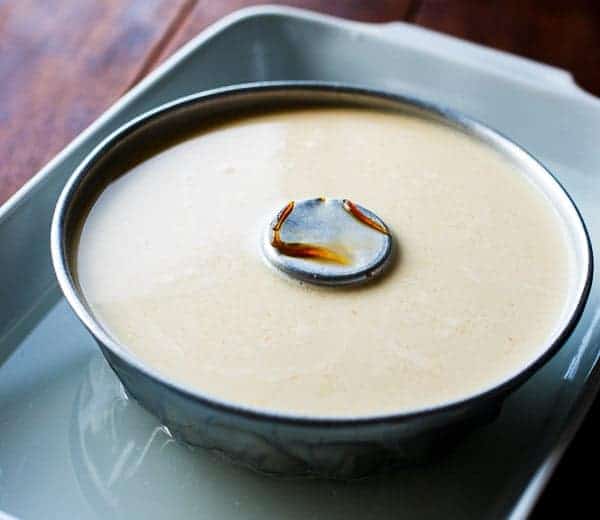 Waiting overnight is probably the hardest part after baking, as you will most definitely want to pull this apart as soon as it's out of the oven, BUT, over-night refrigerating allows the caramel to set in such a way that you're guaranteed a beautiful winning dessert putting smiles on everyones faces this Christmas.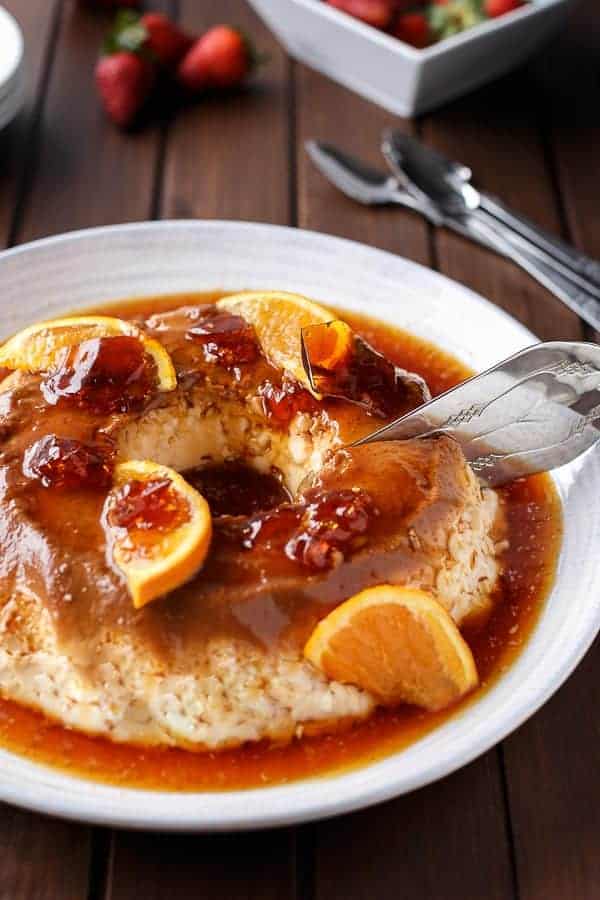 This was, and still is, the way we celebrate Christmas.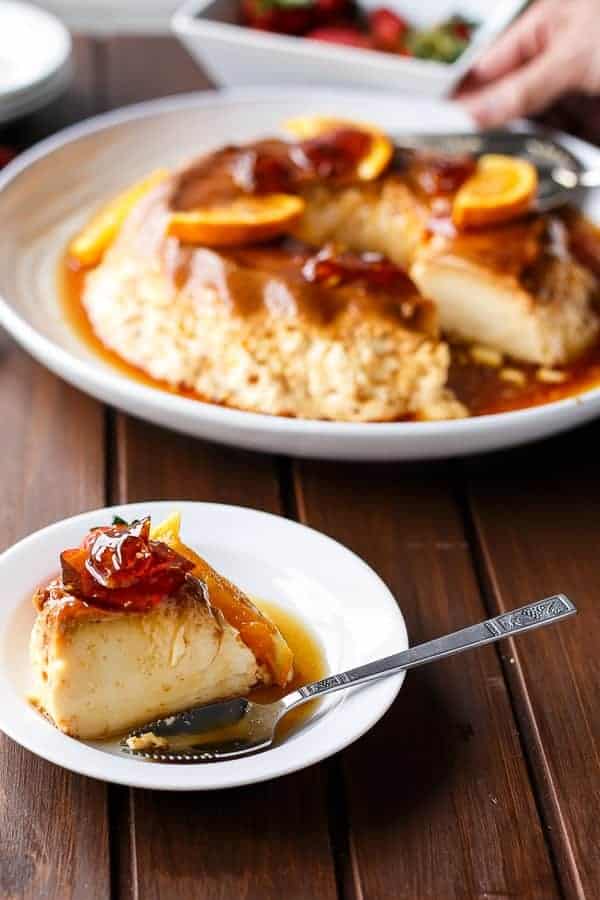 So, from my table to yours, have a wonderful, safe and joyous Christmas everyone!
Enjoy this flan…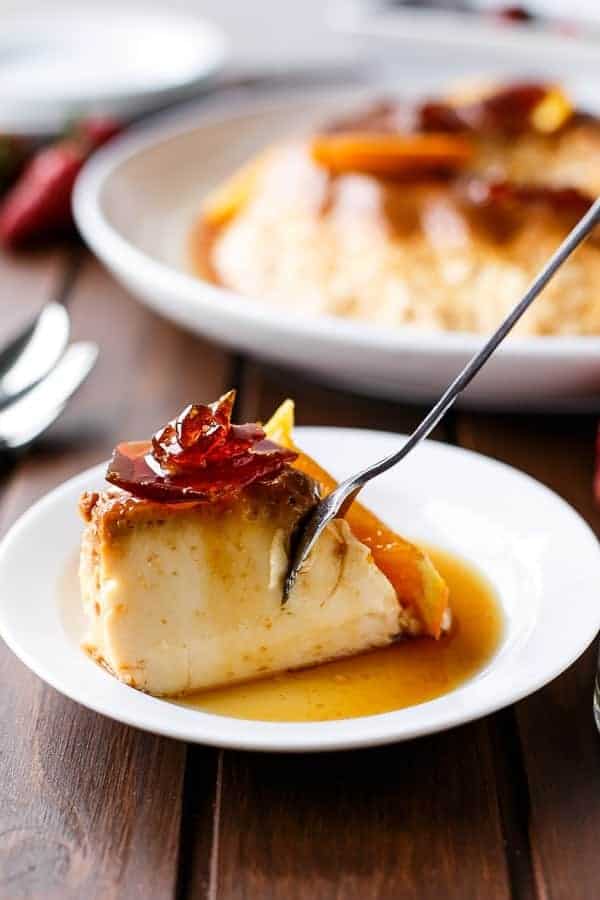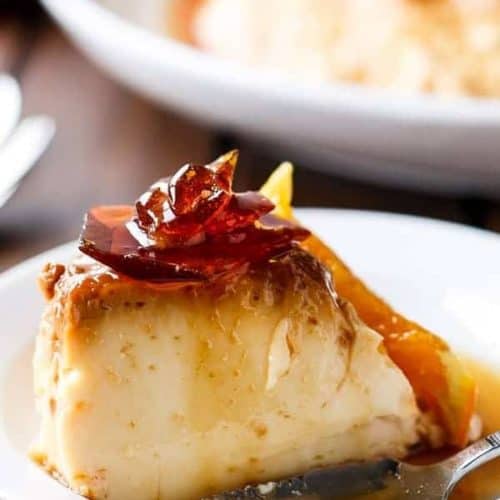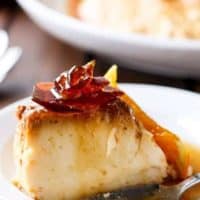 Orange Creme Caramel with Toffee Shards (Orange Caramel Flan)
A Creme Caramel recipe served at every christmas, with a hint of orange flavour and sticky toffee pieces...

Weight Watchers: 5pp per slice
PRINT
SAVE
go to your favorites
Ingredients
Caramel:
1

cup

granulated sugar

1/4

cup

water
Flan:
5

cups

milk

1

cup

sugar

1/2

teaspoon

salt

1

tablespoon

pure vanilla extract

6

large eggs

, room temperature

3

orange peel strips
Instructions
Caramel:
Combine sugar and water in a saucepan over medium-low heat. Bring to a simmer, stirring constantly until sugar dissolves and mixture becomes a light brown syrup. Holding the handle of your pan, gently tilt the pan off the heat to distribute syrup evenly. Immediately pour into bundt pan or pie dish. Coat the base of the pan evenly by tilting the pan/dish and swirling the syrup around the base. Set aside and allow to cool.
Flan:
In a medium-sized saucepan, combine the milk, sugar and orange peel. Stir to dissolve the sugar in through the milk and bring to a slow simmer on medium-low heat. Allow milk to simmer for 20 minutes. Stir through the vanilla, remove milk from heat and allow to cool for an hour until completely cool.

Adjust oven rack to middle of the oven and preheat oven to 176C | 350F.

In a bowl, beat the eggs with a hand-held mixer at medium speed for about 3 minutes until light and fluffy.

Once the milk has completely cooled, remove orange peel and pour it through a fine strainer. Gradually beat the cooled strained milk in to the eggs. Beat on low speed until air bubbles are out. Pour flan mixture into pan/dish and place into a a larger oven-proof pan.

Pour hot water into the larger pan to within 1-inch of top of the flan pan/dish. Place pan on the middle rack of the oven. Bake 50 - 55 minutes or until set to the touch.

Remove from oven and leave in the water bath until cooled. Remove pan/dish from water and refrigerate overnight.

To unmold and serve, place serving plate (topside down) on top of flan. Flip the custard pan onto the plate and carefully lift off cake tin.

Break up toffee into pieces with a knife, and serve flan with toffee and (optional) orange slices.
Notes
© 2014 Cafe Delites. All rights reserved. All images & content are copyright protected. Please do not use my images without prior permission. If you want to republish this recipe, please provide a link back to this post for the original recipe.
Nutrition
Calories:
166
kcal
|
Carbohydrates:
28
g
|
Protein:
5
g
|
Fat:
4.6
g
|
Sugar:
27.8
g