Julia Child's Creamy Chicken + Mushroom (also known as Supremes De Volaille Aux Champignons) is now lightened up! It takes less than 30 minutes to have this gourmet meal at your table — in one skillet — without any guilt. Keep it low carb and serve this over Zoodles or Cauliflower Rice OR carb load it with pasta and normal rice! The choice is yours.
If you haven't seen the movie Julie And Julia, it's a film about Julia Child's life in Paris in the 40's-50's, and a blogger/writer Julie Powell 50 years later, taking on the challenge of cooking every Julia Child recipe from her book Mastering the Art of French Cooking.
If you have seen it, you'll understand my dilemma. The whole movie left our stomach's growling and mouth watering, with the picture of a creamy chicken and mushroom burned into my subconscious.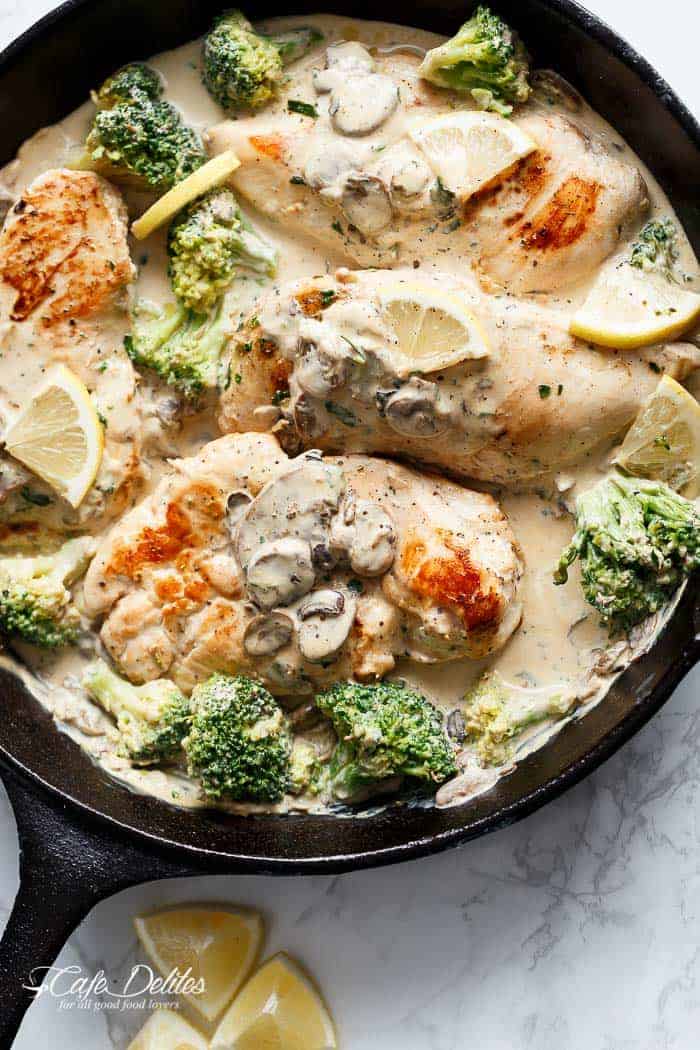 Beyond excited that I'd left out chicken breast early in the morning, I began exploring said recipe all over Google. Turns out, it's easier to find than I thought. (Of course. Julia Child is somewhat of an icon — the original Martha Stewart — only without a police record).

MY LATEST VIDEOS
MY LATEST VIDEOS
Immediately browsing her recipe, I knew you would want this chicken just as much as I did, with half of the calories. In comes my version. The recipe does include Julia's original ingredients and method, plus my substitutions and the addition of broccoli!
It was important to me to keep all of Julia's flavours. I never mess with a good thing when it's already GOOD. I do, however, like to lighten them up. Who's with me?
Start off by rubbing your chicken breasts with lemon juice and seasoning.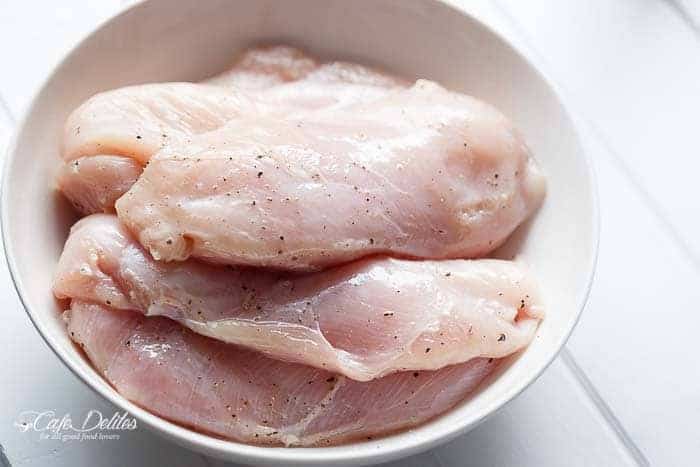 Melt butter until frothy. Add your shallots (green onions), sautéing for a couple of minutes before browning. Yes, Julia. (I swear, it was like she was watching me, arms crossed and head held high.) Then add mushrooms and sauté lightly for a minute or two without browning.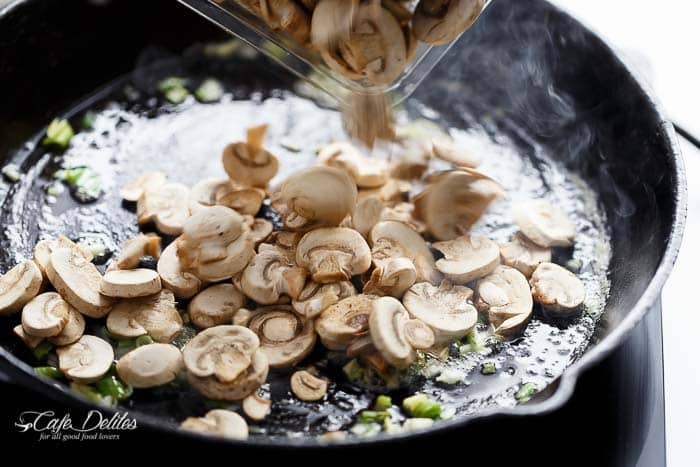 Roll the chicken in the butter mixture…cover pan and cook in your oven until done. (I cheated a little and fried my chicken on each side before placing in the oven, to get the fried flavours in there, but you can follow Julia in the recipe below.)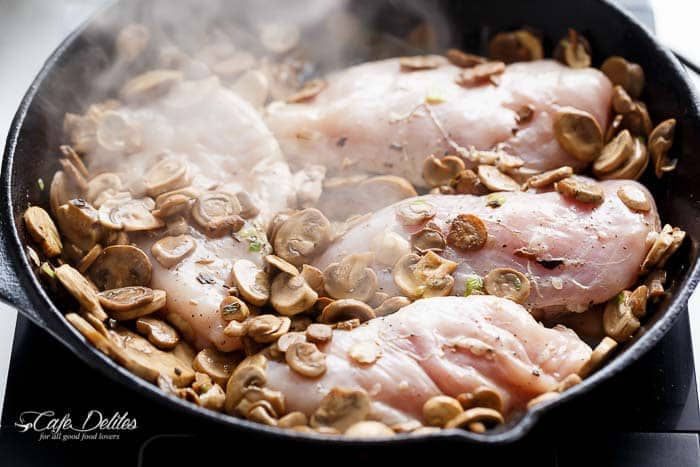 Remove chicken once they're cooked and continue with your sauce… Julia Child's recipe calls for 1 cup of whipping cream. As much as I love cream, I decided to sub that out and replace it with 1/2 cup cream cheese (reduced fat) and 1/2 cup unsweetened almond milk, to keep the calorie count low. However, you can use full fat ingredients OR follow Julia Child's recipe (in the recipe box below).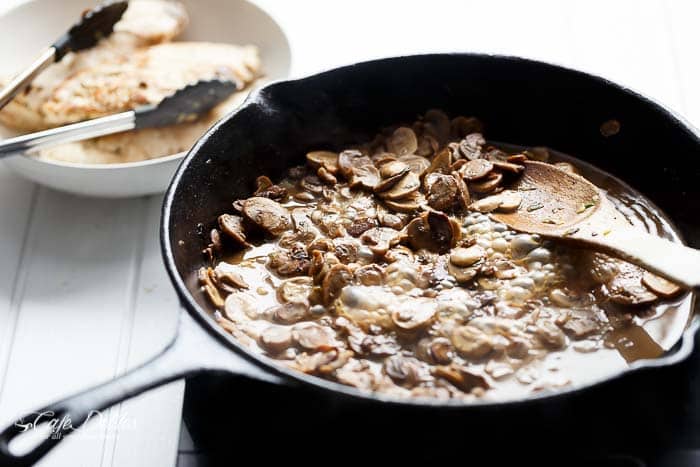 Until thick, creamy and heavenly, with the aromas of white wine and cream drifting around you. Another recipe I use cream cheese is Spinach And Artichoke Chicken Thighs. America's favourite dip made into chicken. HELLO. I added steamed broccoli florets into the skillet to get some vegetables onto my children's plates. And dinner was served. My favourite quote from the movie? "Well, what do you really like to do?" asks her husband, Paul. Julia responds, "Eat!" "And you do it so well." Ahhhh Julia. I feel you.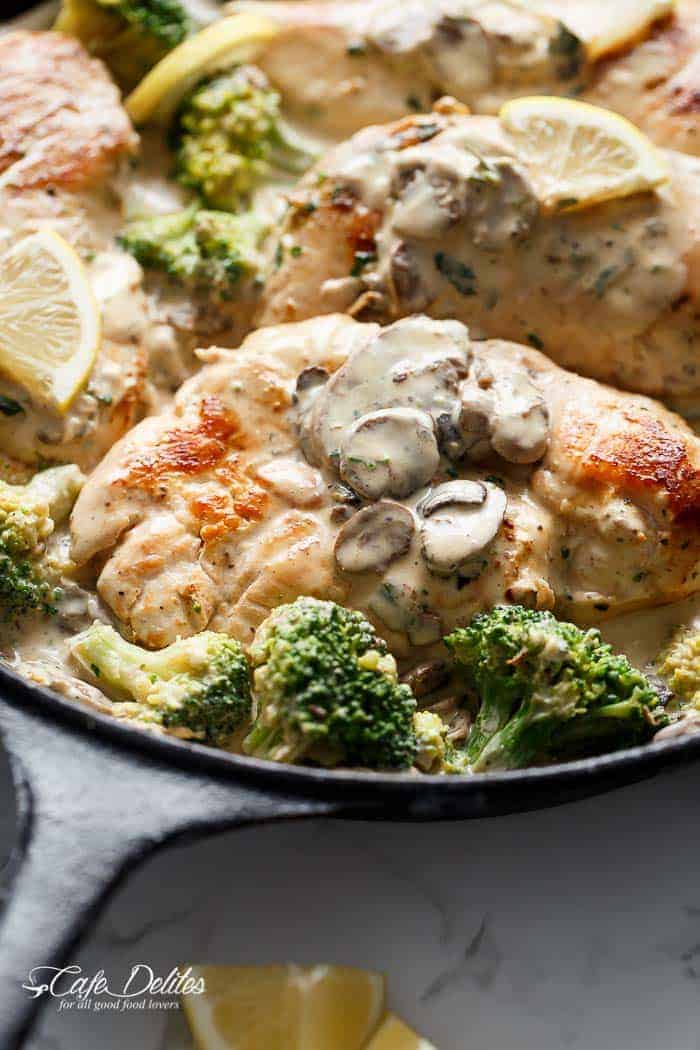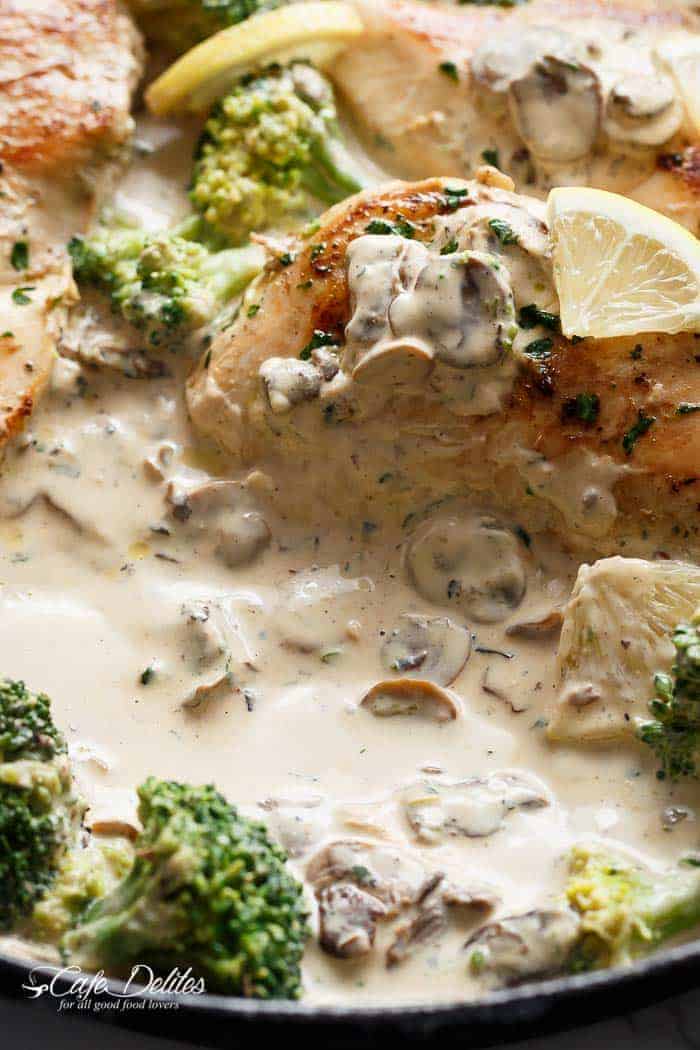 Do you see how creamy this sauce is? It may be lightened up BUT it's still thick and creamy! With all of the one pot recipes I have on here, THIS is one of my favourites! In the words of Julia: Bon Apetit!
REMEMBER TO SUBSCRIBE TO CAFE DELITES NEWSLETTER FOR FREE AND RECEIVE FRESH RECIPE NOTIFICATIONS DELIVERED INTO YOUR INBOX!
If you try a recipe, please use the hashtag #cafedelites on INSTAGRAM for a chance to be featured!
FOLLOW CAFE DELITES ON FACEBOOK, INSTAGRAM, PINTEREST AND TWITTER FOR ALL OF THE LATEST CONTENT, RECIPES AND UPDATES.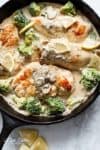 Julia Child's Creamy Chicken + Mushroom
Julia Child's Creamy Chicken + Mushroom (also known as Supremes De Volaille Aux Champignons) lightened up and cooked in one skillet! A gourmet meal ready in less than 30 minutes!
Weight Watchers Smart Points: 5 per serve
Ingredients
4

boneless and skinless medium-sized chicken breasts

1

teaspoon

lemon juice

(original recipe: 1/2 teaspoon)

1

⁄4 teaspoon salt

1

pinch pepper

2

tablespoons

reduced fat butter

(original recipe: 5 tablespoons full fat)

1

tablespoon

minced scallions/shallots or green onion

250

g

| 1⁄4 lb. sliced fresh mushrooms

1

⁄8 teaspoon salt
For the sauce:
1

⁄4 cup chicken stock

1

⁄4 cup port wine or dry white vermouth

1/2

cup

(125 g | 4 oz.) reduced fat cream cheese at room temperature (original recipe: 1 cup whipping cream)

1/2

cup

unsweetened plain almond milk or skim milk

(extra addition)

salt and pepper

2

tablespoons

freshly minced parsley

1-2

cups

broccoli

(extra addition), cut into florets and steamed (optional)
Instructions
Preheat oven to 200°C | 400°F degrees.

Rub the chicken breasts with drops of lemon juice and season lightly with salt and pepper. Heat the butter in a heavy, oven-proof casserole (I used a skillet), about 10 inches in diameter until it is foaming. Stir in the minced shallots or green onion and saute a moment without browning. Then stir in the mushrooms and saute lightly for a minute or two without browning. Sprinkle with salt.

Quickly roll the chicken in the butter mixture and lay a piece of buttered wax paper over them. Cover casserole (skillet) and place in hot oven. After 8-10 minutes, flip chicken and cook for another 8 minutes in the oven. Alternatively, brown chicken fillets on each side until golden; then cover and place into a preheated oven to continue cooking for a further 8 minutes until cooked through.

Remove the chicken to a warm platter (leave mushrooms in the pot) and cover while making the sauce.

To make sauce: pour the stock and wine in the skillet with the mushrooms. Boil down quickly over high heat until liquid is syrupy. Add in the cream cheese, breaking it down with your wooden spoon. Cook over low heat until it turns into a thick cream. Gradually add in the milk, 1/4 cup first, stirring through the cream until thickened. Repeat with remaining 1/4 cup of milk until the creamy sauce thickens (add a little more milk if the sauce is too thick). Off heat, taste for seasoning, and add drops of lemon juice to taste. Add in the broccoli (if including it) and pour the sauce over the chicken. Garnish with parsley and serve immediately.
Nutrition Facts
Julia Child's Creamy Chicken + Mushroom
Amount Per Serving
Calories 327.2
Calories from Fat 123
% Daily Value*
Total Fat 13.7g 21%
Cholesterol 2.45mg 1%
Total Carbohydrates 6.2g 2%
Protein 39.2g 78%
* Percent Daily Values are based on a 2000 calorie diet.
---