Chicken and Mushrooms in a Creamy White Wine Sauce
Pan fried chicken and mushrooms simmered in a simple, quick and easy creamy white wine Béchamel sauce on a Sunday night in front of trash TV while everyone is on their way home, ravishing in hunger, complaining they're starving as if they haven't eaten anything in their lives. Ever.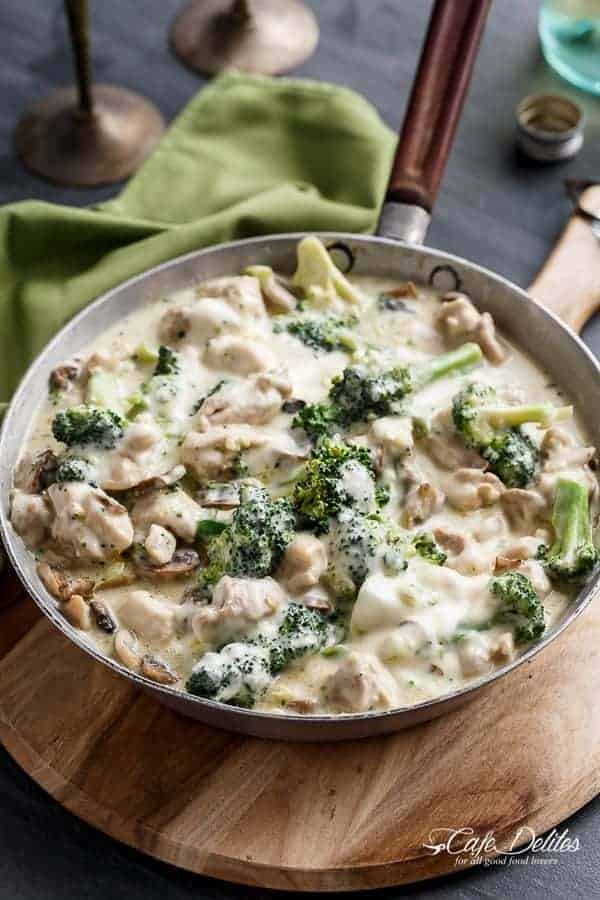 I have a confession. Again. This is one of those dinners that takes me about 15-20 minutes to make: from start to finish. It's my emergency go-to when the kids are screaming — okay, asking nicely with all manners intact — for heavy take-out pasta.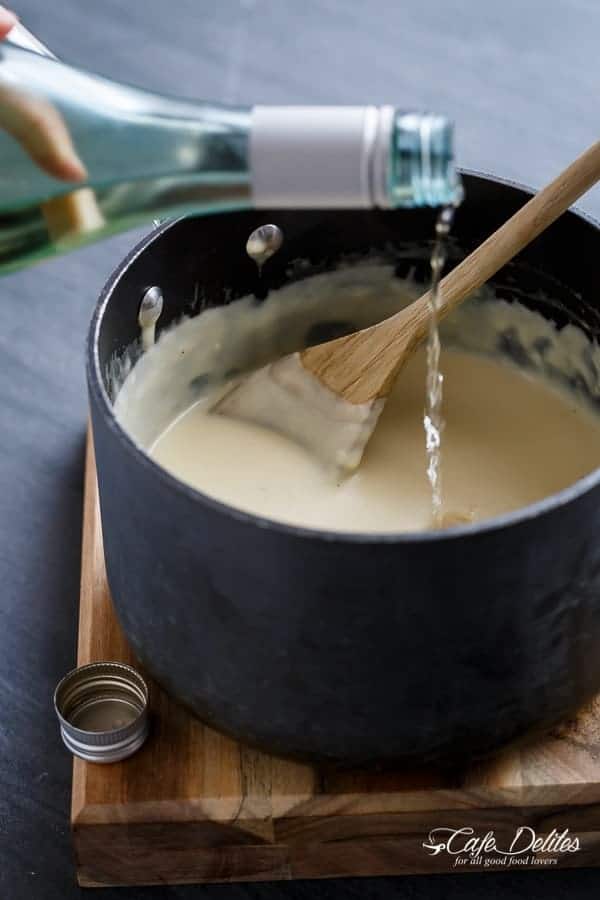 I know, it's probably not fair of me to give them this instead of the sometimes nauseating pasta we have bought twice, maybe three times before. But, I'm not exactly a fan of indigestion.
A reader from my Instagram account messaged me in private, asking if I had any creamy recipe ideas for her, dropping the subtle hint that she loves Béchamel sauce.
Game on.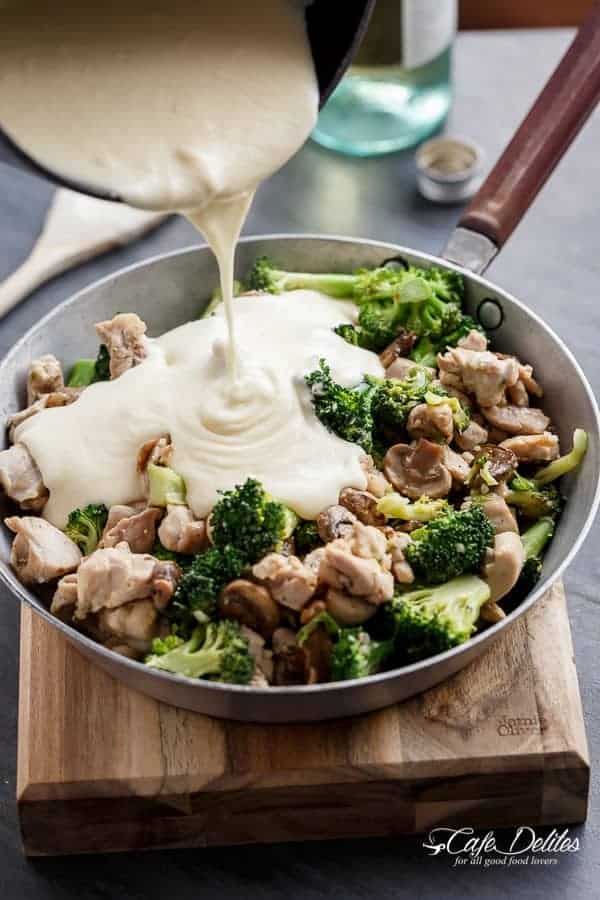 I used to hide from any recipes containing Béchamel sauce. So scared of it, because every single time I made it, it would come out with lumps of flour that would turn into a mortifying paste with every second-or-so mouthful. I'd have to strain it a few times just to get it to resemble a sauce. After 10 years of trial and error, I finally figured out what the problem was. (Well, my problem.) Not enough butter and too much flour. When mixing the paste right from the beginning, if it's too thick and almost crumbly, it just won't work. Maybe for a chef it would, but for my non-professional home cook person, it never did.
After some tears of frustration, and more times than I can count of disappointing dinners, I finally finally figured it out. Seriously Karina? Seriously? MORE BUTTER! (Yes, I did yell this at myself.) The moment of clarity was like winning a Lamborghini . Okay, so maybe I'll need to win one first to actually be able to compare it, but you get my drift.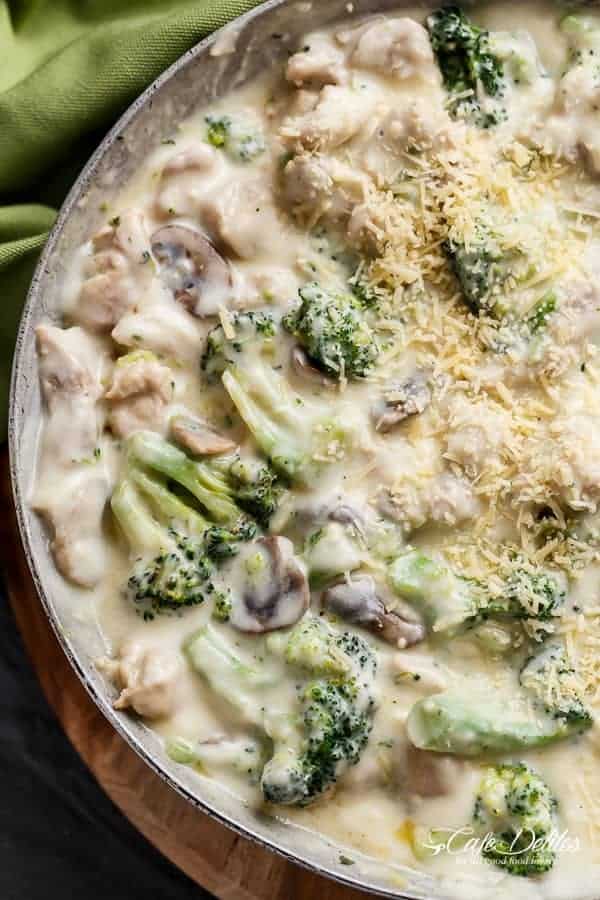 Long story short, this is my secret weapon when I don't have any cream lying around. Thick and creamy white sauce, spiked with a hit of white wine, garlic and parmesan cheese. There's nothing like watching your kids burst through the front door; run through the house only to stop with full brakes and ask, "Um, what's that smelllll? What are you cooking? Is it ready? I WANT SOME!" And then to see them inhale their food, stopping with 'mmmm's' and savouring every creamy mouthful.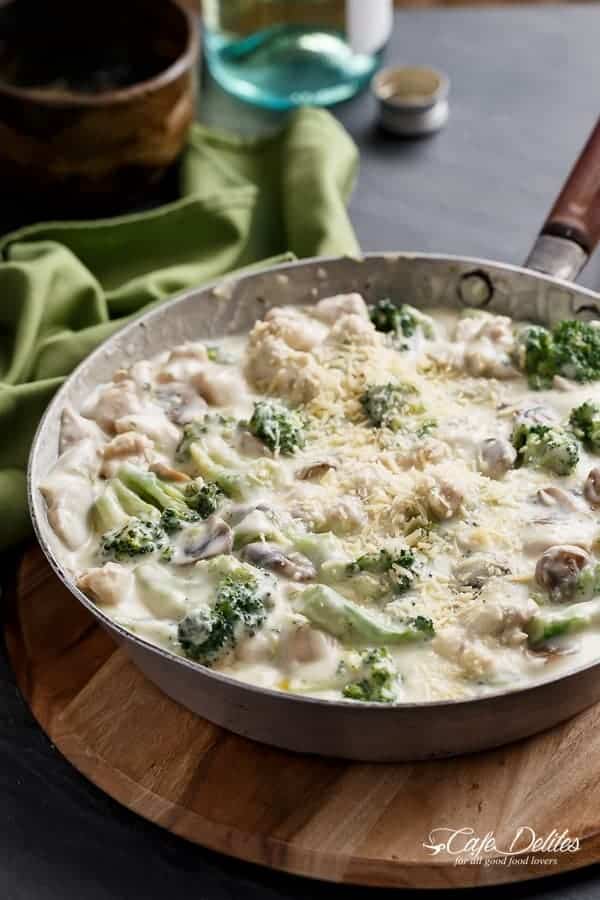 Best feeling in the world.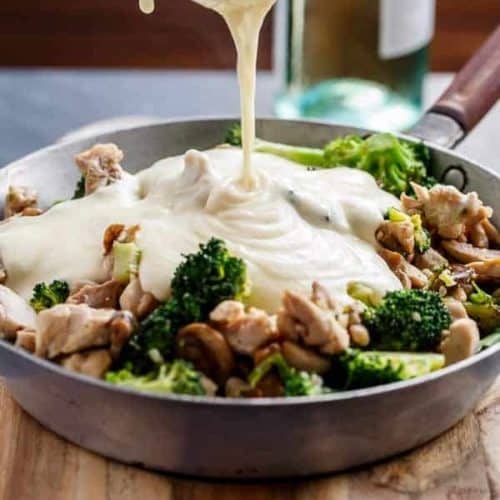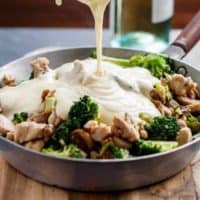 Ingredients
2

teaspoons

olive oil

600

g

| 21oz skinless chicken thigh fillets

, cubed

1

head of broccoli

, cut into florets

200

g

| 7oz sliced mushrooms

4

garlic cloves

, crushed

3

tablespoons

butter

2

level tablespoons flour

1 3/4

cups

milk

(plus extra if needed)

1/4

cup

white wine

Salt and pepper to taste

Parmesan cheese to serve
Instructions
Heat the oil in a large pan over medium heat. Brown the chicken; add the broccoli florets and mushroom slices; pan frying until the broccoli becomes vibrant in colour. Stir in the garlic and fry for about 30 seconds or until fragrant. Set aside.

In a smaller saucepan, melt the butter over low heat. Remove the pot off the heat; whisk in the flour until smooth. Return to the heat and pour in 1/4 cup of the milk first, stirring quickly to combine until smooth. Add in another 1/4 cup of milk, again stirring quickly until smooth. Slowly begin to pour in the remaining milk half a cup at a time while stirring continuously, until all of the milk is in. Keep stirring until the sauce begins to thicken. Mix the white wine through the sauce and continue to stir over low heat. If sauce becomes to thick, add in a little more milk at a time (about 1/8 of a cup), until reaching your desired consistency. We like ours thick and creamy.

Pour the Bechamel sauce over the chicken and mix through. Sprinkle over some parmesan cheese and serve over pasta or rice or Zoodles!