Barbecue Chicken Pizzadilla (Pizza Quesadilla)
Barbecue Chicken pizza flavours smothered chicken with creamy avocado wrapped in a warmed and toasted Quesadilla style wrap like MC Hammer and Spinderella hit it up one time…
Sorry. Food makes me do the weirdest sh*&. I mean, stuff.
Anyway…these.will.change.your.lives. Just saying. Because when you can't decide between a pizza and a quesadilla, isn't it just better to do – um – both?
Behold: the Pizzadilla. And this thing is loaded… pineapples, olives, fresh tomatoes… and so much more pizza greatness..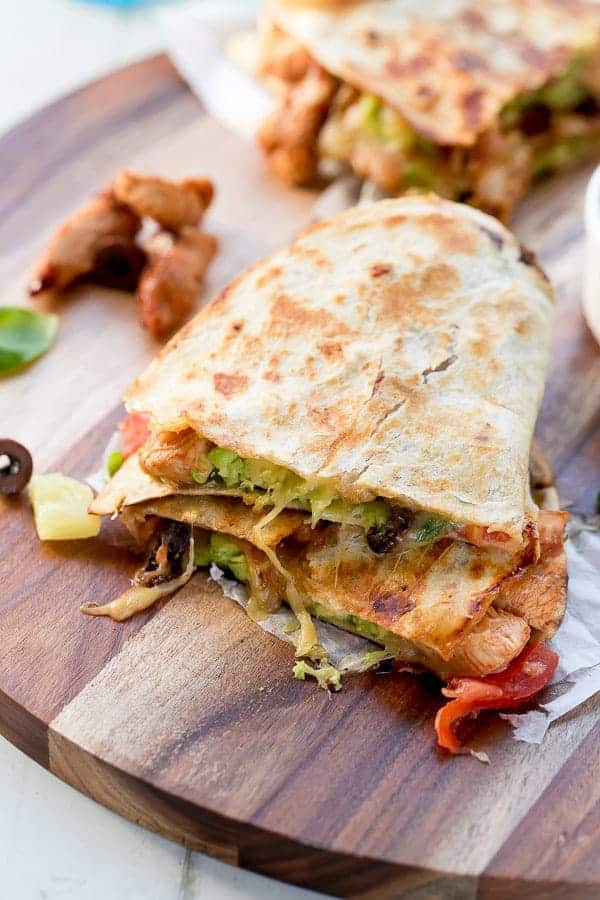 So that's my reasoning behind these. Because I love Pizza. And I love cheese. I mean, I have so many cheesy recipes on here, it's not-even-funny. Amen.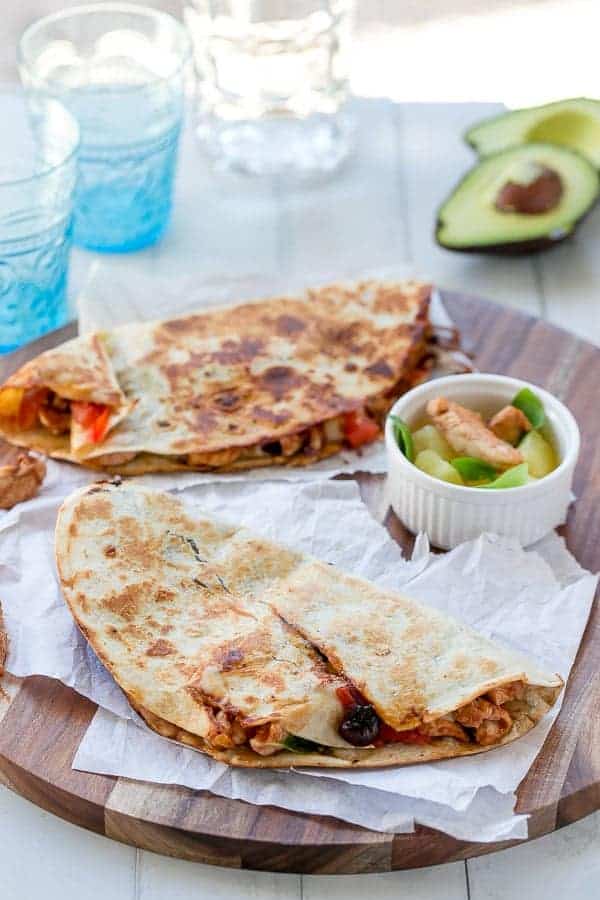 You know what makes these extra speshal besides the toasty wrap on the outside, and the tender, soft pizza flavoured chicken on the inside? The creamy avocado. That just sent this quesadilla to a whole different galaxy: to a pizza lovers planet.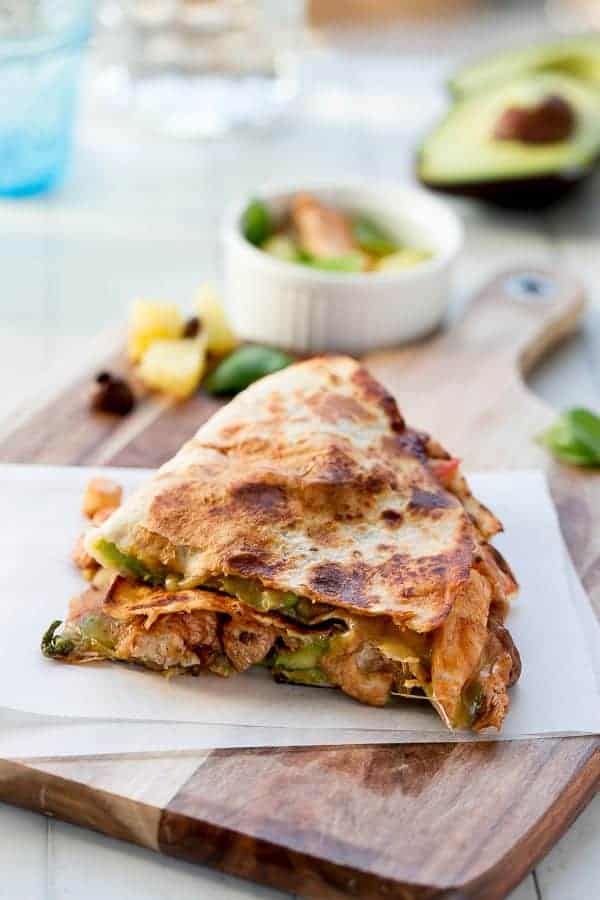 And incase you just saw a difference, yeah, I kinda ate one half way through shooting, and then of course had to shoot this one because it was just too good not too. Excuse me husband, you need-ta wait. Lucky for him, he didn't mind the delay in his dinner.
So many pizza lovers' ingredients in these. And so super quick to make. Because I like it quick.
There's no need to marinade the chicken in these if you don't have the time, or the patience, like me. Because I didn't do that. And they still turned out so awesome…..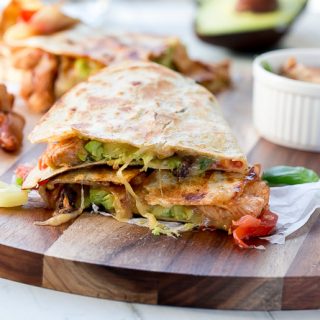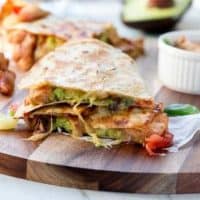 Ingredients
2

tablespoons

barbecue sauce

(plus extra for drizzling)

2

tablespoons

pizza flavoured tomato paste

1

teaspoon

garlic powder

1

teaspoon

vegetables stock powder

(like Vegeta)

salt to season

(adjust to your tastes)

1

x 140g | 5oz whole skinless chicken breast

, cut into bite-sized pieces

1/4

of a red onion

, thinly sliced

2

tortilla wraps of choice

(I use Sourdough)

1/2

an avocado

, sliced and divided

2

tablespoons

black pitted olive slices

, divided

1/4

cup

pineapple chunks

, halved, divided

1

ripe tomato

, sliced thinly, divided

1

tablespoon

freshly chopped basil leaves

, divided

1

tablespoon

freshly chopped oregano

, divided

1/2

cup

light mozzarella cheese

, grated, divided
Instructions
In a large bowl, combine the 2 tablespoons barbecue sauce and tomato paste with the garlic powder, stock powder and salt. Mix well. Add the chicken pieces and mix again until chicken is evenly coated. Set aside. (Chicken can be marinaded for a couple hours; overnight; or cooked straight away, depending on the depth of flavour you like).

Preheat a nonstick pan/skillet on medium heat, and spray with a little cooking oil. Fry onion slices until transparent. Add the chicken and fry, stirring once, for a couple of minutes until the underside is golden and slightly crisped. Flip the chicken pieces with a spatula and cook the other side until cooked through.

Divide all ingredients in half to prepare both wraps. Place onto the side of each wrap: avocado slices, chicken pieces, olives, pineapple chunks, tomato slices, herbs and cheese. Drizzle with a little extra barbecue sauce. Fold empty side of wrap over the cheese to cover, and place onto a separate preheated pan or sandwich press sprayed with a tiny amount of cooking oil. Cook on low-medium heat until wrap is golden. Flip with a spatula and cook the other side until cheese has melted through and wrap is completely cooked.
Nutrition
Calories:
473
kcal
|
Carbohydrates:
36
g
|
Protein:
31
g
|
Fat:
17
g
|
Fiber:
4
g