Banoffee French Toast
Oh my sweet banana caramel booty-licious bundle of joy.
Um. Cream. Caramel. Banana slices….and – ummm. More caramel.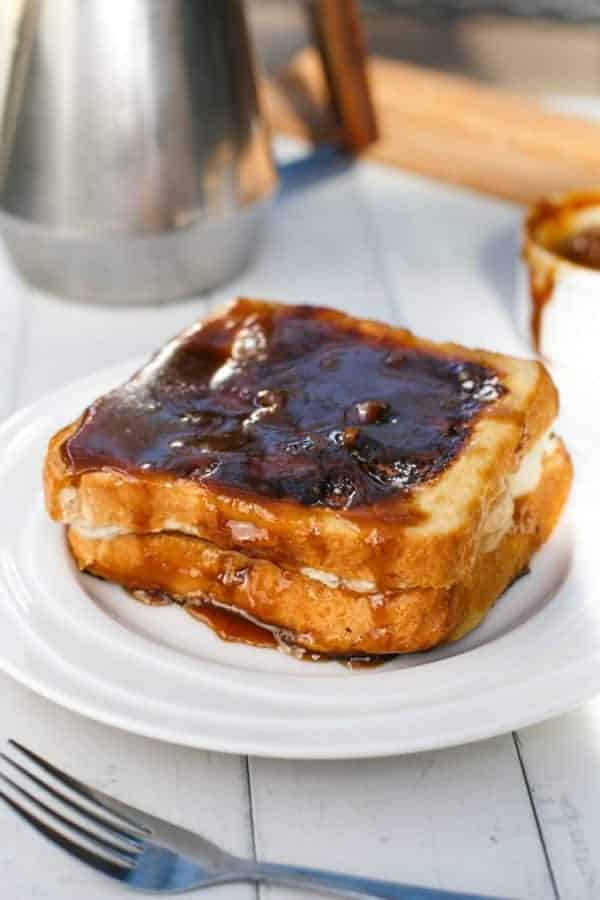 Is there anything wrong with having dessert for breakfast? Or breakfast for dessert? I don't really know, but this was my dinner. Yeah, I know right? What a dinner.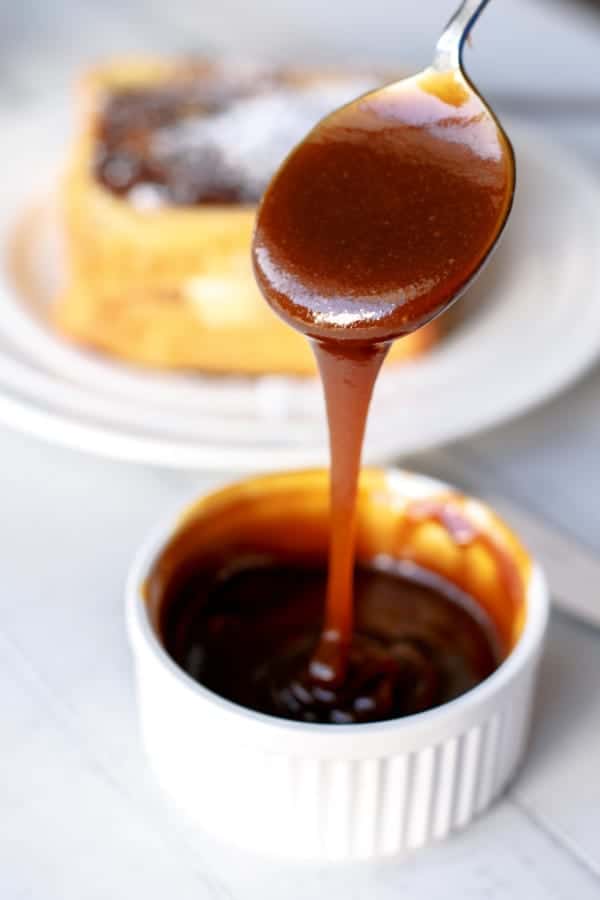 Sticky caramel sauce I had to share with my kids, because with so much caramel oozing out of my kitchen, I was a bit scared. Scared to be alone with it and end up licking the base of the hot saucepan – it.was.that.good.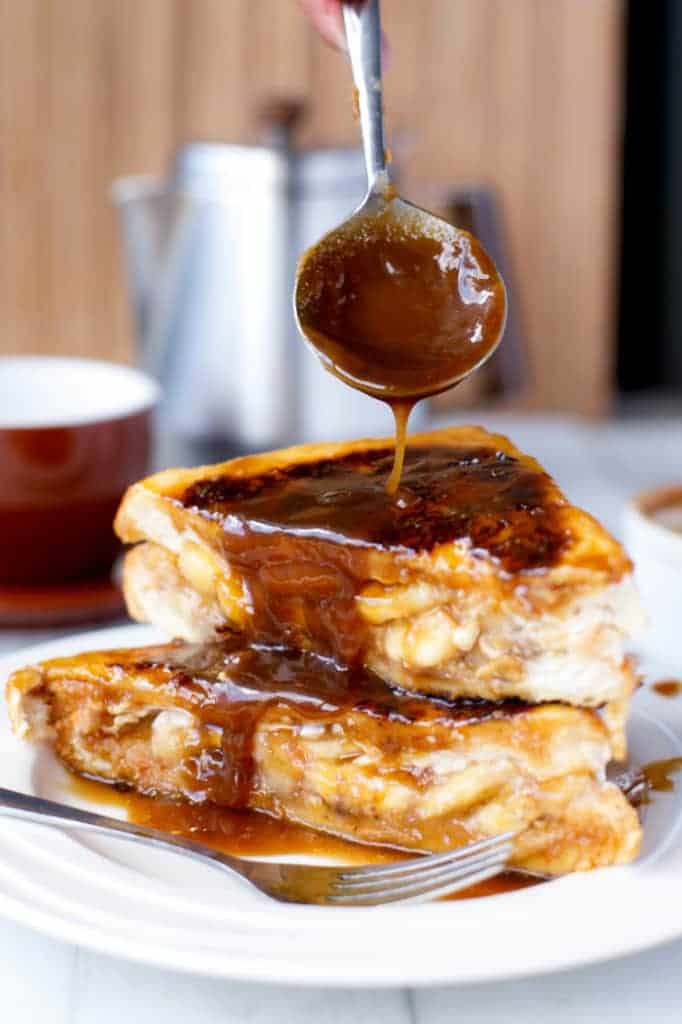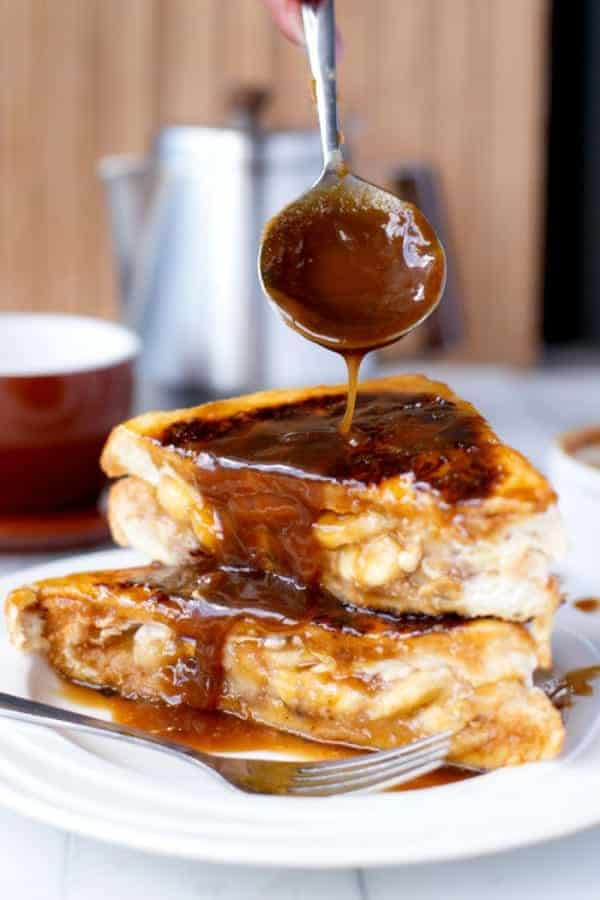 The torture was staring at it through the lens for the shot, smelling the caramel and getting dizzy from the sexy aroma.
Ok. Enough. I'm not talking anymore. Because you guys want the recipe. And really, it's so super easy to create.
Feel free to use store bought caramel sauce, or have a try at making this one. I don't even know if it's the right way to make caramel, to be completely honest here, but man oh man it was freaking amazing. Kinda like a burnt butter caramel.  The amount this recipe made below was enough for 4 generous serves..or perfect for refrigerating and saving the rest for 'tomorrow,' if ya get my drift. Because caramel on everything equals happiness.Oh hellooooo buttery caramel – fancy meeting you here!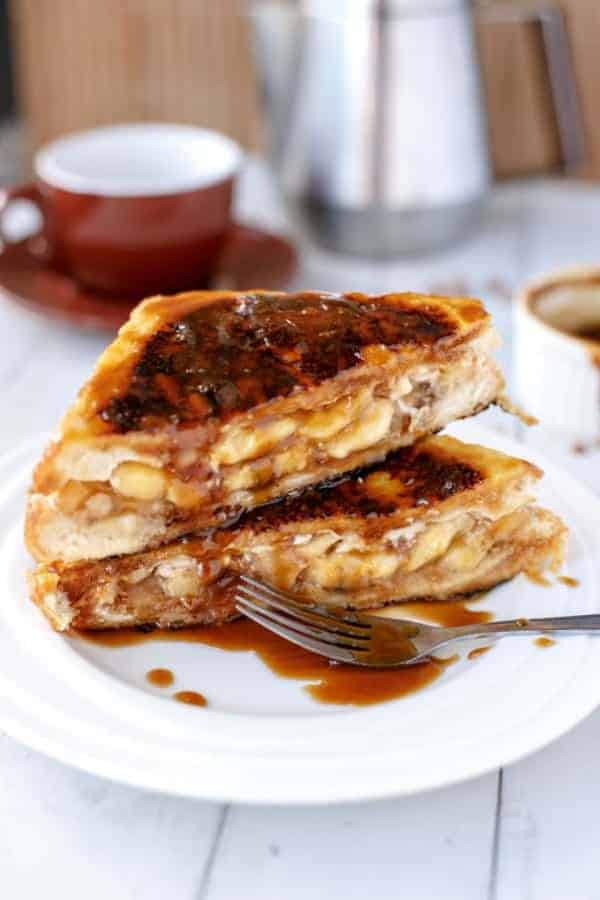 Ok. So I know it's a bit off the richter scale calorie wise…so this one you could definitely be calling on as a cheat meal or treat meal…whichever one rocks your socks! Have fun and enjoy. Sometimes you gotta just live a little…right? Life is too short. Give me all the caramel! Or. We can share?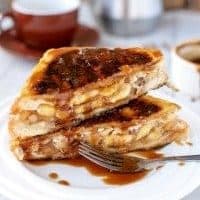 Ingredients
French Toast:
1

egg

2

tablespoons

unsweetened almond milk

½

tablespoon

natural sweetener/sugar of choice

1

teaspoon

vanilla extract

2

tablespoons

low fat

(or fat free) cream cheese

½

tablespoon

(extra) natural sweetener/sugar of choice

1

sliced banana

(enough to cover one toast)

2

pieces

of bread of choice

(I use sourdough because I love it, but you can use anything your heart desires)

Caramel chips

(optional: for more caramel flavours)
Caramel Sauce:
3

tablespoons

light butter

4

tablespoons

brown sugar

2

tablespoons

milk

4

tablespoons

water

(or more if needed)
Instructions
French Toast:
Whisk the egg, milk, sweetener/sugar and vanilla together in a shallow bowl until combined.

In a separate bowl, combine cream cheese and the (extra) sweetener/sugar. Spread both pieces of bread with the cream cheese mixture, and add the sliced bananas to one slice of bread. Top with the second piece of bread and gently press the edges down to 'seal.'

Dip the sandwich into the egg mix, and turn to coat.

Heat a non-stick pan with cooking oil spray over low-medium heat.

Fry sandwich for about 3 - 5 minutes on both sides or until golden brown and cooked through (you can cover with a lid to speed up cooking time as long as it's on LOW heat).

Caramel Sauce:
Melt the butter in a small saucepan. When bubbling hot, add the sugar and mix well to combine. Bring to a gentle rolling simmer and slowly add the milk. Stir and allow to simmer for about 3 -4 minutes, or until the sauce begins to thicken. Add water if needed, whisk well and drizzle over the french toast.
Nutrition
Calories:
426
kcal
|
Carbohydrates:
56
g
|
Protein:
18
g
|
Fat:
12
g
|
Fiber:
6
g