Beef And Guinness Stew is a heart warming bowl of comfort! Slow cooked beef, simmered in a rich Guinness gravy, is packed with so much flavour!
This Beef And Guinness Stew recipe is reaching you just in time for St. Patrick's Day!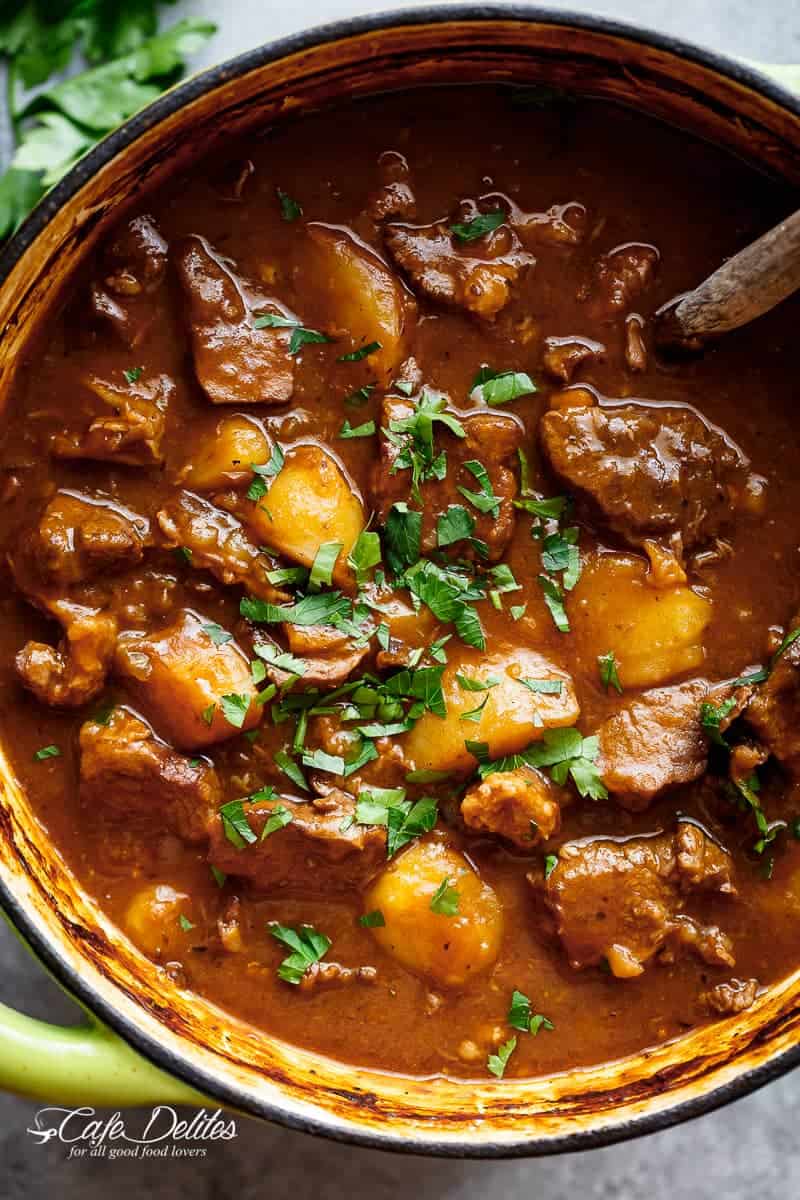 Just like this Chicken Cacciatore recipe, there are so many options now days to slow cook a good stew or soup. I know how much you guys appreciate as many methods as I can squeeze into a recipe, with the equipment you have right at home. So, because of this, I've included both Slow Cooker AND Instant Pot methods in the recipe!
The great thing about a good stew is that it can be enjoyed at any time of the year. Today is one of those days. Cold, cloudy, miserable, while battling a flu. Perfect for a rich and hearty Irish Beef And Guinness Stew! Especially when it's cooking away in the oven with tender, fall apart beef guaranteed to hit your bowls.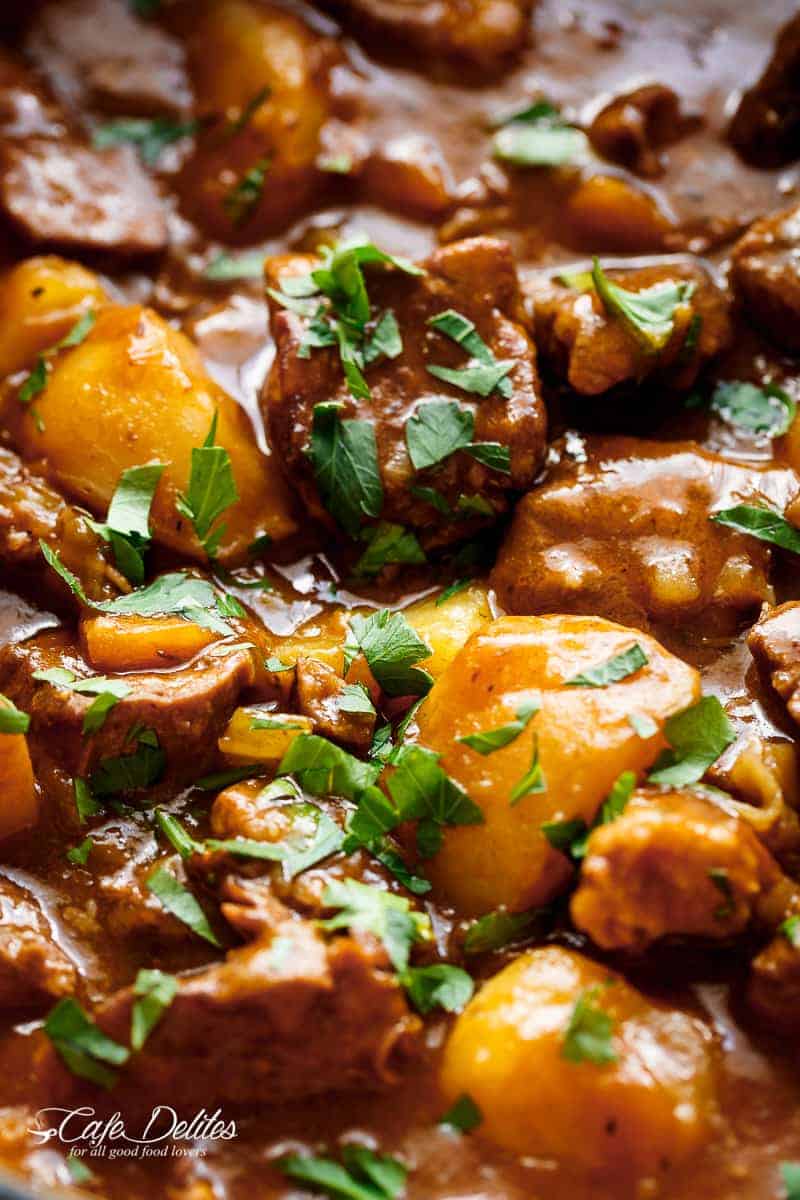 An authentic Irish stew is traditionally made with mutton or lamb. For this stew, however, I typically use slow cooker cuts of beef. Not for any other reason than we enjoy the flavour of beef paired with this 👇🏼 Guinness gravy a lot more than when cooked with lamb.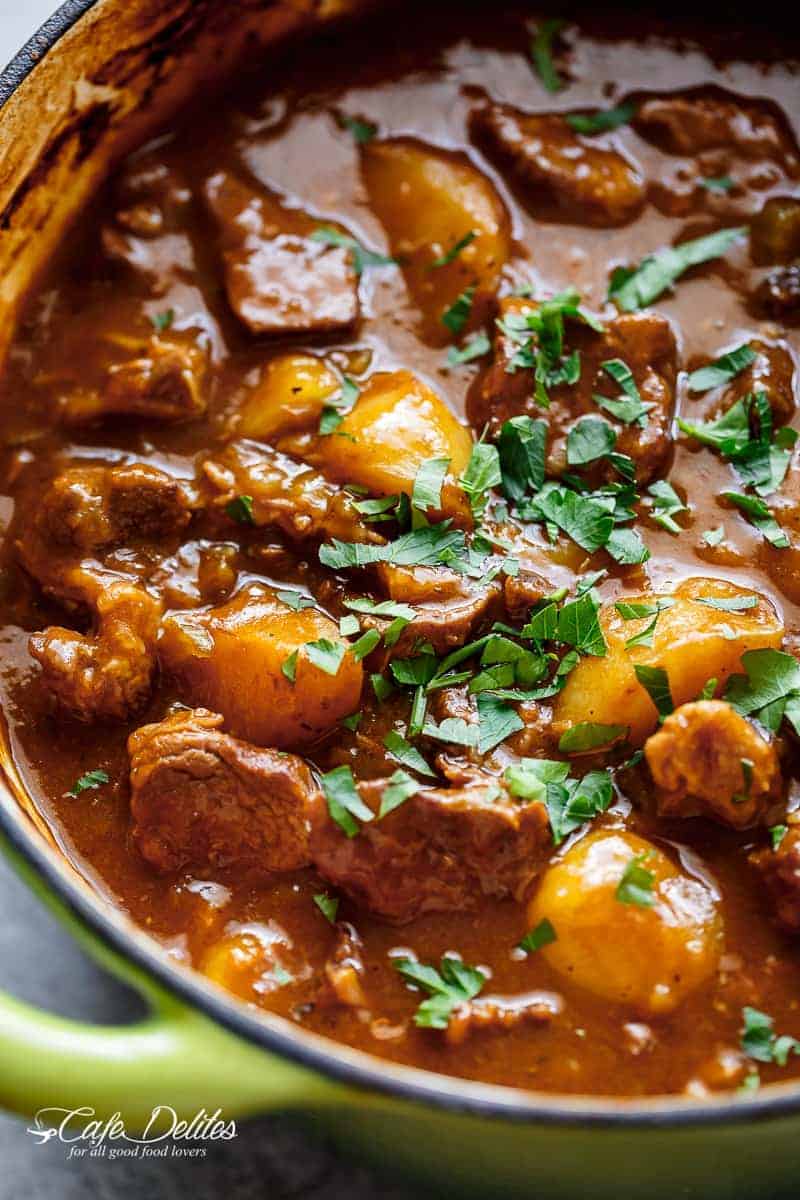 Tips:
If using your Slow Cooker or Instant Pot, I recommend browning the beef first if you can. The flavour of browned meat does not compare to throwing raw beef into the slow cooker.
The original recipe calls for cooking the beef in half of the beer, and adding the rest of the beer in after cooking. We personally prefer the method I've provided in the recipe a lot more, but you can try either.
Beef cuts specifically used for slow cooking are best with this stew.
For a thicker gravy, mix 1 heaping tablespoon of cornstarch (or corn flour) together with 2 tablespoons of water; add after baking in the oven while it's still bubbling. You can also turn on your stove to low heat to do this, stirring the cornstarch mixture through until thickened to your liking.
REMEMBER TO SUBSCRIBE TO CAFE DELITES NEWSLETTER FOR FREE AND RECEIVE FRESH RECIPE NOTIFICATIONS DELIVERED INTO YOUR INBOX!
If you try a recipe, please use the hashtag #cafedelites on INSTAGRAM for a chance to be featured!
FOLLOW CAFE DELITES ON FACEBOOK | INSTAGRAM | PINTEREST | TWITTER FOR ALL OF THE LATEST CONTENT, RECIPES AND UPDATES.