Creamy Garlic Parmesan Mushroom Chicken & Bacon is packed full of flavour for an easy, weeknight dinner the whole family will love!
Creamy Garlic Parmesan Mushroom Chicken & Bacon is a perfect meal for all of your family and friends to enjoy!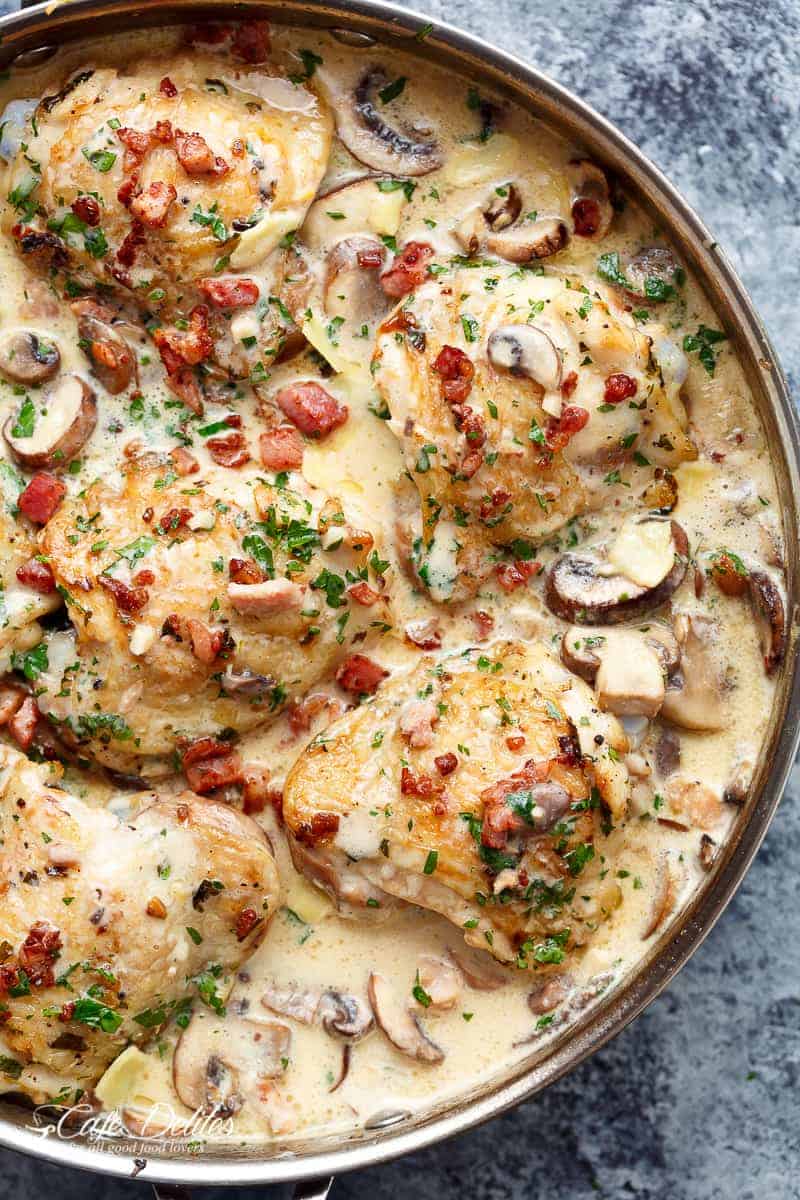 Where do I start with THIS PAN? The crispy skinned, juicy chicken thighs ? Or the crispy bacon? Maybe the garlic / parmesan cream sauce loaded with sliced mushrooms? Where where WHERE?
I can't.
For lower calorie and points purposes, I've included a cream free option for those of us worried about squeezing jeans passed our non-forgiving thighs. Creamy sauces are a favourite over here and I usually cheat on cream with milk like in this creamy piccata OR this sun dried tomato chicken. HowEVER, I sometimes like to use a reduced fat cream, because HELLO IT'S CREAM. ALSO, for those of you following low carb and high fat, go for gold with the heavy cream! May the fats be forever in your favor.
Dinner in my house has been looking a lot like this lately — mighty fine if you ask me. 30-40 minute dinners where my oven is fast becoming my bestest friend. With the birth of all of our videos happening, creating chaos in my house PLUS Facebook lately (you can peak at them here — our latest two garnering around 6 million views each!), I've been pulling out our old family favourite recipes and wondering why the hell I haven't shared them yet.
This one takes the cake. Or the cream. Whatever.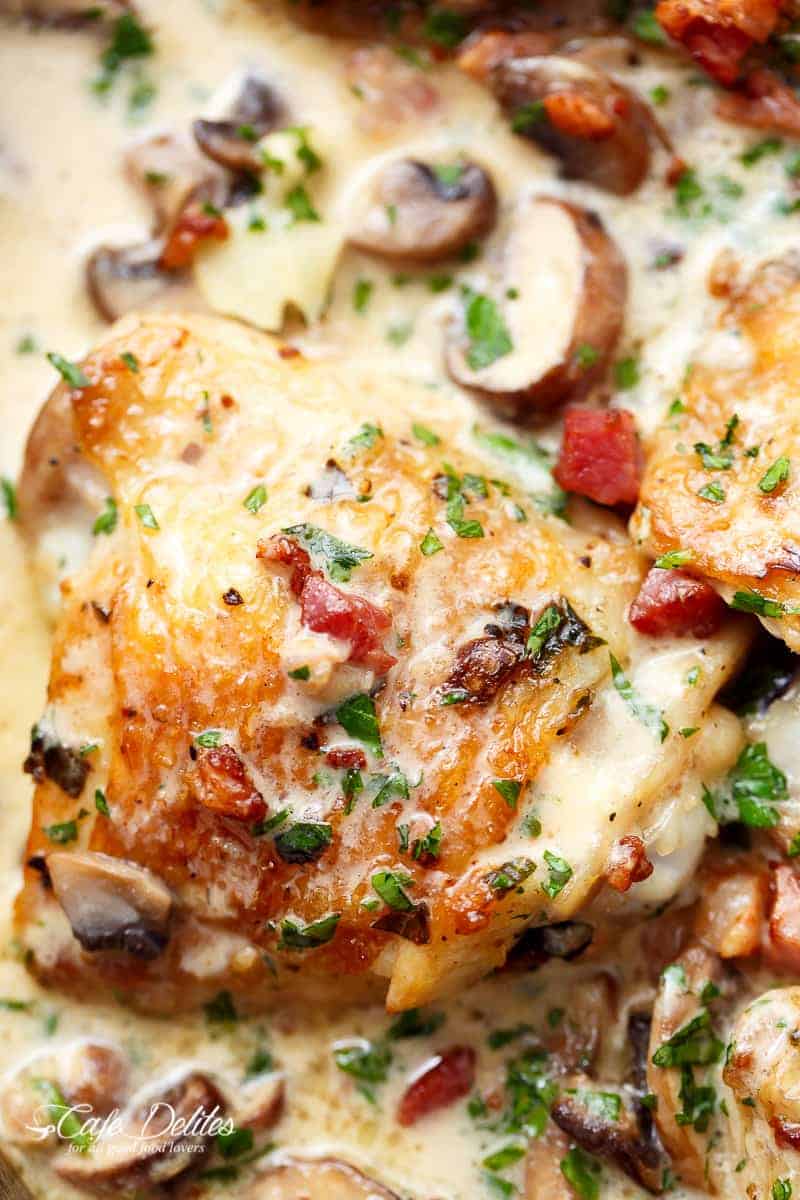 Parmesan and garlic together are flavours seen and devoured in most of our family recipes. Garlic Parmesan Mashed Potatoes, Garlic Parmesan Salmon, Garlic Parmesan Mac And Cheese, Garlic Parmesan Sweet Potatoes, etc. When sharing this Mac and Cheese video on Facebook, my husband was all over me (not in THAT WAY PEOPLE), telling me to try the same flavours in a creamy sauce with CHICKEN AND THROW IN SOME BACON FOR GOOD MEASURE.
OKAY THEN HUSBAND.
Me being the always listening and forever obeying wife (*ahem*), obliged.
So here we are. You will have to thank HIM for this Creamy Garlic Parmesan Mushroom Chicken.
P.S: The video is coming SOON. Keep your eyes peeled.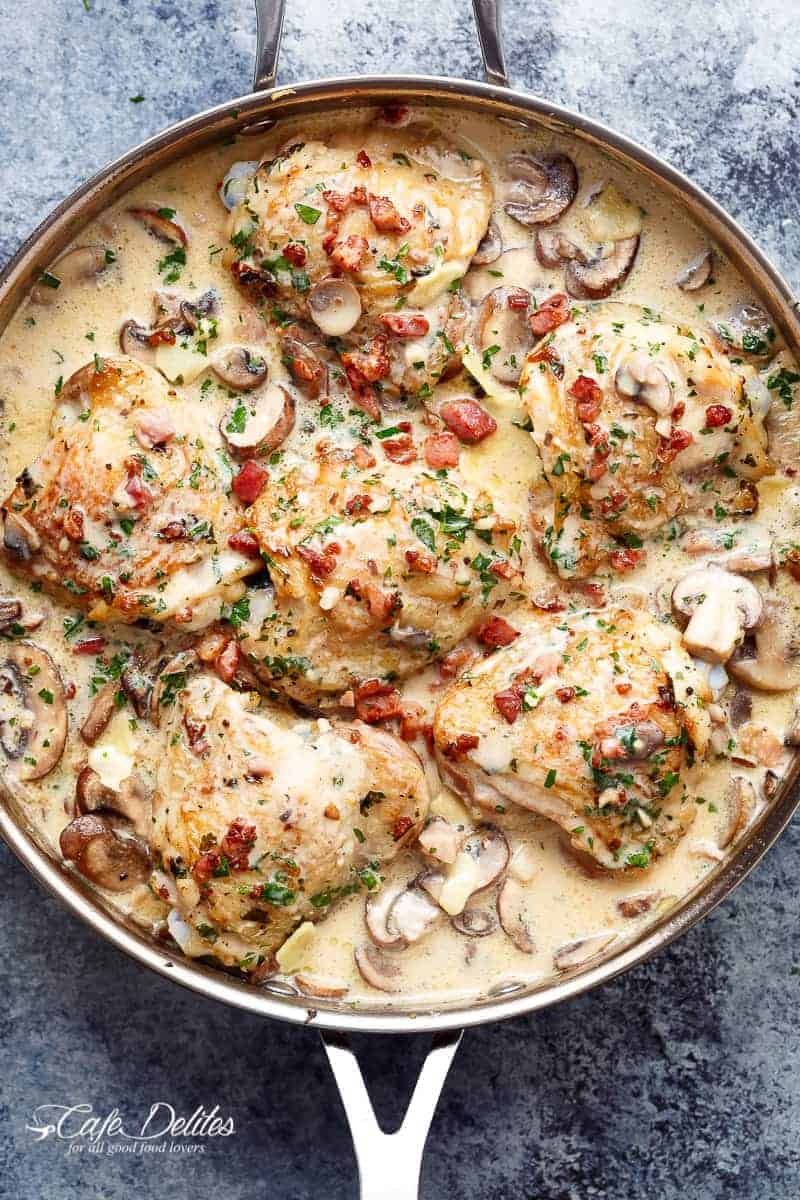 REMEMBER TO SUBSCRIBE TO CAFE DELITES NEWSLETTER FOR FREE AND RECEIVE FRESH RECIPE NOTIFICATIONS DELIVERED INTO YOUR INBOX!
If you try a recipe, please use the hashtag #cafedelites on INSTAGRAM for a chance to be featured!
FOLLOW CAFE DELITES ON FACEBOOK | INSTAGRAM | PINTEREST | TWITTER FOR ALL OF THE LATEST CONTENT, RECIPES AND UPDATES.