Honey Mustard Chicken, Avocado + Bacon Salad, with a crazy good 5 ingredient dressing that doubles as a marinade!
Refreshing, sweet and savoury all at the same time?! I love it and I know for a fact that you would too! Honey Mustard Chicken, Avocado + Bacon Salad… Such amazing combinations in a bowl!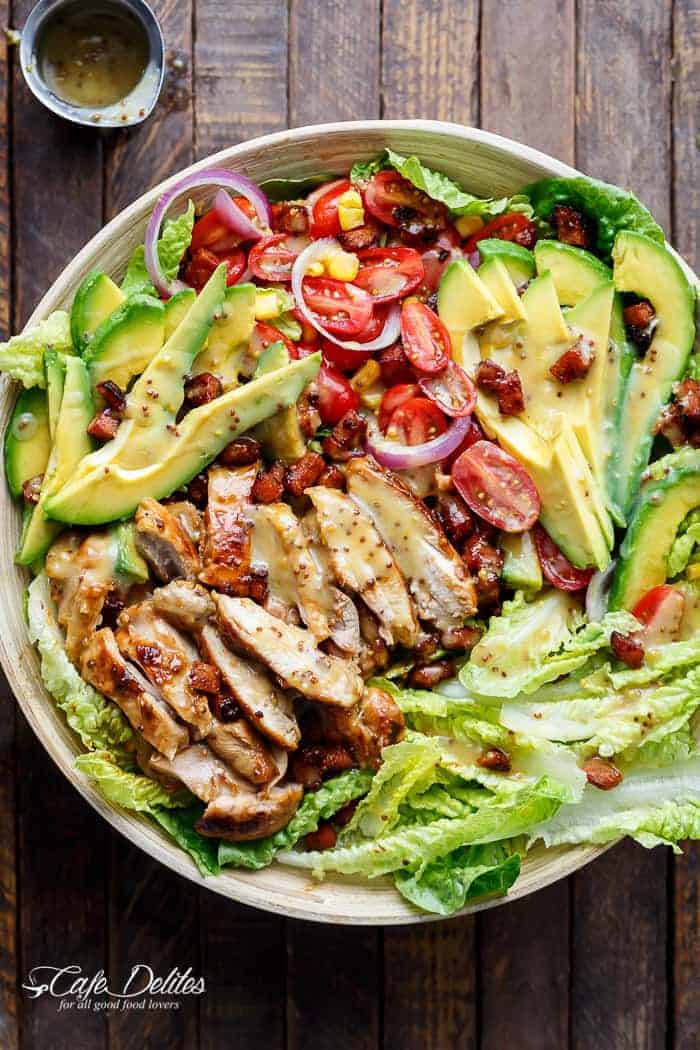 PLUS. A hint of garlic. Crispy bacon…. Creamy avocado slices…. Tomatoes…. Slices of red onion. This is THE ultimate in salads. Because BACON and CHICKEN and AVOCADO in the SAME SENTENCE as HONEY MUSTARD. YES.
Being a number one fan of honey mustard everything, I gave up enjoying honey mustard dressing on salads because of all of the mayo and calories normally sneaking their way into them. Then, this morning happened. Waking up with the strongest honey mustard craving (weird, right?), I smacked myself upside the head when I remembered, um, HELLO, food blogger, remember? Which means, don't-give-up-anything-just-find-a-way-to-make-it-yourself, type of thing.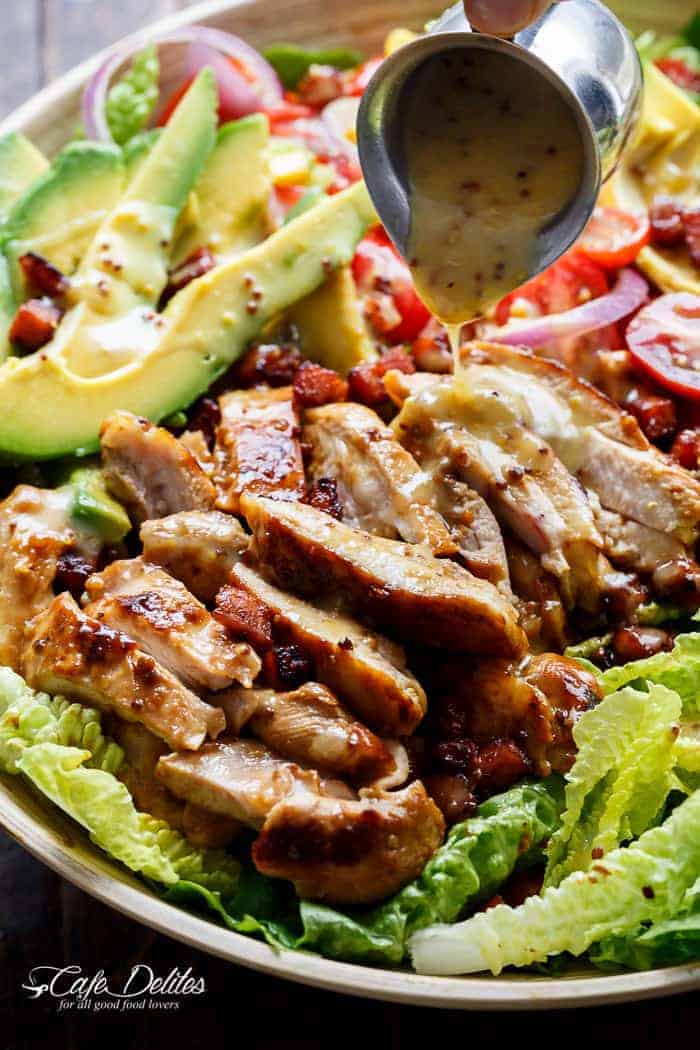 And this dressing? THIS DRESSING. So creamy and sweet and tangy. So bad I made it again and again and again and again. I couldn't believe something so simple could lead to something so sinful — yet, not. In my truest form, I didn't want to taint the marinade with a different tasting dressing, so I left it and may the mustard gods help me.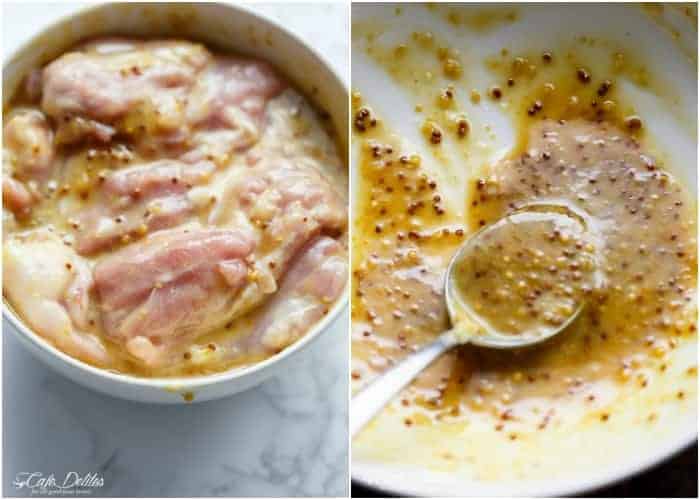 Then….in less than 15 minutes, I was greeted with caramelised, tender honey mustard chicken thighs. In those 15 minutes, I washed and prepped the salad, taking my sweet ass time, while smelling these incredible smells coming out of my kitchen, impatiently hopping from one foot to the other, watching this chicken sizzle and the sauce it was smothered in bubbling around it and thickening into a beautiful syrup.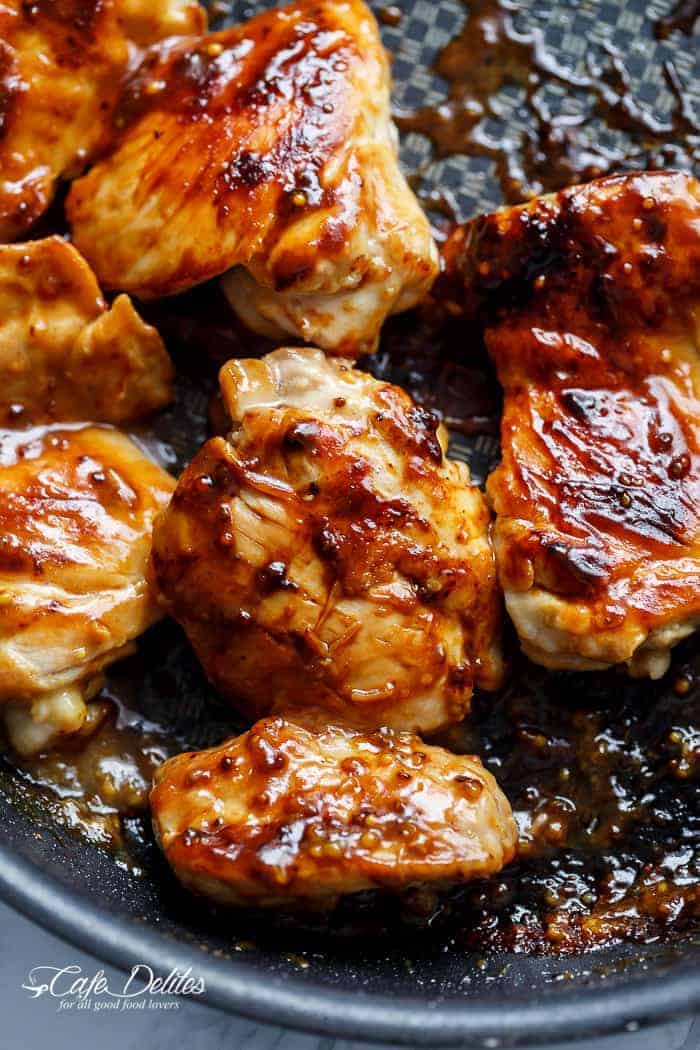 I may have then proceeded to smack myself again, not believing I've denied myself of this for SO LONG you guys. Feel free to virtually slap me.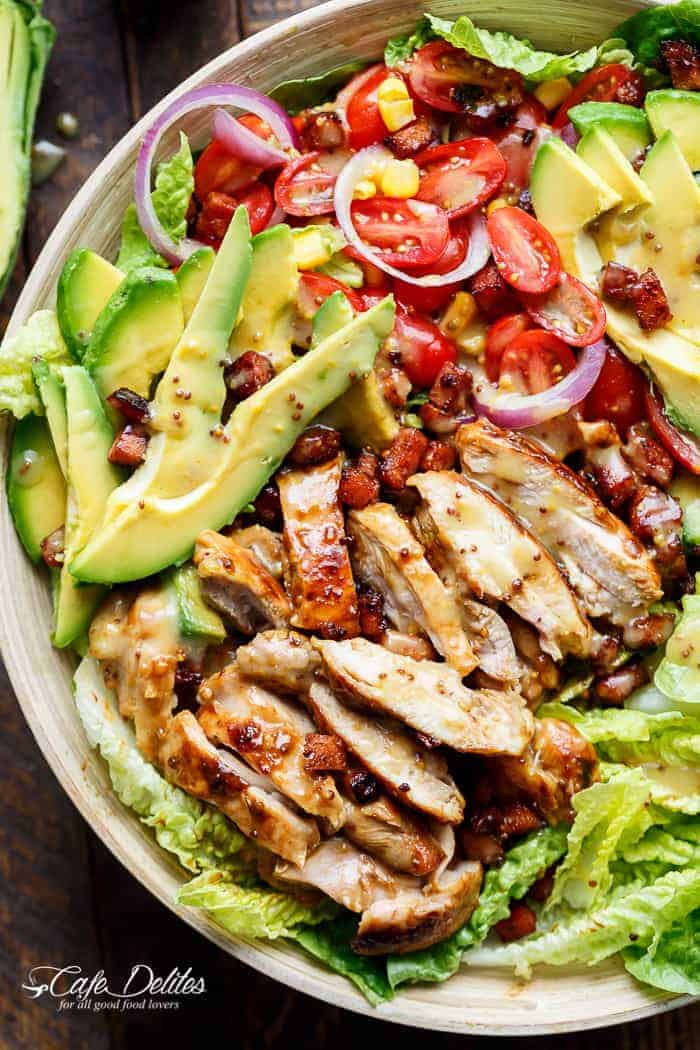 Come to think of it, the Skinny Chicken and Avocado Caesar Salad is pretty much up there with this one.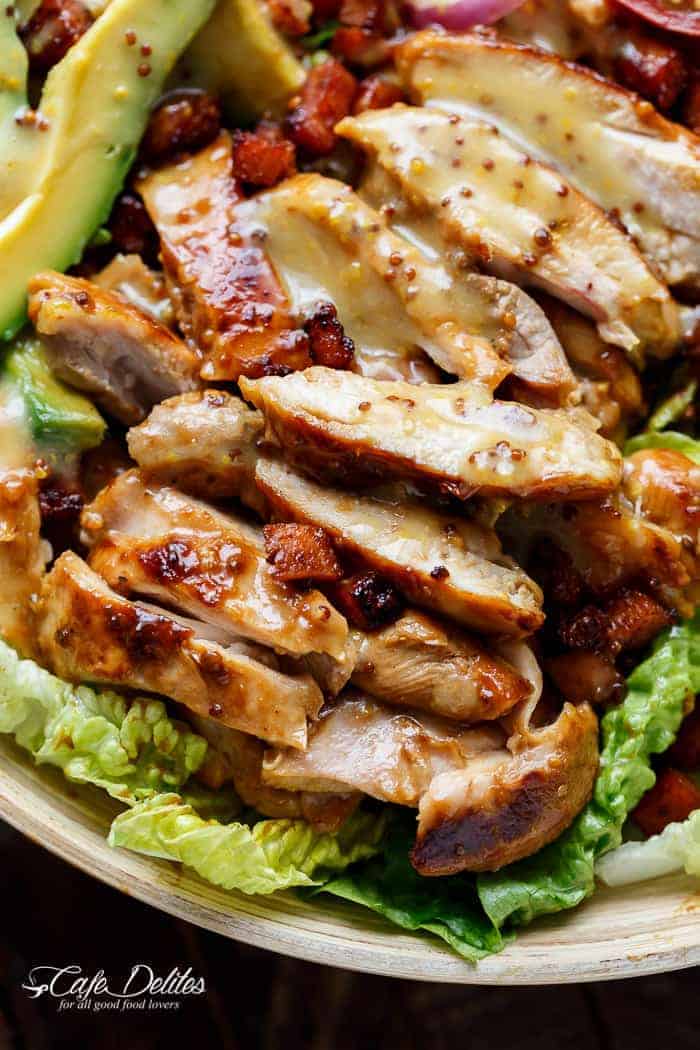 REMEMBER TO SUBSCRIBE TO CAFE DELITES NEWSLETTER FOR FREE AND RECEIVE FRESH RECIPE NOTIFICATIONS DELIVERED INTO YOUR INBOX!
If you try a recipe, please use the hashtag #cafedelites on INSTAGRAM for a chance to be featured!
FOLLOW CAFE DELITES ON FACEBOOK | INSTAGRAM | PINTEREST | TWITTER
FOR ALL OF THE LATEST CONTENT, RECIPES AND UPDATES.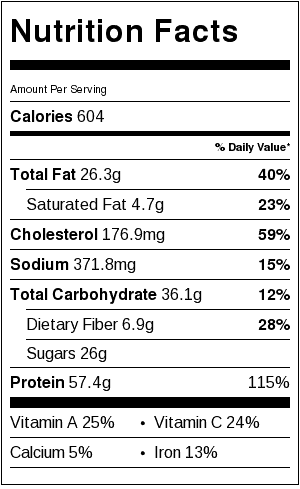 1