Browned Butter Honey Garlic Shrimp feels like a gourmet shrimp meal, with half of the effort, maximum taste and all in less than 15 minutes! No marinading required.
This Browned Butter Honey Garlic Shrimp is a revamped version of this Browned Butter Honey Garlic Salmon! If you loved that recipe, you will absolutely fall in love with this version.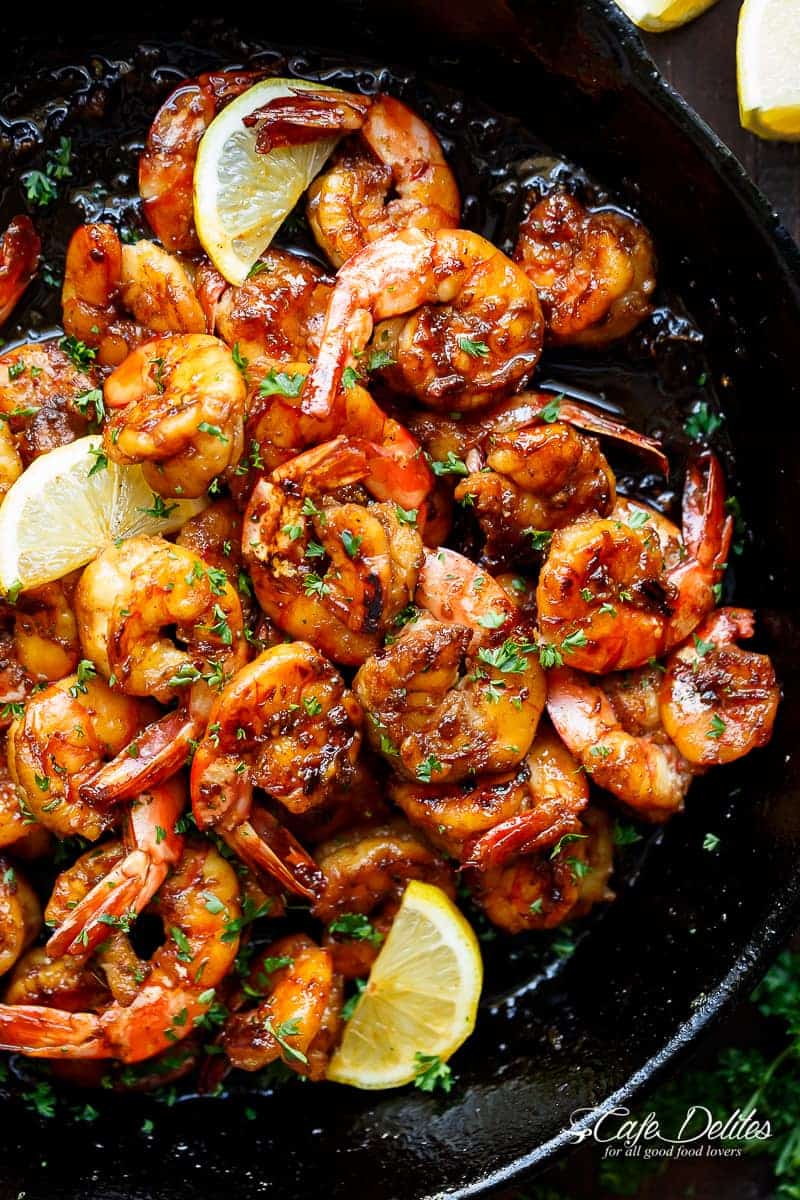 This Browned Butter Honey Garlic Shrimp has been on my mind since I first published that salmon recipe nearly TWO YEARS AGO! Yet, it feels like yesterday I was browning that butter, mixing it with honey and garlic, and blowing my mind with the mixture of flavours coming out of my skillet.
I revisited that feeling over the last few months, again and again perfecting this recipe and going through pounds of shrimp (or prawns for my Aussie followers); possibly leaving a dent in my bank account to perfect this recipe for you guys!
As much as that salmon recipe was pretty easy to come up with, this one took a bit more experimenting. Mainly because of the browned butter. It's not just a matter of throwing shrimp into a skillet and cooking it all. (Did that. Didn't work. They simmer instead of searing and that's no bueno in the flavour department.) With this recipe, I used the same ingredients I did for the salmon, adding a tablespoon of soy sauce for a bit of extra saltiness and added flavour, and seared them in batches to ensure a nice and even sear.
I suggest using a REALLY WELL SEASONED SKILLET which will add that seared flavour to your shrimp or a good quality non-stick pan. If you have a skillet and don't trust it, don't use it. The honey will stick to a non-seasoned skillet and you'll be peeling shrimp off of the pan.
First, you'll be browning your butter. Once the foam subsides and the colour begins to turn a beautiful golden brown colour, a nutty aroma will fill your kitchen, and you'll be pretty proud of yourself if you've never done this before. As soon as its browned, throw in the rest of your ingredients and give it 30 seconds to infuse all of those flavours together. It's magic, people. And guaranteed you'll be browning your butter in every other recipe you have.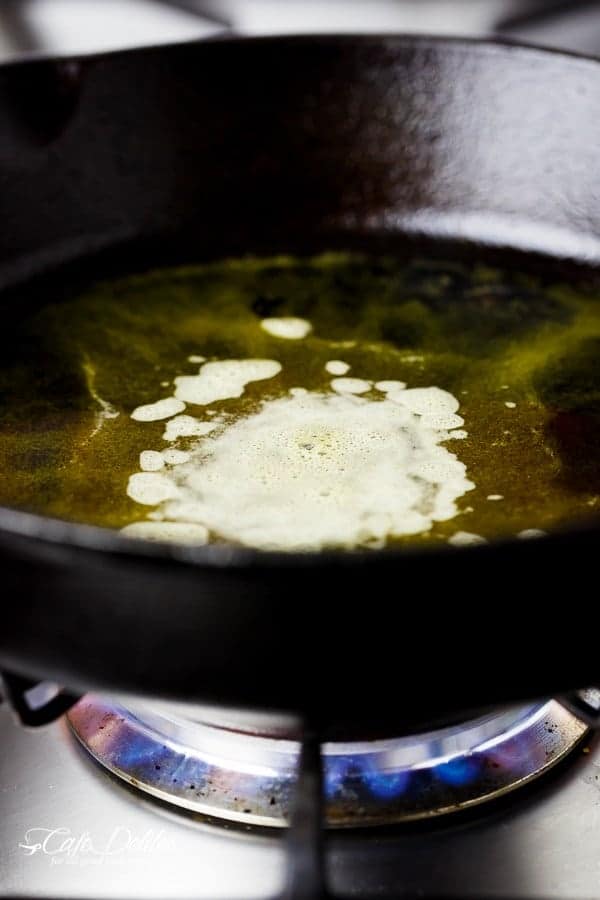 Once your honey/garlic/butter mixture is ready, add in your shrimp in batches of two, allow them to sear 1-2 minutes each side to get a crisp flavour on them, and that's IT! The most beautiful flavoured shrimp you've ever tried.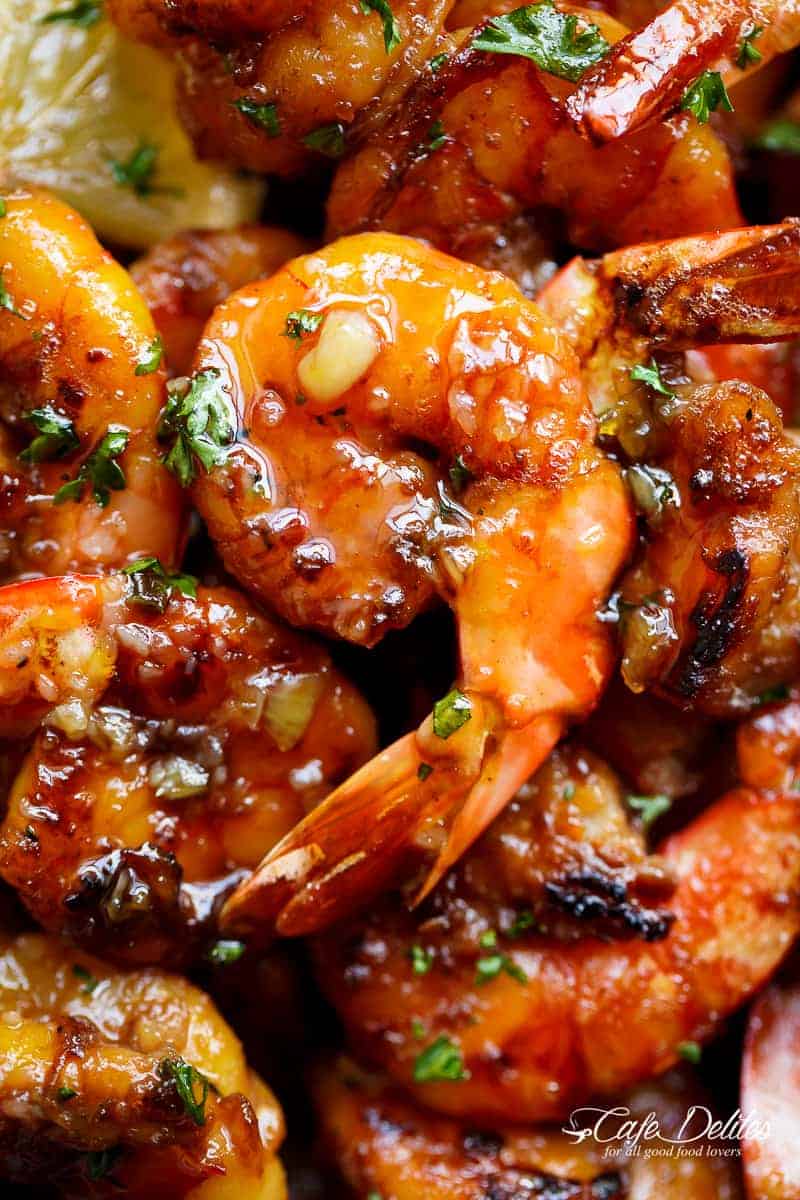 Some tips:
Have all of your ingredients measured and ready before you start. Be careful not to let your butter burn. As soon as the foam subsides and turns a golden colour, start adding your ingredients and stir them through.
You can use tail on or off shrimp.
Make sure your skillet is well seasoned, or use a good quality non-stick pan.
Use fresh garlic. I find minced garlic that comes in a tube or jar spits a lot when adding it to hot butter.
Be careful not to over cook your shrimp! Over cooked shrimp is rubbery and hard. Another no bueno in the flavour department.
FOR MORE HONEY GARLIC RECIPES:
REMEMBER TO SUBSCRIBE TO CAFE DELITES NEWSLETTER FOR FREE AND RECEIVE FRESH RECIPE NOTIFICATIONS DELIVERED INTO YOUR INBOX!
If you try a recipe, please use the hashtag #cafedelites on INSTAGRAM for a chance to be featured!
FOLLOW CAFE DELITES ON FACEBOOK | INSTAGRAM | PINTEREST | TWITTER FOR ALL OF THE LATEST CONTENT, RECIPES AND UPDATES.