Creamy Garlic Butter Tuscan Shrimp coated in a light and creamy sauce filled with garlic, sun dried tomatoes and spinach! Packed with incredible flavours!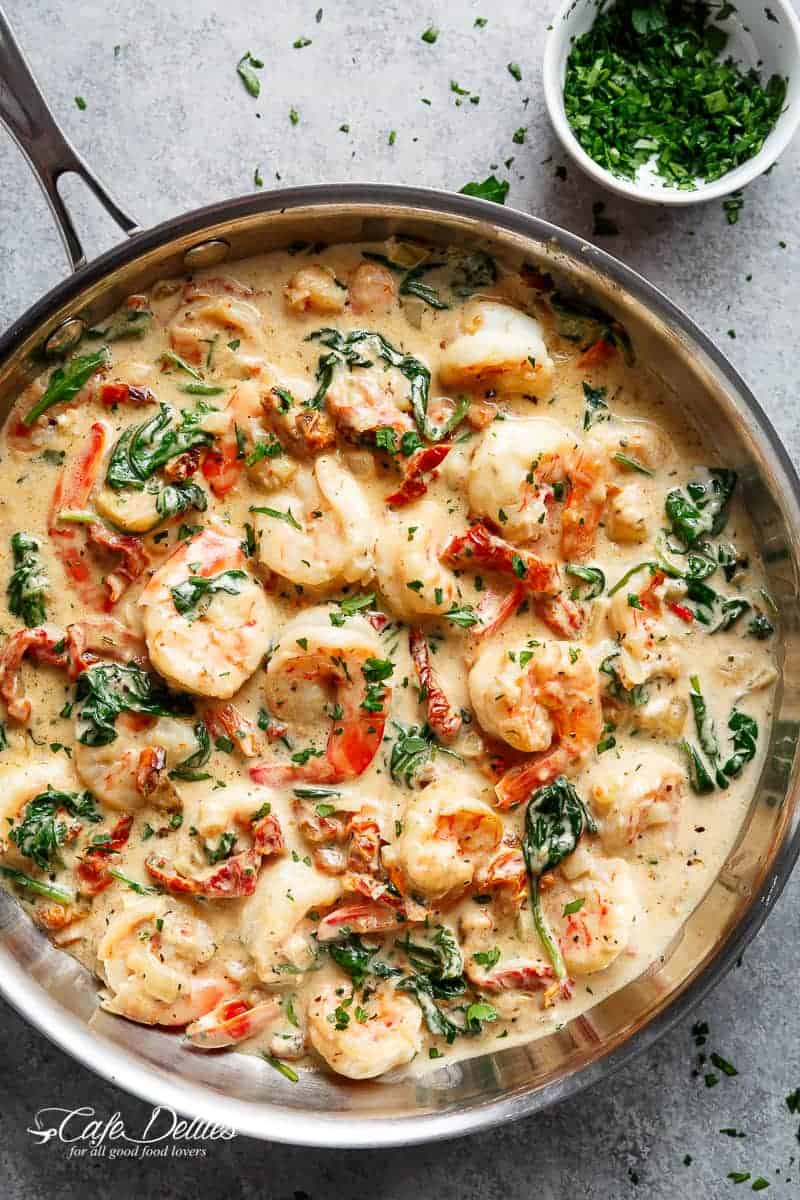 This Creamy Garlic Butter Tuscan Shrimp boasts so much flavour, it would be a sin not to share it with you all for Valentine's Day! Ending your day with candle light, roses on the table that you may have not (or may have — let's be real here), bought for yourself, with wine, a bubble bath, and a plate of this waiting for you on the table. I'd say that's a pretty successful V-Day.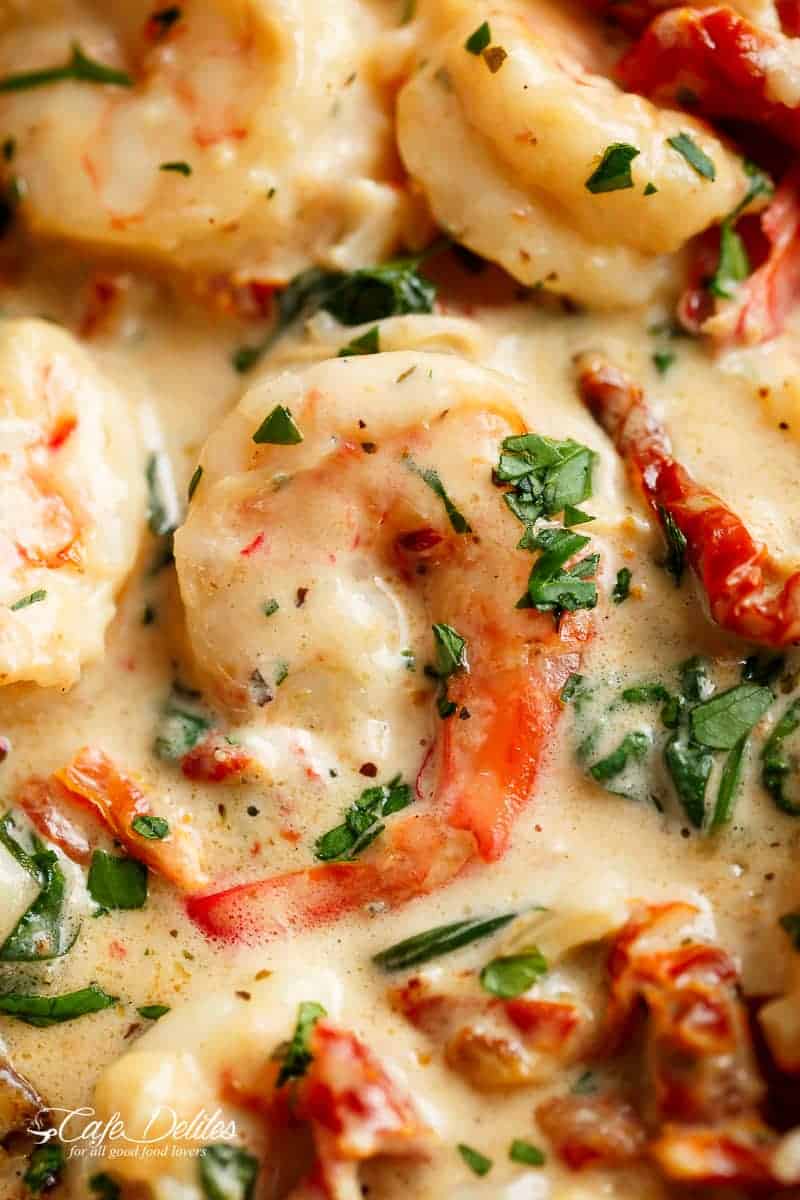 First, I have two words for you. Garlic. Butter. HELLO. You are going to fry your shrimp (or prawns) in butter FULL of garlic. I could have left this recipe right here….but then I wouldn't be doing anything different to this Lemon Garlic Butter Shrimp. And that's NO BUENO. SO… Garlic Butter Shrimp SMOTHERED in a beautiful and creamy Tuscan sauce.
Tuscan? I know, I know. This is not a traditional recipe form Tuscany… BUT it is a 'traditional' recipe — in chicken form — from the popular Olive Garden Italian Restaurant. However, being Valentine's Day, shrimp is that much more romantic.
In this recipe, you can use marinated peppers (capsicums), or sun dried tomatoes. I went for the tomaytoes, because this Creamy Sun Dried Tomato Parmesan Chicken has lingered in my brain cells since making it, and this recipe is similar to that one.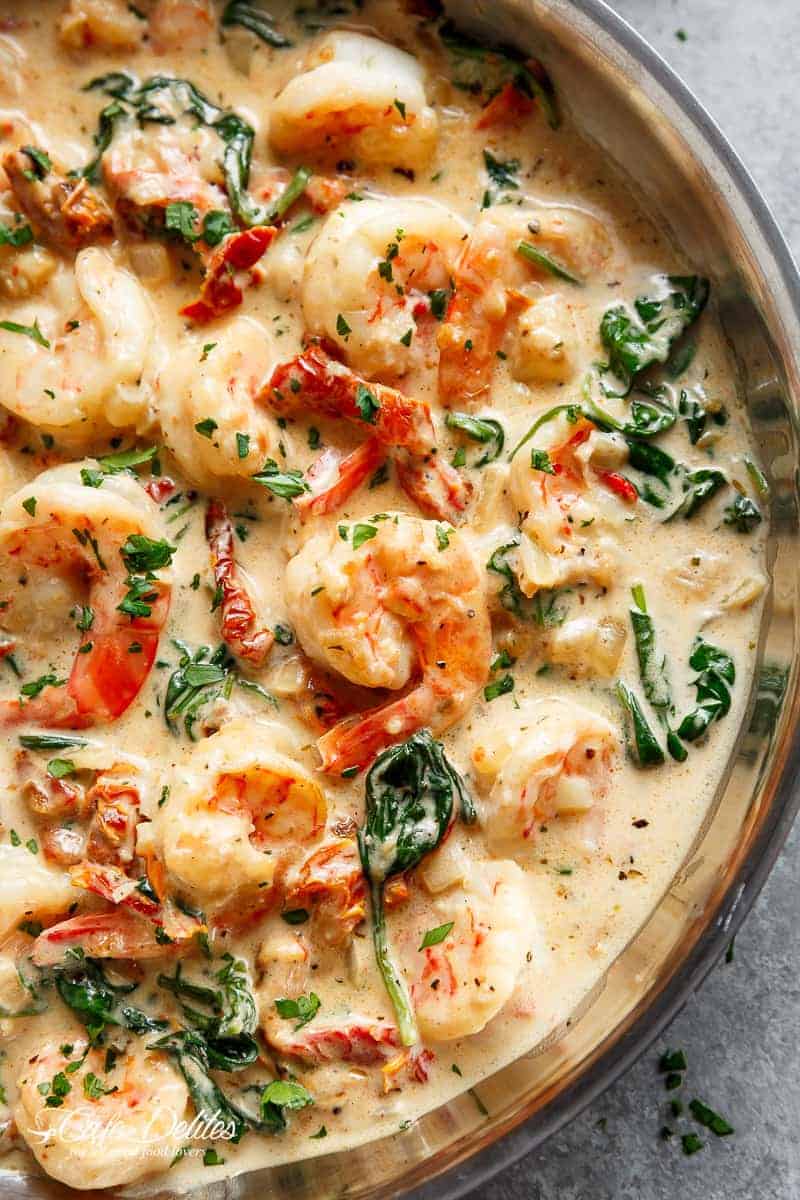 Need some tips? Here ya go:
If you don't want to use salted butter, use unsalted and season shrimp to suit your tastebuds.
If wanting to cut the calorie or fat grams, use less butter or cooking oil spray to fry the garlic.
Half and half is an American product, made from equal parts light cream and milk. Feel free to use half light cream and half 2% milk (or full fat if not worried about calories and fat counts), in place of half and half. Alternatively, use all light cream or heavy cream if you wish. For a dairy free option, substitute half and half with almond milk.
I use sun dried tomatoes in oil, and drain them reserving about 1 teaspoon for added flavour when cooking. Feel free to use fat free sun dried tomatoes (not packed in oil), to save calories.
For a gluten free option, find GLUTEN FREE Cornstarch where available
Why not serve this Red Velvet French Toast for breakfast. And this Hot Fudge Chocolate Pudding Cake for dessert.
You're welcome.
So, did you miss me?
---
REMEMBER TO SUBSCRIBE TO CAFE DELITES NEWSLETTER FOR FREE AND RECEIVE FRESH RECIPE NOTIFICATIONS DELIVERED INTO YOUR INBOX!
If you try a recipe, please use the hashtag #cafedelites on INSTAGRAM for a chance to be featured!
FOLLOW CAFE DELITES ON FACEBOOK | INSTAGRAM | PINTEREST | TWITTER FOR ALL OF THE LATEST CONTENT, RECIPES AND UPDATES.
2