Cookie Butter Gingerbread Caramel Chip Blondies
Fudgy and dense gingerbread blondies made with cookie butter for extra indulgence and spindled with caramel chips — because why not? The kids go crazy over these blondies. And the adults? Well, what blondies? It's like they were never there.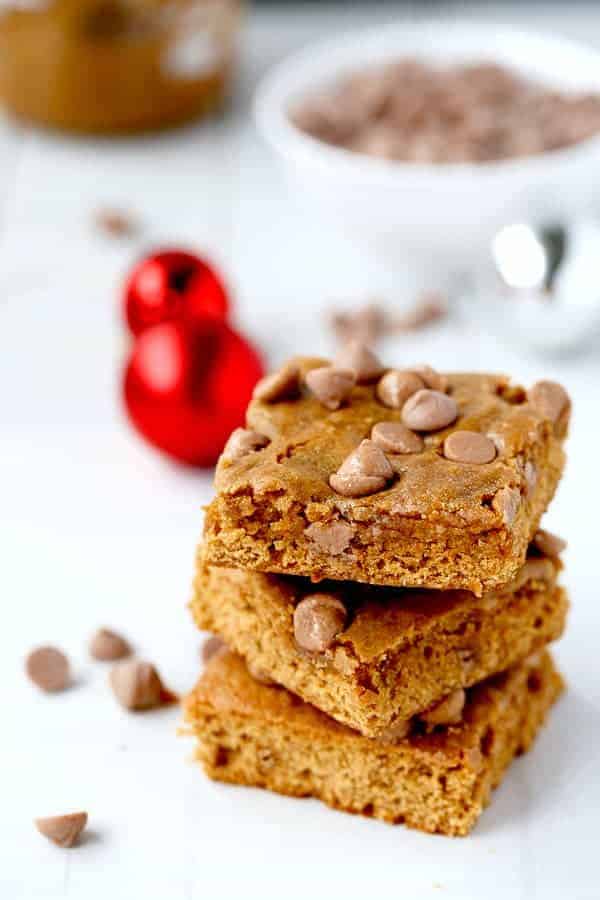 Hello people of internet town. How are you? I hope all is well over your side of the world.
Oh…you mean you weren't looking to chat? I'm sorry, my bad.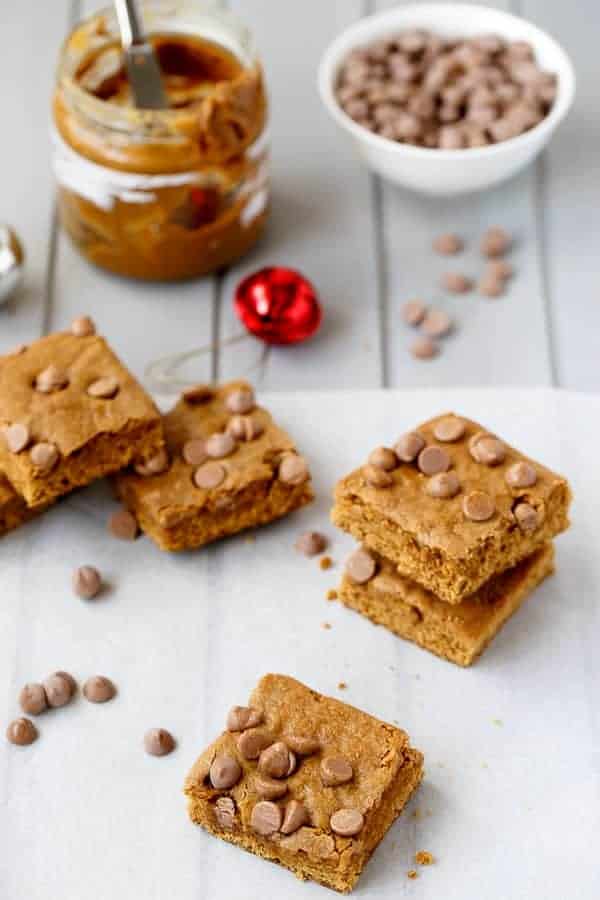 It is my humble opinion that gingerbread should be celebrated in every.part.of.the.globe every-single-day.
Why do we break it open only at Christmas time? Whyyyyy I ask you?
Well, not over here. Remember the Gingerbread French Toast I gave you guys, oh like 4 full moons ago? Roughly? About?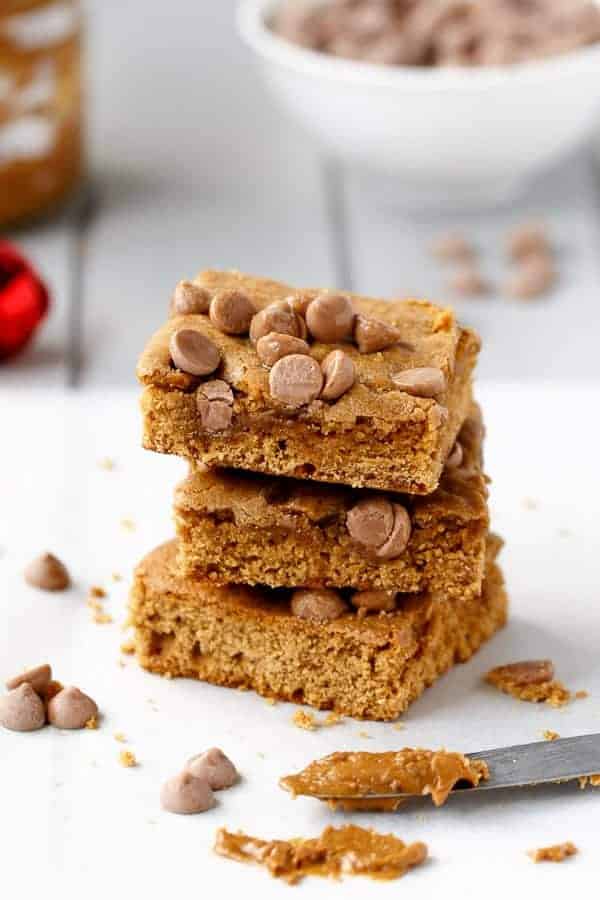 Well, they hit me smack bang in the face yesterday, and I thought 'heeeeyyyyyyyy Karina, you haven't made blondies in a while. What's with that? Get on it girl.' (Remember, I talk to myself. A lot. And no, I don't need therapy or medication. I think).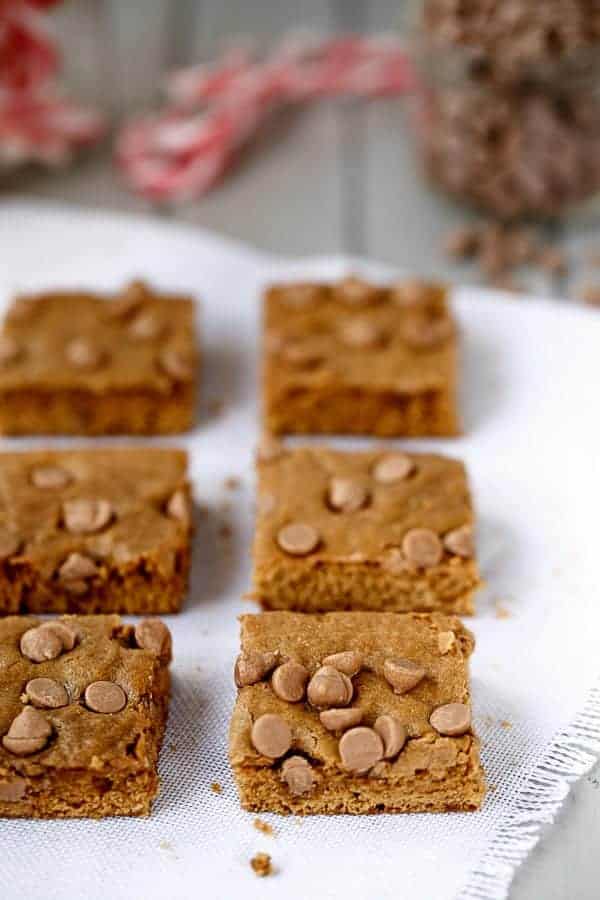 So of course, me being — um, me — kinda sorta took gingerbread blondies, and turned it into another dimension and added some spectacular Cookie Butter. What is cookie butter? Ohhhhh if you need to ask, then please do yourselves a favour and google it, or hit that link I just provided you with. Seriously. Find out where you can get some and try with all your strength not to faceplant the jar. Not.Even.Joking.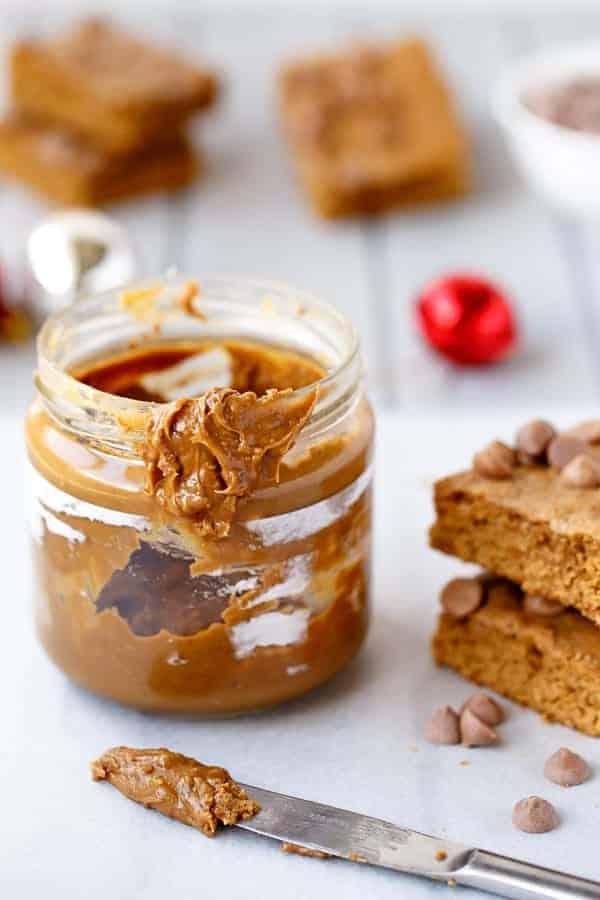 And then while you're at it….get some caramel chips. Because you need too. Because Santa said.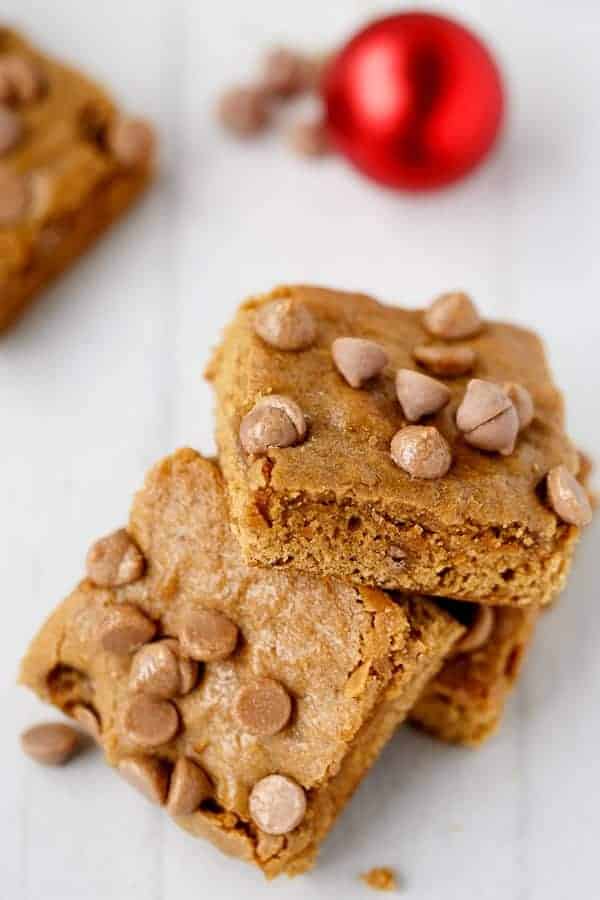 I thought about this for so long, I did my own head in. Like an inner voices battle with a new found personality up in my head. How to do it? How to mix it in? How much to use? How to keep it gingerbread-yyy? How would it taste? See? Yeah. Believe me, you do not want to see me creating recipes. It's not pretty.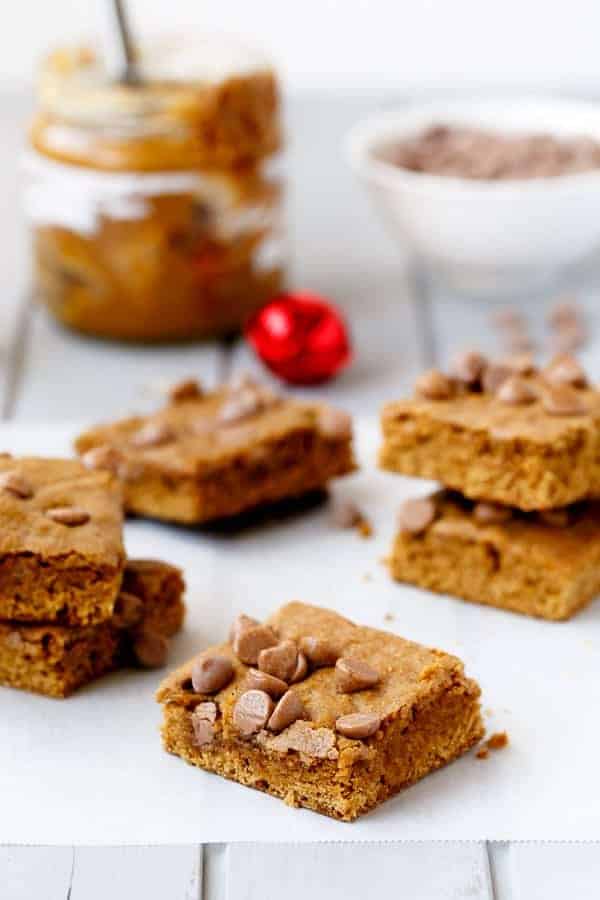 So finally, I gave up, threw my hands up in the air like I just don't care and hollered to no one in particular except myself, yo, just throw, mix and pour, got it? Good. So I did.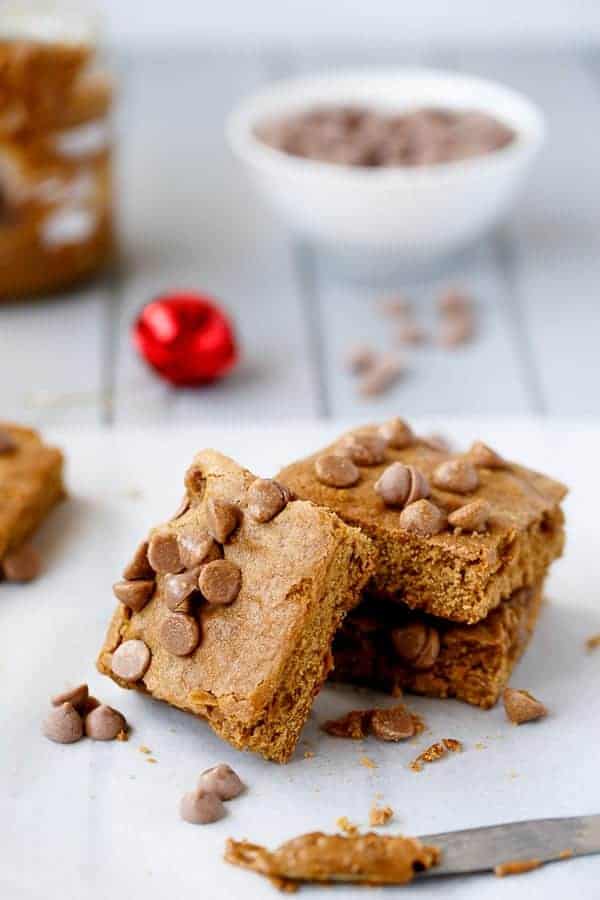 You know what? Trying these out for the first time fresh outta the oven was like a bliss I've never felt.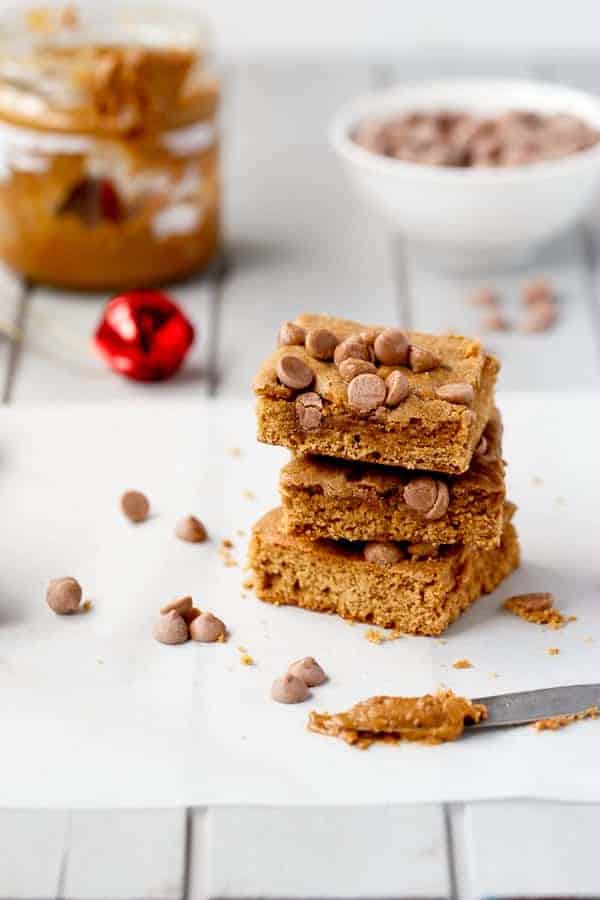 Gingerbread goes ohsogood with cookie butter, and in these blondies it just makes them so fudgy and dense, almost like a chewy cookie but bettah. And the caramel chips melt through the blondies soaking up all those cookie butter and gingerbread flavours while melting on your tongue and….ok you know what? I'ma stop here and just let you try 'em.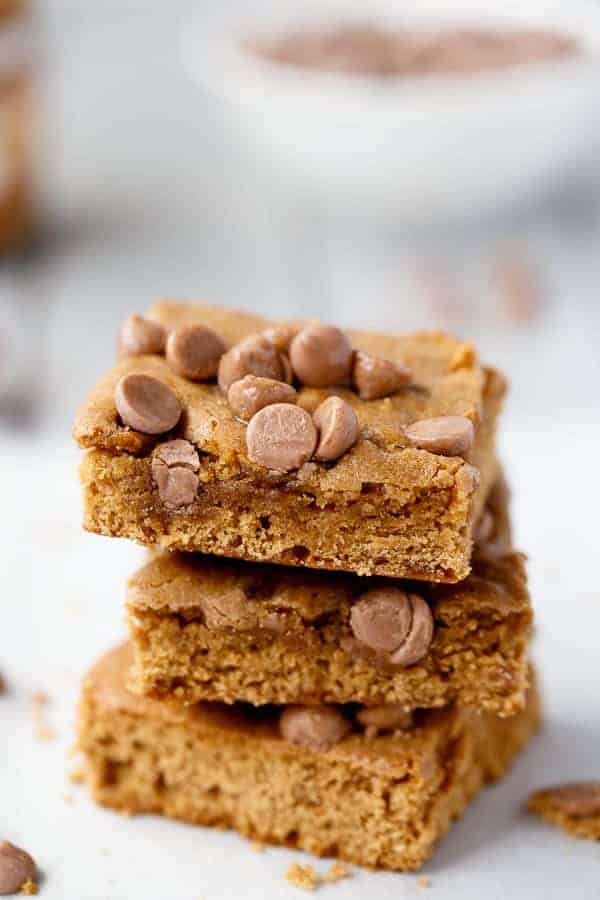 If you want gingerbread bliss, try these. Really. Go now. Tell me all about it later.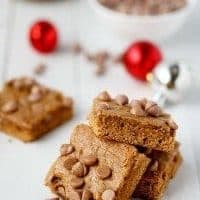 Cookie Butter Gingerbread Caramel Chip Blondies
Fudgy and dense gingerbread blondies made with cookie butter for extra indulgence and spindled with caramel chips!

Weight Watchers: 3pp per bar!
PRINT
SAVE
go to your favorites
Ingredients
1/4

cup

Cookie Butter or Biscoff Spread

1/4

cup

light butter or margarine

(or coconut oil would work as a healthier sub)

2/3

cup

light brown sugar

, packed (normal brown sugar would work)

1

egg

1/4

cup

golden syrup/molasses

2

teaspoons

vanilla extract

1

cup

flour

(spelt flour works beautifully, but plain or all-purpose are fine to use)

1/2

teaspoon

baking powder

Pinch of salt

(optional)

1

teaspoon

ground ginger

1/2

teaspoon

ground cinnamon

1/3

cup

caramel baking bits
Instructions
Prepare a square nonstick

8-inch baking pan

with cooking oil spray, and wipe the excess over with a paper towel

Combine the butter and the cookie butter in a microwave safe bowl and melt for about 20-30 seconds in the microwave, OR alternatively in a small saucepan over low-medium heat while stirring, but do not boil. Pour into a medium bowl and whisk well until they're combined. Allow to cool slightly, and stir in the brown sugar, egg, syrup and vanilla, and mix well until combined.

Add the flour, baking powder, salt, ginger and cinnamon, mixing slowly until a soft dough forms. Do not over beat. Fold half of the caramel chips in through the batter, and pour batter into prepared pan. Sprinkle remaining chips on top.

Bake at 176C | 350F for about 20-25 minutes or until a toothpick comes out clean (or slightly dirty for fudgier blondies). Do not over bake or they will become dry. Allow to cool on a wire rack and cut into 16 squares. Serve warm with ice cream or frozen yoghurt, or plain! They don't need any accompaniments.
Nutrition
Calories:
97
kcal
|
Carbohydrates:
16
g
|
Protein:
2.1
g
|
Fat:
3.4
g
|
Fiber:
0.2
g
|
Sugar:
9.6
g