Gingerbread French Toasts
What a way to wake up! So gourmet and decadent! And so diet friendly it's hard to believe this was 'diet food.'
Throwing gingerbread flavours into the French Toast egg wash to make these beautiful toasts made for a perfect breakfast. And I normally don't like ginger, but in these?! YUMMM!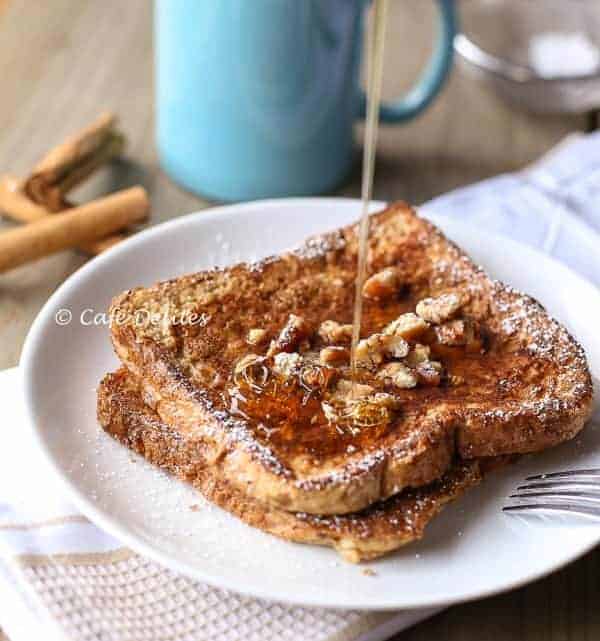 My son forces me to buy him gingerbread cookies everytime we go grocery shopping. It's like a tradition…or a ritual. And I don't mind since they're baked fresh daily at the local bakery.
Well, I had one sitting on the kitchen bench top. The smell of gingerbread making me all dizzy and light-headed. I was planning on a scrambled egg breakfast, but my brain couldn't get over the fresh gingerbread aroma.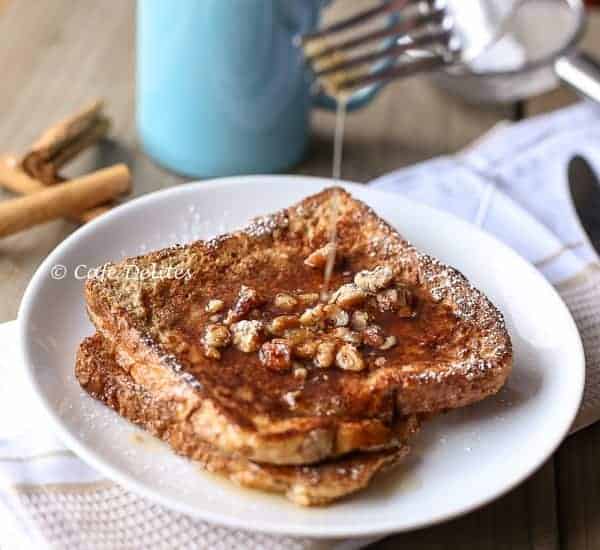 So…the gingerbread won. My imagination went into over drive, and created these.
These taste JUST like gingerbread cakes or cookies. No joke. Dead serious.  And so simple to make.
Topped with a drizzle of honey and crunchy pecan pieces made it all the more decadent!
Just how I like it. My tastebuds were having the time of their lives.
This was by far one of the best breakfasts I've ever made.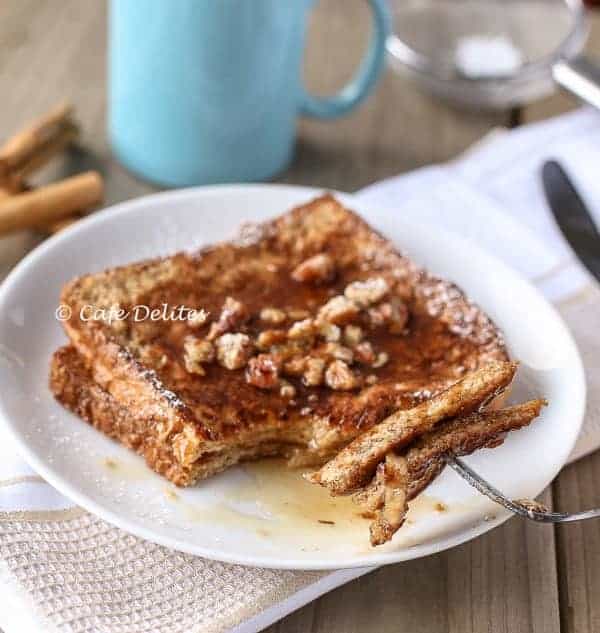 Including the toppings:
308 calories!
15g Protein | 8g Fat | 46g Carbs | 2g Fibre
Weight Watchers 8pp!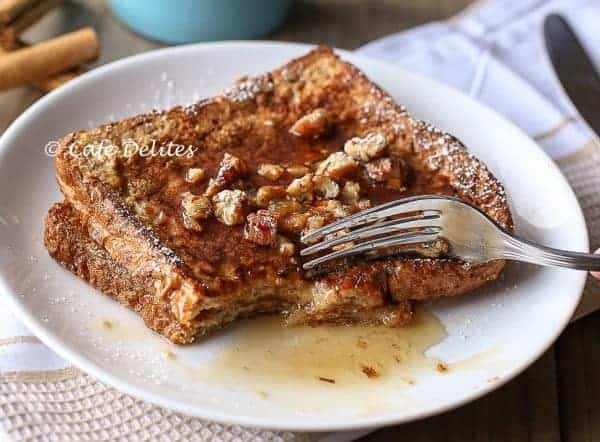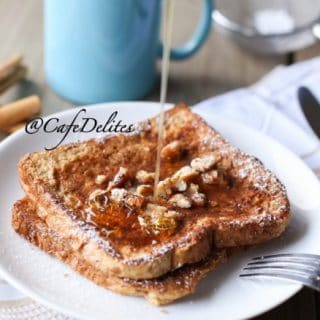 Ingredients
2

pieces

of bread of choice

(I love sourdough)

1

whole egg

1/8

cup

unsweetened almond milk

1

tablespoon

<a href="http://www.amazon.com/gp/product/B00IXC5G56/ref=as_li_tl?ie=UTF8&camp=1789&creative=9325&creativeASIN=B00IXC5G56&linkCode=as2&tag=cafedeli-20&linkId=LBIFNEY6RLHZTFBC">Natvia Natural Sweetener</a><img src="http://ir-na.amazon-adsystem.com/e/ir?t=cafedeli-20&l=as2&o=1&a=B00IXC5G56" width="1" height="1" border="0" alt="" style="border:none !important; margin:0px !important;" /> /sugar of choice

1/2

teaspoon

<a target="_blank" href="http://www.amazon.com/gp/search/ref=as_li_qf_sp_sr_tl?ie=UTF8&camp=1789&creative=9325&index=aps&keywords=ground%20ginger&linkCode=ur2&tag=cafedeli-20&linkId=A73CYROETRXQNLIU">ground ginger</a><img src="http://ir-na.amazon-adsystem.com/e/ir?t=cafedeli-20&l=ur2&o=1" width="1" height="1" border="0" alt="" style="border:none !important; margin:0px !important;" />

1/2

teaspoon

<a href="http://www.amazon.com/gp/product/B001ASCX3I/ref=as_li_tl?ie=UTF8&camp=1789&creative=9325&creativeASIN=B001ASCX3I&linkCode=as2&tag=cafedeli-20&linkId=PKT56GQIAFEOD5J6">ground cinnamon</a><img src="http://ir-na.amazon-adsystem.com/e/ir?t=cafedeli-20&l=as2&o=1&a=B001ASCX3I" width="1" height="1" border="0" alt="" style="border:none !important; margin:0px !important;" />
Instructions
Whisk the egg, milk, sweetener/sugar, ginger and cinnamon well.

Dip bread (one at a time) into egg wash.

Cook both toasts on a nonstick pan sprayed with cooking oil spray until browned on both sides.

Top with a drizzle of honey and 2 crushed pecans for extra crunccchhhh