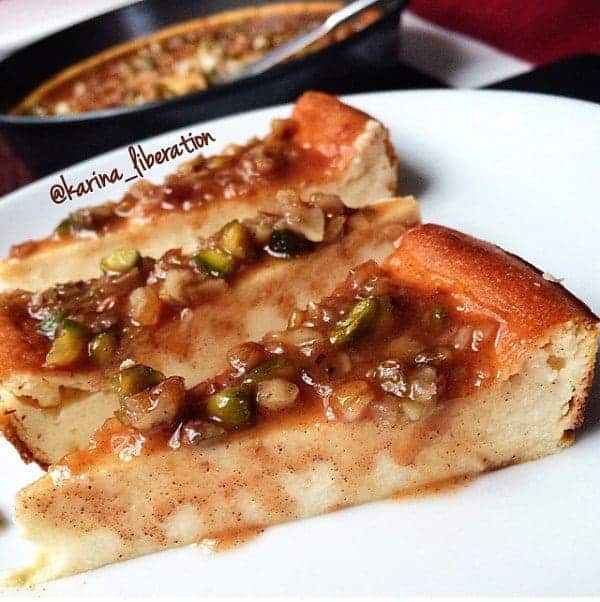 Baklava Cheesecake
My knees go weak when I see Baklava: little pastries filled with a heavenly honey filling and drizzled with a gooey syrupy top. They are sticky. They are super incredible pastries. But they are LOADED with sugar and high in fat. *insert tears*.
I love those little pastries so much, I was desperately trying to come up with something to at least come a little close to them…something diet friendly… that would do the job of quenching my cravings without losing that beautiful Baklava taste.
Well. I think I did it.
This cheesecake has everything you want from a baklava… well, everything minus the buttery pastry.
However, in cheesecake? This was like the cream of the crop. Like winning the lotto. Infusing two of my favourite desserts into one. Out of all of my cheesecakes, this one takes the Baklava prize.
So really, kinda a win-win situation? I think so.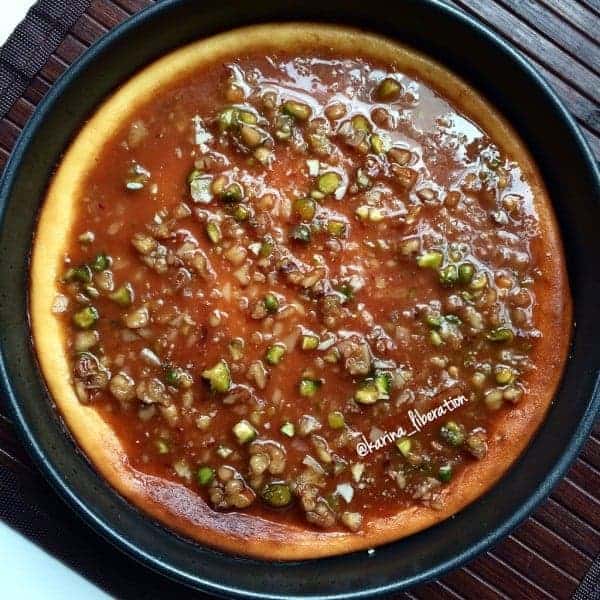 16 SLICES of heaven. Really. I heard angels singing. And my 3 kiddos? Well, they demolished the entire pan in 2.2 seconds.
The comes the husband, who usually has something to say about whatever I bake or cook. Let's just say…happy husband – happy wife..I mean life. Am I the only one who sends up a silent prayer of thanks when the husband approves? Because 8 times out of ten, it's nothing short of a miracle.
That cemented this whole Baklava cheesecake theory.
And if that wasn't enough..after the triumph of a whole family satisfied with this dessert, I went on to make a kick in the butt Baklava French Toast. Ohhhh..yes I DID.
Per slice: Only 94 calories? Yes. I recalculated so many times to make sure! Because this cheesecake is so super decadent, it feels way more naughtier than only 94 calories.