Snickers Fudge Brownies
Well this is the best thing that I've seen for a while!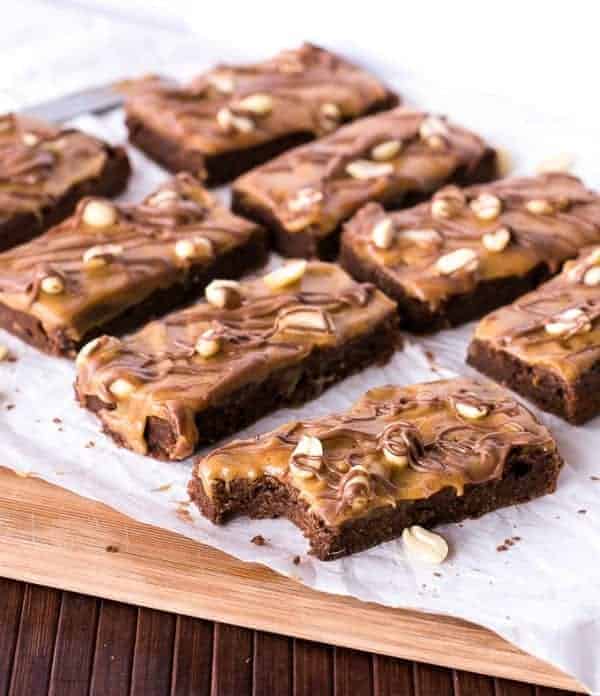 Ok..so there's a story behind these beautiful creations. Well, there's a story behind all of my creations, but these are an exceptional exception! Why? Well, I'll tell ya. A very good friend of mine, Tina, was stuffing her face with a Snickers bar just before a Zumba class…BUT! That's not all my friends. She was about to instruct the class. I knowwww!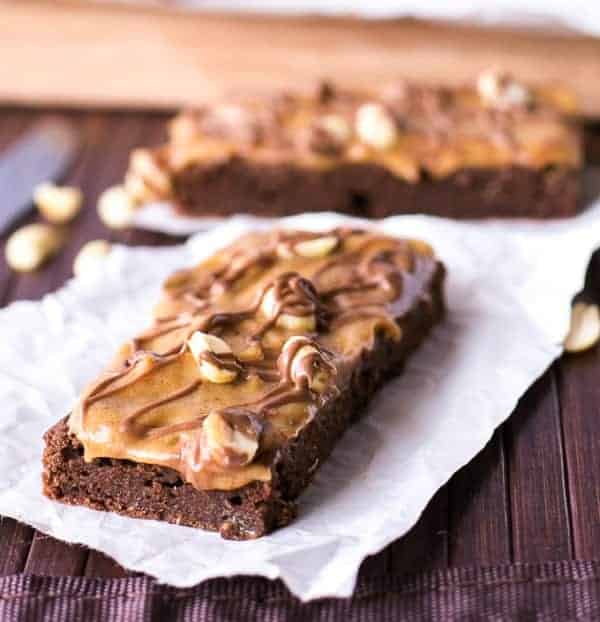 So I solemnley swore to her that I would make her a healthy version of a snickers… and call it Tina's Snickers Fudge Brownies. And I promise, no BEANS of any sort were hurt during the making of these brilliant beautiful bars.I made these using Spelt flour, which I am Absolutely in love with, but any flour is fine. And topping them with a thick and HEALTHY caramel topping, along with melted chocolate…well, I think Tina will kill me if I don't drop these off to her soon.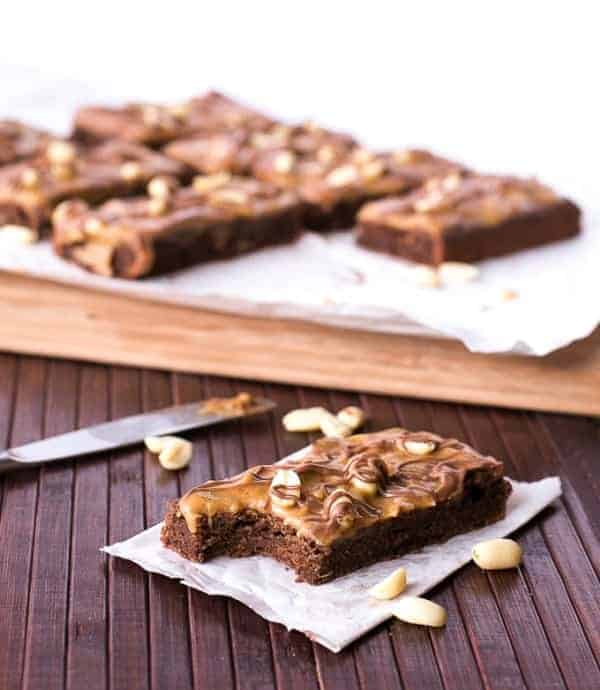 These were AMAZING and perfect for freezing and saving for those chocolate cravings! Super fudgy! As much as I love baking with beans, I'm so happy these turned out so moist and perfect without them!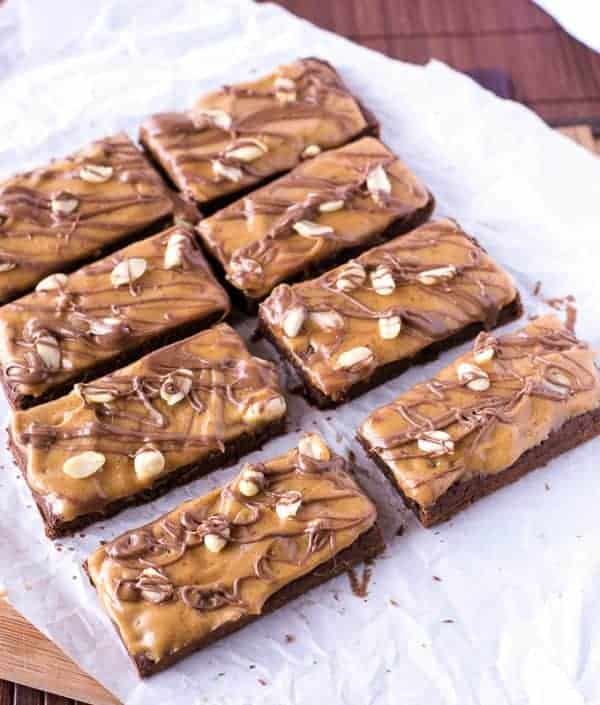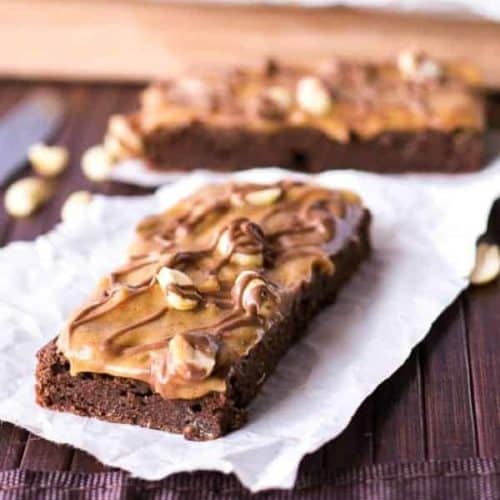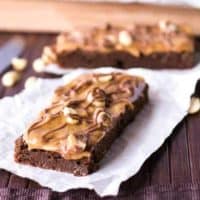 Ingredients
BROWNIES:

1/4

cup

light butter/coconut oil

, melted

1/2

cup

natural sweetener/sugar of choice

3/4

cup

water

1/4

cup

peanut and cacao spread

2

teaspoons

vanilla extract

1

cup

spelt flour

(or plain/all purpose)

1 1/2

teaspoons

baking powder

1/3

cup

unsweetened cocoa powder

1/4

cup

low fat vanilla yoghurt

CARAMEL TOPPING:

1/2

cup

fresh pitted Medjool dates

(approx 5 dates)

1/8

cup

sweetener/sugar of choice

1/8

cup

unsweetened almond milk

1

tablespoon

maple syrup

(can be sugar free - sub with agave or rice malt syrup)

EXTRA TOPPING:

2

tablespoons

milk or dark chocolate chips

, melted

2

tablespoons

crushed peanuts

(optional)
Instructions
Preheat oven 176c | 350F. Spray a

8x8-inch baking pan

with oil spray, wipe over with a paper towel, and set aside.

Whisk butter/oil, sweetener/sugar, water, spread, yoghurt and vanilla extract until combined. Add flour, baking powder cocoa powder and yoghurt. Mix well with a wooden spoon, but be careful not to over beat. The batter will be thick but smooth.

Pour batter into baking tray and bake for 25 - 30 minutes, or until a toothpick inserted into the centre comes out clean.

While brownies are baking, make caramel topping. Throw dates, sweetener/sugar, milk and vanilla into a

food processor

. Process for approx 5 minutes, scraping down the sides with a spatula, until smooth and thick. Set aside.

Melt chocolate chips in the

microwave

in 30 second intervals until melted, stirring between intervals with a metal fork.

When brownies are done, remove from oven and cool for 20 minutes before placing onto a wire rack. Top with caramel topping and drizzle with melted chocolate. Sprinkle peanuts on top! ENJOY!
Nutrition
Calories:
161
kcal
|
Carbohydrates:
21
g
|
Protein:
5.6
g
|
Fat:
6
g
|
Saturated Fat:
2.5
g
|
Fiber:
2.8
g
|
Sugar:
11
g