A crispy, soft and gooey deep dish Cheesecake Stuffed Chocolate Chip Skillet Cookie, with layers of cookie dough and cheesecake, is the ultimate dessert for cheesecake/cookie lovers everywhere!
Cheesecake Stuffed Chocolate Chip Skillet Cookie… Chocolate and cheesecake are perfectly combined and have never tasted so AWESOME together!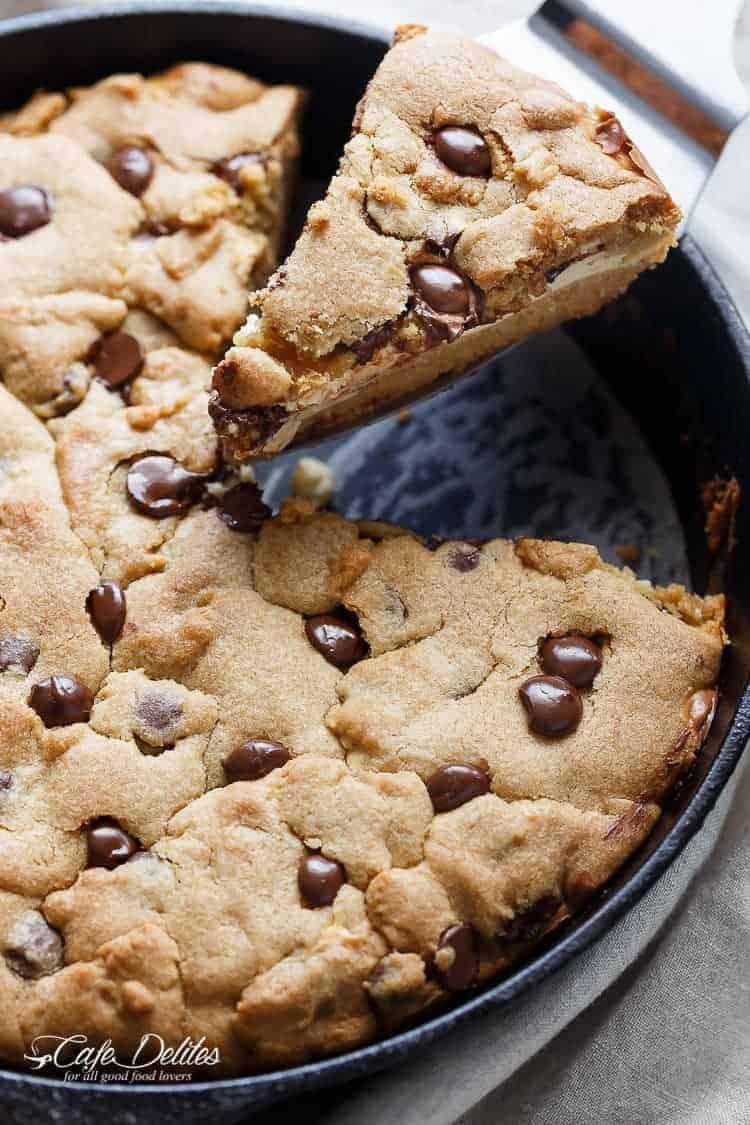 Have you ever seen anything so beautiful? No. Me either. This one is for the cookie lovers AND cheesecake lovers, because why not? I've been testing this recipe out for a couple of weeks now while the kids were here on school holidays, eagerly available to hoover the entire skillet, stuffing their faces until the recipe came out right.
What first started out with innocent children asking for my Nutella Stuffed Skillet Cookie, running out of Nutella (I know, the horror), and seeing what else I could stuff it with, the cream cheese at the back of the refrigerator was begging to be included in this cookie party. I mean, why not? I stuffed a Lemon Blueberry Cake with a Cheesecake layer. Then there was that Peanut Butter Cheesecake stuffed CHOCOLATE Cake.
Anyway, first, I started the trial and error by using said Nutella Skillet Cookie dough for this experiment. The only problem was, the dough is too runny in that recipe for this cookie, and the cheesecake mixture ran into the cookie instead of baking nicely to form the cheesecake layer. So, adding flour bit by bit into three more skillet cookies, adjusting the sugar quantities to get a fudgy outcome with MORE brown sugar and LESS white sugar (or sweetener), the final outcome (pictured allllllll over this post, I'm sorry sort of), means the ultimate skillet cookie is now complete!
First, make your cheesecake mature, then your cookie dough. Isn't it beautiful?
Divide the dough in half…….like so 👇 👇 👇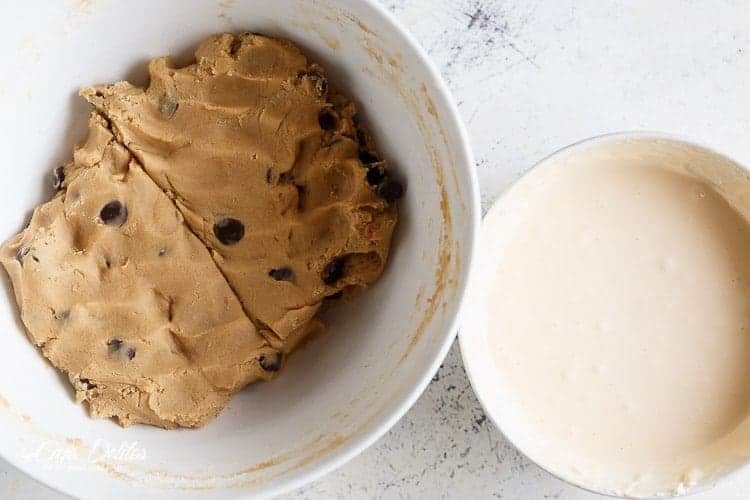 THEN, proceed to press half out into your prepared skillet (or you can use a pie dish).
Pour the cheesecake mixture over the base…….and evenly spread like so  👇 👇 👇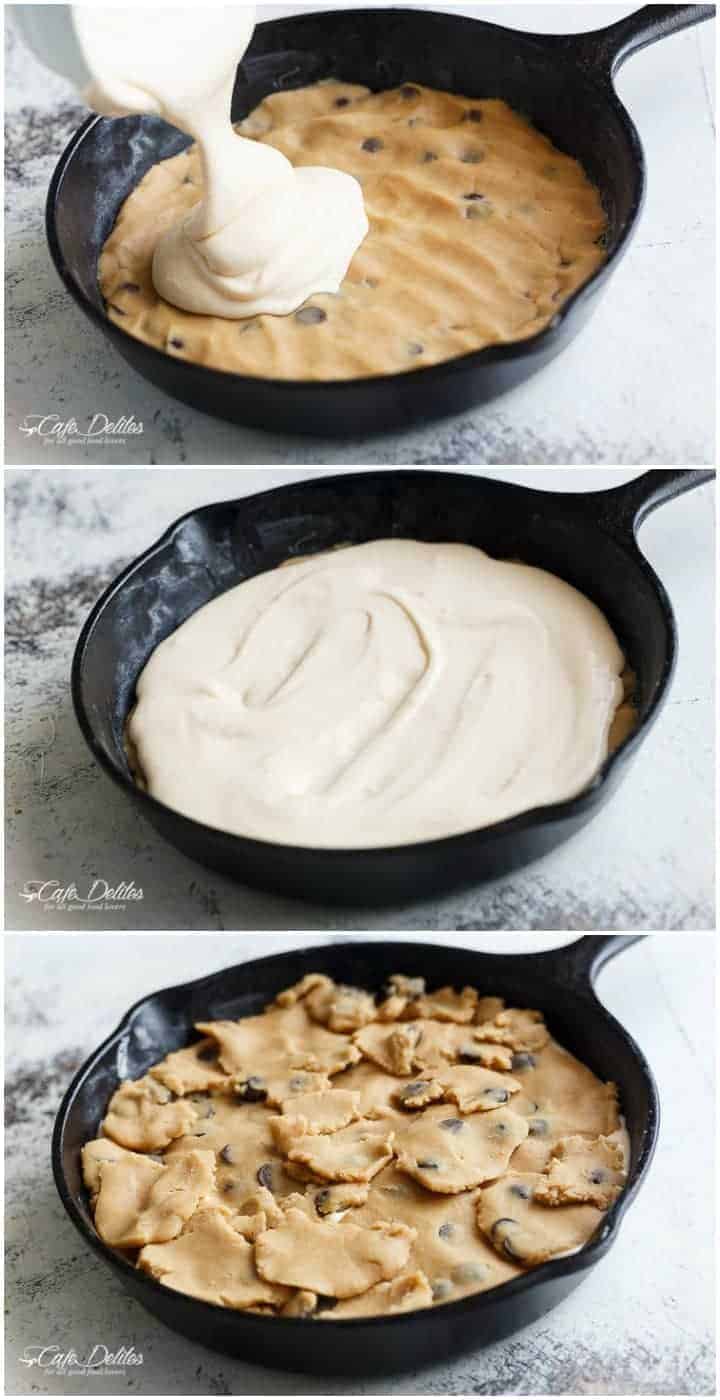 THEN……press tablespoon pieces of cookie dough into discs (or weird shapes — like me), and cover your cheesecake mixture. It doesn't have to be perfect (well, obviously), because when it bakes, the dough spreads evenly, baking into each piece to form the most beautiful skillet cookie on this blog. Like, um, so  👇 👇 👇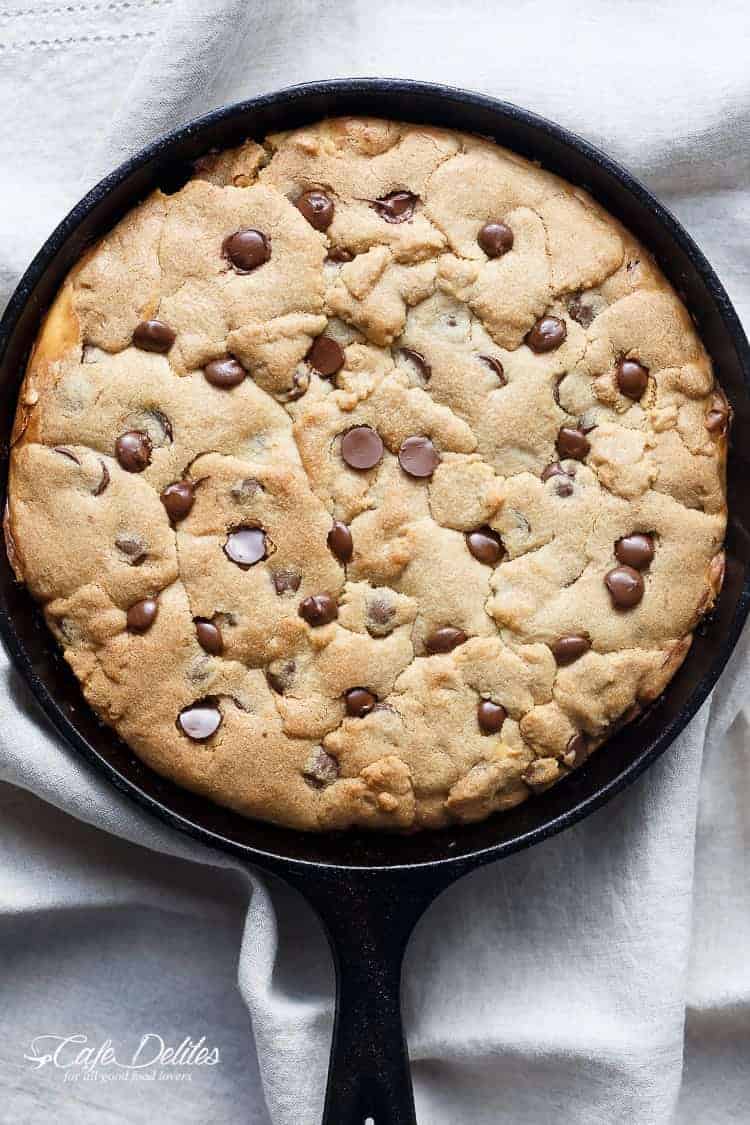 Now, if you're feeling totally generous, yay for you. Divide into 16 slices and serve only your bestest friends and family, because only loved ones need a cookie like this one.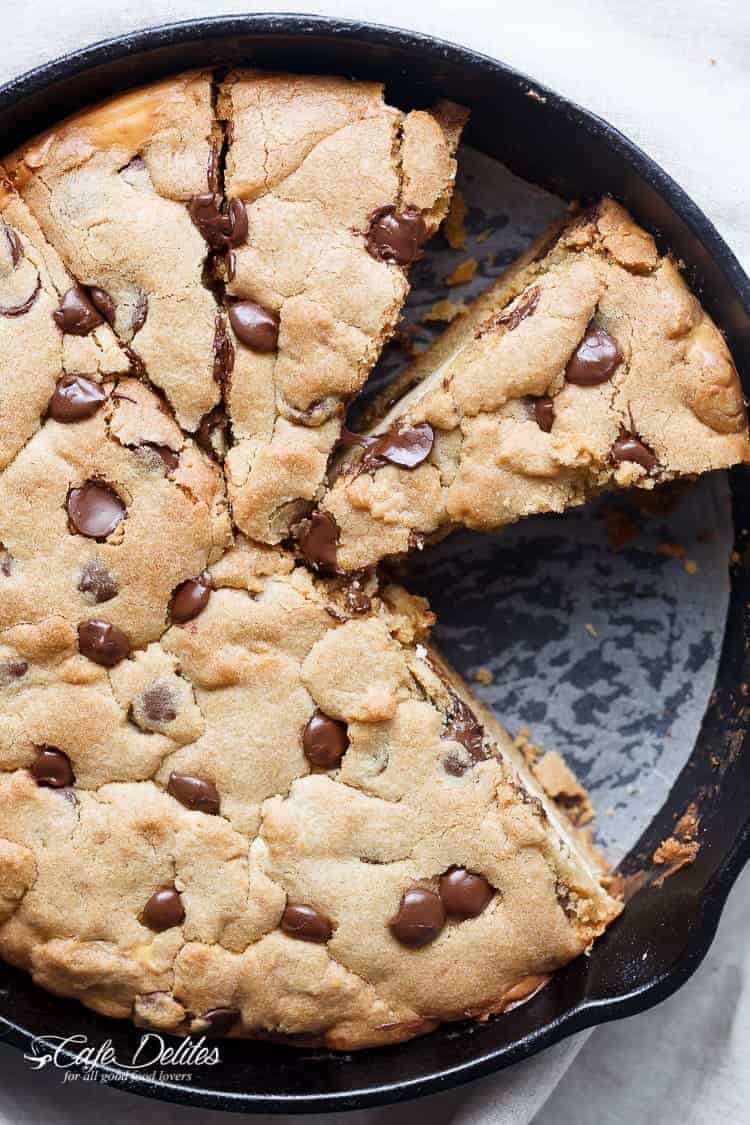 OR, smother in ice cream and serve, like so  👇 👇 👇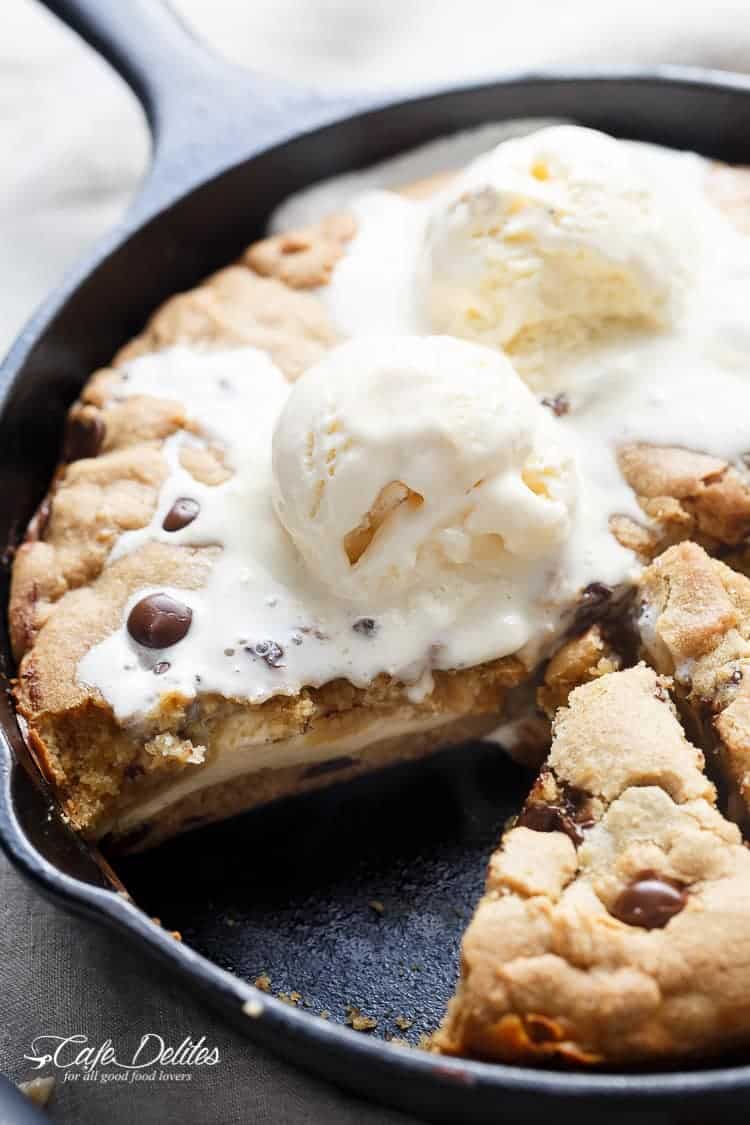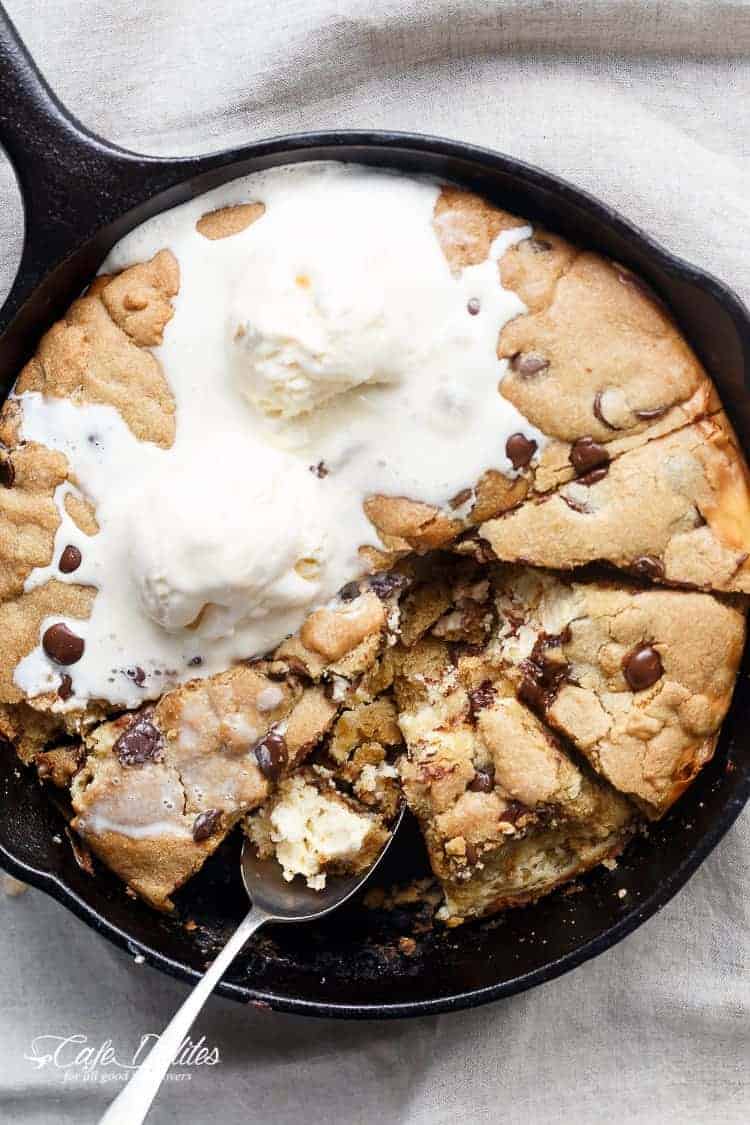 Ahhhhh, cheesecake. You complete me so.

Either way, and whatever you decide, you CANNOT go wrong!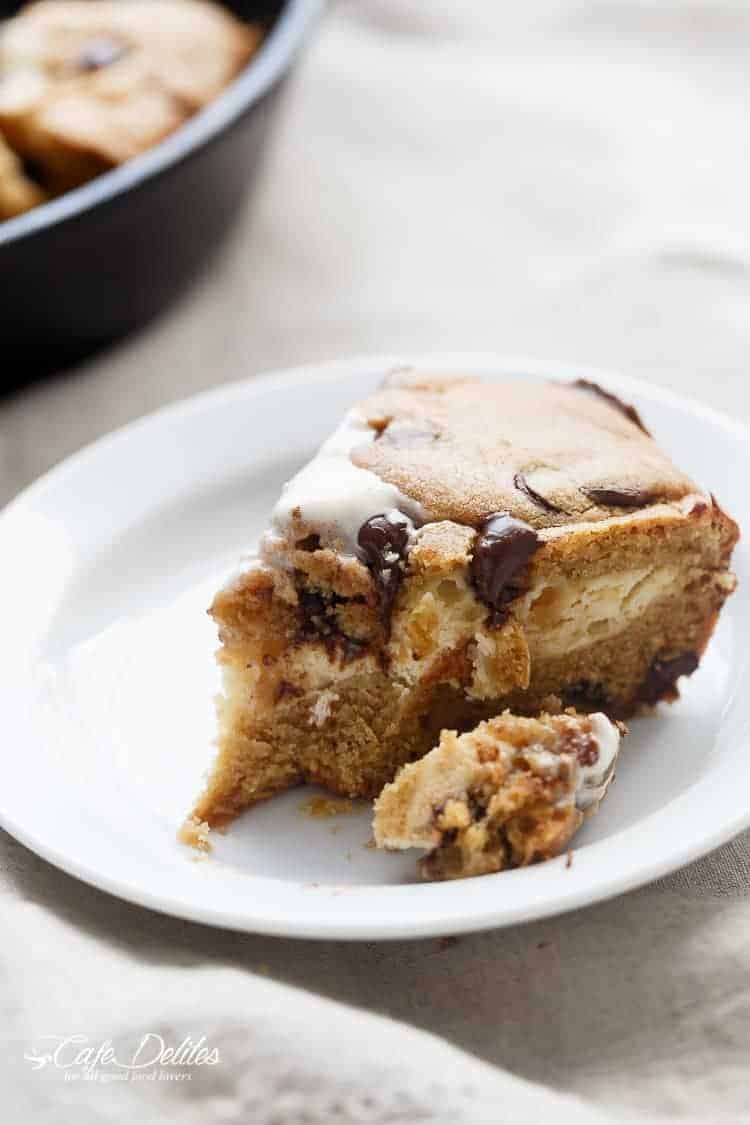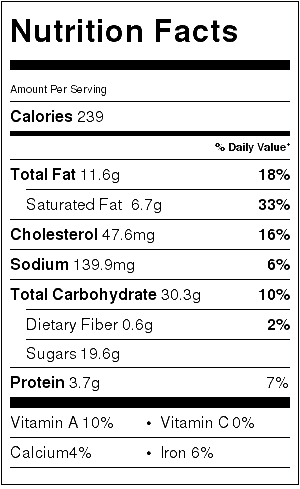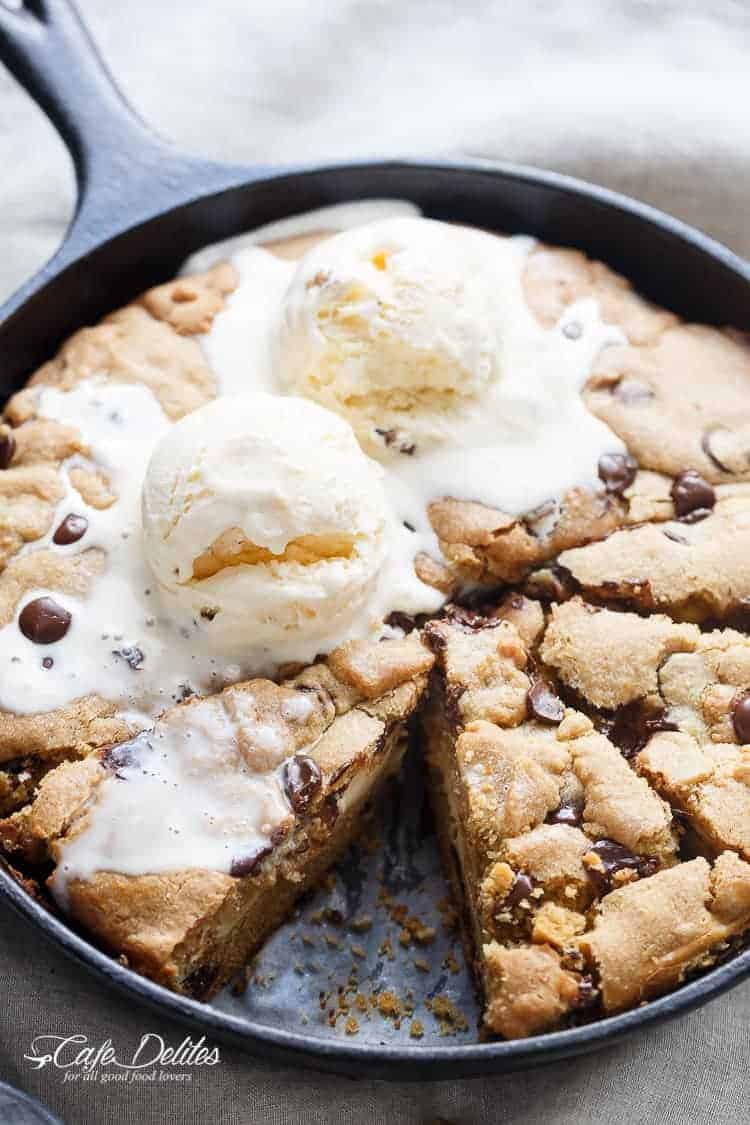 0