The BEST, EASY Soft Chewy Chocolate Chip Cookies with a crispy outer edge that are a cookie dream come true.
No cream cheese. No cornstarch. No apple sauce. No yogurt. No refrigerating dough for days while breaking finger nails waiting for a cookie, being tempted to open and close the refrigerator every 10 seconds just to 'try' the dough and make sure it still tastes good, only to finish it before it gets to the oven. Just simple steps. Simple ingredients with ONE added ingredient for a soft and chewy experience in LESS THAN 15 minutes. Done! This is a classic Easy Soft Chewy Chocolate Chip Cookies recipe but if it's done well like this one, please have mercy!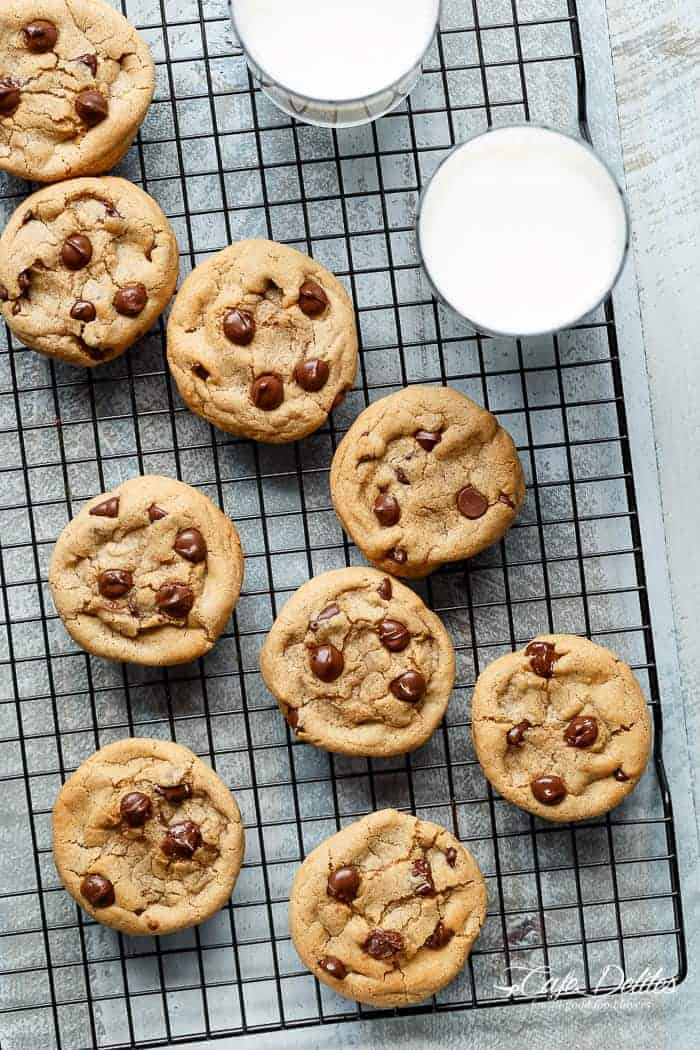 I really can say that after baking around 10 batches of cookies (I lost track this month), and following recipes that throw words around like the best and the ultimate and the softest and the chewiest ever crispy cookies, exactly as they are written: ingredient by ingredient, step by step instructions, I managed to fail every.single.time.
You name it. I tried it. I refrigerated dough for 12 hours. Then 24 hours. Then 36 hours. I folded. I beated, I whisked. I mixed ingredients while cold, then tried room temperature, then back to cold again. MORE brown sugar and less white sugar. NO! More WHITE sugar and less brown sugar. TWO eggs. No….ONE egg plus ONE YOLK. Ugh. PLEASE in desperation! I just wanted a DAMN CHEWY COOKIE. Why are there so many RULES? Yet, nothing came close to what I was dreaming of in my head. So, I began a mission: make my own.
With all the batches I tried — and learned a few things in the process — the biggest lesson was this. STOP COMPLICATING a recipe and just beat, scoop, bake. DONE.
Those crinkly tops ↓. If you look close enough, you can see between those crinkly tops into the soft hearted soul of these cookies.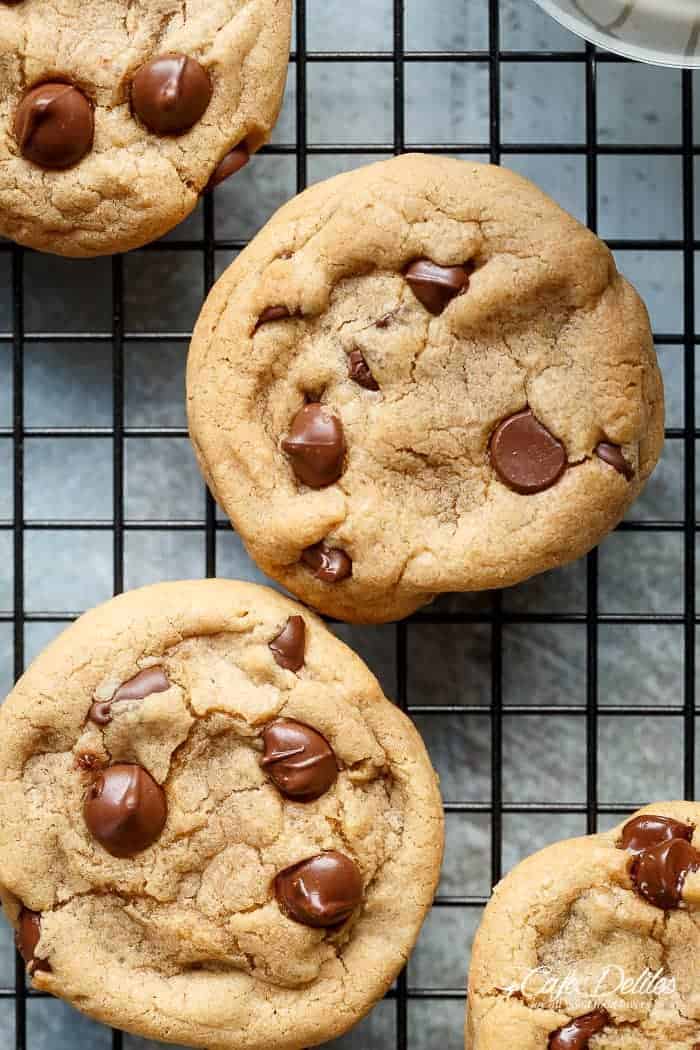 When you try these (because I know you will), you will have a recipe for the best, the ultimate, the soft, the chewy, the crispy cookie….all in one.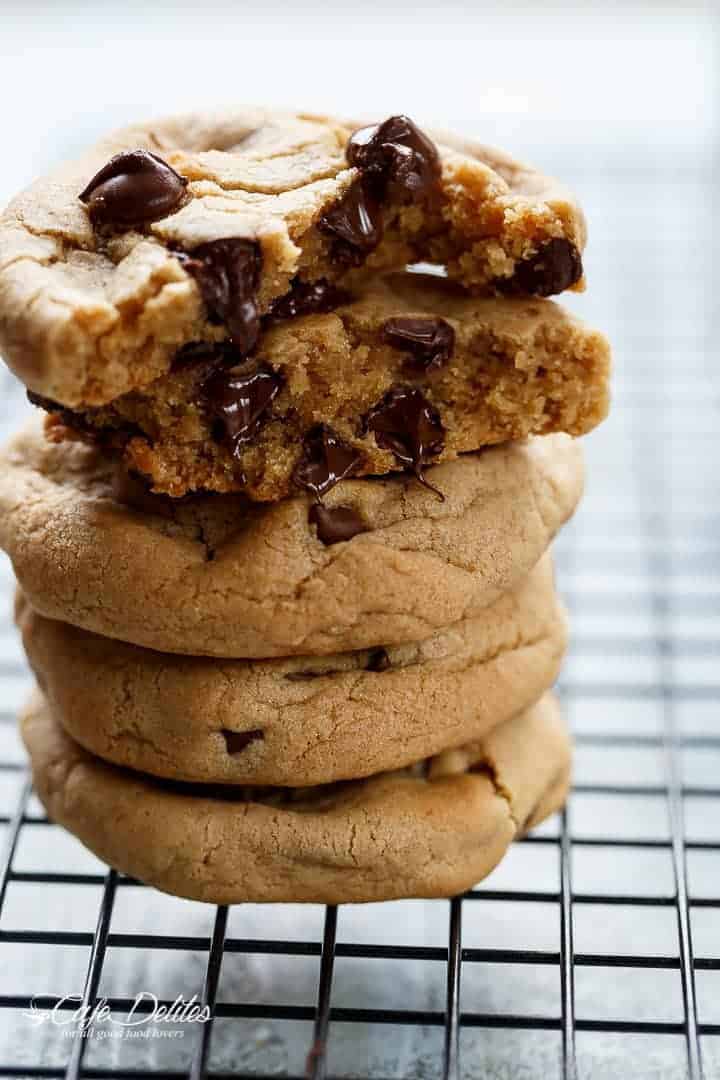 I feel that all of those failed attempts led me to these. Especially the recipes calling for softened butter at room temperature. That's where it started. Because I accidentally didn't do that one morning and chose to cheat my way to 'soften' my hard as stone butter the fast way….in the microwave, only to have melted half of it. A cookie blessing. Melted butter. The taste of a cookie with melted butter far out weighs a cookie with softened butter. Plus, it's easier.
Keeping it simple: Check 1 ✔️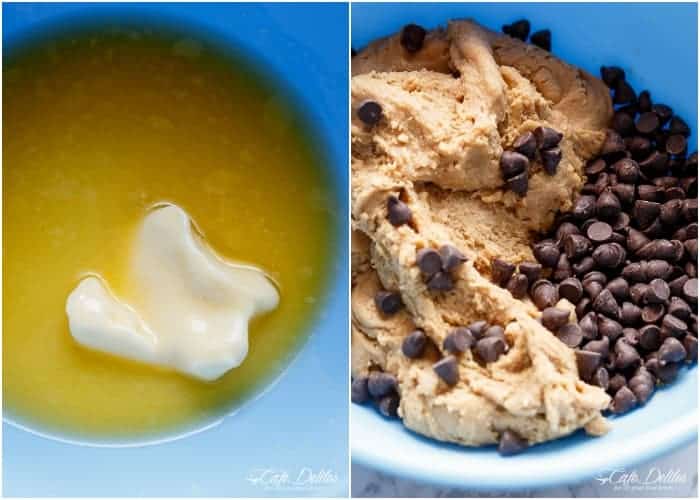 Rolling them out in a rustic way, by just grabbing the dough, pressing it into a somewhat ball-type-of-shape, and plonking them on a tray. No cookie scoops. No tablespoons or teaspoons or whatever.
Keeping it simple: Check 2 ✔️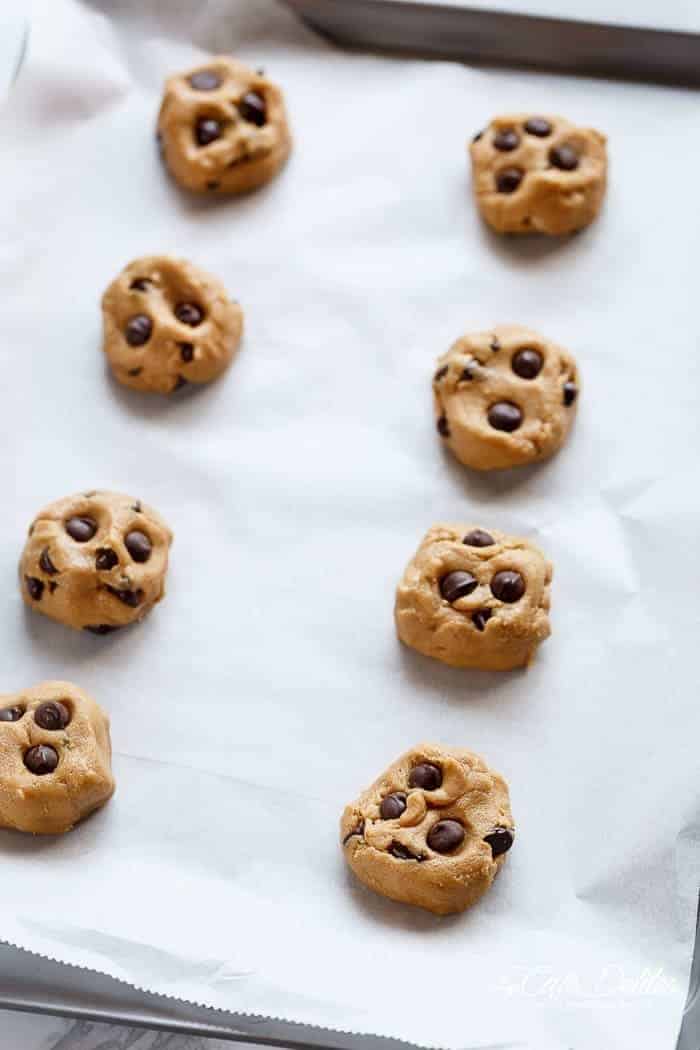 Then, my favourite part, baking them for ONLY 10 minutes to ensure the softest, chewy-est cookie, better than any cafe or bakery, without any complicated steps.
Keeping it simple: Check 3 ✔️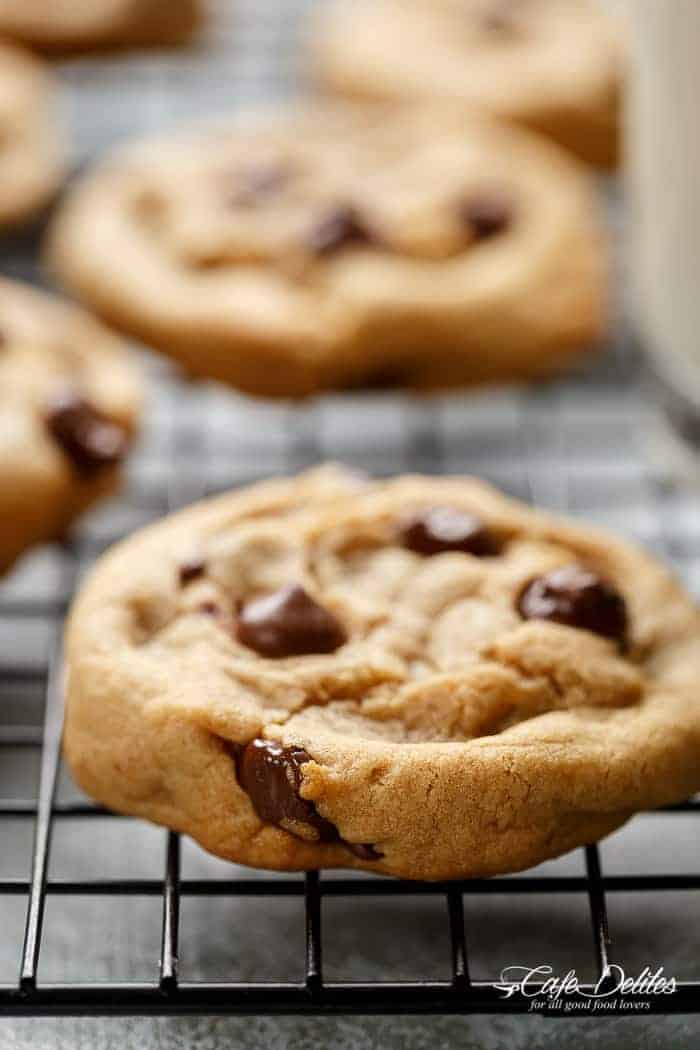 But what makes these extra soft? Golden syrup. I also tried coconut syrup, maple syrup and honey. They ALL work. You're welcome.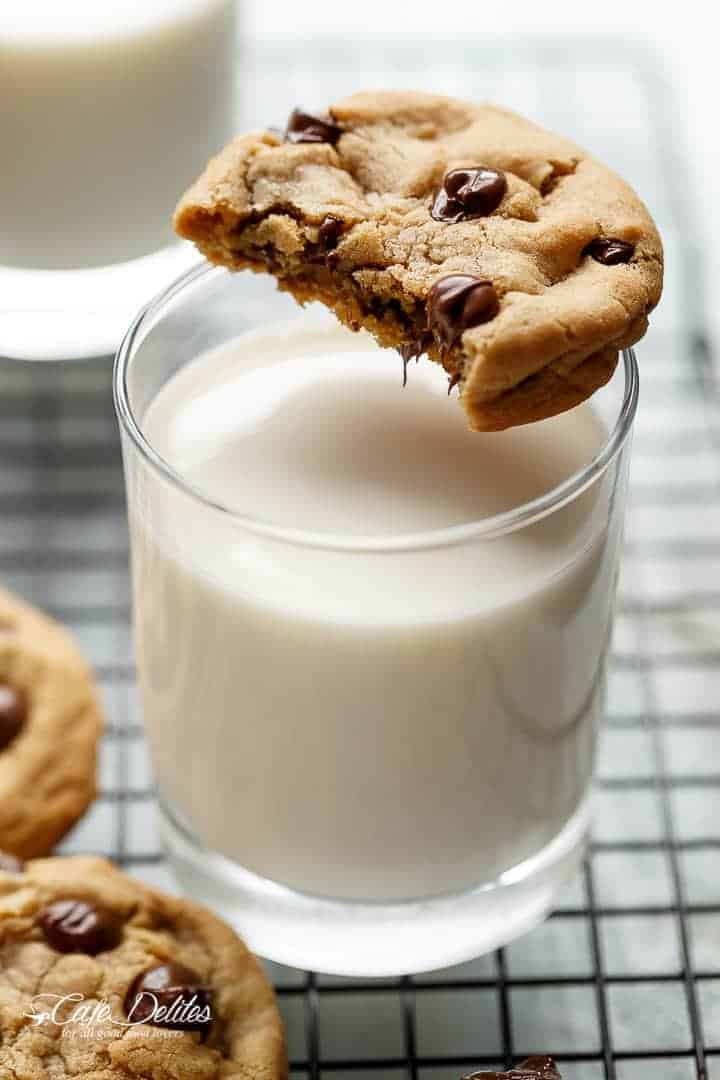 Easy Soft Chewy Chocolate Chip Cookies!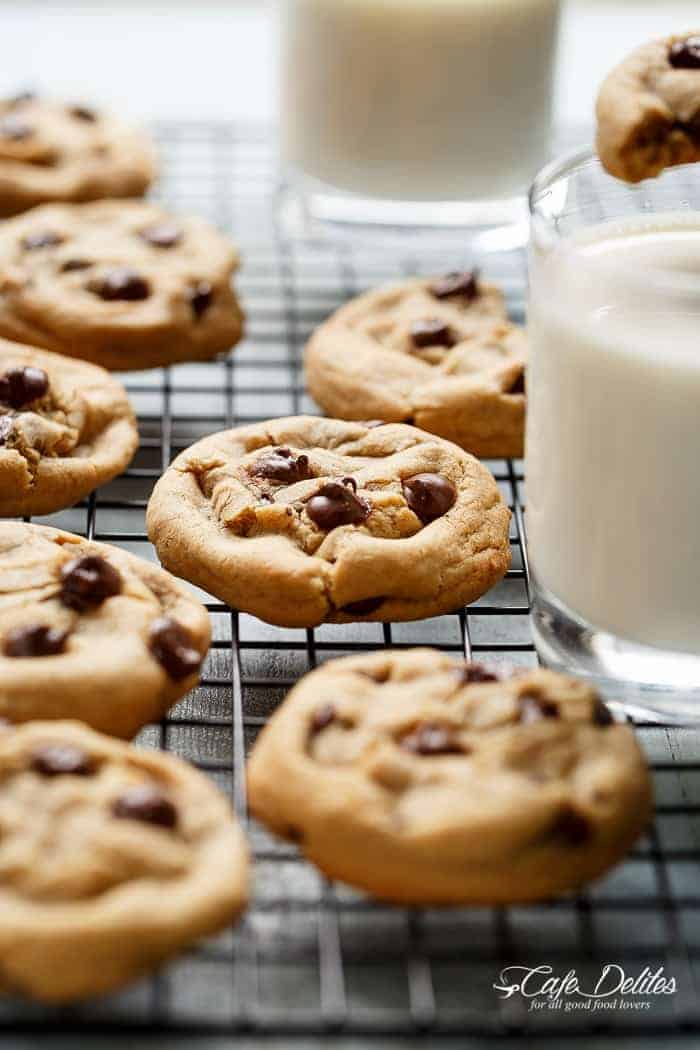 If you want that ultimate soft and chewy cookie centre, while having a crispy outer texture, try these. Please, just do it. You will love them I PROMISE. Easy Soft Chewy Chocolate Chip Cookies for the win!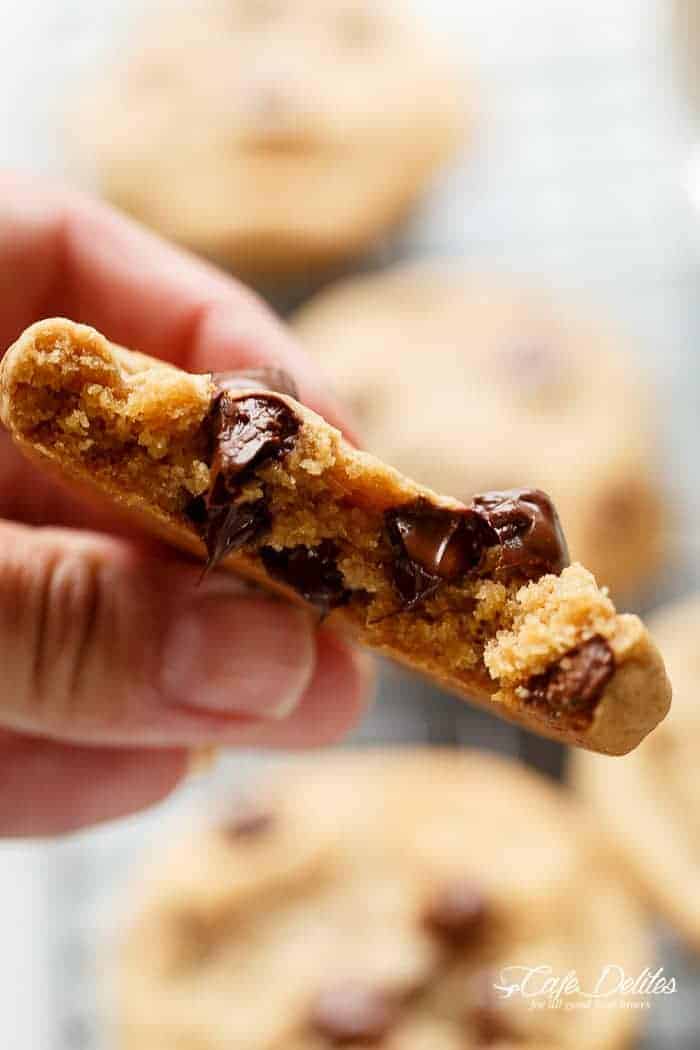 For more cookie recipes, try these!

REMEMBER TO SUBSCRIBE TO CAFE DELITES NEWSLETTER FOR FREE AND RECEIVE FRESH RECIPE NOTIFICATIONS DELIVERED INTO YOUR INBOX!
If you try a recipe, please use the hashtag #cafedelites on INSTAGRAM for a chance to be featured!
FOLLOW CAFE DELITES ON
FOR ALL OF THE LATEST CONTENT, RECIPES AND UPDATES.
0