One Skillet Thai Chicken Thighs + Noodles — all in one pan. When I first thought of this idea, I thought it would be way too complicated with too many steps. But, it's so easy and ready in 35 minutes!
The end result is sticky and juicy chicken thighs smothered in a beautiful Thai inspired marinade, served WITH Thai-style Rice Noodles packed with so much flavour made in the one skillet (or any non-stick pan if you don't have a skillet) for less washing up! Who's in?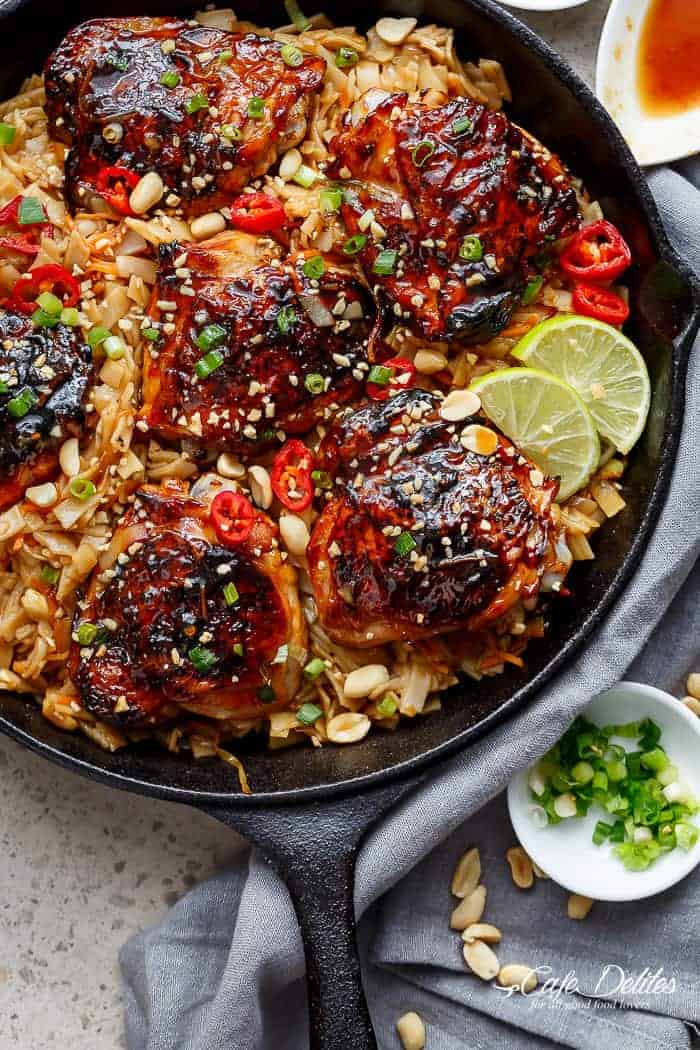 Normally with Thai food, there are only two things we all order. Satay Chicken Skewers (which I will be posting soon), and Pad Thai. And I've been wanting to transform these Sticky Thai Chicken Wings into thighs for a while now. However, including real Noodles (instead of Zoodles aka Zucchini Noodles) into this recipe is a game changer. Of course, you CAN use Zoodles if you'd like to keep this recipe lower in carbs. For today, I wanted the comfort of carbs.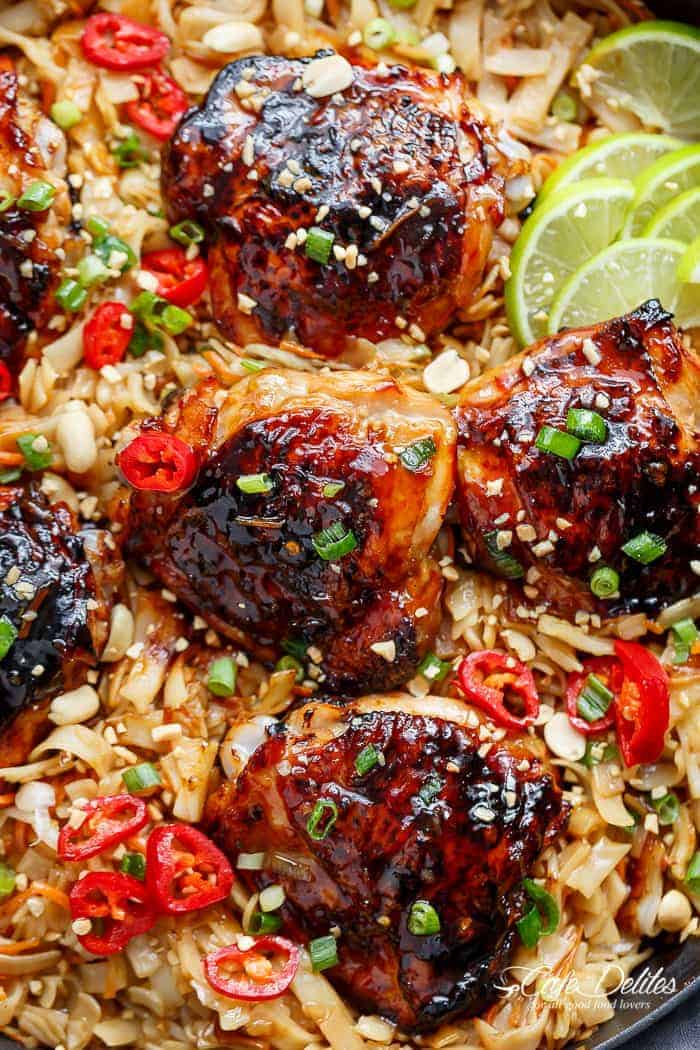 The sticky stir fry sauce also doubles as your marinade. No need for two separate sauces and extra complications. Just whip up one batch and divide it; use one part as a marinade while the other part is simmered over stove top until it thickens into the perfect glaze/stir fry sauce.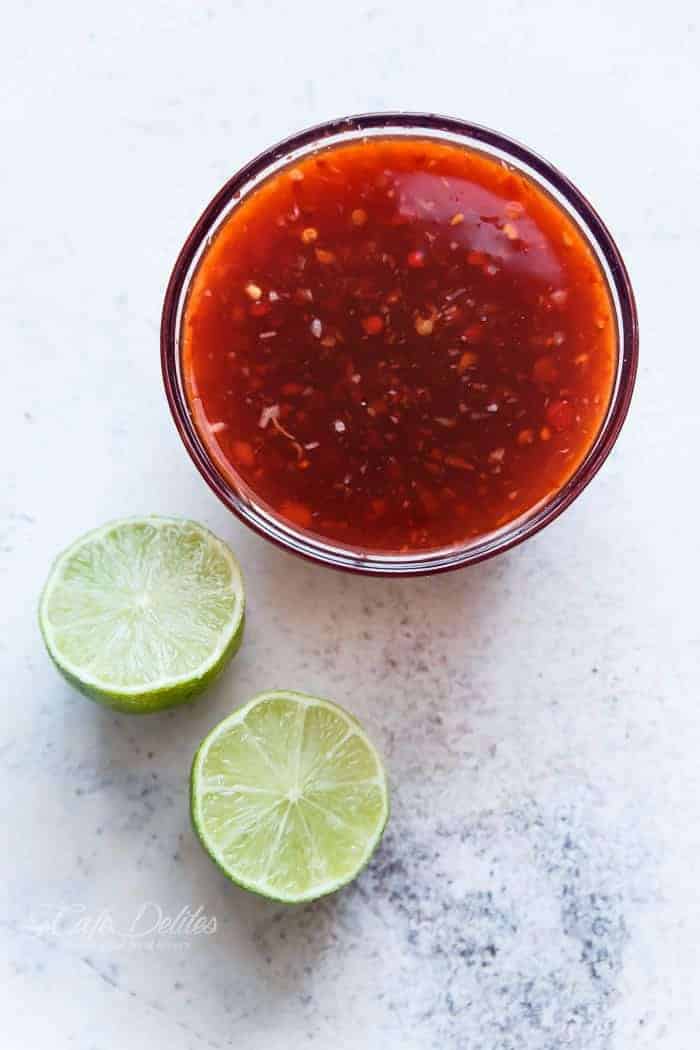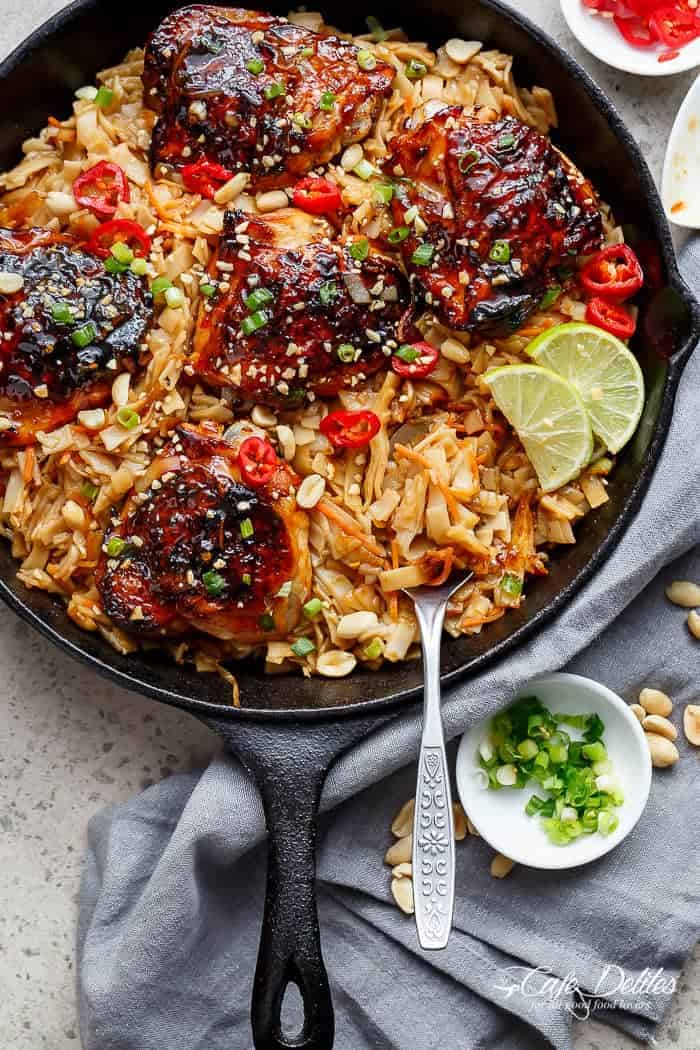 I recommend preparing the rice stick noodles following the packet instructions while your chicken is in the oven (during the last 10 minutes of baking), and rinsing them in cold water once they're soft. By that time, your chicken will be ready. Or, to keep things even more simple, use instant plain Pad Thai noodles that don't need any heat to soften.
To stir fry your noodles, remove the chicken from the pan and stir fry the prepared noodles in your prepared sauce. This step takes about 2 minutes! Then, mix some of the remaining glaze throughout the noodles and place the chicken back into the pan. Garnish with crushed peanuts, sliced red chilli and green onions (you can also add in chopped coriander but we were all out), and another one pot wonder is ready to hit your table.
This One Skillet Thai Chicken Thighs + Noodles recipe is one of those recipes you lick all your fingers without a care in the world.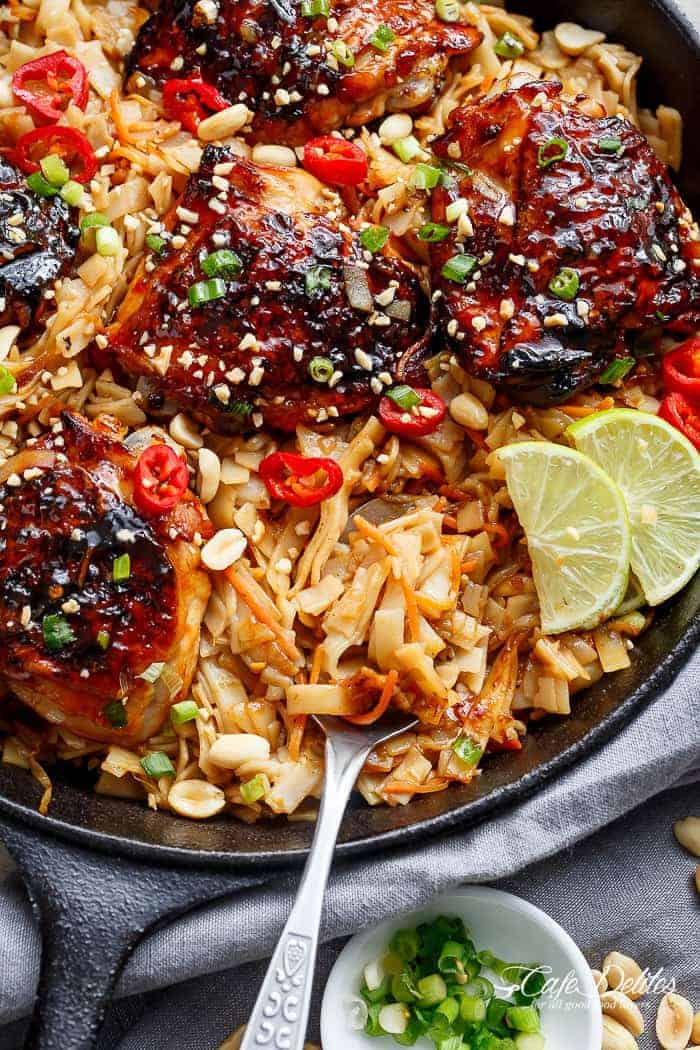 REMEMBER TO SUBSCRIBE TO CAFE DELITES NEWSLETTER FOR FREE AND RECEIVE FRESH RECIPE NOTIFICATIONS DELIVERED INTO YOUR INBOX!
If you try a recipe, please use the hashtag #cafedelites on INSTAGRAM for a chance to be featured!
FOLLOW CAFE DELITES ON FACEBOOK, INSTAGRAM, PINTEREST AND TWITTER FOR ALL OF THE LATEST CONTENT, RECIPES AND UPDATES.
0