This is a HUGE post! A giveaway. A video. A recap. A surprise magazine feature. An epic idea not seen before (in the form of Singapore Zoodles). The first day of the month = the start of a new season. You may need to go grab yourself a coffee.
It was only a matter of time before someone transformed the classic takeout Singapore Noodles into Singapore Zoodles (Zucchini Noodles) with Chicken AND Shrimp. Get your chopsticks ready, because this is one twist on a classic you'll be making time and time again. And for half of the calories and Weight Watchers Points!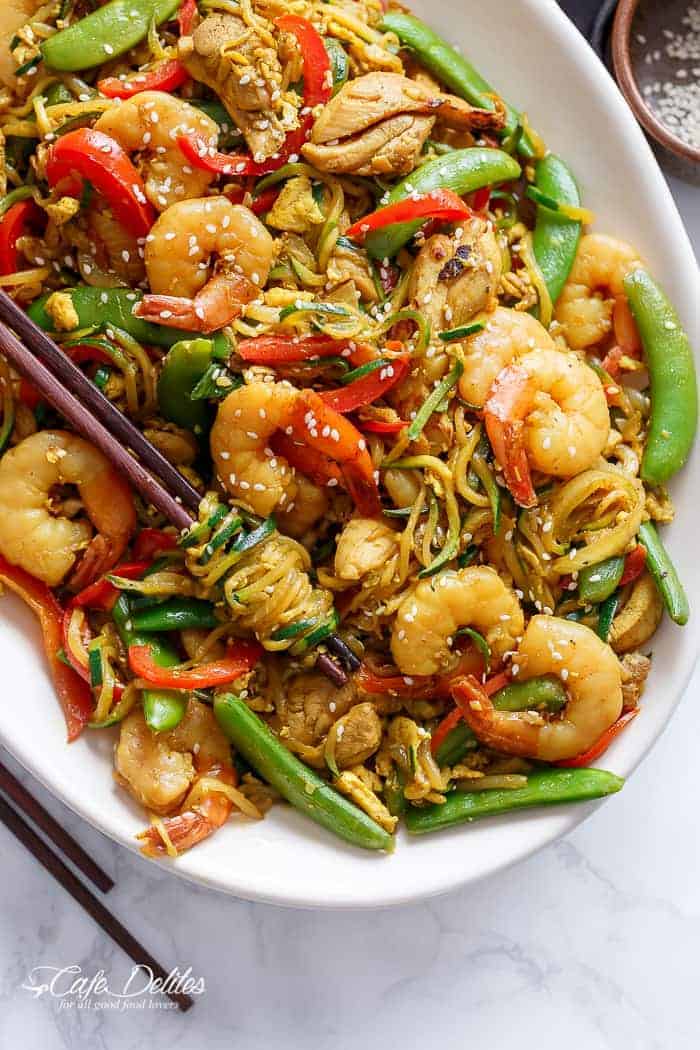 When this idea hit me over the head at midnight (don't judge me), I searched and searched for a recipe online. But alas, nothing came of my search. Why hasn't anyone done this before? WHY? Or maybe I'm looking in the wrong places.
The weird part about Singapore Noodles is it's an unknown mystery as to where the recipe originated. Apparently, not in Singapore. However, when there's a big bowl of Noodles in front of you, I don't think anyone particularly cares where they're from, only focusing on where they're going ?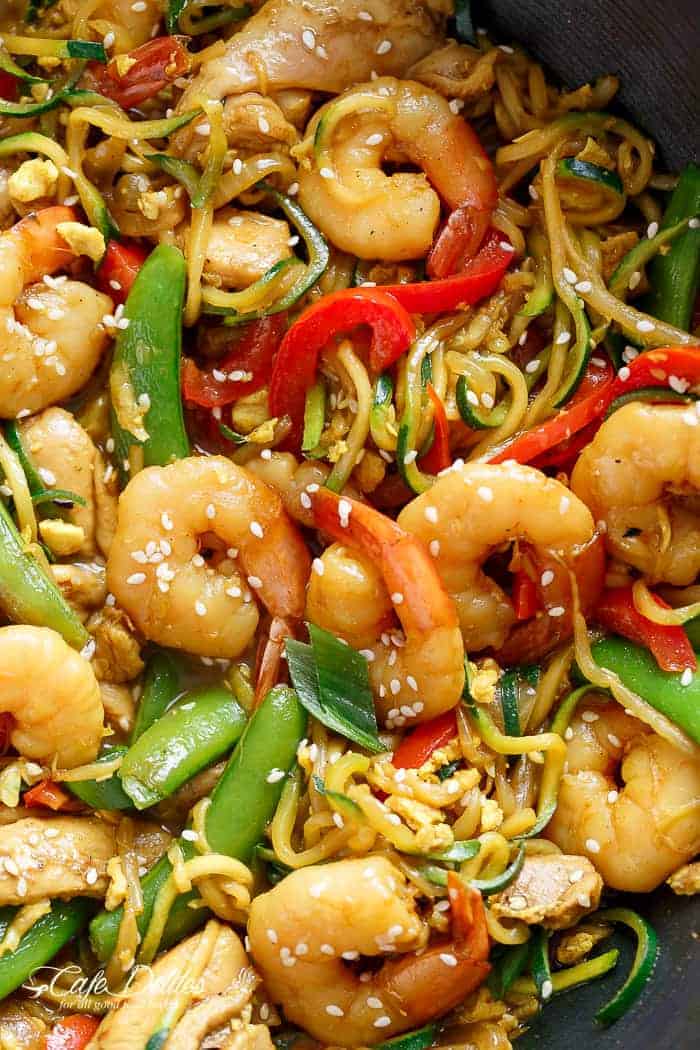 The westernized Singapore Noodles consists of rice noodles with egg, sliced Char Siu (sticky Chinese pork), shrimp (or prawns), curry powder, a succulent soy and Chinese wine based sauce, and crisp vegetables.
There are only two ingredients in THIS recipe down there ↓ that have been replaced with the usual. The noodles AND the pork. Having said that, you can prepare a packet of rice vermicelli (or rice stick noodles) to packet instructions and replace the Zoodles in this. AND! You can use this Char Siu Recipe if you'd rather be more authentic. BUT! Today, we're going with chicken and Zoodles: low carb, low calorie, high flavours.
Second. The GIVEAWAY happening over on my Instagram account! Whaaaaattttt will you winnn??? An Inspirilizer! You're welcome.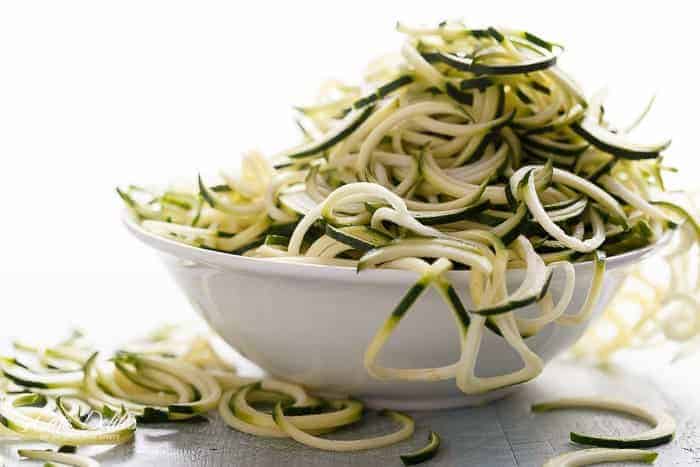 With so many people asking me what the best spirilizer is, how to get one, they can't find one… I wanted to help. So, when Ali (the creator of this new Holy Grail) first approached me last year…I said no. Yes, I rejected her offer of a giveaway, because I'm so smart? (That's sarcasm, by the way).
Long story short: after my rejection, I was like haaaaang on a second?! What am I doing? People need this. No. They NEED this with capitals, italics AND an exclamation point! Let's do a GIVEAWAY!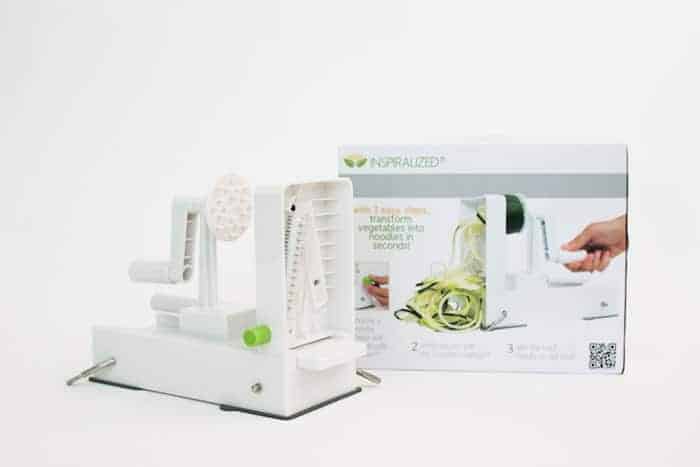 Needless to say, we're both extremely excited to gift someone an awesome kitchen tool you NEED if you're spirilizing mad….like me. Then you can make these Creamy Sun Dried Tomato + Parmesan Chicken Zoodles and Avocado Alfredo Zoodles like a pro.
Thank you Ali!
But wait. What is an Inspirilizer? It's a Zoodle makers game changer. It can spirilize any vegetable (think sweet potatoes, carrots, potatoes, beetroots, as well as zucchini), in four different noodle sizes. It's just freaking awesome, easy to use, just as easy to clean, and FAST. Unlike the cheaper spirilizers that I'm still a proud owner of, you don't need biceps to *werk* it. Make sure you get onto Instagram by clicking this link to get the details and for a chance to win!
Third. The recap:
So much as happened these last couple of weeks:
1/ Recipes being featured and re-made all over the place/world with some going bonkers viral over the internet.
2/ The Inspirilizer was delivered which felt like Christmas
3/ My Instagram account was featured in Australia's Top Women's magazine, Woman's Day. Yes, I screamed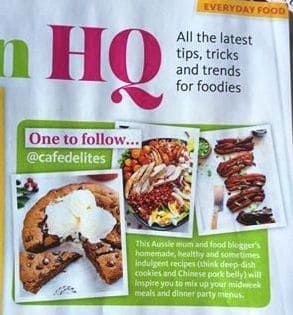 4/ My www.friend (secret girl crush) Heidi from Foodiecrush talked about me over here on her blog from the other side of the world. Oh, you know, not a big deal. NOT.AT.ALL. I may have accidentally fallen out of my bed in shock, gone a little pale, laughed, then cried, and ran screaming out of my room, tripping over lego's, to tell everyone in my house that would listen to me at 6:30 in the morning what she wrote, shoving my phone in their faces, because that's exactly what you want to happen at 6:30 in the morning. But…no big deal. She's only been my hero for the last TWO YEARS since I started this blog… (A sappy, long, embarrassing email may have followed.) Heidi also talks about Ali, so in a way, you get to know the both of us in this one convenient post!
Thank you Heidi!
***
Fourth. The video: to make our lives easier, I've made you another video on my YouTube channel:
At first look of the recipe, it can seem quite daunting to have so many elements in the recipe. Omelette, chicken, shrimp, zoodles. But once you've prepared them all, dancing around with your music blaring in your kitchen, everything comes together fast. As with any stir fry recipe, prep first!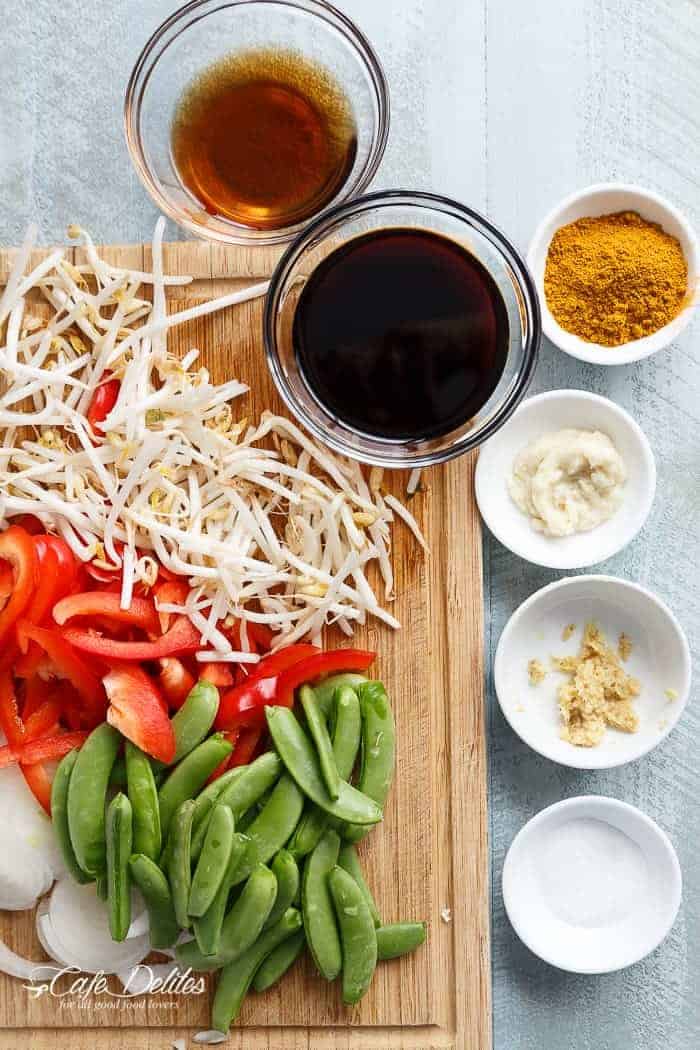 From there, it's a matter of throwing everything in to your wok (or skillet) until your house smells like a Chinese restaurant. It takes me roughly 10 minutes to have this recipe ready — from start to finish. (Not including chopping because I'm not a chef.) Once it's all done, Singapore Zoodles are ready to be enjoyed and devoured without any carb or calorie load to worry about.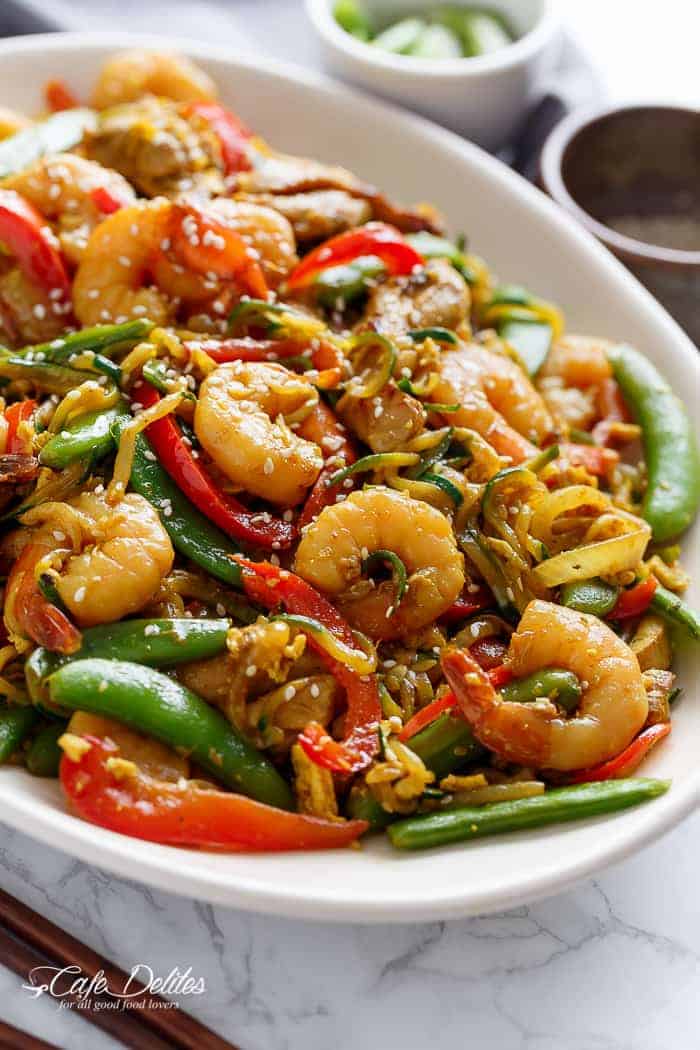 And PERFECT Singapore Zoodles for the win! The only difference I found with this version and the original made with rice noodles, is this one is saucier. Singapore Noodles are usually on the dry side. You won't have that same texture with Zoodles BUT you WILL have the same flavours.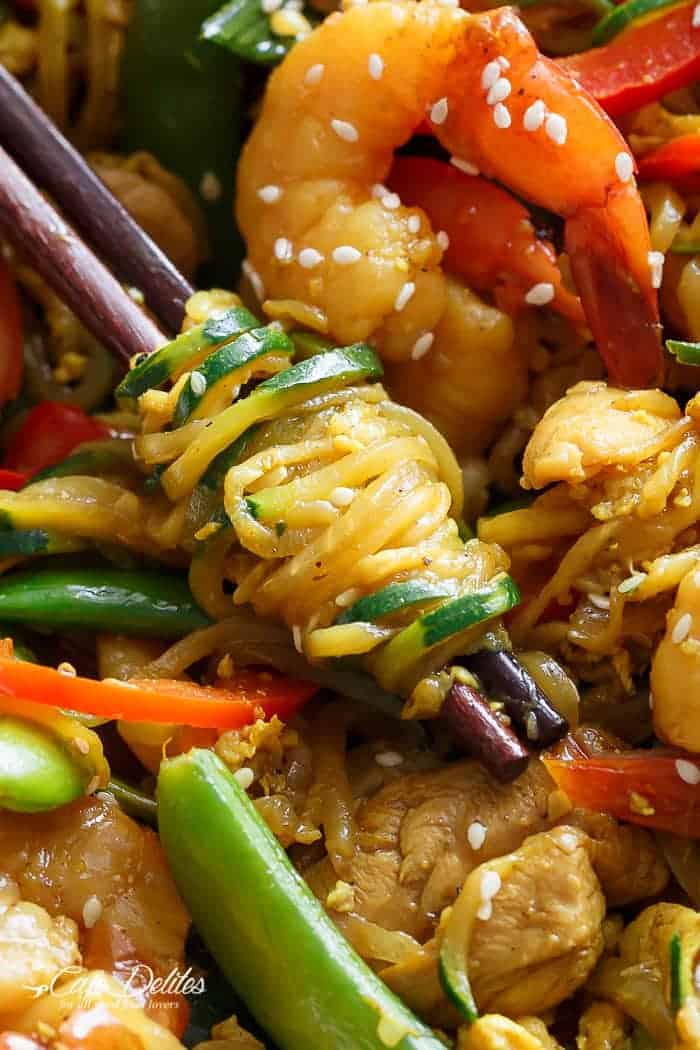 Remember to get yourselves over on Instagram for a chance TO WIN!

REMEMBER TO SUBSCRIBE TO CAFE DELITES NEWSLETTER FOR FREE AND RECEIVE FRESH RECIPE NOTIFICATIONS DELIVERED INTO YOUR INBOX!
If you try a recipe, please use the hashtag #cafedelites on INSTAGRAM for a chance to be featured!
FOLLOW CAFE DELITES ON FACEBOOK, INSTAGRAM, PINTEREST AND TWITTER FOR ALL OF THE LATEST CONTENT, RECIPES AND UPDATES.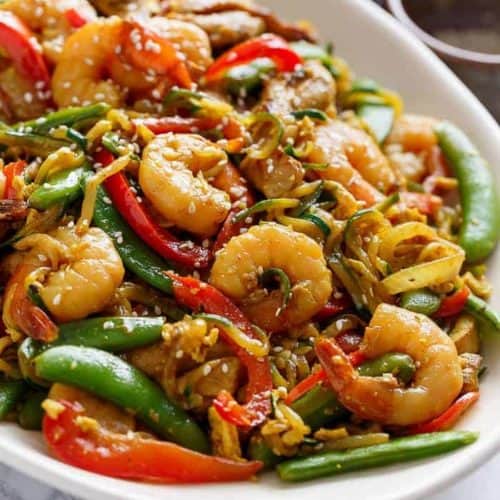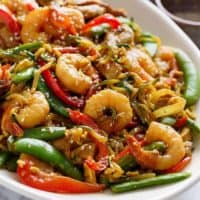 Singapore Zoodle Stir Fry With Chicken (Zucchini Noodles)
A twist on the classic Singapore Noodles only low carb and low calories with Zoodles will leave your house smelling like a Chinese restaurant!
Weight Watchers Smart Points: 6 per serve!
PRINT
SAVE
go to your favorites
Ingredients
Sauce:
1/4

cup

light soy sauce

2

tablespoons

Chinese rice wine

(Shaoxing)

2

cloves

garlic

, minced

1/2

teaspoon

fresh ginger

, grated

1

teaspoon

white sugar or a natural granulated sweetener
Stir Fry:
9

oz

| 250g peeled large shrimp

(prawns), tails on or off

9

oz

| 250g boneless and skinless chicken thigh fillets

, sliced into strips

2

tablespoons

olive oil

2

eggs

, lightly whisked with a pinch of salt

2

level teaspoons curry powder

(or madras curry paste) - adjust to your tastes*

1

small onion

, thinly sliced

1

medium-sized red bell pepper

(capsicum), halved, deseeded, thinly sliced

100

g

| 3.5 oz sugar snap peas

(snow peas), stemmed, strings removed

60

g

| 2oz bean sprouts

(shoots)

3

large zucchini

, spirilized into spaghetti/angel hair thickness
Garnish:
2

green shallots

, ends trimmed, thinly sliced diagonally

sesame seeds
Instructions
Whisk together the sauce ingredients. Pat the shrimp dry with a paper towel. Pour 2 tablespoons sauce over shrimp; mix through to evenly coat. Set aside.

Add 1 tablespoon of sauce to chicken strips. Stir through to evenly coat. Set aside.

Prepare all vegetables and have everything ready before cooking.

Add the chicken strips; stir fry for 3-4 minutes or until cooked through. Transfer to a warm plate. Add another teaspoon of oil to wok/skillet; stir fry the shrimp for about 2-3 minutes, or until just turned pink and opaque in colour. (Do not over cook them. They should have a U-shape to them if properly cooked). Remove from pan and set aside.

Heat the remaining oil in the wok over high heat. Add 1 teaspoon of the curry powder and stir-fry for 30 seconds or until fragrant. Add the vegetables and stir-fry for 2-3 minutes or until the onion and snow peas begins to soften. Add the zoodles and the remaining sauce. Strir fry for about 2 minutes until the zoodles are just beginning to soften (they will release a lot of water if over cooked). Add the reserved egg, chicken and shrimp; mix all ingredients through together. Season with salt (if needed), and garnish with the green onion slices and sesame seeds to serve.
Notes
*The amount of curry powder is a personal thing. Start with 2 teaspoons; taste test and work your way up from there.
Nutrition
Calories:
318
kcal
|
Carbohydrates:
7.6
g
|
Protein:
28.7
g
|
Fat:
15.2
g
|
Cholesterol:
2.4
mg
|
Fiber:
1.5
g
|
Sugar:
5.2
g