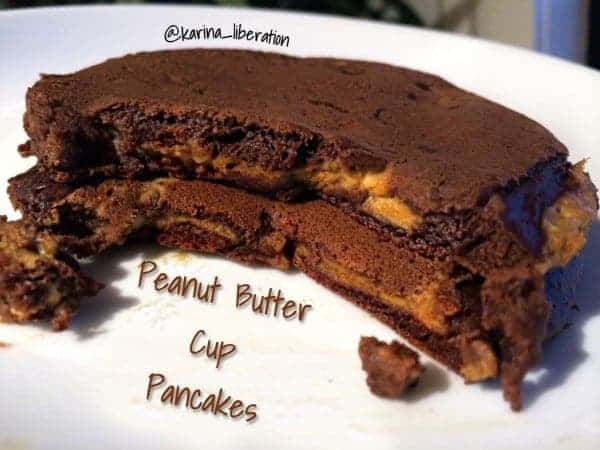 Peanut Butter Cup Pancakes
Pancakes:
2 tablespoons (25g) unbleached white self raising flour (all purpose)
1 tablespoon (10g) unsweetened cocoa powder
2 teaspoons natural granulated sweetener/sugar of choice
1/2 teaspoon baking powder
2 teaspoons vanilla/plain low fat greek yoghurt
1 teaspoon vanilla extract
2 tablespoons liquid egg whites (or 1 whole egg white)
5 tablespoons unsweetened almond milk
Filling:
2 tablespoons peanut flour, prepared with water as per instructions on the jar (you want it more on the thicker side rather than runny)
Method:
Mix the flour, cocoa powder, sweetener/sugar and baking powder in a small bowl.
Add the yoghurt, vanilla, egg whites and milk. Mix until combined.
Heat a nonstick pan over low -medium heat with cooking oil spray.
Pour 2 tablespoons of batter PER PANCAKE into the pan (make 2 pancakes). Flatten it gently with the back of a metal spoon and cook until the surface just starts to bubble.
Pour 1 tablespoon of prepared peanut flour onto the centre of the pancake, and top with 1 extra tablespoon of chocolate pancake batter. Let it cook for a further minute before flipping.
Flip and cook until done.
Repeat with remaining mix!
Enjoy!