Lightened Up Chicken Carbonara
A lightened up and low fat version of the classic Carbonara pasta dish, including tender chicken breast pieces with crispy bacon strips, so we can eat and enjoy with no guilt — ok, well maybe only half the guilt. But you get what I mean.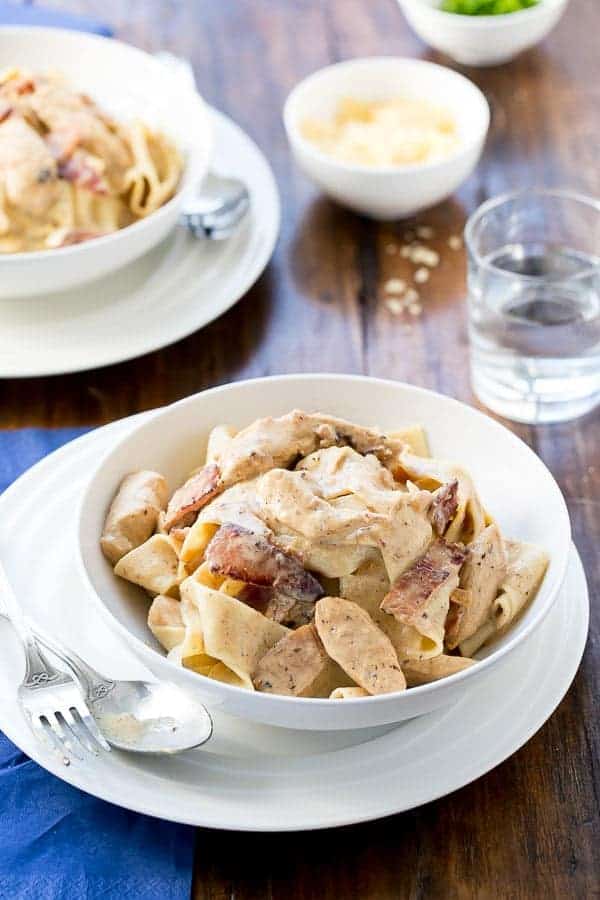 I've been asked a few times on Instagram to make a Carbonara. So this one has been in the making for a while. And I was just about to turn to evaporated milk, but honestly, I don't like creamy sauces with that stuff. I just.don't. It tastes too fake, and I like thick and heavy cream.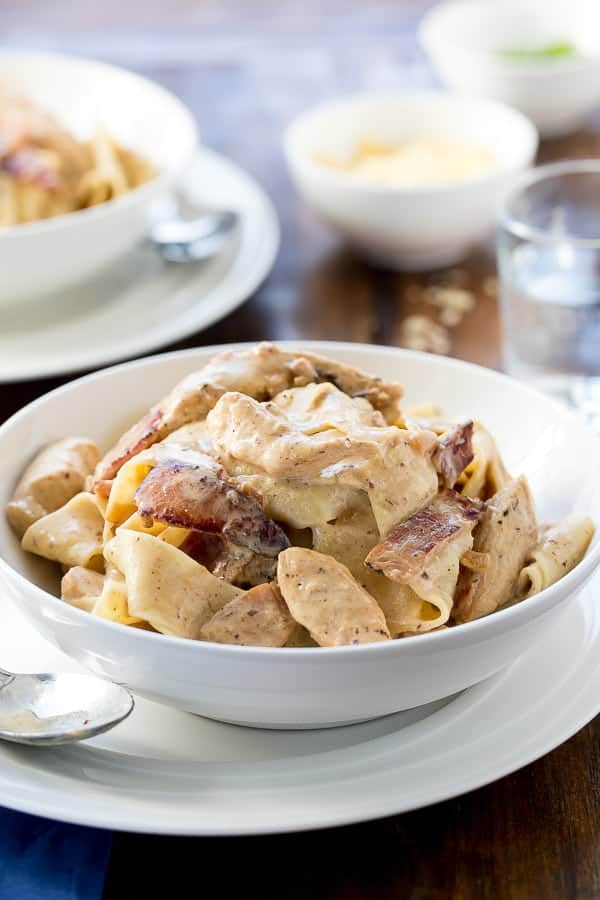 So how do I do this? How is this lightened up exactly? Well. No heavy cream. Not as much cheese. And hooray for no evaporated milk nor cornflour! Because I wanted the real deal.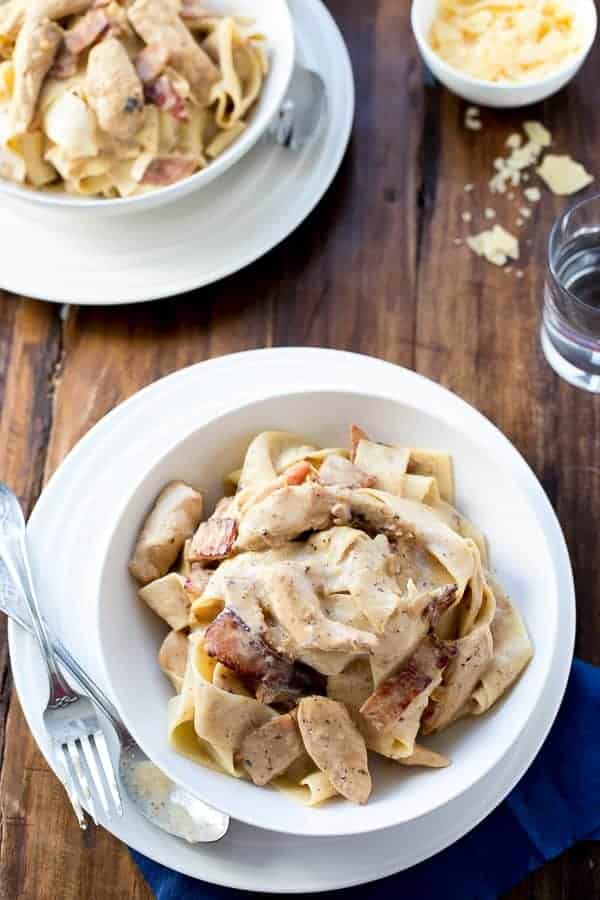 Keeping with the Carbonara flavours, this pasta dish was insane.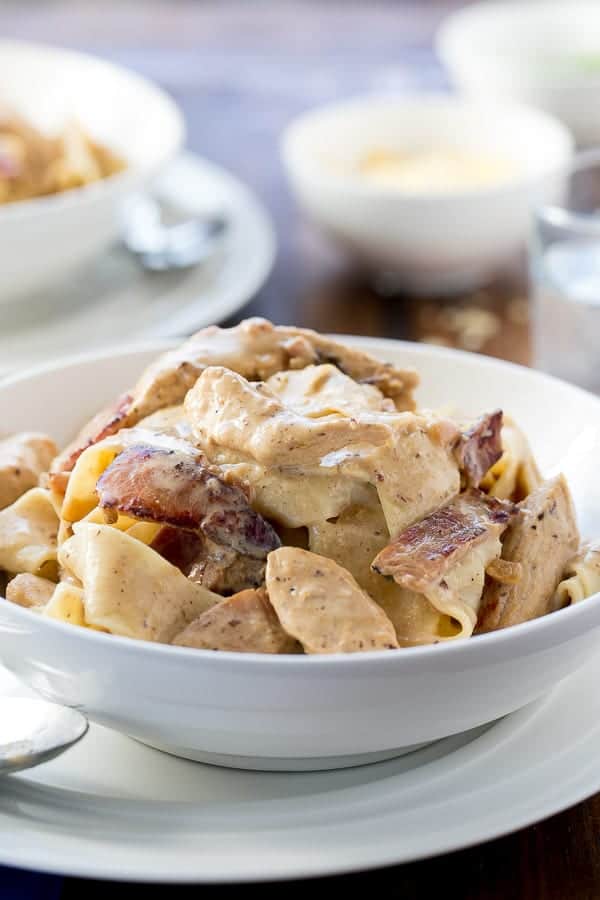 The trick was cream cheese. Yes I know! Cream cheese! Not just for cheesecakes and parfaits — which, by the way, I'm a total fan of. As you can see here.
As I contemplated exactly how does one lighten up carbonara, I remembered an olllllllld magazine article I read so long ago, like when I had braces and thought wearing my pants backwards was totally cool long ago….something about cream cheese in pasta.
But I couldn't remember what?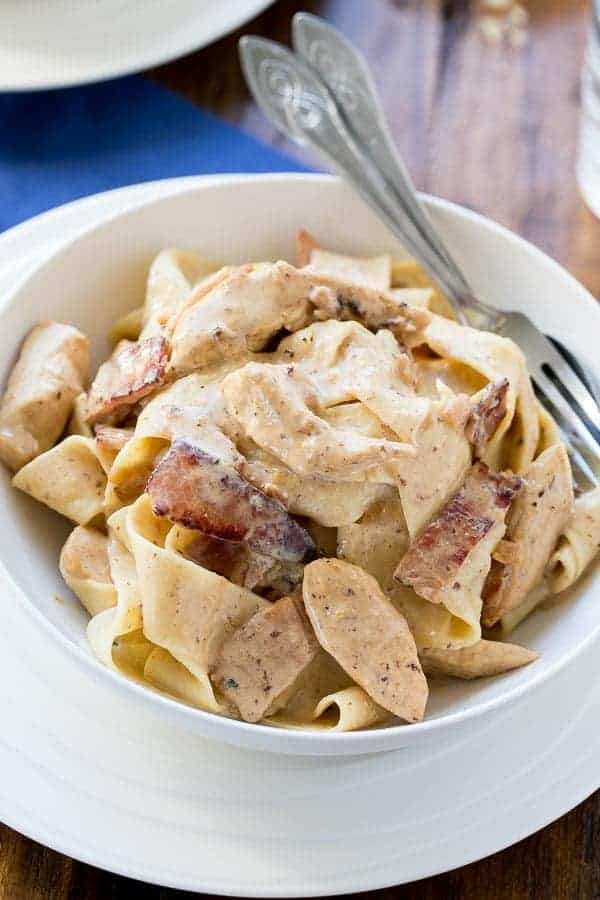 So anyway, I pulled out some dusty old Italian cookbooks I have here, like 2 year old ones….held my breath and started creating something so beautiful and so creamy while trying to stick to my low in fat but still incr-edible rule, and this.just.kicked.my.ass.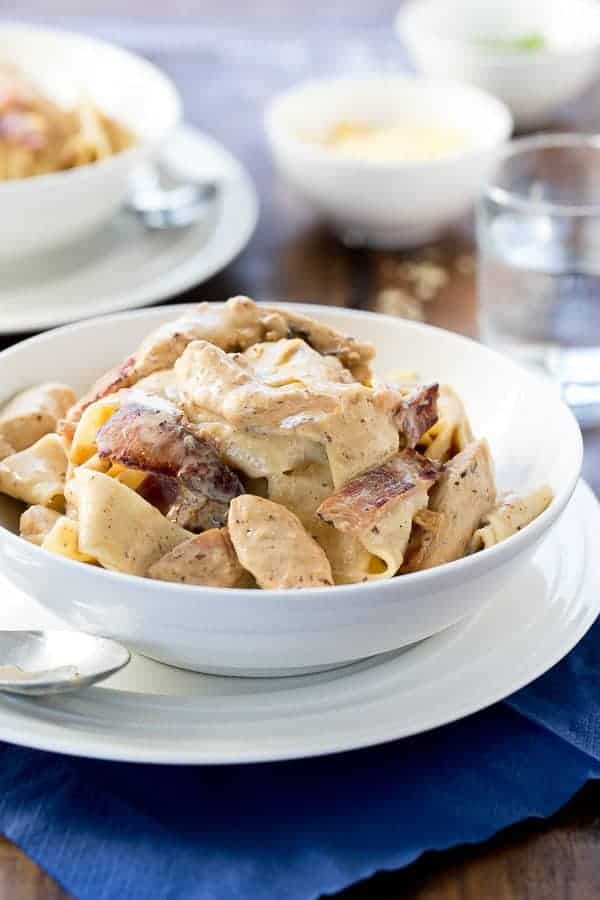 Face-planting was easy. Because adding chicken into a pasta dish like this means fewer carbs consumed, while needing to unbutton a button or two of those backward pants. And whenever I order carbonara, I order it with chicken.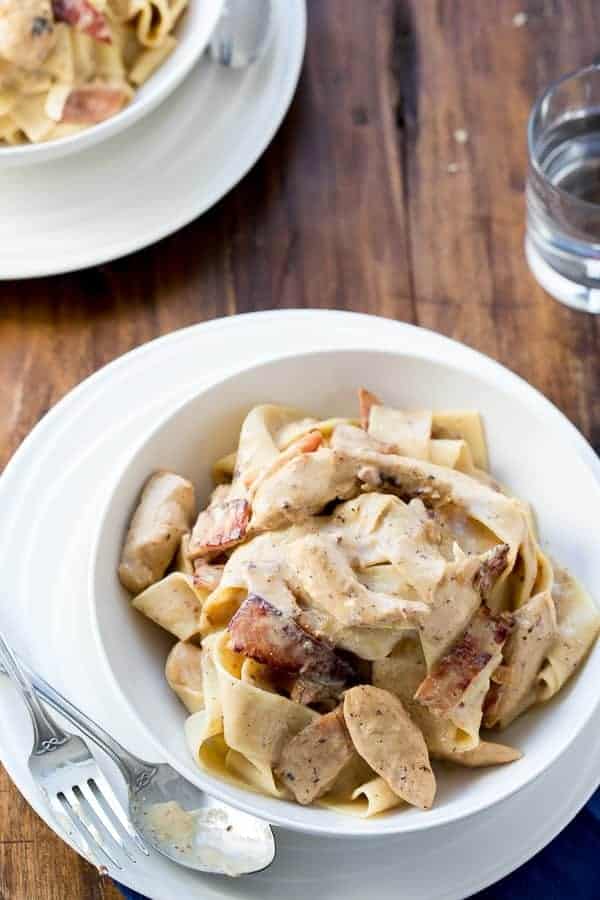 So I had to do what was right, and make it exactly how I like it. Just without the guilt that usually comes after.
And yes, if you're worried about the eggs being all slimy and 'raw,' (like I was and became a complete eggy snob reading through the cookbooks) I can assure you that they cook perfectly through into such a perfect cream sauce with the heat of the chicken and bacon. Trust me.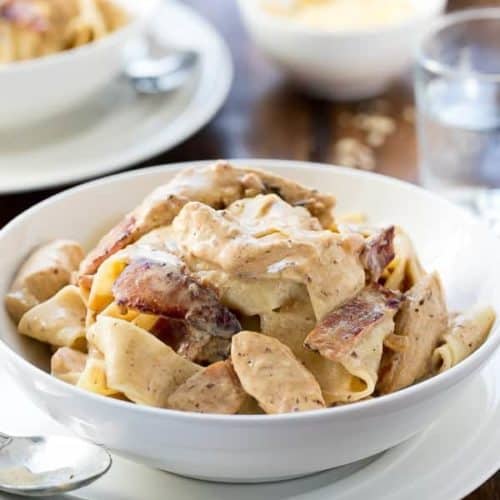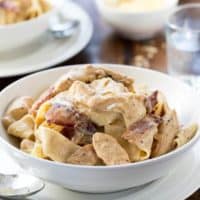 Ingredients
375

g

pack fresh pasta

, (egg parpadelle or fettuccini)

250

g

short cut bacon

, cut into strips

700

g

| 24oz chicken breast

, cut into thick 2-inch strips

1

onion

, finely chopped

3

cloves

fresh garlic

, crushed or minced

1

x 250g tub/container reduced fat/fat free cream cheese

(I used 5% fat), room temperature

2

large eggs

1/4

cup

grated parmesan cheese

1

cup

reserved pasta water + 1/2 cup extra

(just in case)
Instructions
Cook pasta following packet instructions for about 8 minutes, or until al dente. Drain pasta and return to the pot/pan, reserving 1 cup of water for later.

While pasta is boiling, whisk cream cheese and eggs together in a large bowl until smooth and lump free. Add the parmesan and set aside.

Heat a non-stick frying pan over medium high heat. Add onions and bacon. Fry until bacon is crisp (about 6 minutes). Add the garlic and chicken, and cook until chicken is cooked through.

Reduce heat and pour cream cheese/egg mixture into the pan while stirring quickly and gently to distribute evenly throughout the chicken. Continue to stir gently for a further minute while adding the reserved water (1/4 cup at a time) until sauce has cooked and thickened.

Add the sauce into the pot of pasta, and toss gently until pasta is evenly coated. (Slowly add the extra water if necessary).
Notes
Please note: no salt was needed to season this carbonara as the bacon releases enough salt with a great flavour, however, feel free to add salt to your tastes if you need.
Nutrition
Calories:
485
kcal
|
Carbohydrates:
42
g
|
Protein:
48.1
g
|
Fat:
12.6
g